A RHS garden and a toddler may not seem like an ideal combination, but the RHS have been making loads of effort recently to attract families to their spectacular gardens. As well as the breathtaking plants and flowers, they have introduced activities such as 'Rocket Science' spaced themed activities, I Spy trails and lots of playgrounds in order to keep all members of the family happy on a visit.
We visited RHS Harlow Carr in Harrogate a couple of weeks ago, and it was a wonderful way to spend a summer's afternoon. Here are a few photos of our visit.
A Day Out At RHS Harlow Carr
We spent a wonderful afternoon wandering round the spectacular gardens at Harlow Carr. Located just outside Harrogate in North Yorkshire, these gardens are a really special place to spend time in – even if you are an amateur gardener like myself. Each plant has been carefully planted, tendered, watered and fed to produce some breathtaking displays.
Whilst toddlers and little people might not notice these displays, they will love all the space to run around in, the woodland playgrounds, the Treehouse and the big hill to roll down!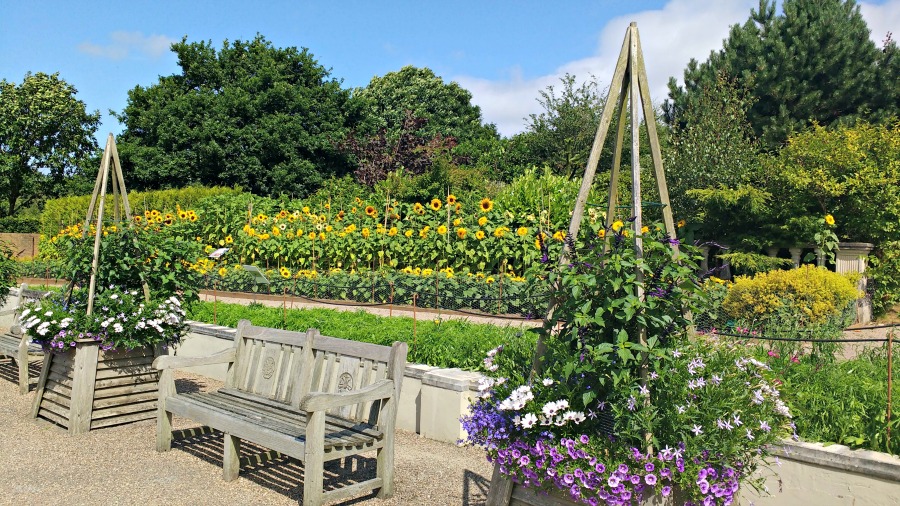 This is just one of the displays at Harlow Carr – the sunflowers were just coming out when we visited.
We were lucky enough to see this little chap on the flowers. My boys were actually quiet and still enough for us to watch it for a bit.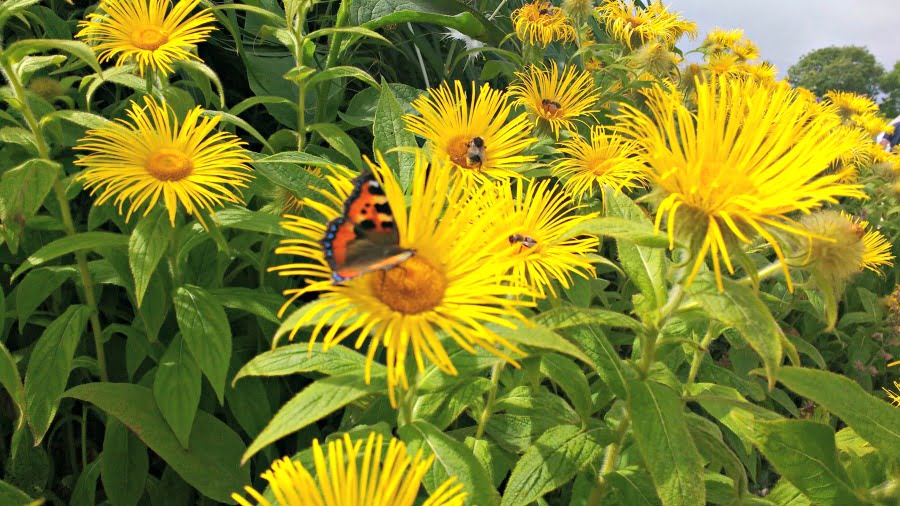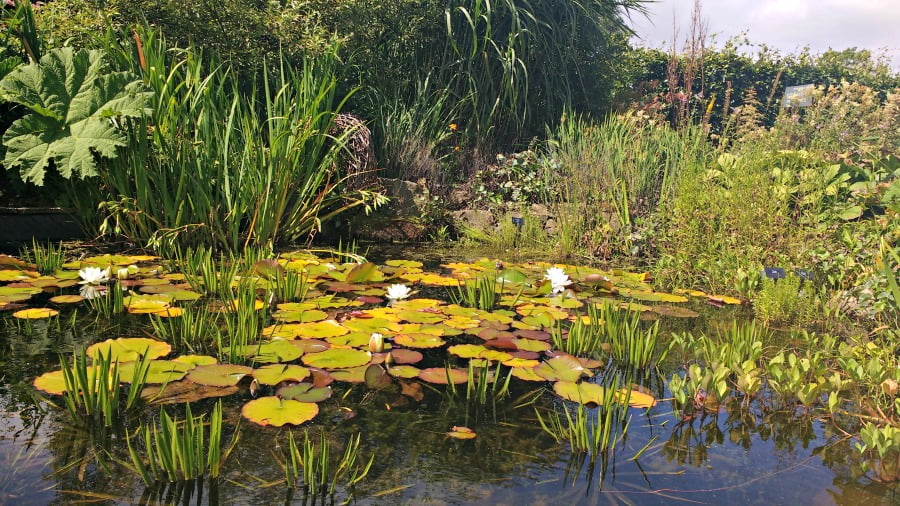 However as well as the gardens, there are plenty of things for children to do at Harlow Carr too.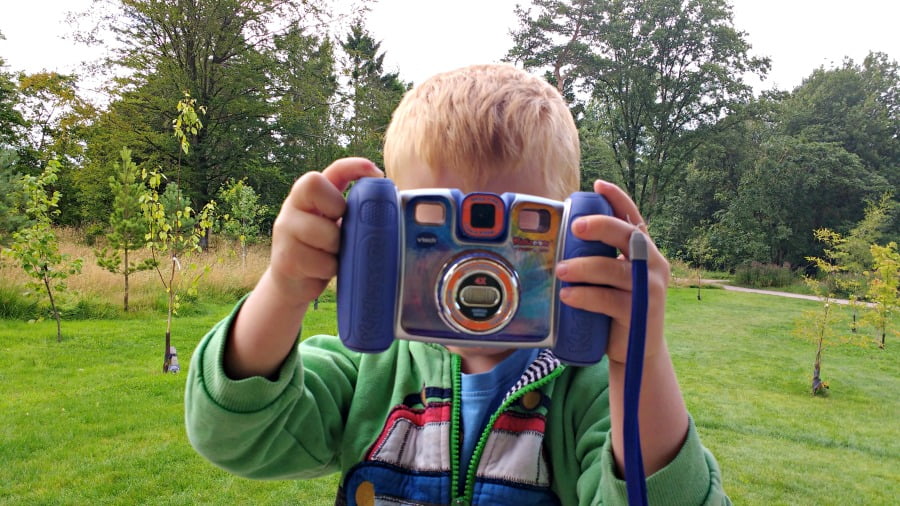 My toddler took his camera and took lots of photos of his favourite parts of the day.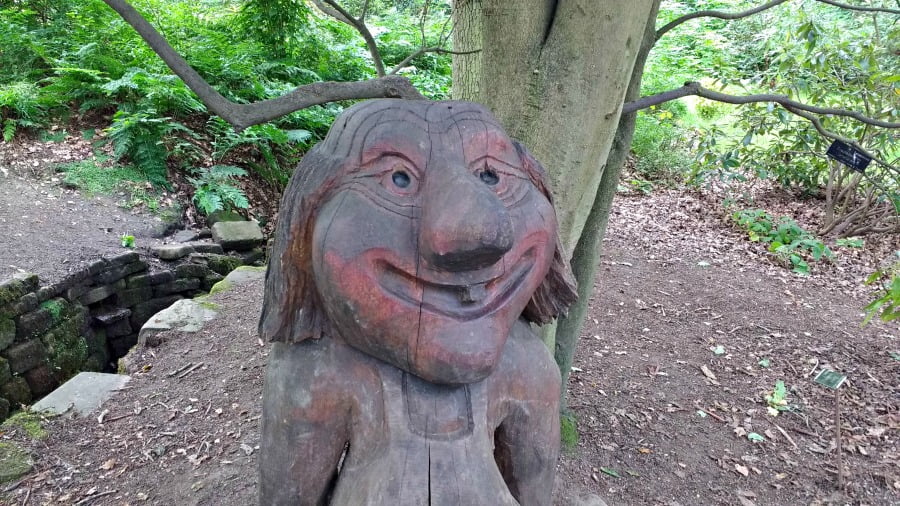 There are lots of carved faces in the gardens and Harlow Carr, and this one was our favourite.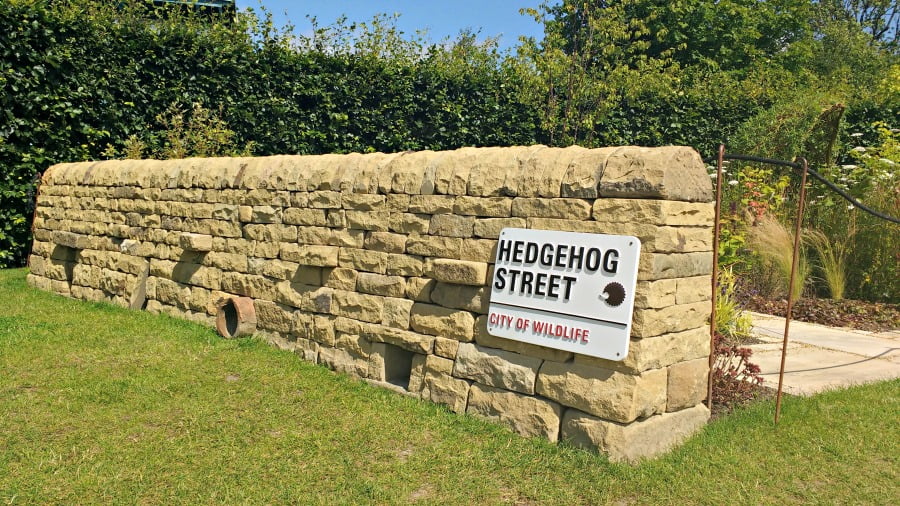 The RHS is working with the Wildlife Trust to raise people's awareness of the threats hedgehogs face in today's gardens. As part of this, they have put together 3 hedgehog friendly gardens at Harlow Carr. Each garden is 5m x 5m and had holes in the boundaries to allow access to hedgehogs.
My boys were really engrossed in this part of the garden, and it was a great opportunity to talk to them about how hedgehogs lived and what we could do to improve the hedgehog friendliness of our garden at home.
We didn't start this craze of rolling down the hill Harlow Carr – there were already plenty of people doing it by the time we arrived!! The main lawn at Harlow Carr is wide, long and on a slight slope downwards so all the children were loving rolling down it!!
When we visited, the RHS had a summer long Rocket Science event taking place, which was a trail around the gardens of space based questions and activities. Both my boys loved answering the questions on the Rocket Science boards, and loved seeing pictures of Tim Peake along the way!
There is a Treehouse in the middle of the woods at Harlow Carr – this was one of our boys favourite parts of the day.
Eating Options At Harlow Carr
There is a Betty's restaurant and cafe onsite if you want to buy food whilst you are at Harlow Carr. However, this is quite expensive so you can take a picnic instead, and eat it in one of the picnic areas. Children's lunch boxes at Bettys were £5.95 for a small sandwich, drink, piece of fruit and biscuit.
There is a Betty's Ice Cream Parlour which served ice cream. I had a Brown Bread Ice Cream which tasted a lot better than it sounds!
We visited RHS Harlow Carr as part of the York Pass. The York Pass offers you a choice of free entry into over 30 attractions and tours as well as restaurant and shopping offers. You can buy 1,2 or 3 days pass – to buy a pass visit Yorkpass.com To find out more about other things to do in and around York click here
Ticket prices to visit Harlow Carr seperately are as follows;
Adults – £10
Children (5-15) – £5
Check out the Harlow Carr website for opening times, events etc.