Finding amazing baby and toddler friendly accommodation isn't easy. There are so many places which claim to be baby and toddler friendly, but when you dig into the detail aren't. I've got a 4 year old and 1 year old and these are the 10 'Must Have's' I use for choosing somewhere to stay on our family holidays – hope you find it useful!.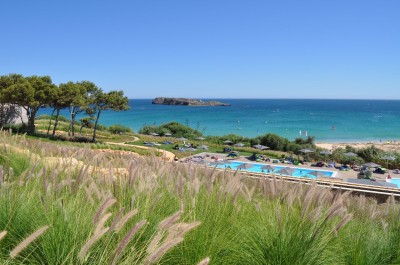 1. Safety
This is the number 1 priority for me when I'm looking for somewhere to stay for my 1 year old and 3 year old. If there is a pool, it needs to be alarmed at the very least, and the property needs to offer other safety essentials such as plug socket protectors, non slip bath mats and stair gates.
2. Baby Equipment Available – Free of Charge
I look for accommodation which has a good selection of baby equipment available to borrow for the duration of our stay FREE OF CHARGE! One of my pet hates is when places which claim to be baby friendly charge extra for a cot or a highchair. This puts my off a place immediately!
3. Attention to Detail
I stayed in 2 fantastic baby friendly places last summer. Our apartment in Bavaria, Germany had a folder full of pram friendly walks in the local area which was great for exploring the local area. There was also a little teddy bear waiting on my children's beds when they arrived which they loved.
The second place we stayed at was Forysthia Cottage in Norfolk and had 2 boxes of toys for my boys to play with. They spent hours investigating the 'new' toys before they discovered the fishing nets available for us to use when we went on the beach!
4. Little bit of luxury
I like to stay in nice places when I'm on holiday. This doesn't necessarily mean 5* boutique hotels, but somewhere which is modern, full of character, spotlessly clean and most importantly is suitable for babies and toddlers. I can't relax if there are glass tables, or expensive antiques at low (grabbing) level, but I do like places which are furnished to a high standard and offer a bit of luxury
5. Local amenities close by
I like to stay somewhere fairly close to small shops, where we can buy essentials such as milk, fruit and meat. When looking for baby friendly accommodation, I always check out the distance to the nearest village / town and amenities.
6. Plenty of things to do for children in the local area
If my children are happy on holiday, then so am I. It's important to stay in places where there are plenty of baby and toddler friendly things to do in the local area. If I am holidaying in the UK, this means something for rainy days too! My inquisitive 3 year old loves parks, playgrounds, farms, beaches, castles, museums so it is important, to have plenty of options to keep him entertained whilst we are on holiday.
7. Things to do for us as well!
My children are usually exhausted on a night after a fun day playing, and go to bed about 7.30pm. We usually look for somewhere to stay which has a BBQ and an outside terrace so we can relax on an evening too.
8. Distance from an Airport
If we are going abroad, I always make sure that the accommodation isn't too far from the airport. After a long flight we don't like to add on a long transfer at the other end. Plus, I always make sure I book flights which fly at a sensible time (not 6am!) and offer a decent baggage allowance.
9. Enclosed Garden
My 2 children are happy as long as they are playing outside. I always look for holiday accommodation which offers an enclosed garden which they can play to their hearts content and I know that they can't get out.
10. Eating Out
We like to eat out when we are on holiday. Therefore, I always look for places which have some child friendly eating options (including children's menus) nearby. An ice cream shop is always a winner too!