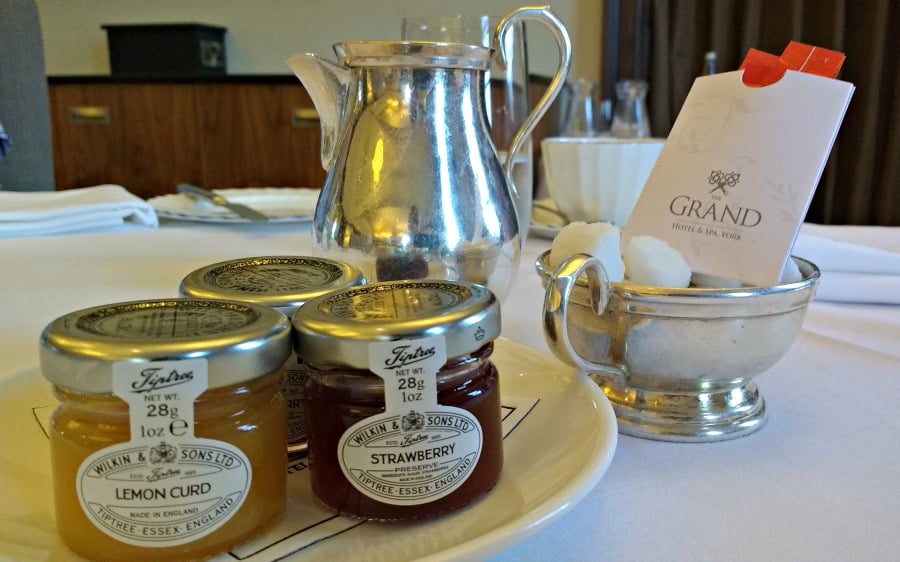 One of our favourite places to go as a family is over to York for the day. Whenever we go, we always have the best time exploring museums like the National Railway Museum, learning about the history of chocolate making at the York Chocolate Story, or having a stroll along the river looking for the ice cream boat in the summer.
Now, we have another reason to visit York – to have a family afternoon tea at the Grand Hotel. I must admit that we've not taken our 2 young boys for afternoon tea before. Something about taking my 2 sometimes very well behaved, but sometimes very boisterous, boys into a 5* hotel fills me with fear.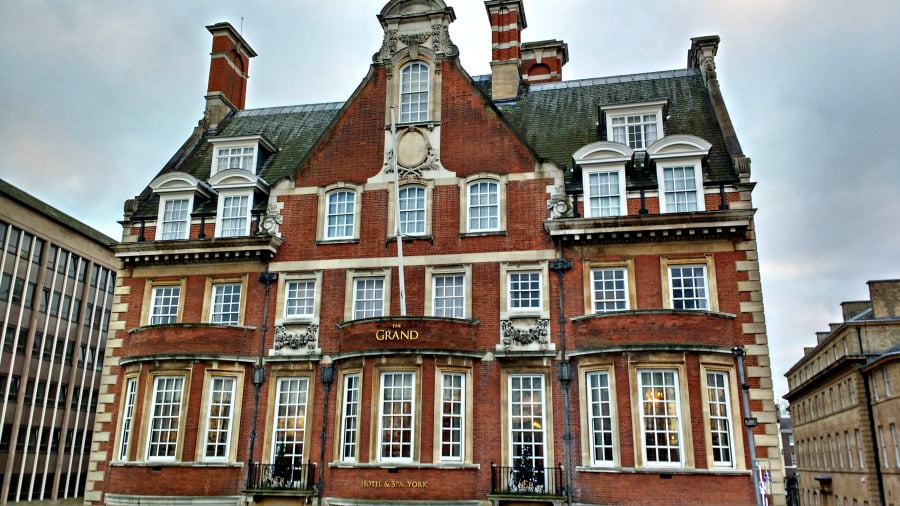 However, the Grand Hotel at York make a real effort to welcome young children to indulge in their afternoon tea. In fact, they believe that afternoon tea is something that the whole family can enjoy, and have created a special Children's Afternoon Tea, as well as Charlie and the Chocolate Factory and Mad Hatter's Inspired Afternoon Teas. We went along to find out more, and to see if a relaxing afternoon tea with 2 'excitable' young boys was possible.
The Grand Hotel
The Grand Hotel has a fascinating history. It was built in 1906 as a 'Palace of Business' for the North Eastern Railway Company which, at the time, was one of the richest businesses in Britain. It has been lovingly restored back to the heyday of the Edwardian era, and today is Yorkshire's only 5* hotel. Situated just across the road from the train station, and the National Railway Museum, it is the perfect place to go with the whole family for afternoon tea.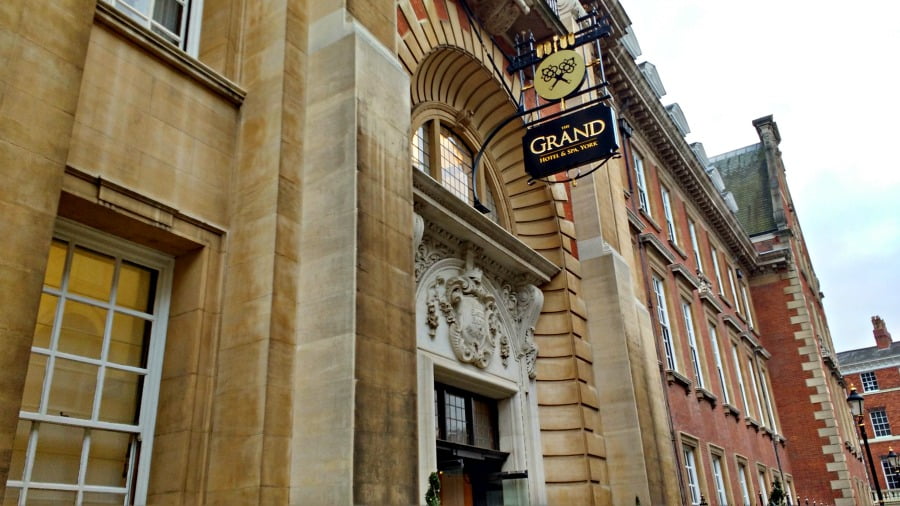 Children's Afternoon Tea At The Grand Hotel
The Children's Afternoon Tea at the Grand Hotel is served in the tranquil surroundings of Hudson's restaurant. I am pleased to report that it was still tranquil, after I entered with my 2 boys, who seemed to be awe struck by the impressive décor of this luxurious dining room. Plus, my eldest was imparting his knowledge of the sinking of the Titanic onto our waiter, who seemed to be just as interested in maritime history, and made a real effort to listen and interact with him and his stories.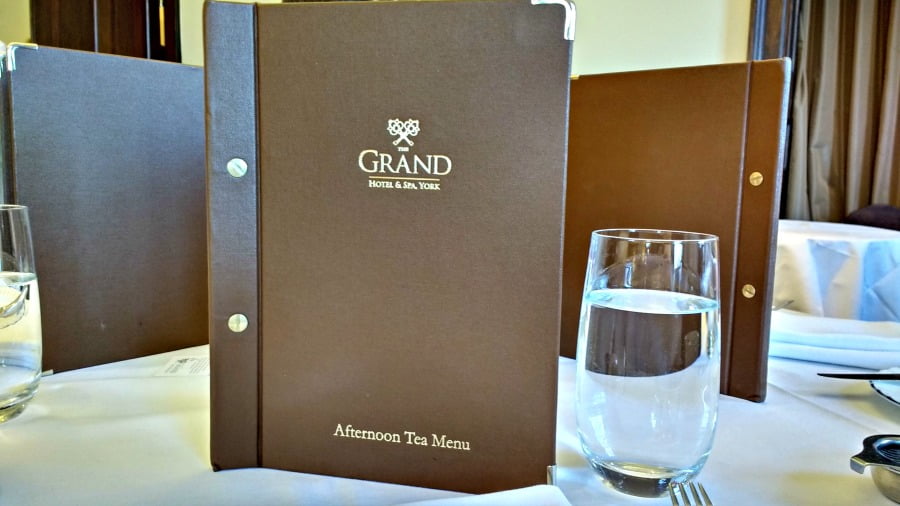 The dining room has impressive views of the City Walls which was a source of interest to my young boys who could see people walking along them from our table. Not that they had to wait very long before the waiter showed them 'their' menu and asked them what they would like to drink. Children have an enviable number of fruit juices to choose them as part of their Afternoon Tea, but my boys opted for a simple apple juice.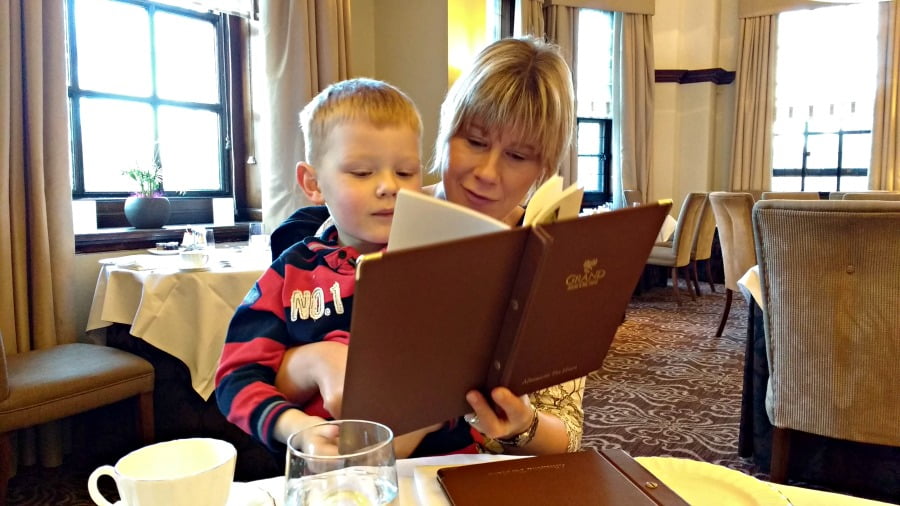 The Menu
The Children's Afternoon Tea comprised of;
A Selection of Ham, Cheese and Jam sandwiches
Chocolate Brownies,
Ginger Bread People
Jelly
Chocolate Choux Buns
Fairy Cakes
Plain and Fruit Scones served with jam and clotted cream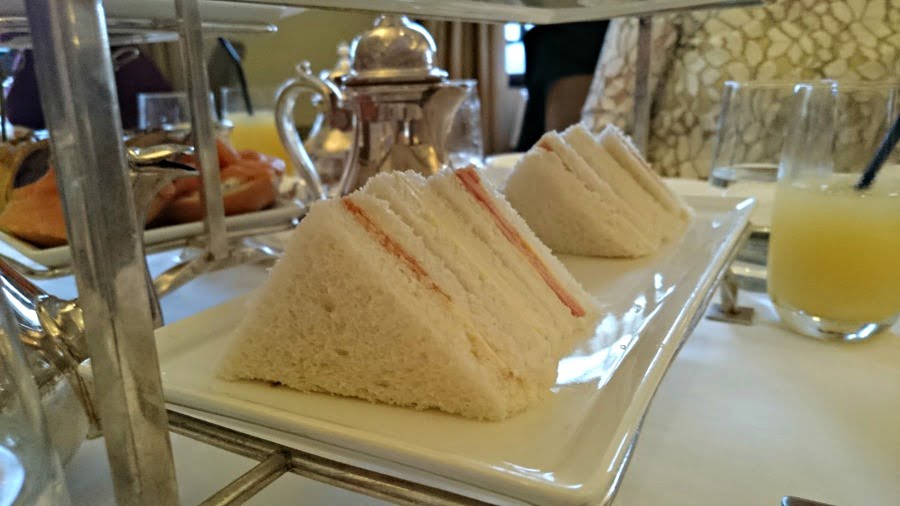 The Adult's Afternoon Tea was just as impressive. My husband and I had;
Yorkshire fettle and sun blushed tomato tartlets
Apple and Fennel Sausage roll (this was truly the best sausage roll I have ever had)
Oak smoked salmon bagel
Beef pastrami, emmental cheese, dill pickle on rye bread
A selection of scones
Orange cheesecake, gin and mandarin syrup
Date sponge, stem ginger frosting, honeycomb,
Choux au Croquelin
Gin and Tonic Cupcake
We could also choose a drink from the extensive Tea and Coffee menu.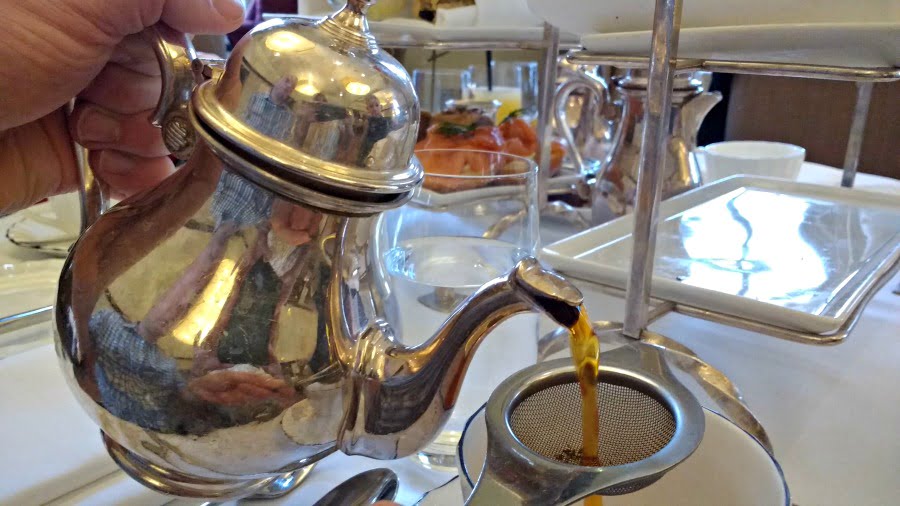 A few minutes later, an enormous tower of treats arrived. The boy's eyes nearly popped out when they saw the beautifully presented buns, cakes, scones, and sandwiches which towered above them. The waiter spent a few minutes explaining what food they had (and reassured them that they had one more bun than the adults), and they started tucking in.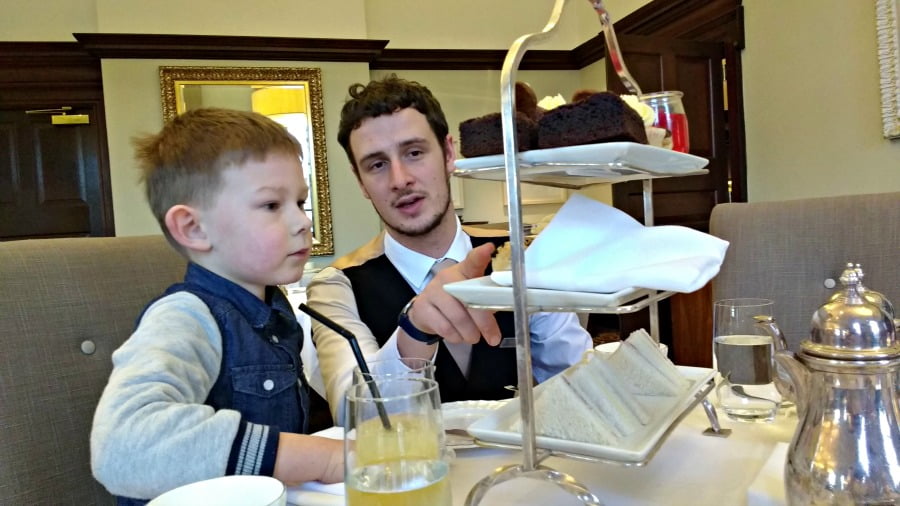 I don't know whether it was the food, the surroundings or just the fact that we were having a special treat, but they really got into the spirit of afternoon tea, and even the little one was soon breaking up his scone, adding a massive dollop of clotted cream and jam onto it before devouring it. Sometimes, I think that the more we treat the boys as 'grown ups', the more they rise to the occasion and really do us proud.
Our afternoon tea was just as amazing. I've mentioned before that the sausage roll was the best I've ever eaten and it was true.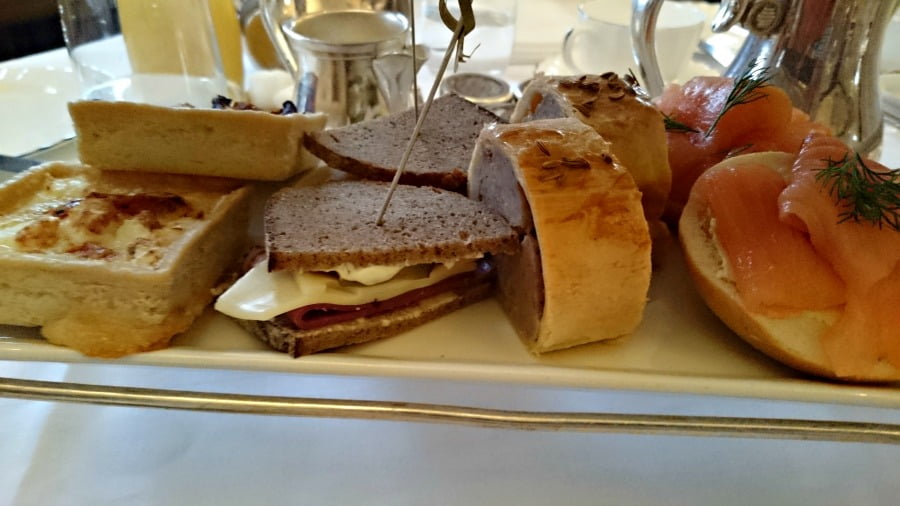 At the end, my eldest declared that this was the 'best 'café' he has ever been to'. I'm not sure that the Grand Hotel would like to be referred to as a café, but this is high praise from a little boy who had clearly had had an unforgettable time.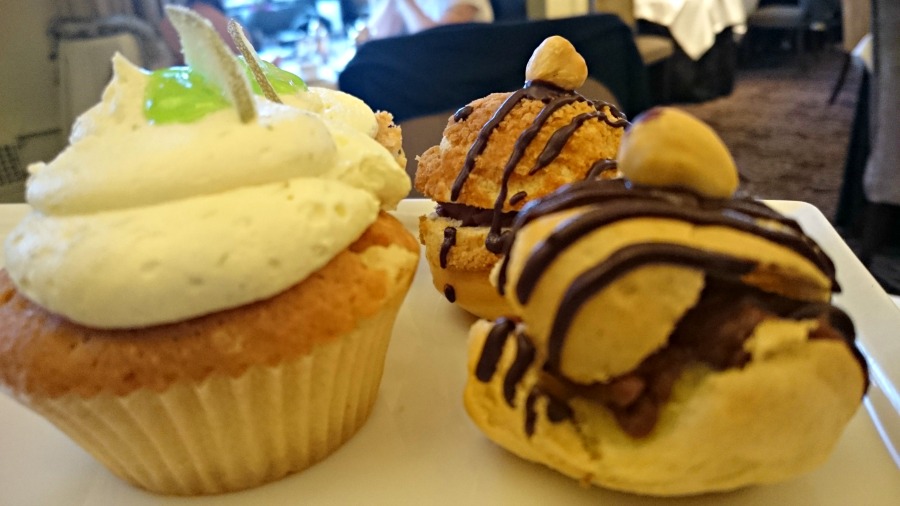 Costs And Booking
Children's Afternoon Tea at the Grand Hotel in York costs £17 each.
The Grand Afternoon Tea costs £24.50 each
Sparkling Afternoon Tea is available for £30.50 each
Champagne Afternoon Tea is available for £38 each.
Afternoon Tea is available daily, and is a real treat for the whole family. If you have a special occasion, a family celebration or just fancy treating yourself whilst you are in York, I would thoroughly recommend Afternoon Tea at the Grand Hotel. You won't forget it.
This is a video of the afternoon tea made by the Grand Hotel itself.
Charlie and the Chocolate Factory and Mad Hatter's Tea Parties take place monthly – click here to find about dates and prices
Thanks to the Grand Hotel for letting us sample their Afternoon Tea.