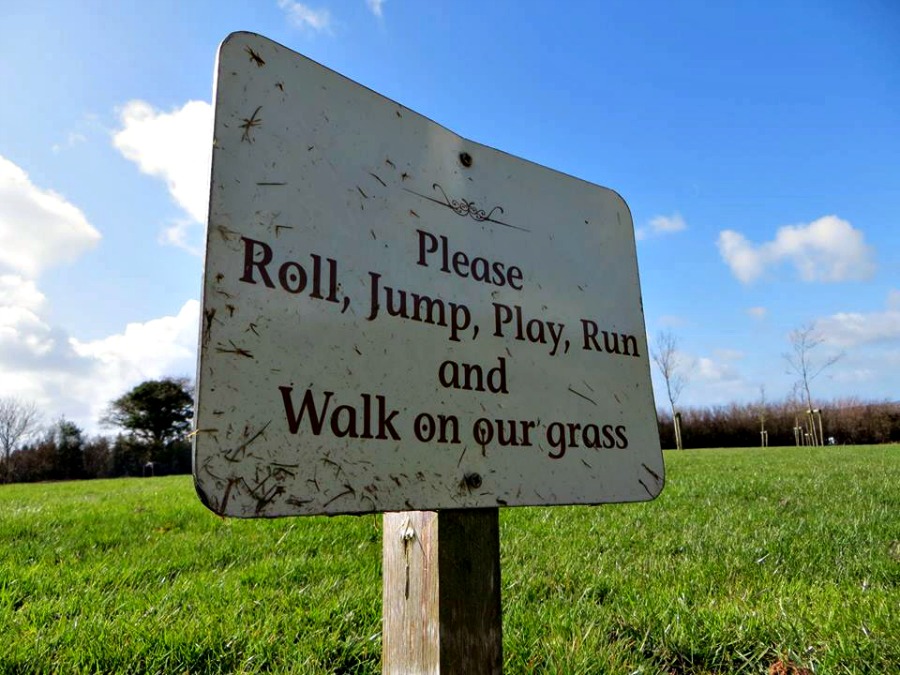 Meet the Parents is the place where you can read about other family's experiences of going on holiday with babies and toddlers, and get some ideas for your own holiday.
In this edition, I interview the Dickinson Family who went to the Bluestone Holiday Park in Wales for their summer holiday. Bluestone is a 5* holiday park in Pembrokeshire with luxury lodges, as well as an onsite swimming complex, soft play and playground. The Dickinsons went with 3 other families with 7 young children and stayed in a Pembroke Lodge which was large enough to fit everyone in.
If you'd like to tell other parents about a fantastic holiday you've been on as part of our Meet the Parents feature, please get in touch!
Read on to find out what the Dickinsons thought of their holiday at Bluestone.
1. Why did you choose to go to Bluestone?
We wanted a self catering house / lodge big enough to fit 15 of us (4 families) with lots of things to do nearby for the kids. Center Parcs could only offer 2 separate lodges which would be no good in the evenings once the kids were in bed. Other large self catering lodges were in the middle of nowhere.
2. What kind of lodge did you stay in?
We stayed in one of the new Pembroke Lodges.
3. What was it like?
It was perfect for our needs: 6 bedrooms – 4 ensuite for the 4 couples and youngest children and then 2 more bedrooms each with a bathroom next door for the older children.
There was also 2 fridges (a beer fridge and a food fridge 😉 ), a long dining table, 4 large sofas and a large outside space with picnic tables and some grass for football matches.
4. What did you do on your first day at Bluestone?
We couldn't check in until 4.30pm, but you're allowed on site earlier to use the facilities –you just can't take the car on until 4.30. We all met at the on site pub which has a playground next to it so the kids could let off some steam after being stuck in the car.
We went to have a look for our lodge and found it was just round the corner from the pub/shop/spa, right in the centre!
5. What was the pool complex like?
Not massive but fine for littlies. There's a separate gated corner with a shallow water pool with squirting water, beach balls etc for babies/toddlers to play in.
The main pool has a long sloping area leading into it, with a lazy river that goes outside the building – quite nice in the rain.
There is a wave machine that goes off every half hour or so – an alarm sounds first so you can get back to the shallow area if you want to avoid the waves. Mine loved it. There are a few water slides suitable for older kids.
The complex was open to bluestone guests only in the morning but then open to the public in the afternoon. We went as soon as it opened in the morning and it was fine.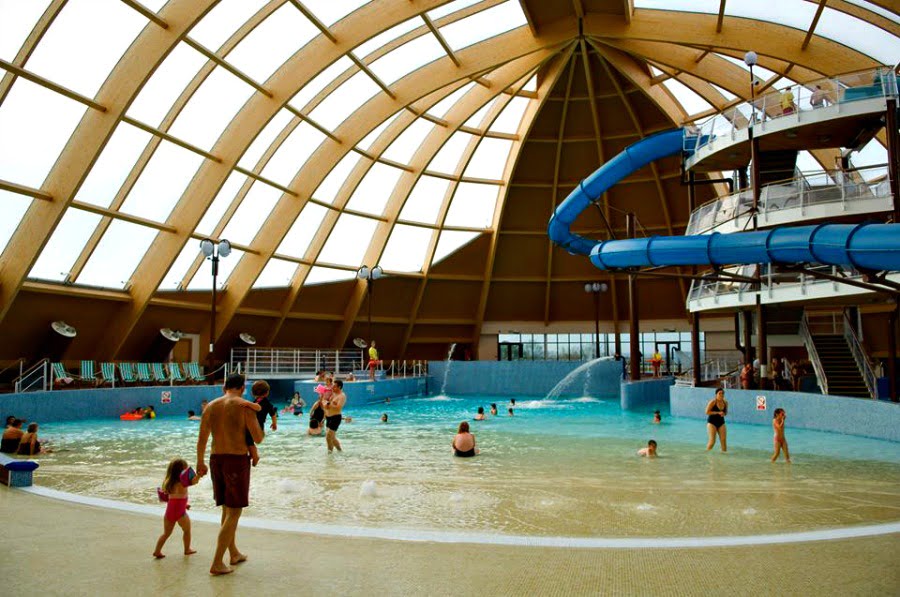 6. What was the entertainment like?
We did see a few kids entertainment sessions going on by the pub, but we didn't join in as the kids had each other for entertainment so didn't need it.
There seemed to be a regular cinema 'night' for the kids at the village hall next to our lodge but the kids were happy playing outside the lodge.
7. What other things were there for little kids?
There was a good sized playground next to the pub, and as no cars are allowed on site during the week it was safe for them to ride/scooter around although the site is on a hill. There is an adventure centre next to the pool complex, perfect for rainy days with a large soft play area (with separate area for toddlers), mini golf, bouncy
castle all free for bluestone guests, with climbing and shooting for older kids for a fee.
8. What did the kids like doing best?
The biggies loved 'mud mystery', which was a treasure hunt around the site (a 3 hour kids club). The littlies (Holly, Harry and baby Emma) went to the creche for 3 hours which was the highlight of Holly's week as she loved the song they sang when going to the toilet – something about 'pee pees on the toilet' which she hasn't yet forgotten…
9. What was there for adults to do there?
There are loads of activities on the website – zip wires, kayaking etc but we didn't do any of that. The mums did go to the spa (whilst kids were at kids club) and we spent a lovely afternoon going round the steam rooms, jacuzzi, and having treatments (with a cheeky glass of prosecco and nibbles included). We also enjoyed the pub…
10. Did you eat there? If so what was it like?
We had one evening meal out at the farmhouse grill, we preordered our meals as there were 15 of us, but the service wasn't great, and the food wasn't great either. We were seated at a table in a separate part of the restaurant from the play area (the reason I'd booked that restaurant) so someone needed to supervise the kids rather than being able to watch them from the table. We got a part refund as it was so bad – lesson learnt, stay in the lodge and have bbqs every night!
We did eat lunch a couple of times at the restaurant at the adventure centre, that was lovely with fairy lights and good jacket potatoes etc.
11. Did you need any baby / toddler equipment and if so, what was provided?
Fixed stair gates were installed at top and bottom of stairs which made it easier to control the toddlers. There was also a cot/z bed available to hire (extra cost). There was a microwave etc included in kitchen.
Babysitters are available to book on site but was going to cost us over £100 for an evening (as 7 kids) so didn't bother.
12. Did you have any great days out in the local area?
There are loads of beaches nearby, all detailed in the info booklet provided in the lodge. We also had a lovely day out at Tenby beach.
We loved Folly Farm which was great value for money. The kids got to drive diggers, we raced go karts and we saw loads of animals including a close encounter with a giraffe. There was also a soft play area which had a separate area for babies and another for toddlers so we could keep an eye on them whilst we had lunch. It is worth booking this in advance as there are great discounts – I rang up the morning we went and managed to book us as a group which saved 30%.
13 Would you recommend it to other families? If so, why?
Yes, everything is on site and there is something to do whatever the weather. It is clean, the shop is well stocked, the spa is lovely and the kids were happy spending hours in the playground. There are golf buggies to hire to get around the site.
We are going back next summer, can't wait – hopefully we can try out some of the activities we didn't have time to do before.
Click here to find out more about holidays at Bluestone.