Majorca is well known for its toddler friendly beaches and warm sunshine, and at just a 2 hour flight away from the UK is a popular holiday choice for families with babies and toddlers. The south eastern part of the island is quieter, close to stunning beaches, and is the home of Hotel Migjorn.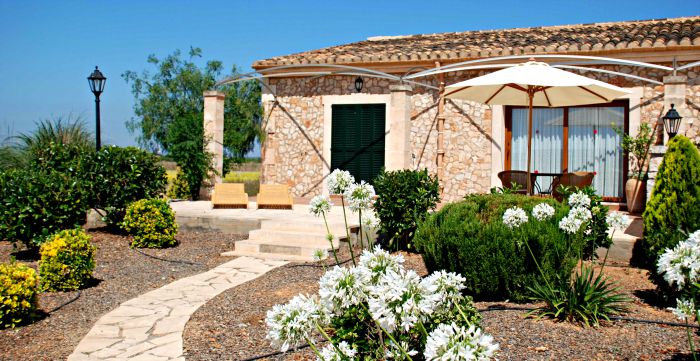 Recently voted one of the Best Family Friendly Hotels in Spain by the Guardian newspaper, Hotel Migjorn is a luxury rural hideaway with 10 baby and toddler friendly apartments and a restaurant nesting deep in the Majorcan countryside. If you are looking for somewhere to stay away from the built up resorts, but close to some of the best beaches on the island, and with great facilities for babies and toddlers then Hotel Migjorn is a great choice.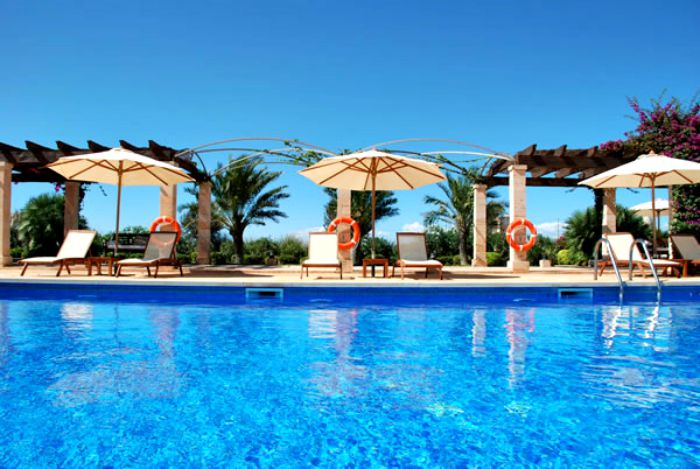 Why will parents love holidays at Hotel Migjorn?
Hotel Migjorn combines the flexibility and space of an apartment with the facilities of a luxury hotel. The 10 apartments are uniquely furnished and spacious so there is ample room for a cot and all the baby and toddler equipment you may need. There is a large lounge and dining area and a small kitchen, which is useful for preparing small snacks and drinks for the children. All the apartments have air conditioning, a TV and DVD player.
Luxury and relaxation are top of the agenda at Hotel Migjorn – even with a baby or a toddler!! Start your day with a leisurely breakfast (served until 10.30am!) overlooking the pool and garden, and tuck into organic, healthy fruits, cereals, cheeses and breads.
After breakfast, relax on a sunbed or go swimming with your little one in the large 80m pool. The advantage of staying in a smaller hotel is that the pool area never feels busy and crowded.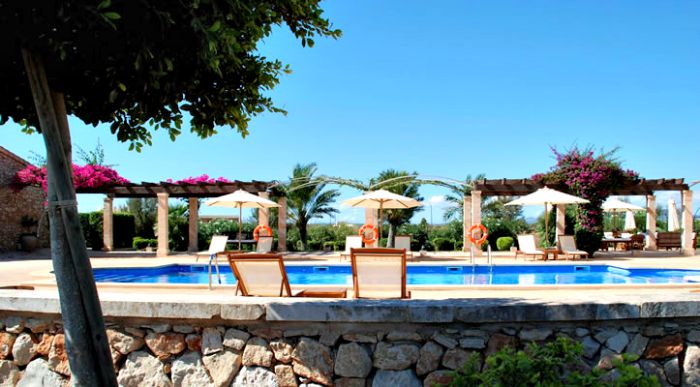 >is an onsite restaurant so you don't need to cook or leave the Hotel in order to get food. The food is freshly prepared and reasonably priced, and there is a dedicated children's menu for 6.50 Euros. There is a waiter service around the swimming pool so you don't even need to leave your sunbed to order! Some apartments have a terrace so you can eat your dinner on your terrace whilst the baby is asleep.
There are also regular 'Feature' Evenings where you tuck into freshly prepared food, sample local wine and get to know the other families staying at the hotel.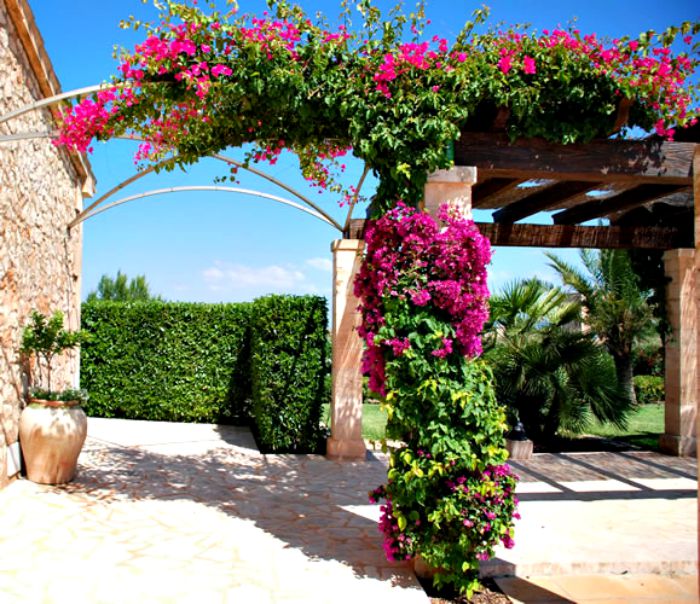 Finally, in terms of practicalities, Hotel Migjorn is just 30 minutes away from Palma Airport, so you won't have a long transfer after your flight. Also there are plenty of flights from the UK to Palma throughout the year so it's easy to get there in the shoulder seasons of April / May and September / October when the sun is cooler and prices are cheaper (the pool is heated to 26 degrees in April, May and October!)
The hotel also provides a long list of baby and toddler equipment (see below) so won't need to squeeze unnecessary things into your luggage.
Why will babies and toddlers love holidays at Hotel Migjorn
Toddlers love running around and there are 35 acres of countryside to run around and explore at Hotel Migjorn! Plus, they will love splashing around in the swimming pool and making new friends.
Children will also love the onsite play area at Hotel Migjorn, which is near to the dining area so parents can relax and have a drink whilst supervising their children.
Finally, the other things children love doing on holiday is spending time at the beach, making sandcastles and paddling in the sea. Hotel Migjorn is close to some amazing baby and toddler friendly beaches so they can get their beach fix too.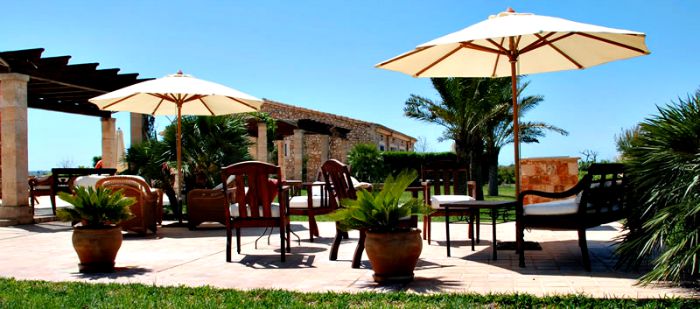 Things to do with Babies and Toddlers in Majorca
If you can tear yourself away from Hotel Migjorn, there is loads to do in the local area for babies and toddlers.
Probably, the most popular things to do in Majorca is to hit the beach. And there are some beauties close to Hotel Migjorn. Check out ES Trenc beach which is one of the most beautiful and unspoilt beach on the island. There isn't a resort attached to this beach so it is quieter than its busier neighbours – although it does get busy in the height of summer. There is 2km of fine sand and shallow crystal clear water which makes it ideal for toddlers paddling.
Sa Rapita is another popular beach close to Hotel Migjorn. This has 1.1km of white sand and borders a nature reserve. The water is very shallow so it is perfect for babies and toddlers.
Palma is known as a mini Barcelona, and is well worth a day trip. We loved wandering round the harbour, cathedral and getting lost in this wonderful city. Babies and toddlers will love Palma Aquarium and also the adventure playground behind Palma Museum.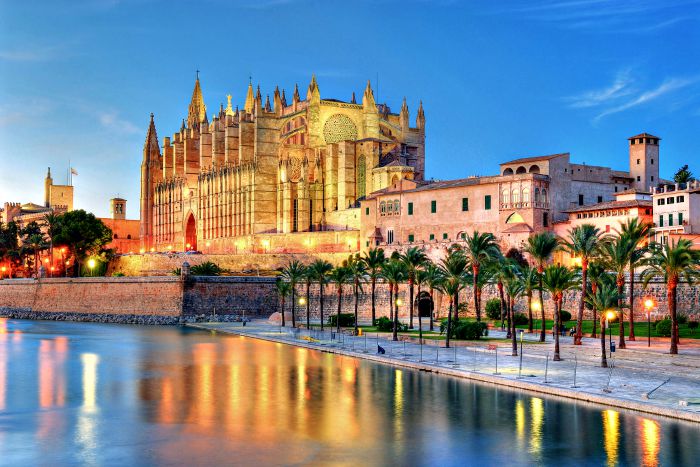 Closer to Hotel Migjorn is the Ostrich Farm at Campos!! You can see ostriches and other birds at this family friendly farm, and also have a ride on an ostrich (if you want!)
Finally, Majorca is famous for the wonderful Palma to Soller train ride. Mini train lovers will love a day out on a wooden train carriage riding from Palma to Soller across the beautiful Majorca countryside. Explore Soller, have a bit to eat and head back over the mountains to Palma on the return train journey.
Baby and Toddler Equipment Provided by Hotel Migjorn
The following items are provided by Hotel Migjorn so you don't need to pack them!
• Stair gates
• Cots and cot linen
• Microwave
• High chairs
• Plastic plates, cups and cutlery
• Potty
• Family Friendly Doctor
• Pre-order links to Baby Buggies, Nappies and Baby Food
• Junior beds
• Safety rails
• Box baby/toddler toys
• Changing mat
Booking Holidays at Hotel Migjorn
To book a holiday at Hotel Migjorn click here