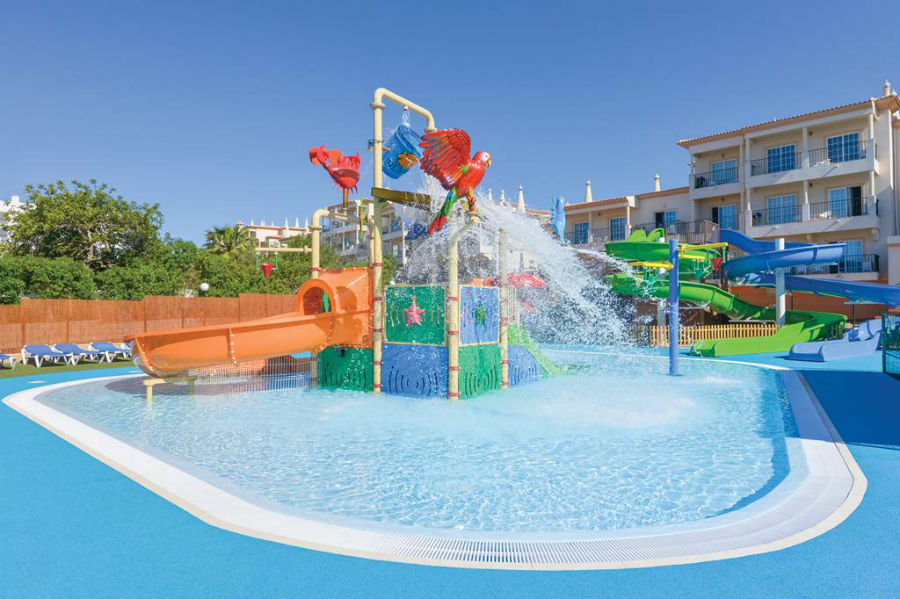 A guide to the best places to take a baby on their first holiday, including the best holiday destination for babies in the UK and Europe.
UK
#1. Bluestone, Pembrokeshire
Bluestone is a 5* holiday park in Pembrokeshire, south west Wales with luxurious lodges and the Blue Lagoon indoor waterpark. There is a separate area in the water park for babies, which is themed like a rock pool.
There are plenty of activities at Bluestone for babies including singing and dancing, storytelling and puppet shows. There is also an indoor soft play, Baby Sensory, Messy Play and a Hobbit and Fairy's Secret Village.
Prices From – 4 night midweek Baby breaks at Bluestone start from £199 per family.
Learn More – http://www.bluestonewales.com/breaks-holidays/toddler
#2. Nettlecombe Farm Cottages, The Isle Of Wight
Nettlecombe Farm Cottages are ideal for families looking for somewhere to go on their first holiday with a baby. The luxurious cottages are located on a working farm just outside the seaside town of Ventnor in the Isle of Wight.
There are cows, sheep, ponies and donkeys in the meadows, and children can help feed the alpacas, chickens, emus, geese, pigs and donkeys in the daily animal feeding sessions. You can even meet Comet and Dancer – the resident reindeer!
There is a play area including a big Wendy house, wooden tractor and rustic climbing play facility. And when the little ones have finished playing, they can just run around and let off steam in one of the three grassy play areas.
Read More – Review Of Nettlecombe Farm Cottages
Learn More – https://nettlecombefarm.co.uk/
#3. The Sands Resort, Cornwall
The Sands Resort is a baby friendly hotel 10 minutes from the beach in Cornwall. There is an outdoor playground (with a pirate ship), indoor and outdoor swimming pool and an indoor soft play for children. The warm indoor swimming pool has got a separate baby splash pool.
One of the best thing about The Sands Resort is the spacious 2 bedroom family suites. They are kitted out with 'proper' wooden cots, blackout blinds and 2 bedrooms which are separated by a door, so you don't have to creep around in the dark while your baby is asleep. The master bedrooms have spectacular sea views with a comfy king size bed, sitting area, TV, DVD player and a chill box for keeping milk and water cool.
Family friendly dining is also available at The Sands Resort.
There is also a Spa at the hotel offering treatments, and an Ofsted registered crèche.
Prices From – Special baby breaks are available at the Sands Hotel from £300 for 3 nights.
Learn More – https://www.sandsresort.co.uk/special-offer/cornwall-baby-toddler-break/
Read More – Sands Resort Review
#4. Moonfleet Manor, Weymouth
Moonfleet Manor is a baby friendly hotel set in a Georgian manor just 5 miles away from the seaside town of Weymouth in Dorset. Part of the Luxury Family Hotels group, Moonfleet Manor prides itself on offering exceptional facilities and activities for both children and parents.
All the family rooms at
Moonfleet Manor
are beautifully furnished with enormous double beds, complimentary toiletries, and DVD players in each room. Plus, there is loads of baby equipment available to borrow so you don't need to bring it all with you.
All guests get 2 hours of complimentary childcare per day in the 4 Bears Den Creche. There is an indoor play area with a dedicated Under 5s area, and regular free family friendly activities such as a Toddle Waddle and mask making. The hotel has spectacular sea views, overlooked by the outdoor playground with giant sandpit and swings and slide.
There is a swimming pool complex at Moonfleet Manor with 3 pools, including a toddler swimming pool. There is also a Spa offering a comprehensive list of treatments for parents.
From 7.30pm onwards, the restaurant is reserved for adults only dining, which parents can enjoy by making use of the free baby listening service.
Prices From – 3 night breaks at Moonfleet Manor cost from £339
Learn More – Moonfleet Manor
Read More – Review of Moonfleet Manor in Dorset
#5. Clydey Cottages, Pembrokeshire
Clydey Cottages is a complex of 10 luxury cottages deep in the heart of the Pembrokeshire countryside. They have excellent facilities which makes it a great choice for a baby's first holiday.
Meet Farmer Malcolm at 9.30am every morning to take part in the daily Clydey Cottages morning animal feeding session. First up, is Iggle the pig who chomps on an egg (and spits the shell out), before being hand fed the rest of his breakfast by the little farmers. Babies can also bottle feed lambs, feed the guinea pigs and rabbits and wake up the pygmy goats with a rendition of 'Wakey, wakey Mr Goat' at the top of their voices.
There is also a spectacular indoor swimming pool at Clydey Cottages, and an indoor soft play area and Spa.
Pembrokeshire has spectacular beaches, and loads of days out including Folly Farm and the Dyfed Shire Horse Museum.
Read More – Clydey Cottages Review
Learn More – https://www.clydeycottages.co.uk/
#6. Ribby Hall Village, near Blackpool
Ribby Hall Village offers 5* baby holidays at their holiday village near Blackpool. Each break includes 3 / 4 nights accommodation in a luxury lodge, access to the family swimming pool with water slides and splash zone, and 2 indoor soft play areas and an outdoor adventure play area.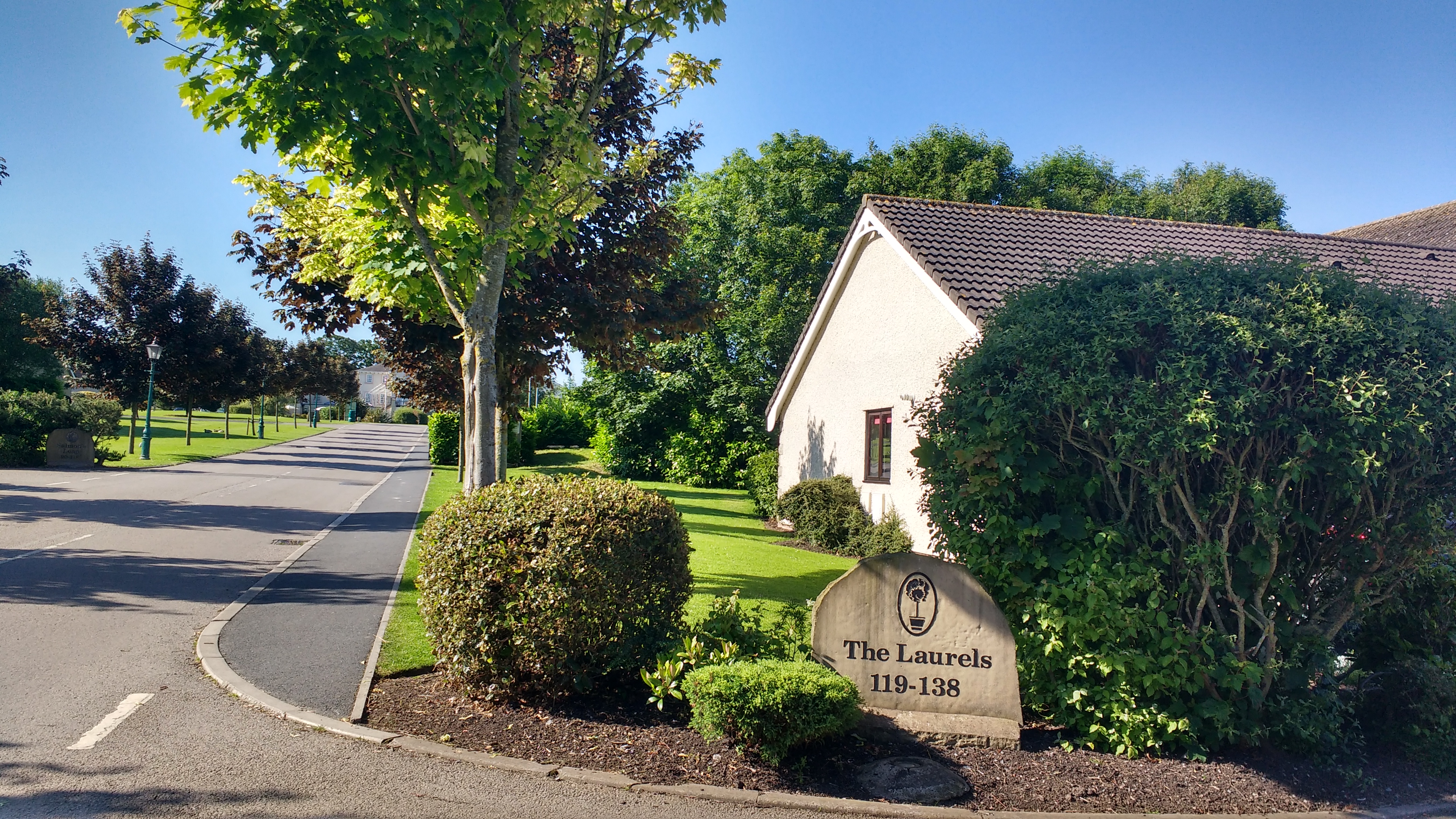 There are also loads of activities for babies and toddlers such as Messy Play, Baby Ballet and Balance Bikes. And if all that isn't enough, Ribby Hall Village is just a 10 minute drive from Blackpool – one of the most famous seaside resorts in the UK!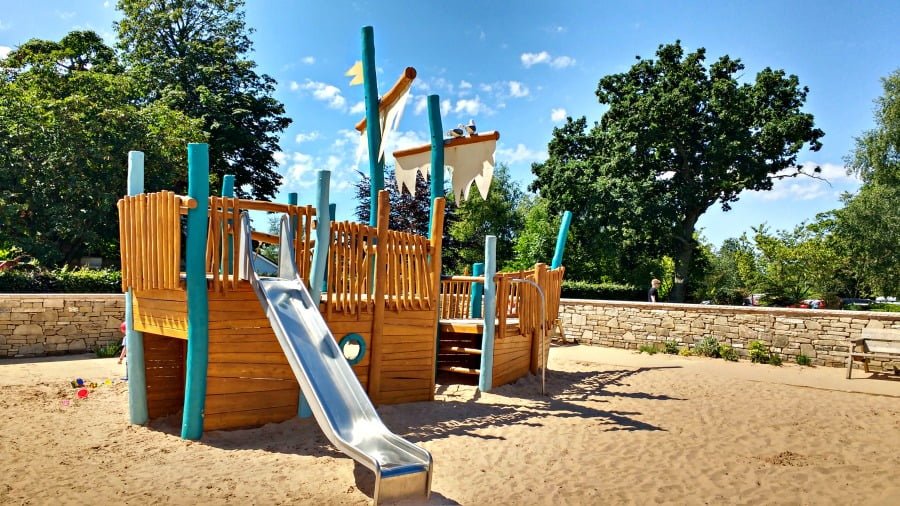 Prices From – £439 for a 4 night break for a family of 4. High chairs and travel cots are also included.
Read More – Ribby Hall Review
Learn More – https://www.ribbyhall.co.uk/stay-with-us/baby-toddler-breaks
#7. Wheeldon Trees Farm, The Peak District
Wheeldon Tree Farm have 9 award winning cottages in Derbyshire close to Buxton and Bakewell. They provide an excellent base for a exploring the Peak District, and attractions like Chatsworth House and Farm, The Heights Of Abraham and Crich Tramway Village.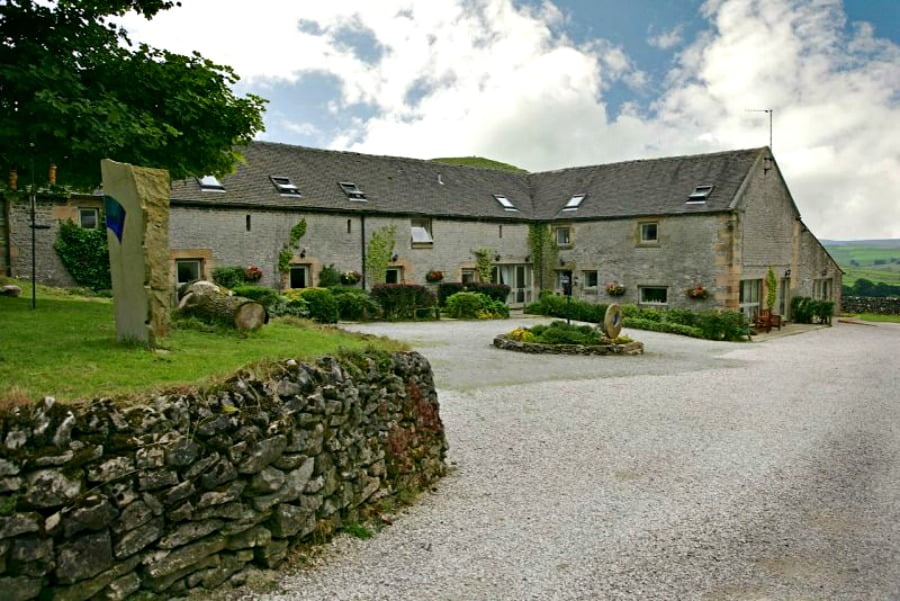 There is an adventure playground onsite, a Games Room with books, toys, DVDs and games and a free hop on and hop off bus from right outside the door. Toddlers will love meeting the alpacas, lambs (or sheep depending on the time of year), hens, ducks and bunnies which live at Wheeldon Trees Farm, and little farmers can join in with the animal feeding at 9.30am every day.
There are over 20 items of baby and toddler equipment available to borrow at Wheeldon Trees Farm.
Learn More – https://www.wheeldontreesfarm.co.uk/
#8. Glynn Barton Cottages, Cornwall
If you are looking for an amazing baby friendly cottage in Cornwall with animals to feed, an indoor swimming pool and loads of outdoor space to play in – look no further than Glynn Barton cottages. Run by James and Pippa, with help from their 2 young sons, Freddie and Max, these delightful 8 cottages are in an ideal location just round the corner from the Eden Project.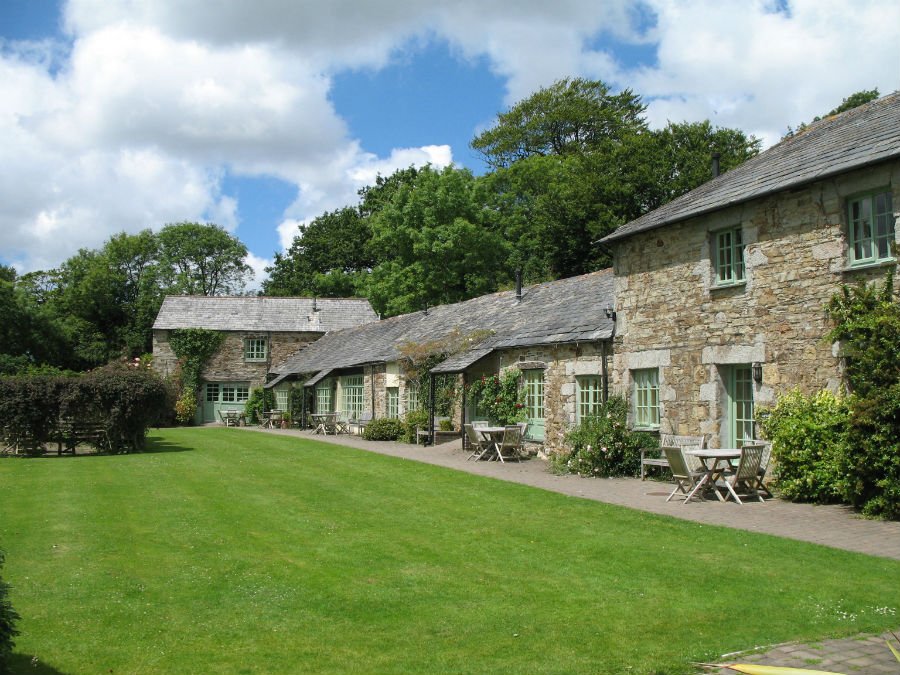 As well as the great location, the facilities on site are great for babies. They have a heated indoor pool, soft play barn, games room (with loads of toys), huge outdoor fort, tennis court, toddler ride on area and daily animal feeding. There is also 13 acres of space to explore, including a nature trail which is excellent for spotting wildlife.
Read More – Interview with Pippa and James – the owners of Glynn Barton.
Learn More – https://www.glynnbarton.co.uk/
#9. Humble Bee Farm, Yorkshire
Perfect for a baby's first glamping break, Humble Bee Farm has wigwams, yurts, tent pitches and even self-catering cottages on their arable farm in Yorkshire. All the wigwams are heated, and are large enough for a travel cot. The farm is a low noise site and prides itself on offering relaxing and peaceful breaks for families.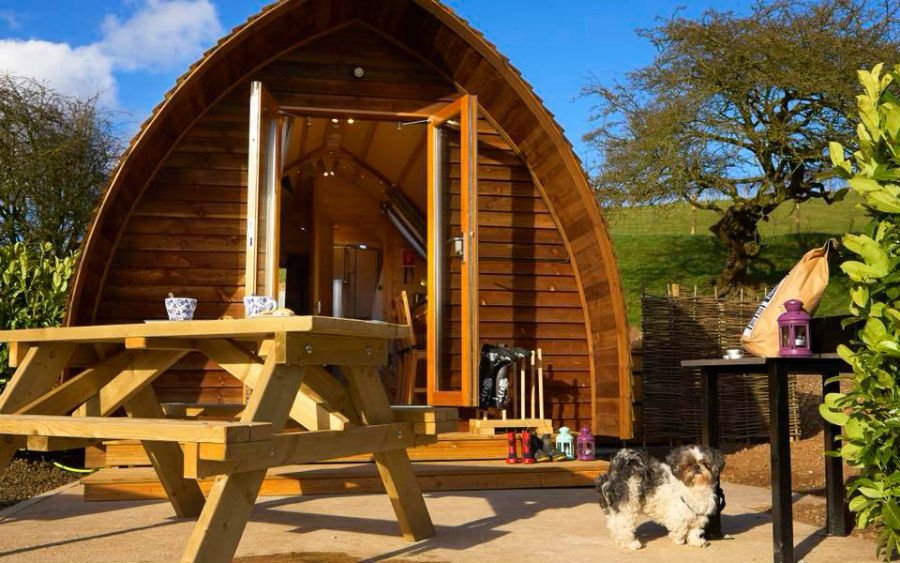 The farm is close to the seaside towns of Bridlington, Filey, Scarborough and Whitby which have lovely sandy beaches. There are lots of animals on the farm including chickens, sheep and cows, and children can help collect the eggs in a morning. There are also 2 playgrounds and loads of space to run around in.
Humble Bee Farm offers various nature events through the main season too, including Pirates and Princess Day – see website for full details.
Learn More – https://humblebeefarm.co.uk/
Read More – 5 Secret Places To Go On The Yorkshire Coast With Toddlers
#10. Sandybrook Country Park, The Peak District
Sandybrook Country Park is an award winning 5* holiday park on the edge of the Peak District. It has a wide range of luxury lodges (some with hot tubs), in a peaceful setting just outside the market town of Ashbourne in the Derbyshire Dales.

Sandybrook is a small and friendly holiday park, with an indoor swimming pool, toddler play area, outdoor playground and woodland walk. It is a good option for a first holiday with a baby as it is just a 25 mins drive to CBeebies Land at Alton Towers.
Read More – The Lowdown On A Stay At Sandybrook Country Park In The Peak District
Learn More – https://www.sandybrook.co.uk/
#11. Robin Hill Farm Cottages, Devon
Robin Hill Farm Cottages are 6 cottages in a beautiful rural setting close to Bideford in Devon. Each cottage has its own enclosed garden, patio and BBQ.
There is a lovely indoor pool heated to a toasty 30 degrees, where babies can learn to swim with a private ASA registered instructor. As well as the pool, there is a hot tub and games room with toys suitable for babies all the way up to big kids!
Outside there is a little play house, climbing frame, slide, swing ball and football net. Robin Hill Farm Cottages are near to a couple of sandy beaches and some great all weather attractions including the Big Sheep and the newly extended Milky Way which is a brilliant soft play centre.
Learn More – http://www.robinhillfarmcottages.co.uk/
#12. Crieff Hydro, Perthshire, Scotland
Crieff Hydro is a family friendly resort in Perthshire with a hotel, and over 50 self-catering lodges, apartments and cabins. There are 6 different places to eat, and a swimming pool complex and onsite cinema (included in the price). There is a activity centre which includes an indoor castle with trampolines, ball pool and separate baby area. Educational activities like nature trails and painting are included in the price too.
There is a Spa onsite which offers a New Mum Treatment package designed to relax and revitalise new parents!
Note – Prices include up to 2 childcare sessions a day, but this is only for children aged 2+.
Learn More – https://www.crieffhydro.com/
#13. Bosinver Farm Cottages, Cornwall
Bosinver Farm Cottages. Bosinver Farm Cottages come highly recommended by parents for the sheer range of things for babies to do on the farm. This includes going on pony rides, feeding the animals and collecting eggs. They really have thought of everything at Bosinver – you can even borrow a set of baking equipment if you fancy getting busy in the kitchen with your little one on a rainy day.
The 20 cottages are set in 30 acres of peaceful farmland and woodland. There is an indoor swimming pool heated to a toasty 30 degrees, and a play barn full of soft play equipment.
There is loads of baby equipment including stair gates, high chairs, booster seats, bed guards, Bumbos, baby baths, changing mats, strollers and baby back packs which can be borrowed.
Learn More – https://www.bosinver.co.uk/types-of-stay/baby-toddler-breaks
Read More – 27 Amazing Baby And Toddler Friendly Places To Stay In Cornwall
#14. North Hayne Farm Cottages, Devon
North Hayne Farm Cottages are award winning farm buildings set in a secluded dell in North Devon. Each cottage has their own private tub and patio, and are named after characters like Squirrel Nutkin and Peter Rabbit.
If you stay at North Hayne in the spring, your baby could help bottle feed the spring lambs or take them for a little walk. Collecting fresh eggs is all year round activity as are free donkey rides. There is a playbarn for babies and toddlers, and a games room and a babysitting service and holistic treatments for adults.
Read More – A Toddler Friendly Farm Holiday On North Hayne Farm
Learn More – http://www.northhaynefarmcottages.co.uk/
Read More – 21 Baby And Toddler Friendly Places To Stay In Devon
#15. Bedruthan Steps Hotel, Cornwall
The Bedruthan Hotel is set in a stunning clifftop position above the beach on the North Cornwall coast. It is also within walking distance of the famous Bedruthan Steps. The facilities for babies are excellent – there are baby exploring play areas including ball pools, slides and swings plus wooden ride on toys and even a baby rocking horse.
There are 3 outdoor swimming pools at the hotel including a shallow one for little ones, and an indoor one too.
Baby Breaks at the Bedruthan Hotel include complimentary childcare sessions, baby listening services, breakfast in bed and babysitting. There is loads of baby equipment available to borrow including baby back packs and bottle warmers.
https://www.bedruthan.com/baby-and-toddler-breaks/
Read More – 27 Amazing Places To Stay With Babies And Toddlers In Cornwall
#16. Birchill Farm, Devon
These 4* and 5* baby friendly cottages in Devon countryside are close to the beaches and also to Exmoor and Dartmoor. They are ideal for a first holiday with a baby. As well as 8 acres of grassland to run around in, there are alpacas, goats, ponies, donkeys and ducks to feed with Farmer Simon.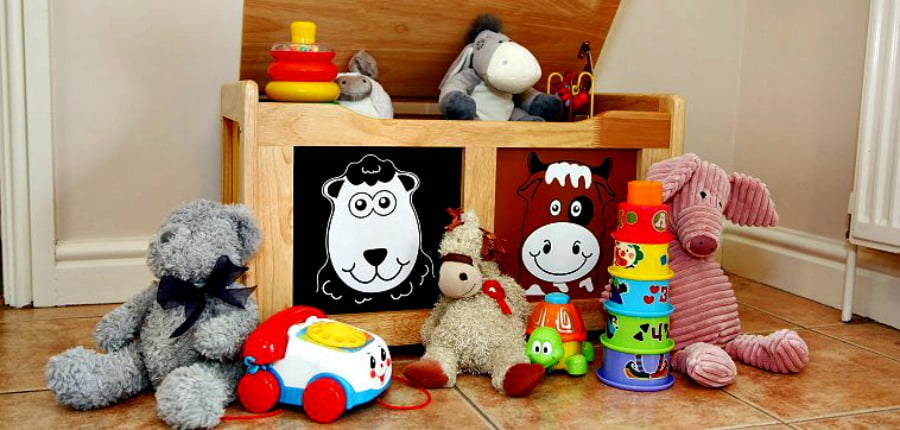 There is also an indoor play barn and an outdoor play area with a farm themed baby and toddler zone with a pretend farm shop, pony spring rider and a Birchill Farm tractor playframe. There is also a box of toys in each cottage and a library of children's books to use during your stay.
Learn More – http://www.birchillfarm.co.uk/
#17. Monkhouse Hill Cottages, The Lake District
Monkhouse Hill Cottages have 9 cottages set around a courtyard in 5 acres of paddock, lakes and woodland in the Lake District. Some of the cottages even have their own private hot tubs.
Babies will love the toy boxes that little guests can borrow during their stay, which includes mega sets of Bob the Builder and Happy Street. There is an outdoor play area with swings, a slide, a tunnel and a secret house, as well of 5 acres of grounds to run around in and explore.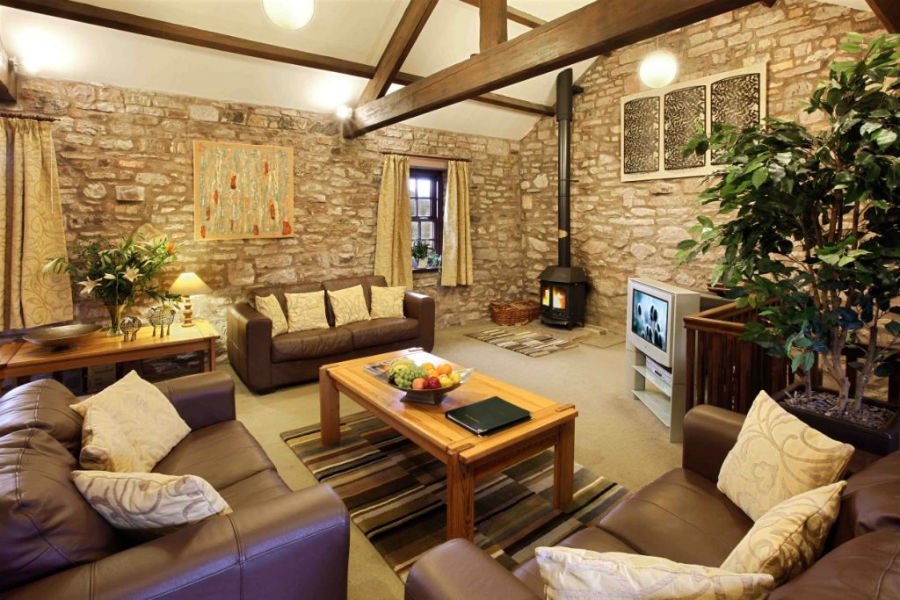 Families with babies can make use of the Baby and Toddler Rescue Cupboard which includes everything you may need to borrow including baby monitors, baby baths and baby carriers.
Guests are also free to use the swimming pool, steam room and sauna at the nearby North Lakes Spa.
Learn More – http://www.monkhousehill.co.uk/
Read More – 11 Places To Stay With Babies And Toddlers In The Lake District
#18. Bridge Farm Cottages, Yorkshire
Bridge Farm Holiday Cottages in Driffied, East Yorkshire are great for a first holiday with a baby. As well as animals to feed, these delightful cottages offer younger guests a large sand pit to play in, pedal tractors, diggers and a 2 storey wendy house.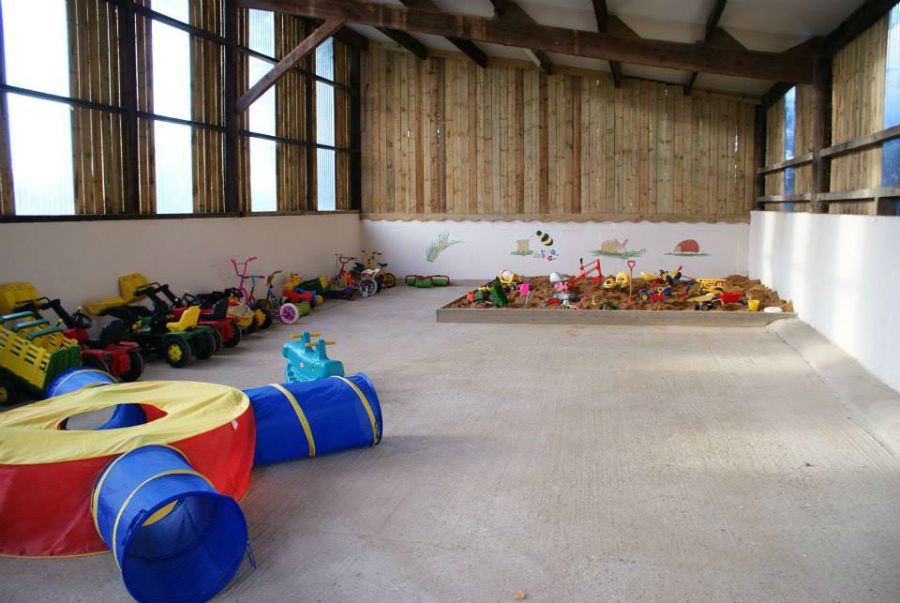 All the cottages have underfloor heating and wood burning stoves.
The seaside towns of Filey, Scarborough and Bridlington are easily accessible, along with Flamingo Land theme park (with a Peter Rabbit playground) and The Deep sub aquarium in Hull.
Learn More – http://www.bridgefarmholidaycottages.co.uk/
Read More – 25 Awesome Baby And Toddler Friendly Places To Stay In Yorkshire
Europe
#19. TUI Family Life Coma Gran, Majorca
This awesome hotel is in a great location – just a minutes' walk from San Coma's soft, sandy beach, and also next to a great selection of shops, bars and restaurants. As well as a massive swimming pool, there is also a children's swimming pool and a brand new splash park at the Family Life Coma Gran. Away from the pool these is a playground and soft play area.
But the best bit about this hotel are the facilities for babies. The BabyClub is especially for 0-3 year olds and is run by fully trained staff. The club costs a bit extra but includes sleep rooms, quality baby equipment from reputable companies and activities to keep babies stimulated.
There are also dedicated parent and toddler sessions where you can take part in activities such as music, games and storytelling.
The onsite Baby Lounge gives families somewhere to escape to if you need to feed or change your baby.
Finally, you can hire all the baby equipment you need at the Como Gran hotel including cots, pushchairs, sterilisers and bottle warmers.
Learn More – TUI FAMILY LIFE Coma Gran
Read More – Top 10: The BEST Baby and Toddler Friendly Hotels In Majorca
#20. The Almrya Hotel, Cyprus
The Almrya Hotel in Cyprus is renowned for providing excellent facilities for babies. There is a specially designed children's swimming pool which is shaded by an awning to protect babies from the sun on hot days.
The 'Baby Go Lightly' service lets parents' pre order essentials such as potties, high chairs, prams, sterilisers and even crayons, colouring books, books and children's DVDs so you don't need to bring them with you.
There is also an indoor playroom and an outdoor playground, as well as a crèche which you can book when you arrive (extra cost).

Learn More – The Almrya Hotel In Cyprus
Read More – 11 Of The Best Baby And Toddler Friendly Hotels in Greece
#21. Royal Son Bou Family Menorca
Regularly voted Trip Adviser's best family friendly hotel in Spain, the Royal Son Bou Family Club is a great choice if you are looking for a baby friendly hotel in Menorca. There is a huge children's swimming pool with a pirate ship and waterslides, and this area is enclosed and surrounded by artificial grass. The hotel is great for beach lovers too with direct access to Son Bou Beach, which is the longest on Menorca.
There is a Kid's Club for babies aged 0 -2 and a Mini Club for children aged 3-4. Typical activities at the clubs include lego, face painting, t shirt painting, finger painting and crafts. There are 2 restaurants to choose from including one with a children's buffet.
Learn More – The Royal Son Bou Family Life Menorca
Read More – The Best Baby and Toddler Friendly Hotels In Menorca
#22. TUI Sensatori Resort, Ibiza
The luxury Sensatori Resort is set on a hillside overlooking sleepy Cala Tarida Bay.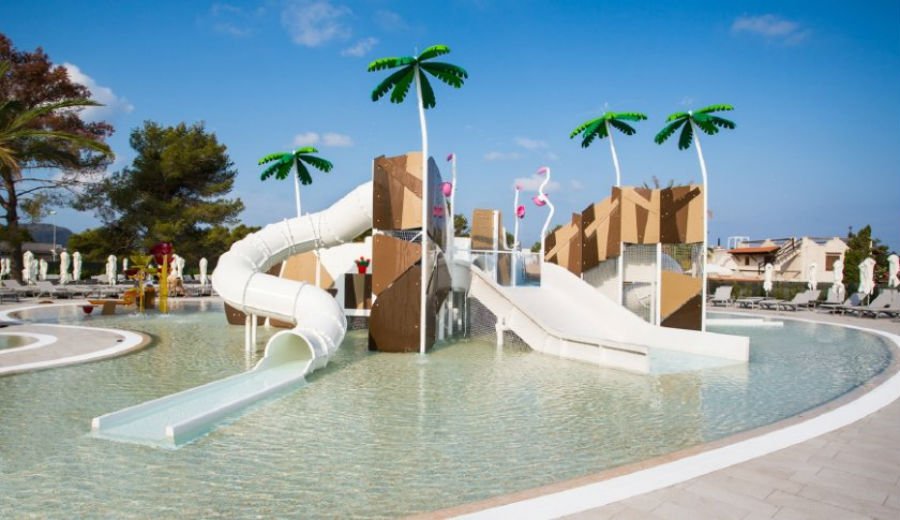 Babies will love the Splash pool with slides, fountains and buckets, and the Baby and Toddler Sensory Nursery which has flashing lights, things to touch and feel, and a Little Land of Nod sleeping room. It is designed for children up to 4 years old, and is available 7 days a week.

Learn More – TUI Sensatori Resort Ibiza
8 Of The BEST Baby and Toddler Friendly Hotels In Ibiza
#23. Magic Natura, Benidorm
Magic Natura is Europe's first animal and water theme park located just outside Benidorm in Spain. All guests get free entry to the Terra Natura Animal Park and the Aqua Natura Waterpark so it is great choice for animal lovers and water babies!!
The animal park has over 1500 animals including tigers, rhinos and elephants and there aren't any bars or barriers to stop babies being able to see everything.
Accommodation is in 1 bedroom / 2 bedroom Polynesian lodges and some of them have a Jacuzzi.
Learn More – The Magic Natura Benidorm
Read More – 17 Baby And Toddler Friendly Places To Stay In Spain
#24. TUI Family Life Lagoon Princess – Halkidiki
This 5* hotel is situated on the stunning peninsula of Halkidiki. This resort has remained relatively off the radar for tourists until now, but is well worth a visit if you want amazing beaches and warm sunshine.
There are 4 outdoor swimming pools including a Baby Pool, as well as an indoor pool in case you want to escape the sun for a bit. There is also a shaded pool for little ones with waterslides and fountains to splash around in.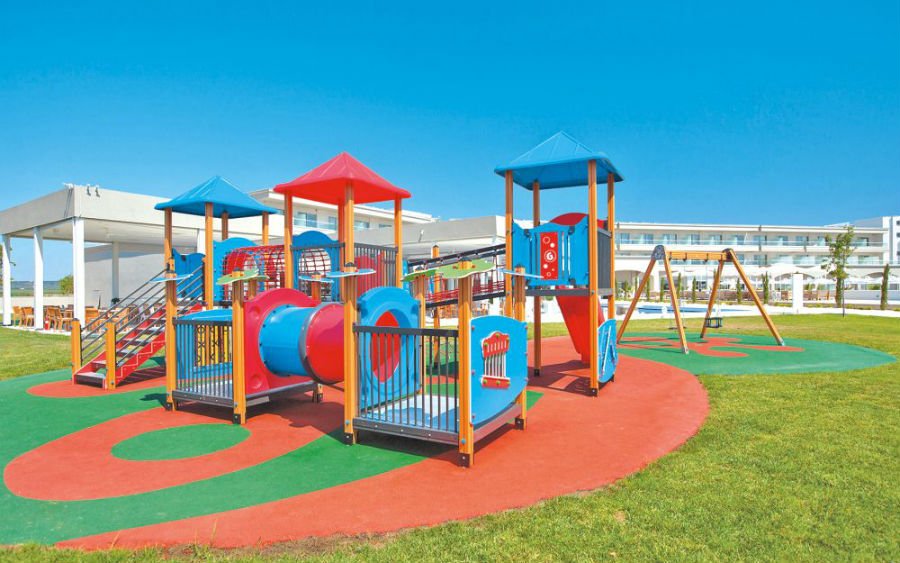 There is a Baby Club crèche, dedicated Parent and Toddler sessions including activities like singing and storytelling and an air conditioned Baby Lounge. Baby equipment can be hired too.
The hotel is relatively new so the rooms are fresh and modern. All have WIFI and swim up rooms and Family Suites are available.
Learn More – TUI Family Life Halkidiki
#25. Pagel Gites, France
If you want a bit of luxury in France, then Pagel is your place. There are 7 gites and 2 luxury lodges located in a quiet valley in Southern France. Goldilocks cottage, is a log cabin set slightly more independently overlooking the grounds, and themed on the Goldilocks and the three bears fable. It has a fantastic terrace with stunning views and plenty of cuddly bears around!
Babies will love the playbarn which is packed full of toys including Little Tikes buggies, a dressing up area and soft play.
The outdoor play area is also very popular with swing sets, slides and an enormous Pirate ship.
If the children want to cool off, they can swim in the heated toddler swimming pool located in the main pool area. Pagel offers daily activities, which change each session, but they could include den building, giant bubble blowing, animal mask making, face painting, treasure hunts or tree decorating.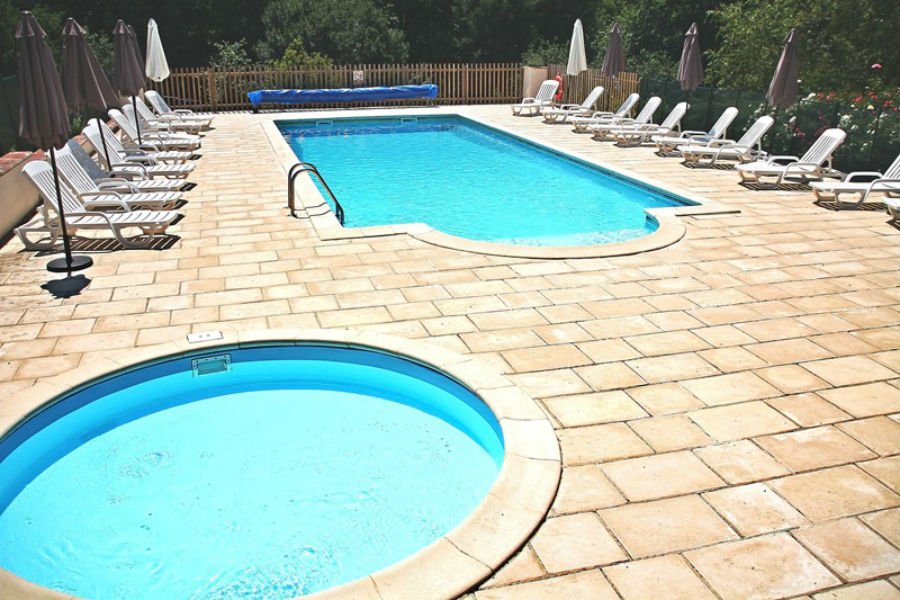 Read More – Interview With Mark Bishop – Owner Of Pagel Gites In France
Learn More – https://www.pagel-france.com/
#26. Duinrell Holiday Park, The Netherlands
Duinrell is a family friendly holiday park, with a theme park and water park located in South Holland. Surrounded by woodland, and just 4km from a sandy beach, Duinrell is also a great base from which to explore Holland.
Entrance to the theme park is included in the cost of your stay so you don't need to pay anything to get in when you are there. The theme park is 5 minutes walk from most of the holiday homes and you don't need to show a pass to get in – you just come and go as you please.
It's a perfect option for babies who might not be able to hack a full day at a theme park in one go. At Duinrell, you can visit the park for a few hours, pop back to your holiday home for a nap or lunch, and then go back in the afternoon to go on a few more rides.
There is also an indoor water park (payable extra), which has an amazing splash park for little ones featuring a baby swimming pool with a depth of 15cm.
Read More – Duinrell Review: Everything You Need To Know About Duinrell With Toddlers
Learn More – https://www.eurocamp.co.uk/holiday-types/full-on-fun/duinrell
#27. Imagine Roussillon, France
Imagine Roussillon is a family friendly resort in the South of France surrounded by vineyards and peaceful countryside, but less than 10 minutes' drive from sandy beaches at Canet Plage. They have just 6 luxurious baby and toddler friendly apartments, 2 swimming pools, a fitness studio and Kids Club at Imagine Roussillon, and they are specialise in holidays for families with babies and kids up to age 10. At the same time, parents can have a holiday at Imagine Roussillon, as they offer massages, fitness classes, a gym, jacuzzi, café bar, free wifi and meals to help tired parents relax.
The apartments are large and air conditioned, with loads of baby and toddler equipment waiting for families on arrival e.g. cots, high chairs, blenders, changing mats, baby monitors and so on.
The pool is warm and toasty – the perfect temperature for babies. Babysitting is included in the cost of holidays so parents get some time off!!
Read More – Interview With Phil Davies – Owner Of Imagine Roussillon
Learn More – https://imagineroussillon.com/
#28. The Clube Humbria, Portugal
The Club Humbria is a great option for a baby's first holiday in Portugal. Recently nominated as one of Tripadvisor's Best Hotels For Families, the apartments are light and airy surrounding a large pool area, and the beach is just a 10 minute walk away. There is a new splash park with tipping buckets and slides, and a children's playground.
The apartments are spacious and have a little kitchenette with a proper fridge and sink so you can prepare small meals.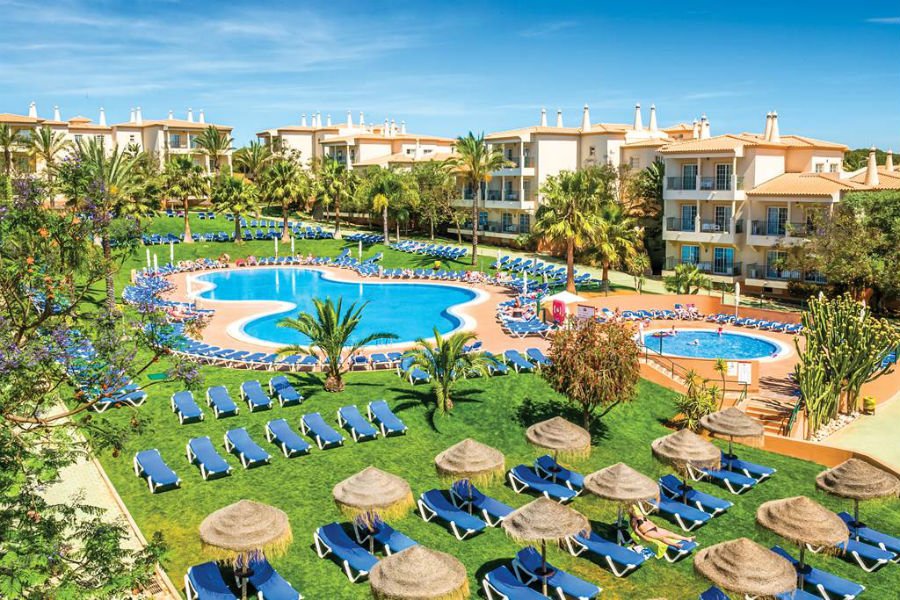 Learn More – https://www.jet2holidays.com/portugal/algarve/olhos-dagua/clube-humbria
Read More – 12 Of The Best Baby And Toddler Friendly Hotels and Villas In Portugal
#29. Green Garden Resort, Tenerife
The Green Garden Resort in Tenerife is located in between two of Tenerife's most popular resorts; Playa De Las Americas and Los Cristianos. Playa De Las Americas is quite bustling whereas Los Cristianos is more relaxed so this resort is in a great location to experience the best of both worlds. A complimentary shuttle bus runs from the hotel to the resort centre and Siam Park (Europe's largest water park).
The hotel has an oriental theme and a tropical setting with 2 swimming pools and 1 children's pool. There is also a children's playground. Daily entertainment is included.
Accommodation is in spacious suites which have a kettle, microwave, cooking rings, oven, toaster and fridge freezer. If you don't fancy cooking, you can choose the All Inclusive board basis.
Learn More – Green Garden Resort in Tenerife