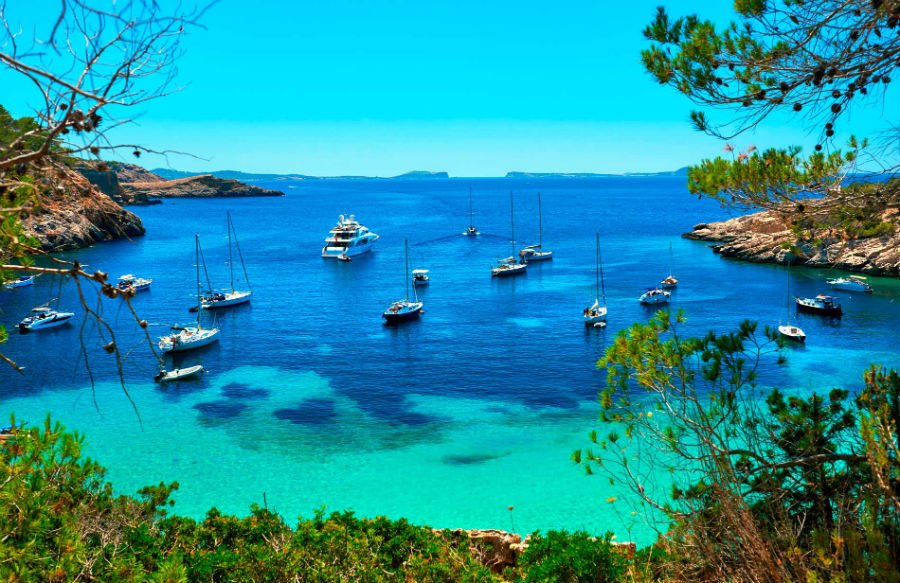 A guide to the best baby and toddler friendly hotels in Ibiza including hotels with splash parks, on the beach and near to water parks. Discover the best places to stay with babies and toddlers in Ibiza.
#1. Family Life Club Aura – Ibiza
The Family Life Club Aura is a popular choice for families looking for a baby or toddler friendly hotel in Spain. The hotel is located in a quiet resort across the road from a supermarket and gift shop, and aprox 2 minutes' walk from Port Des Torrent Beach. You can even get the water taxi from the beach to San Antonio town, where there are loads of bars and restaurants.
The hotel has a large pool, as well as free access to the waterpark next door. This includes a pirate themed children's area with jets and sprinklers. There is also a soft play area and playground.
Babies are very well catered for at the Family Life Aura hotel. There is an air conditioned Baby Lounge where you can prepare baby food and change your baby rather than going back up to your room. The hotel also has a Baby Creche for babies aged 0-3. Children aged 3+ can go to the Bamse Club for children aged 3-5.
Learn More – TUI Family Life Club Aura
#2. Holiday Village Seaview – Ibiza
The Holiday Village Seaview has all the fun and facilities you would expect from a Holiday Village resort. There is a huge swimming pool, separate Kids pool, waterpark, 2 playgrounds (one specifically for Under 6's), swimming lessons and loads of activities and entertainment through the day and night.
The water park has a separate splash park for little ones which includes a pirates play area, 10 mini slides and a giant tipping bucket.
The Twinklestars crèche sessions are for 0-3 year olds, and have loads of toys and a maximum of 3 children per Creche Rep.
The hotel is only 100m from Port D'es Torrent Beach and 4km from San Antonio.
Learn More – Holiday Village Seaview Ibiza
#3. TUI Sensatori Resort, Ibiza
The luxury Sensatori Resort is set on a hillside overlooking sleepy Cala Tarida Bay.
Toddlers will love the Splash pool with slidesa, fountains and buckets, and the Baby and Toddler Sensory Nursery which has flashing lights, things to touch and feel and a Little Land of Nod sleeping room. It is designed for children up to 4 years old, and is available 7 days a week.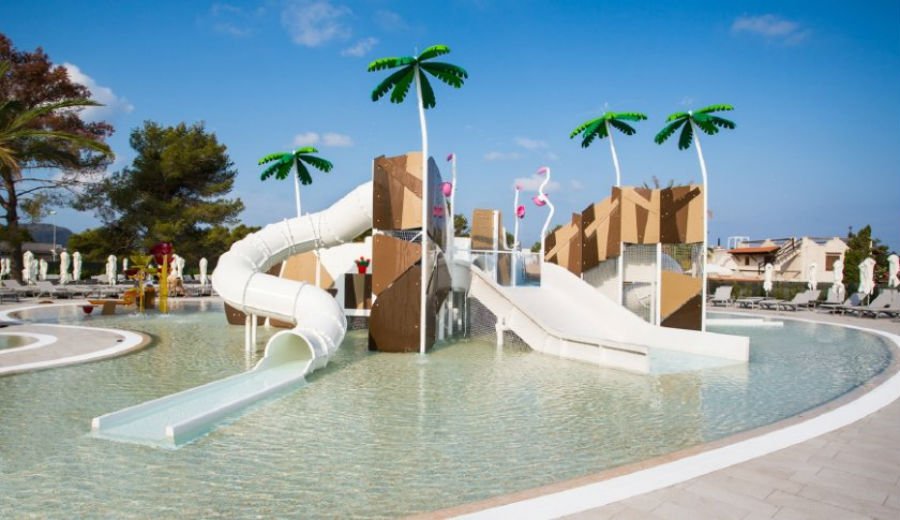 For children aged 3+ there is a Play House with a Crazy kitchen, Silly Science Lan and Arts and Crafts Zone.
Parents can chill out in the Adults only swimming pool, the Spa or take part in a Fitness Class.
Family Rooms and Family Suites are available at the Sensatori Resort.
Learn More – TUI Sensatori Resort
#4. Sirenis Cala Llonga

The Sirenis Cala Llonga Resort is located on a hillside overlooking one of the best beaches in Ibiza.
Cala Llonga Beach has beautiful clean white sand and is very sheltered as it is in an inlet. It doesn't tend to get too busy, and because the hotel is so close, you can pop down to the beach from the hotel without having to commit to spending the whole day there. There is also a children's playground on the beach too.
There are 3 swimming pools at the Sirenis Cala Llonga hotel – 2 of which have separate areas for children – and there is a Baby Pool too.
Family Suites are available, and are a very good size. There is a large lounge with a sofa and extra bed as well as a big bedroom with a large bed and walk in wardrobe, and its own door to the balcony.
The hotel is close to the Aquamar water park.
Learn More – Sirenis Cala Llonga Resort
#5. Hotel Presidente – Portinax
The Hotel Presidente is a lovely little hotel for babies and toddlers. There is a great kids splash pool, and the hotel is next to the beach where the water is so clear that you can see the fish swimming around! There are also some rock pools where toddlers can hunt for crabs and little fish.
Toddlers will love the selection of ice lollies and slush puppies which guests staying on the All Inclusive package can help themselves to.
There is loads to do in the local area such as hiring a pedalo with a slide or going to the Hippy Market to do a spot of shopping.
Rooms are basic and functional but Family Rooms are available.
Learn More – Hotel Presidente in Portinax
#6. Fiesta Tanit in Cala Graco
Very popular hotel for families with babies and toddlers. The hotel is a short walk from Cala Gracio beach, which is a beautiful cove with shallow, crystal clear water – perfect for toddlers to splash around in. There is another small cove around the corner which you can swim to, and you can catch the water taxi to San Antonio too.
There is also a brilliant Splash park for little ones and another pool as well. Entertainment (day and night) is available, as well as a Kids Club for children aged 3+.
Learn More – Fiesta Tanit Hotel
#7. Grand Palladium Ibiza
This stunning 5* hotel has 4 swimming pools and a sandy beach on the doorstep. There are 2 large outdoor swimming pools, and one has a splash park for children attached. There is also a relaxing outdoor swimming pool with jet streams, water umbrellas, bubble areas and sensation showers (not for children, but very nice for tired parents!).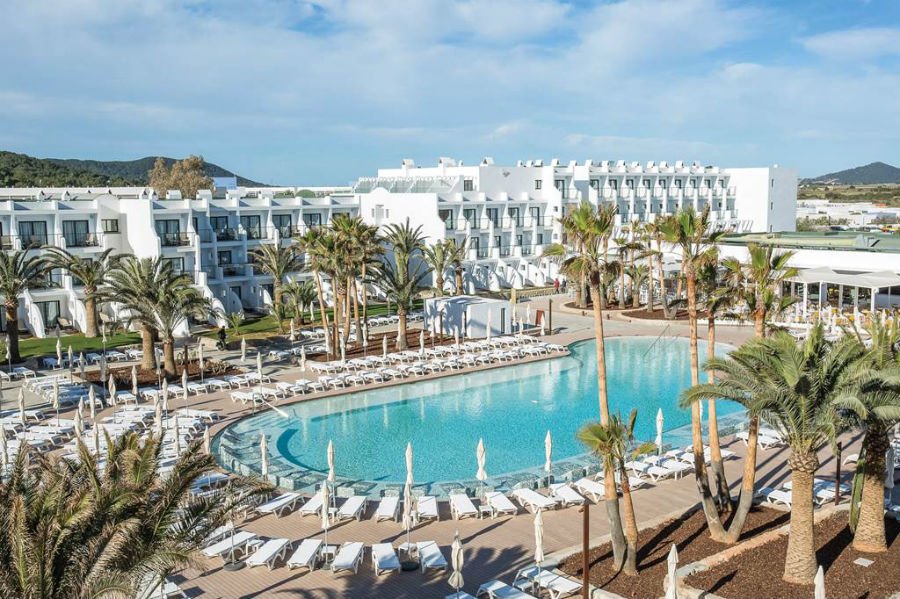 One thing to note is that the The Kids Club is only for children aged 4+
Learn More – Grand Palladium White Island Resort And Spa
#8. Alua Miami Ibiza Hotel And Apartments
This hotel is in a stunning location right on the beach with a swimming pool overlooking the sea. Toddlers will love the Splash park with its fountains, sprays and tipping water buckets, and away from the pool there is an outdoor play area and indoor soft play.
Families wanting a bit more space, or a separate sleeping area for their little one, can choose one of the 2 bedroom apartments available. Family rooms are available in the hotel too – and this is due to be refurbished in summer 2018.
Learn More – Alua Miami Ibiza Hotel and Apartments
Read More – Top 10 Baby And Toddler Friendly Hotels In Menorca
Read More – Top 10 Baby And Toddler Friendly Hotels In Majorca
Read More – 25 Amazing Baby And Toddler Friendly Hotels In Europe
Can you recommend any baby or toddler friendly hotels in Ibiza?