7 BEST Portable Blackout Blinds That Will Help You Get A Good Nights Sleep!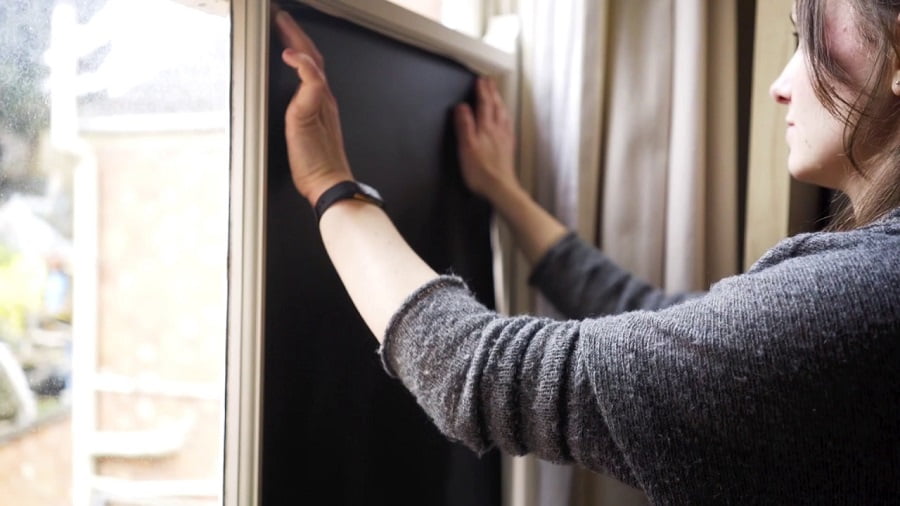 A good night's sleep is one of the things parents crave when they have young children! Children waking up at the crack of dawn means that poor mum and dad are also woken up – and then the rest of the day becomes a bit of a struggle. Blackout blinds are a great way of keeping the room dark so little ones stay asleep longer. And if you get portable blackout blinds you can take them on holiday too, so you get a well deserved lie in when you go away too. Read on for a guide to the best blackout blinds – they may be the best thing you ever buy!
Best Portable Blackout Blinds
#1. Daydreamer Blinds Velcro Stick On Blackout Blinds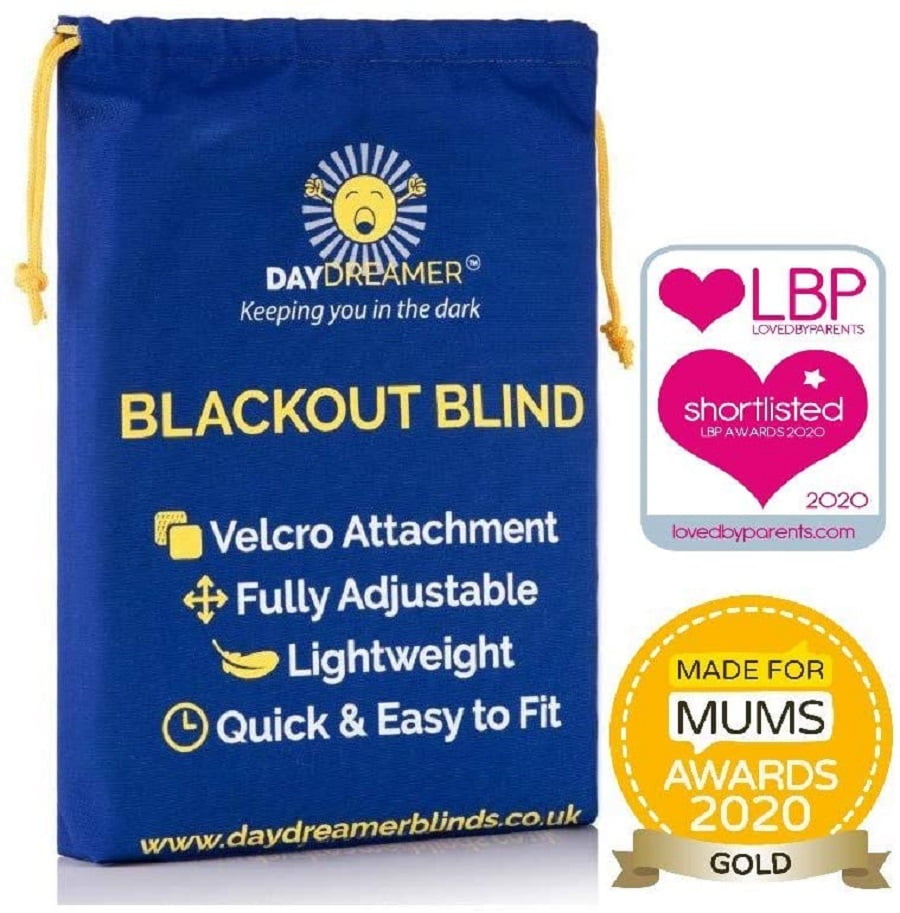 One of the best things about the award-winning Daydreamer portable blackout blinds is that they have straps which allow you to leave your blind up during the day and either roll it up or move it to the side to let the light in. They work by using Velcro tabs to stick the blind to the glass on the window making the room pitch black. A great choice for a semi-permanent way of keeping your baby's room dark!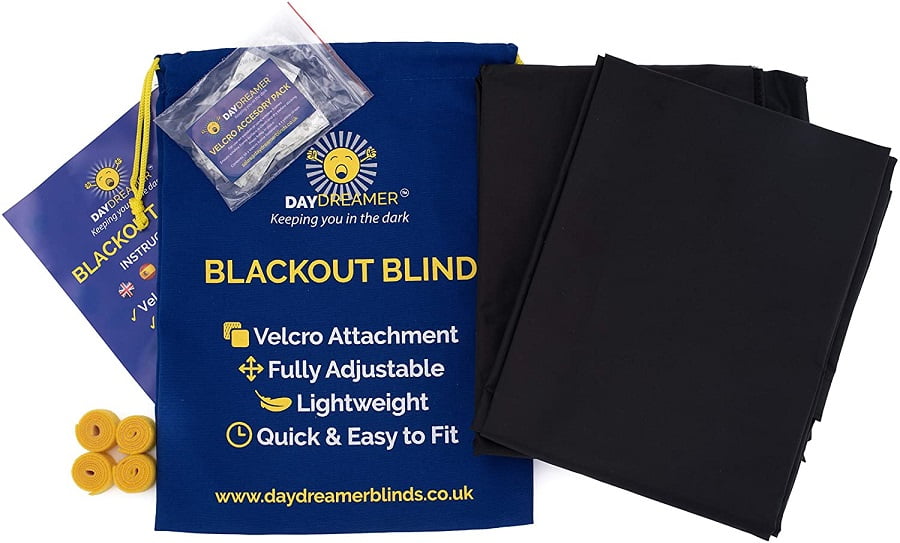 Pros
Won Gold in the Made For Mums 2020 Awards
Supplied with two blinds each measuring 1m x 1.3m which can be used on their own or overlapped and joined together to fit any window up to a maximum size of 1.3m x 2m or 2.6m x 1m.
Easy to install
2 blinds in each pack so good value.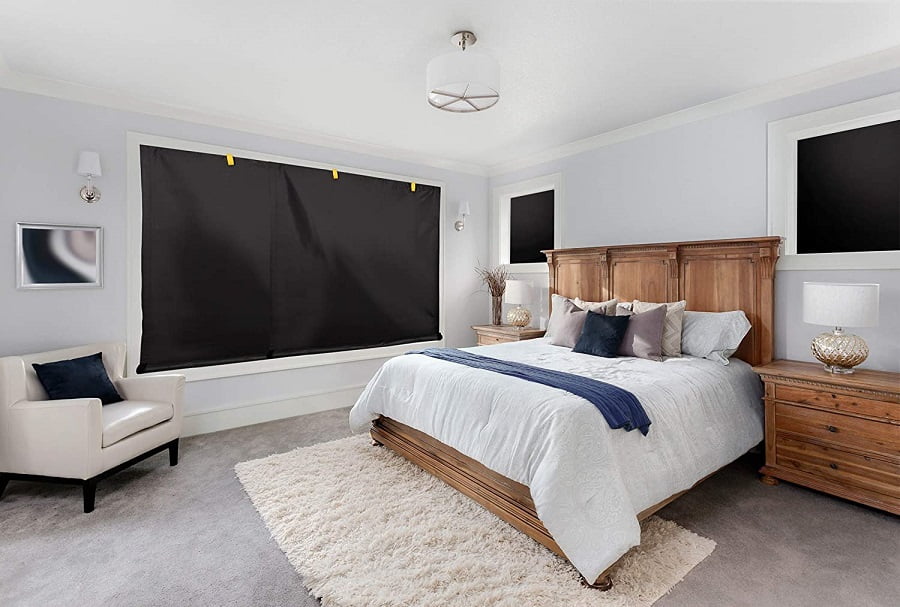 Cons
May need extra Velcro bits but these can be ordered separately.
Learn More – Daydreamer Blinds
#2. The Gro Company Stars and Moons Gro Anywhere Portable Blackout Blind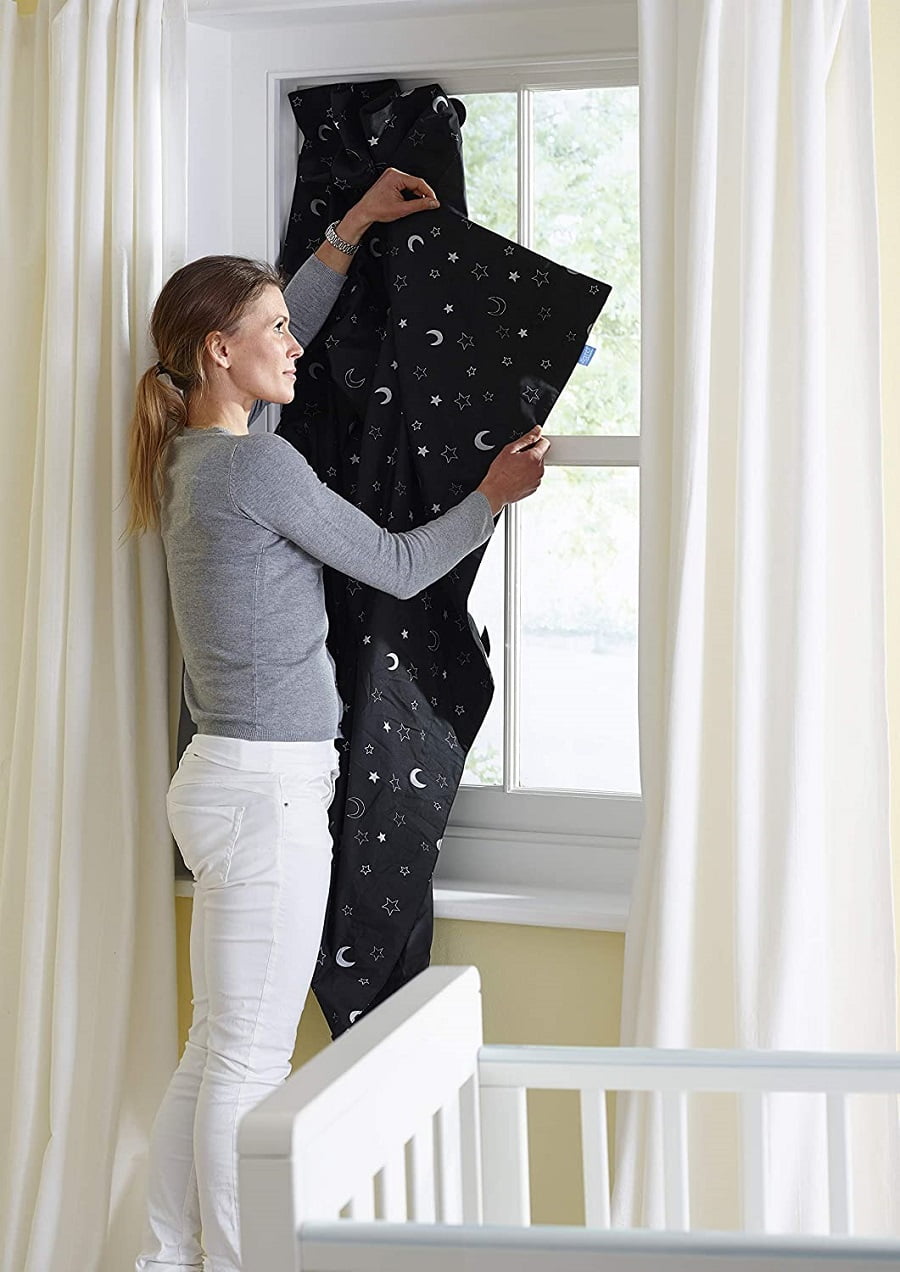 This best-selling travel blackout blind was the one we used when our boys were small. It's really easy to install – just take it out of the bag and use the suction pads to stick it onto the window to make the room pitch black in minutes. The blinds cover a large window, and the suction pads are conveniently placed along the blind so it can fit smaller windows too.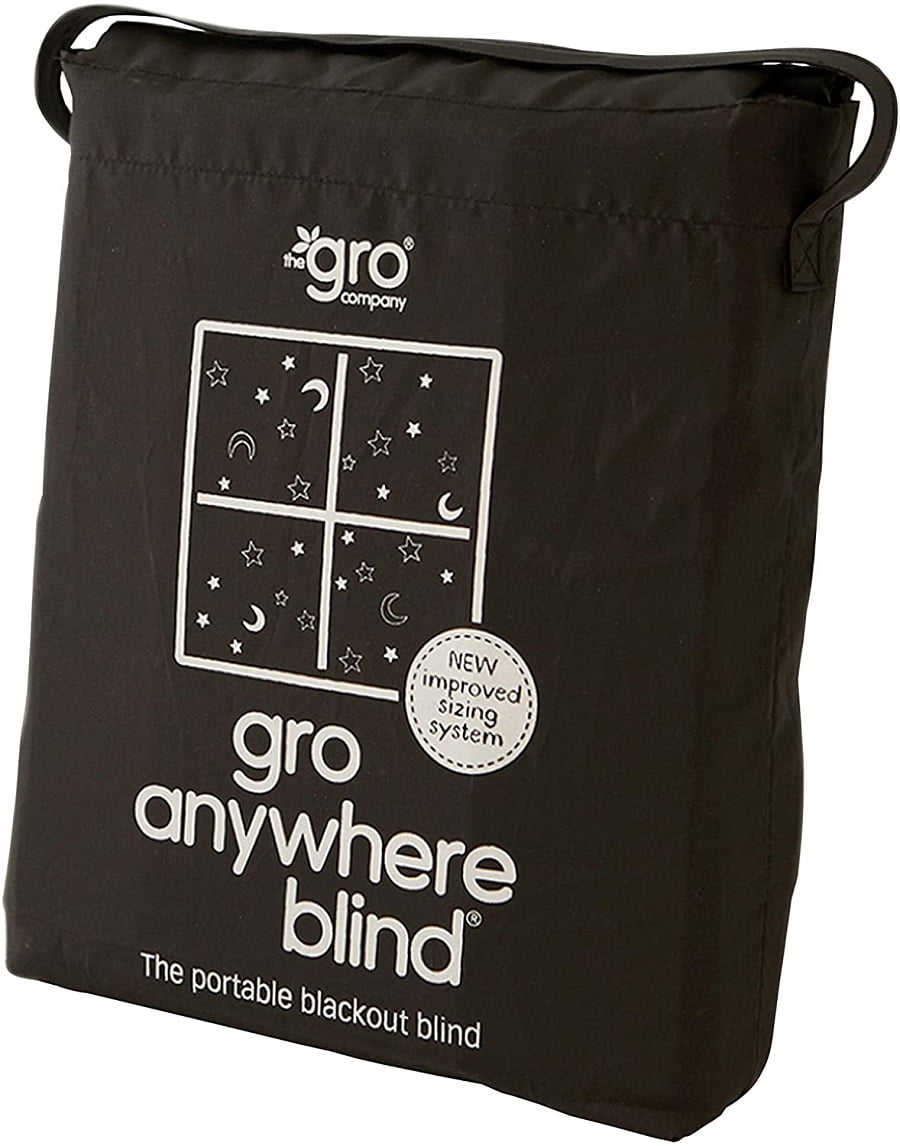 Pros
Very easy to use – the blind is up in minutes.
Makes the room very dark – can be used to get your little one to sleep earlier on a night or so they can have a lie in in a morning.
Comes with a handy travel bag – good for taking on holiday
Light – only weighs 200g.
Can be adjusted so it fits all size of window.
Cons
Some people report the suction pads losing their stickiness after a bit. We didn't have any problems with this but it is recommended that you keep the pads clean and remove any dirt which might become attached.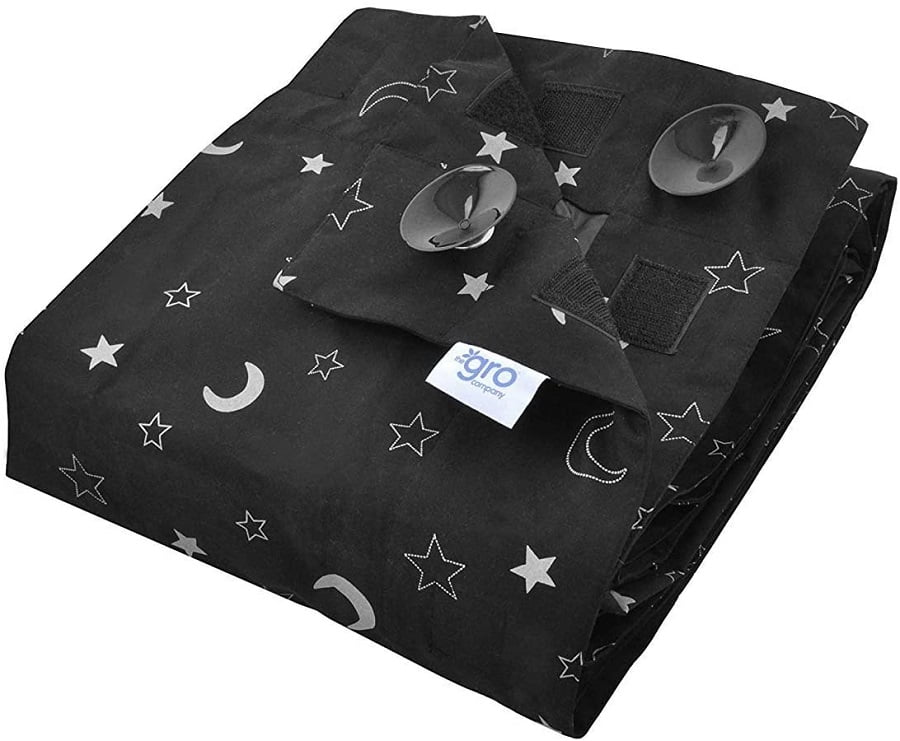 Learn More – The Gro Company Stars and Moons Gro Anywhere Portable Blackout Blind
#3. Lights Out Portable Pop Up Blackout Blind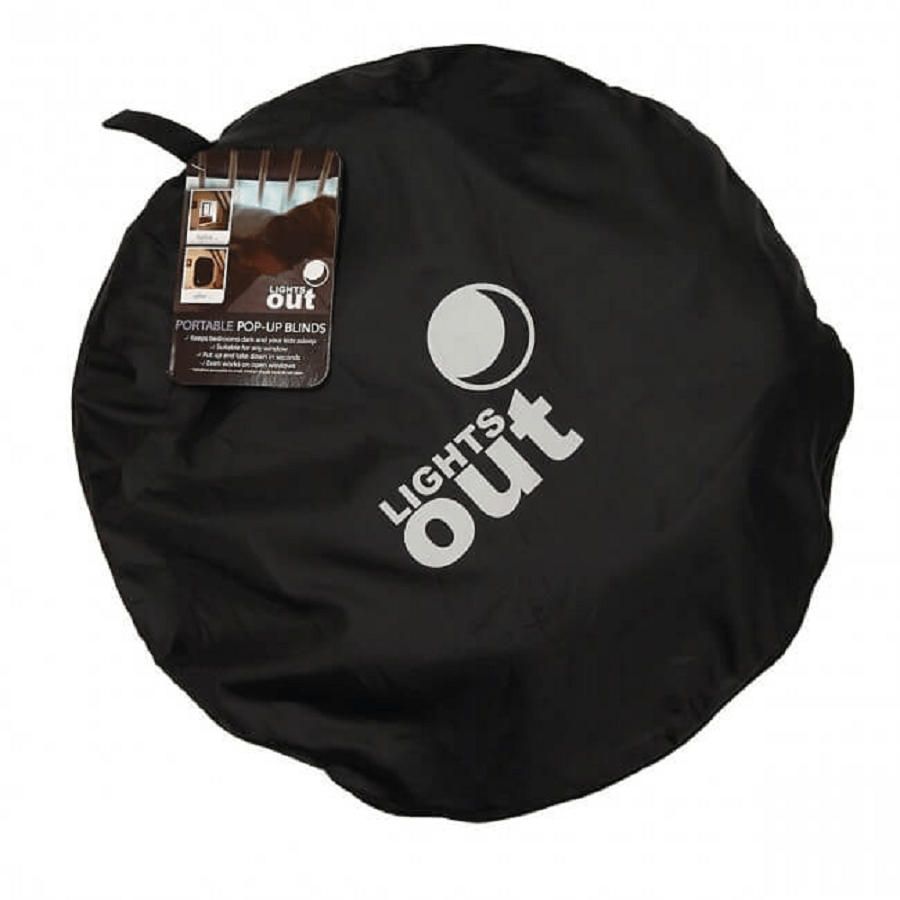 This specially designed travel black out blind is a great choice for blocking out light on larger windows. It's got a special metal frame which pops up in seconds allowing the blind to be fitted easily to the window using suction pads. Once this has been done, you can use the draw string to pull the blind towards the window keeping it in place and sealing the gaps around the edge.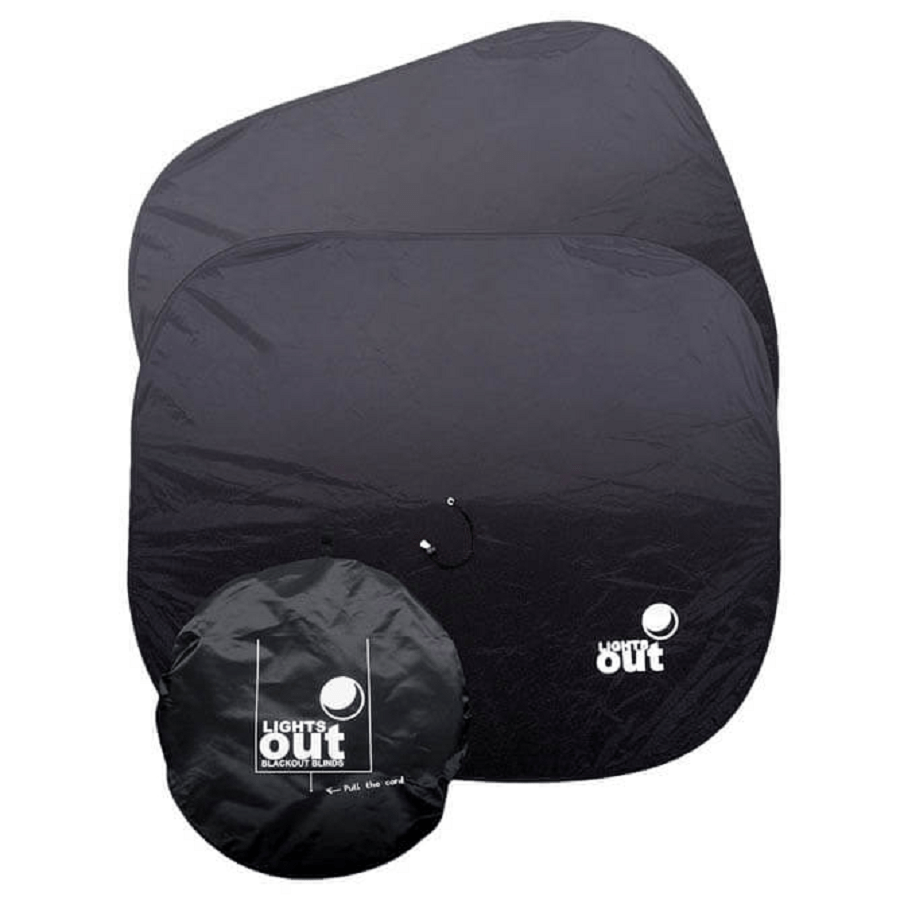 Pros
Cheaper than the Gro Company Blackout Blind
Easy to fold up and put back in the bag (travel bag included)
Only uses 1 suction pad so quick to put up.
2 blinds in the bag so could potentially fit on 2 smaller windows (120cm each)
Cons
The rounded corners can let a tiny bit of light in at the side.
Learn More – LightsOut Portable Pop Up Blackout Blind
#4. Easynight Portable Travel Blackout Blind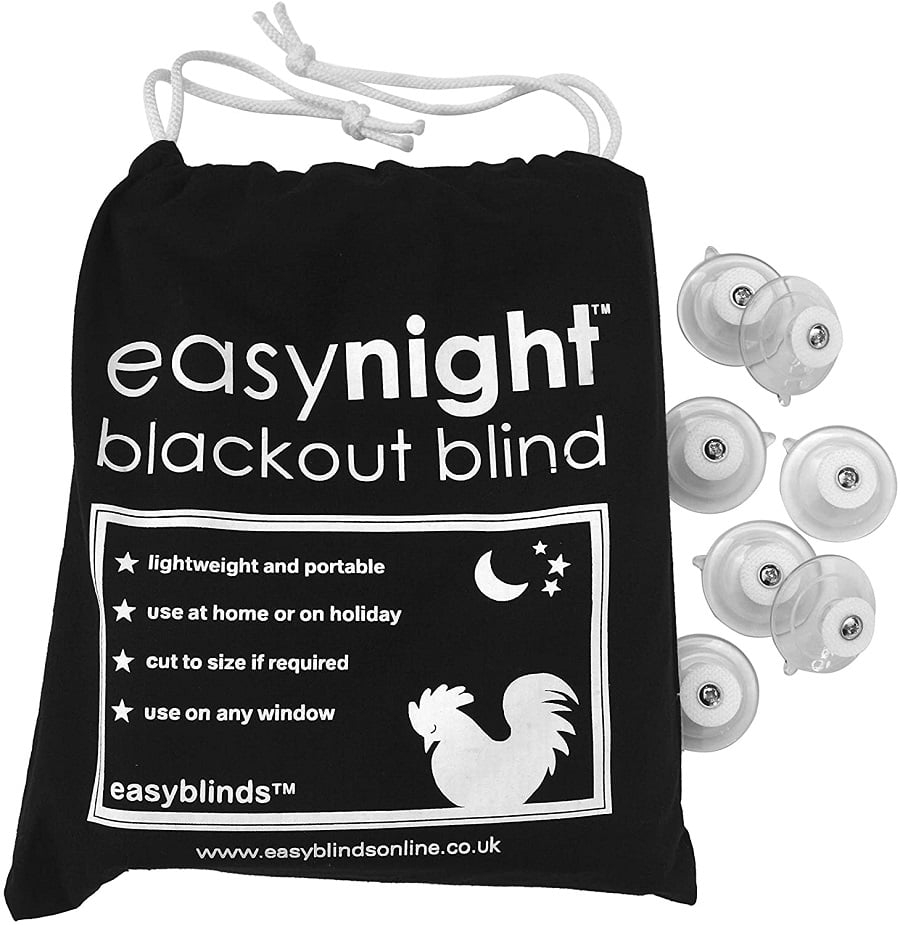 The Easynight Portable Travel Blackout Blind is an award winning black out blind for large windows up to 1.4m x 2m in size. It can be used in 2 ways; 1 using the suction cups to attach it to the window glass, or alternatively by using the self-adhesive attachments to fix it to the frame.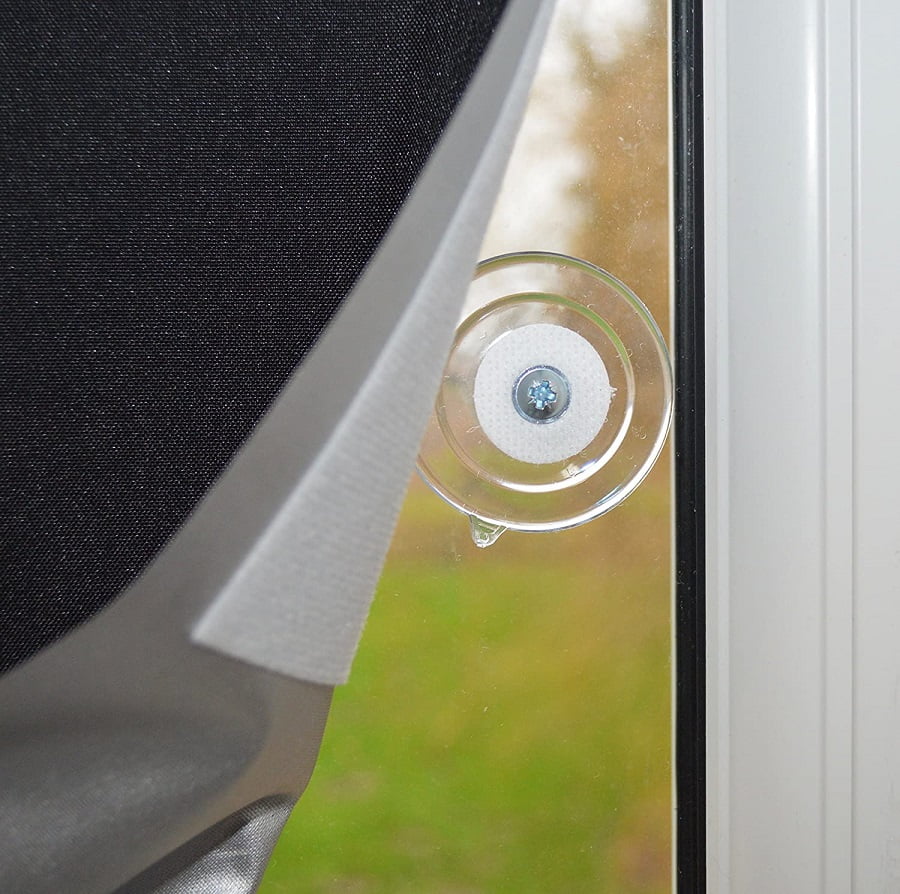 Pros
Awarded Gold 3 years running in the Gentle Parenting awards, and Silver in the Loved By Parents award.
Special silver lining on one side to reflect both heat and light away. Good for keeping rooms cool in the summer.
Available in a range of sizes so you can get one which fits your window.
Folds away.
Cons
The blinds are held up with a few suctions which can be difficult to get off the window when you have finished.
Learn More – Easynight Portable Travel Blackout Blind
#5. ClevaMama Bedtime Blackout Blind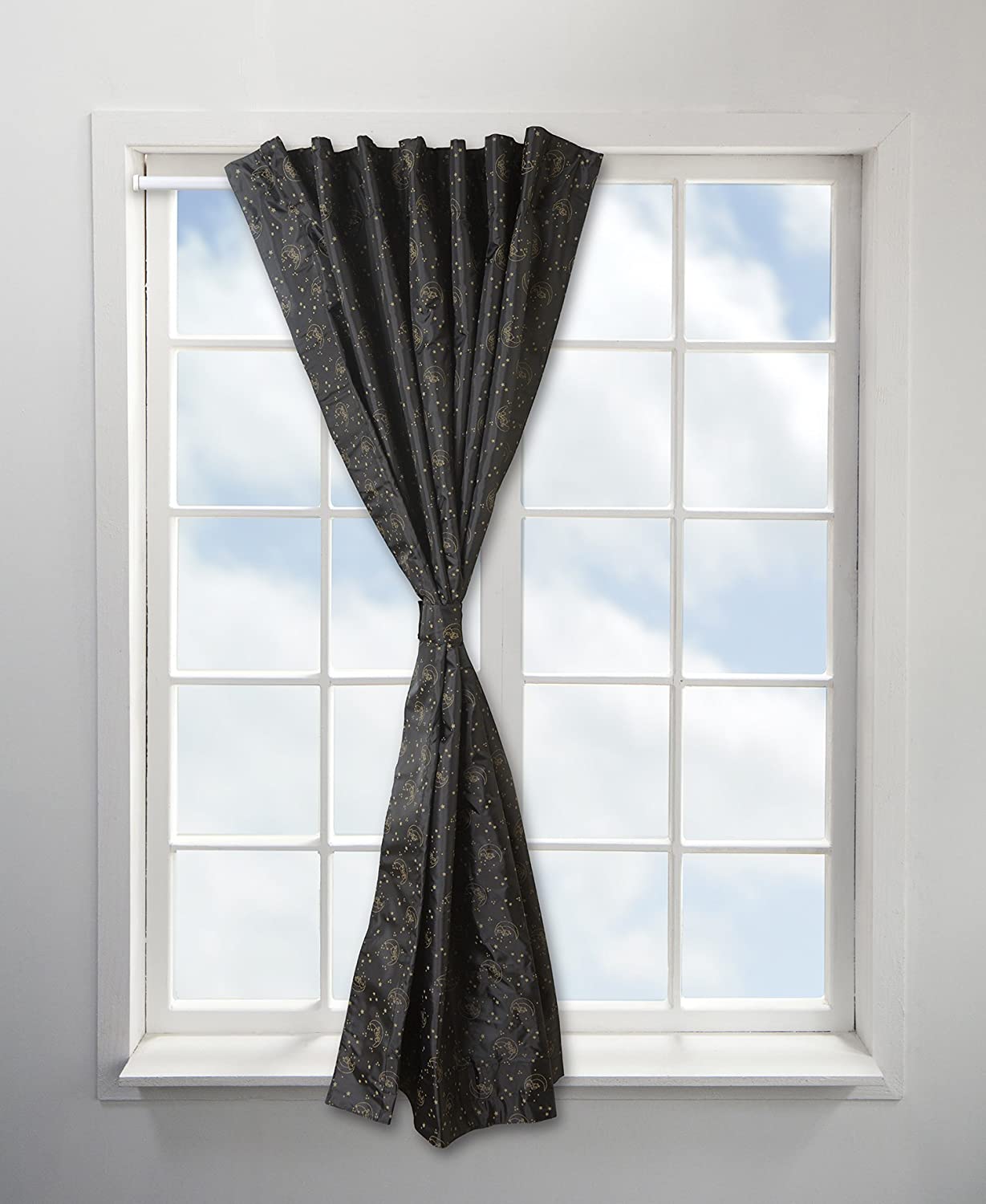 These clever blackout blinds are a good choice if you are looking for a semi permanent solution to keeping your little one's room dark. The tension pole means that they can be opened and closed whenever you need meaning you don't have to put them up or take them down every day. They come with a discreet tie back so you can tie them up at the side of your window during the day. The suction pads are also stuck directly on the window meaning that they can fit any window up to 140cm2.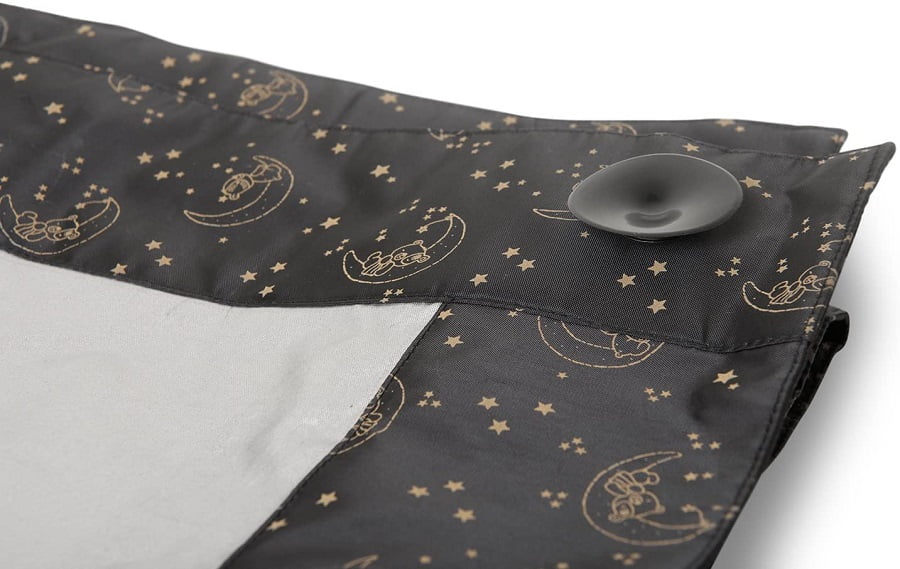 Pros
Can be tied back during the day – no need to take them down.
Come with a handy travel bag.
Have a light and heat reflective lining to help prevent the room from overheating on hot days.
Learn More – ClevaMama Bedtime Blackout Blind
#6. Snoozing Koala Blackout Blind With Magnets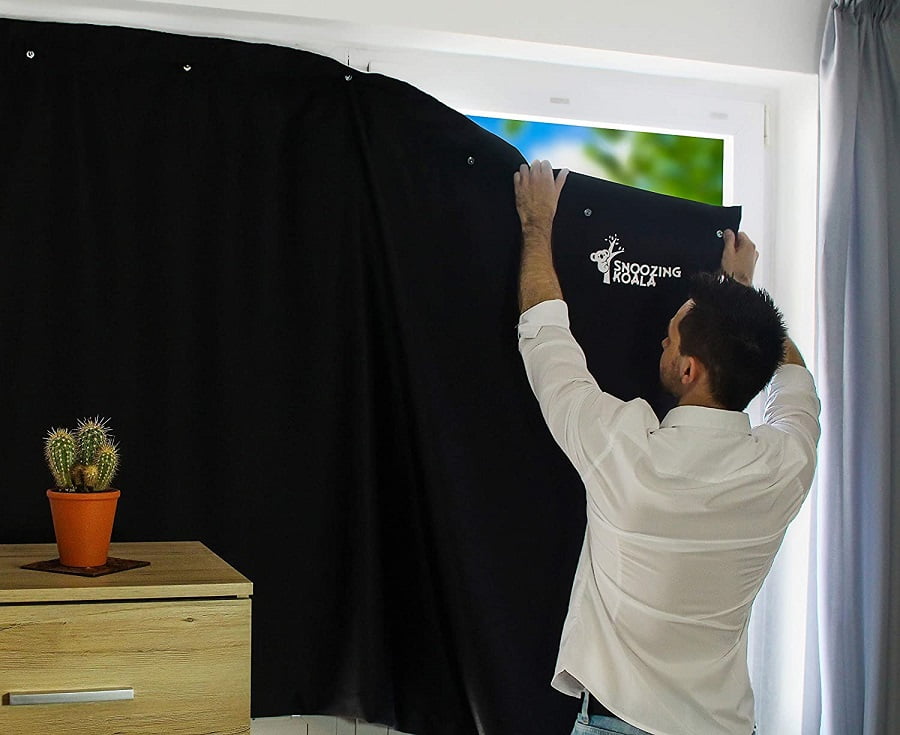 This blackout blind is different to other brands as it is attached to the window by 7 Neodymium Magnets which means that the blind is meant to stay in place and not fall down. It also comes with a self-adhesive steel plate solution for extra security! Additional hook tapes cover the sides and edges of the window to further prevent light from getting in.


Pros
Fits windows up to 130cm x 200cm
Learn More – Snoozing Koala Blackout Blind Curtain
#7. Magic Blackout Blind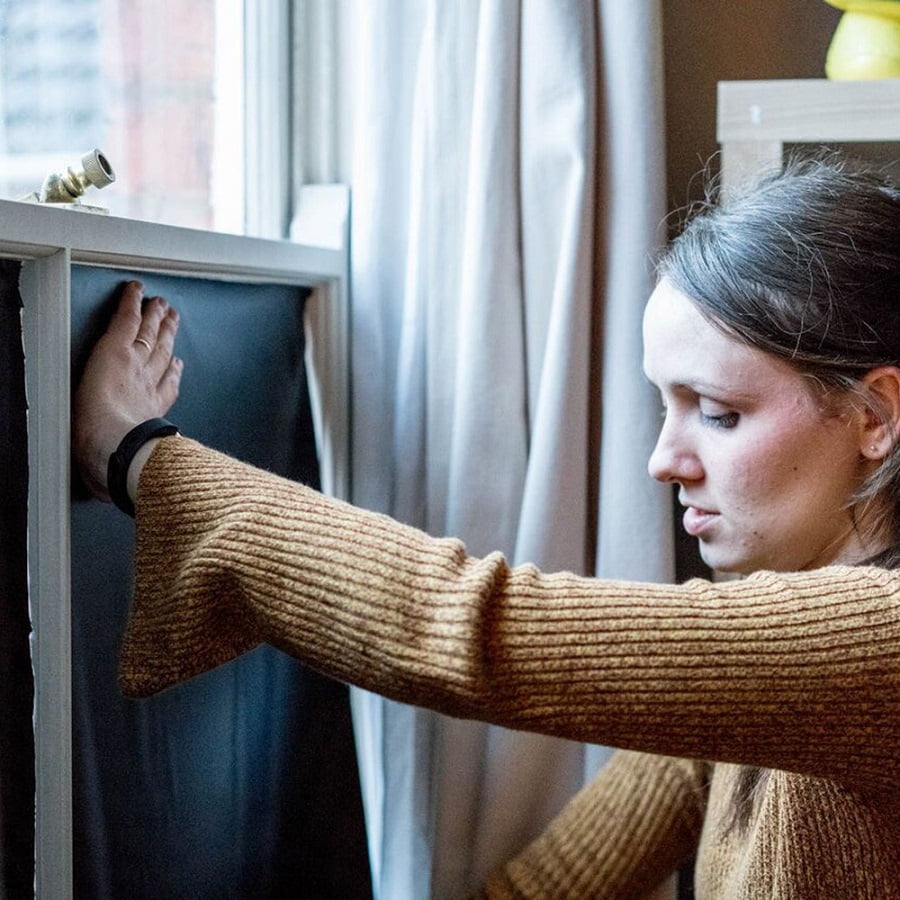 Dragon's Den winner The Magic Blackout blind is a temporary but easy solution to blocking out light in your little one's bedroom. It's really easy too – simply tear off a sheet of the durable material, cut it to size and attach it to your window to prevent light entering. The sheet sticks to the window easily due to the static. Sheets are reusable and can last for months. This pack includes ten reusable sheets measuring 60 x 80cm.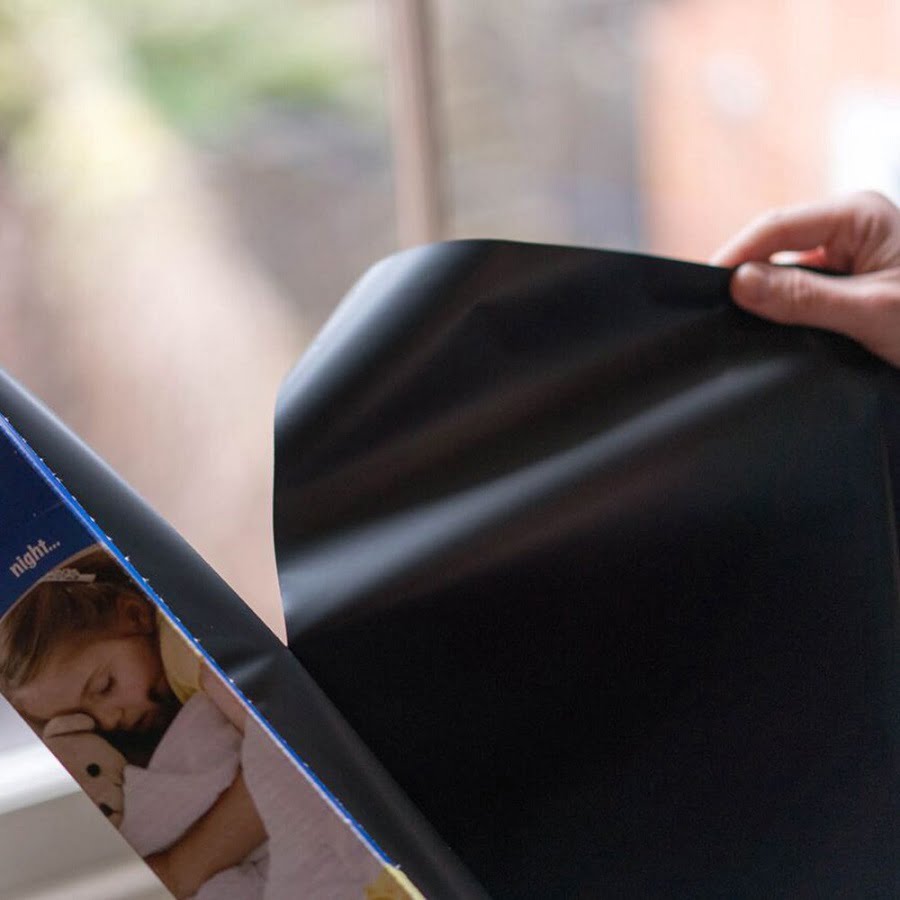 Pros
Dragon's Den winning product!
Easy to use
Completely blocks out the light
Don't have to stick it to the window using suction pads etc
Learn More – Magic Blackout Blind