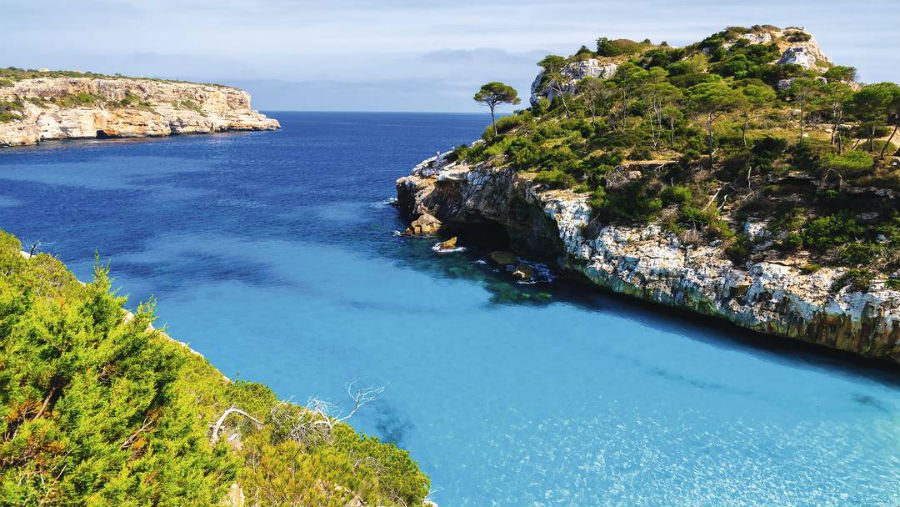 Majorca is one of the most popular places to go on holiday with a baby or toddler. It ticks all the boxes – gorgeous sandy beaches, warm sea perfect for paddling, plenty of sunshine and a short flight from the UK. Have a browse through our top picks of some of the best baby and toddler friendly hotels in Majorca – let me know if you know of any gems that I've not included!
Hotels For Babies And Toddlers In Majorca
1. Holiday Village ( Cala Millor)
The 5* Holiday Village in Majorca in Majorca has loads of fantastic facilities for babies and toddlers. There are 6 pools in total, including 2 toddler splash pools with fountains, an indoor swimming pool, a playground and even a Balanceability bike course which teaches toddlers to cycle.
Ice cream fans will love the self-service Mr Whippy machines and fridges packed with Cornettos and Mini Milks around the pool area!
There are larger Family Apartments which have space for a cot, and duplex rooms and swim up rooms with direct access to a shared pool. If your baby is small and has an early bedtime, it might be worth asking for a room in a quieter part of the hotel so you don't get disturbed by the evening entertainment.
The beach at Cala Millor is made for sandcastle building and playing in the sea. It extends more than 2km and has a promenade ideal for walks with the buggy. The beach is a short (free) shuttle bus ride away from the hotel so you can spend lots of time there too.
2. Insotel Cala Mandia ( Porto Cristo )
The Insotel Cala Mandia Resort is a 4* baby and toddler friendly hotel 4km from Porto Cristo. There are great swimming facilities for little ones including a Splash Park with a pirate ship and castle, beach entry shallow pool with a max depth of 30cm, mini water slides and a large shaded play area specifically for under 4s.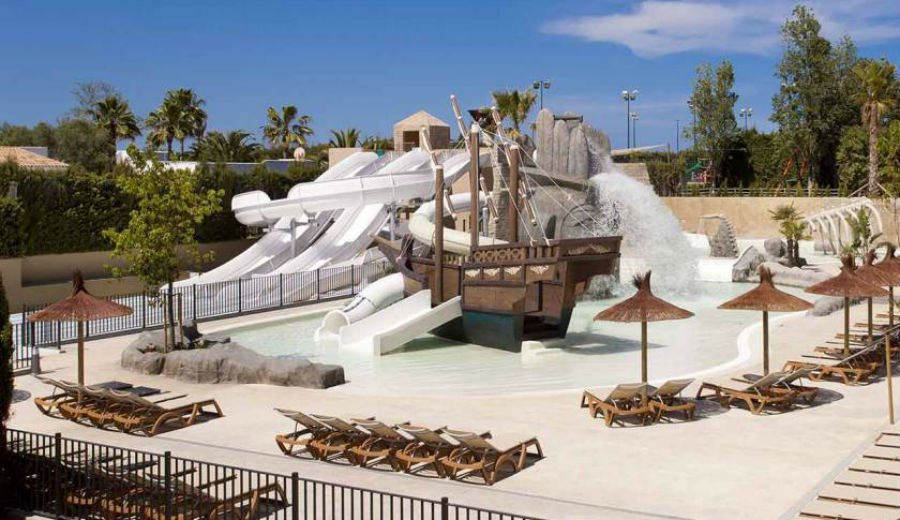 There are Family Suites with a separate adult's bedroom with sliding doors and a 'Kids Den' with 2 single beds. Note that not all rooms have baths, so make sure you book a room with a bath specifically if your baby or toddler isn't a fan of showers. There is a special children's mini buffet in the main buffet restaurant, and microwaves available to heat up baby food.
The hotel is located next to the stunning bay of Cala Mandia so you can grab your buckets and spades and head down there whenever you feel like it.
3. Protur Aparthotel Vista Badia
The Protur Aparthotel Vista Badia is a 4*aparthotel in Sa Coma just 5 minute walk from the beach and 10 minute stroll from Sa Coma.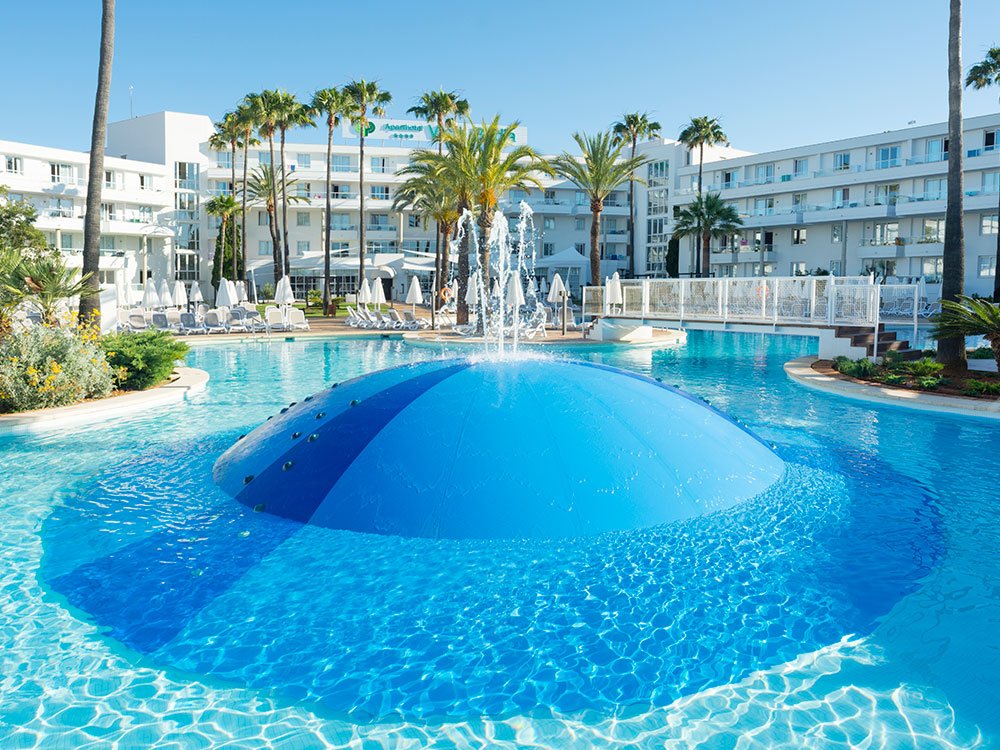 One of the best things about the Vista Badia hotel is you can use the facilities of the 3 sister hotels in the area including the Protur Safari Park.
There are loads of things for toddlers at the Vista Badia including a mini disco, playroom, nature farm and waterpark. A fun thing to do is to hire bikes (including the 4 people bikes!) and ride up to Cala Millor along the sea front.
The Protur Nature Farm is next door to the hotel, and is a unique place where you can discover animals and fauna native to Majorca as well as an organic garden.
4. Protur Aparthotel Bonaire (Cala Bona)
This 4*+ Thomson Family Resort is perfect for families looking for a toddler friendly hotel in Majorca. Toddlers will love the river style swimming pool and the splash pool with its own pirate ship and slides. When they've finished in the pool, they can play in the soft play room and shaded playground with mini slides.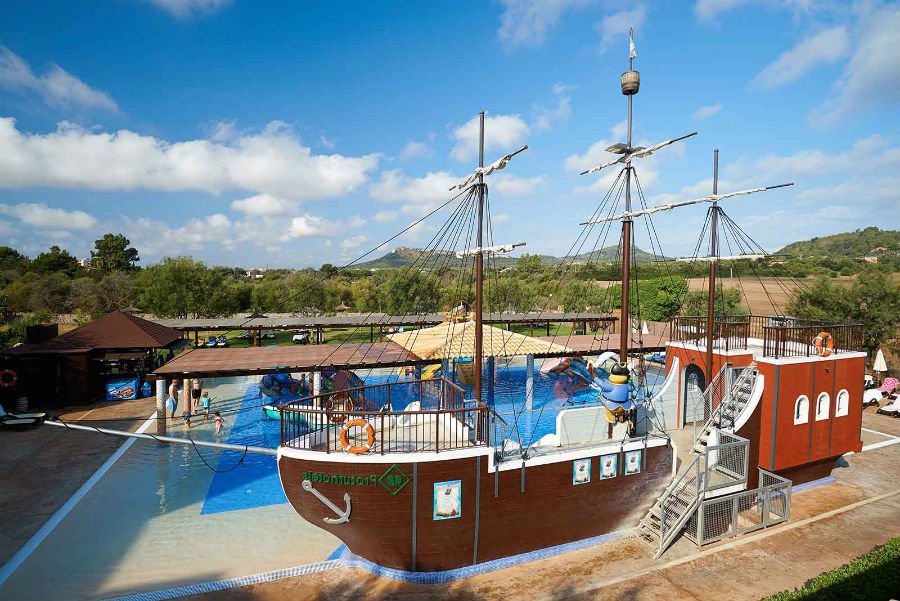 The Protur Aparthotel Bonaire hotel is a couple of minutes walk from a small shingle beach, and Cala Bona and its bars and restaurants are a 10 minute walk away. It is possible to hire baby equipment such as a cot, stroller, steriliser and bottle warmer for a small charge which should save you precious space in your luggage.
5. TUI Family Life Coma Gran
This awesome hotel is in a great location – just a minutes' walk from San Coma's soft, sandy beach, and also next to a great selection of shops, bars and restaurants.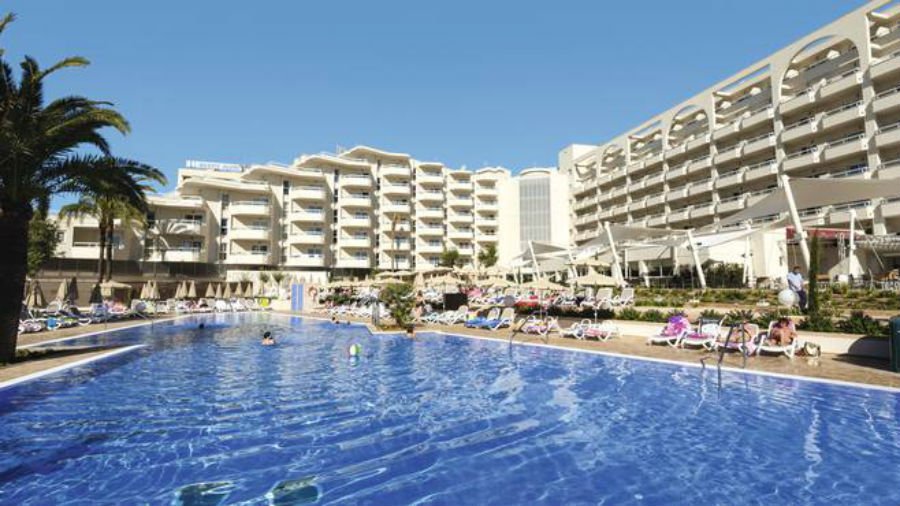 There are apartments and studios with a balcony, kitchenette and air con. Larger families may prefer the 2 bedroom apartments that sleep up to 6.
Life revolves around the pool at the Family Life Coma Gran hotel. As well as a massive swimming pool, there is also a children's swimming pool and a brand new splash park. Away from the pool these is a playground and soft play area.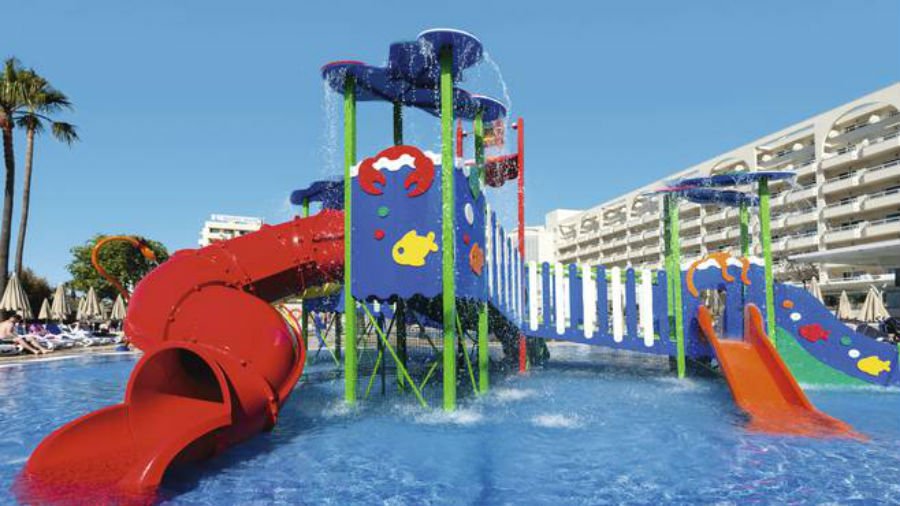 But the best bit about this hotel are the facilities for babies. The BabyClub is especially for 0-3 year olds and is run by fully trained staff. The club costs a bit extra but includes sleep rooms, quality baby equipment from reputable companies and activities to keep babies and toddlers stimulated.
There are also dedicated parent and toddler sessions where you can take part in activities such as music, games and storytelling.
The onsite Baby Lounge gives families somewhere to escape to if you need to feed or change your baby.
Finally, you can hire all the baby equipment you need at the Como Gran hotel including cots, pushchairs, sterilisers and bottle warmers.
6. The Aparthotel Playa Mar In Puerto Pollensa
If you are looking for a baby and toddler friendly aparthotel in Majorca, close to a sandy beach and Puerto Pollensa, check out the Aparthotel Playa Mar. The hotel is a 20 minute stroll into Pollensa, and there are a few beaches to stop off on the way if you fancy a rest and a swim! There are plenty of shops, bars, restaurants and a nice harbour to walk round in Pollensa once you are there.
Water babies will love the separate toddler area in the swimming pool and the toddler splash pool with slides, waterfalls and water jets. The beach is just 50m away from the hotel too. There is also a playground and soft play area at the Aparthotel Playa Mar.
There are suites available which are better for families as they have more space and kitchen items such as a fridge, kettle and microwave. Travel cots are available to borrow.
The Kids Club is designed for 3 – 11 year olds and runs 5 times a week. The Club is split into age groups with tailored activities for each age. There is also evening entertainment at the hotel theatre.
The Aparthotel is All Inclusive and Kids' cornettoes are included!
A great choice for families wanting the flexibility of an aparthotel but the facilities of a hotel!
7. Zafiro Hotel, C'an Picafort
The Zafiro Hotel at C'an Picafort is all about quality and luxury. For toddlers, there is a massive swimming pool, paddling pool and a splash park packed with fountains, jets and little slides.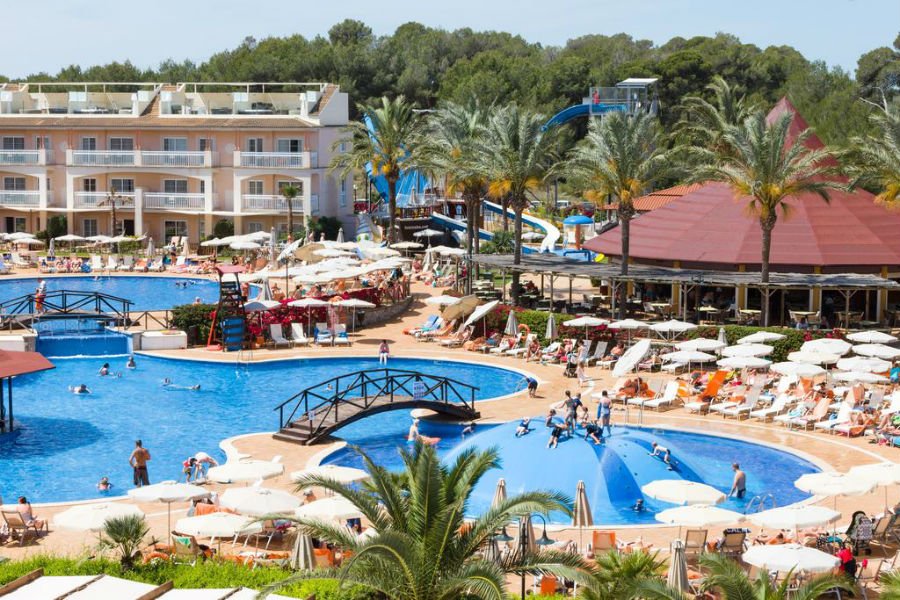 Adults can relax in the indoor swimming pool, whirlpool bath, sauna and Spa. There is also a 50 seater cinema room, a sports bar and live music and shows.
Location-wise, C'an Picafort's sandy beach is 10 minutes' walk away and the town centre is even less.
The apartments are modern and spacious, and some come with private gardens. There are also apartments where you can request a DVD player or PS3 and fluffy bathrobes.
8. Pirates Village (Santa Ponsa)
This pirate themed hotel is the perfect choice for swashbucklers looking for a fun filled holiday! Life is centered around the Pirates Tower Pool, which is a large lagoon shaped swimming pool with a separate area for babies.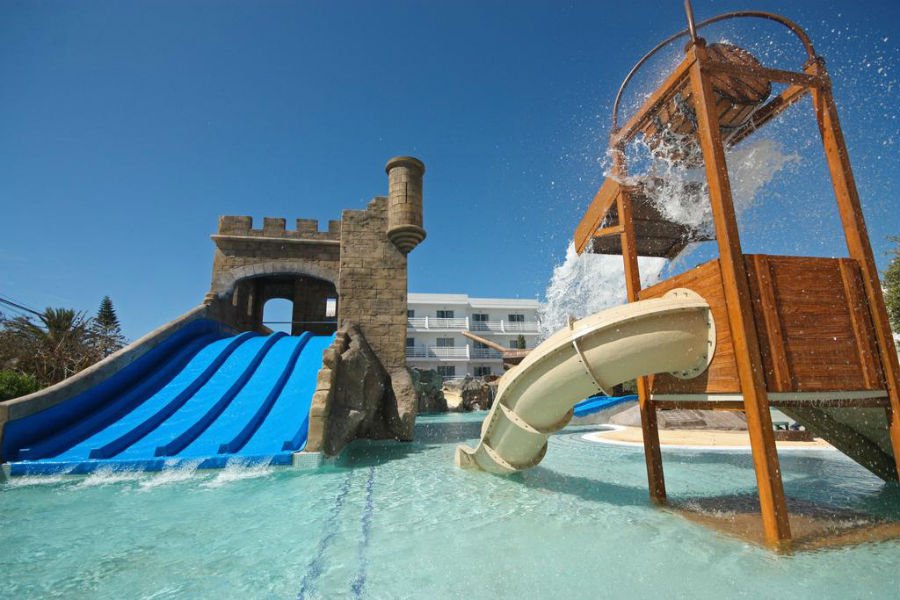 Toddlers will love the Pirates Bay Splash Park with water slides, waterfalls and caves, and the Pirates Mini Cave Club is a kids club with a difference – there is a bouncy castle, games and a little stage. The hotel is a 15 minute walk from the beach at Santa Ponsa and close to the bars and restaurants.
9. Viva Blue (Playa De Muro)
This popular hotel is minutes walk from beautiful Alcudia Beach, which is one of the most popular beaches in Majorca for babies and toddlers. Alcudia Beach stretches from the Port of Alcudia right up to Can Picafort, and has gorgeous white sand with shallow water and gentle waves. There is a wooden promenade in the shaded area at the back of the beach which is great for pushing the pushchair on.
The Viva Blue hotel at Playa De Muro is a treat for families with babies and toddlers. There is a pirate ship swimming pool which is heated and an indoor swimming pool. The baby pool has a large umbrella above it to protect baby and toddler's skin from the strong sun. There is also a children's play area next to the children's club.
There is plenty to do if you can drag your little one out of the swimming pool including boat trips, shopping in Alcudia and Inca, a horse carriage ride and a mini train ride. You can also wander into the Old Town of Alcudia or Port where there are loads of little shops, cafes and restaurants in a Roman walled town.
10. Aparthotel Ferrera Blanca (Cala D'Or)
The Aparthotel Ferrera Blanca hotel is in a beachfront location and just 1.8km from Cala D'or. There is a playground, 2 children's pools – one which is specifically for babies and toddlers and a games room.
You can stay in a Family Suite which has a twin bedroom and 2 beds in the sitting room and cots are available to borrow. Tip – ask for a room on the ground floor so you don't need to take your buggy upstairs.
There is a microwave and fridge in the room which is handy for keeping milk cold and a small amount of reheating, but there is plenty of choice for children eating in the restaurant. There are plenty of high chairs, plastic plates, bowls, glasses and cutlery available too.
The hotel is a 15 minute walk from the centre of Cala D'or and there is a little road train operating in the main season which little ones will love!
Find out more about the Ferrera Blanca Hotel here.