Spotlight on Majorca – The Ultimate Guide To Holidays In Majorca With Babies & Toddlers!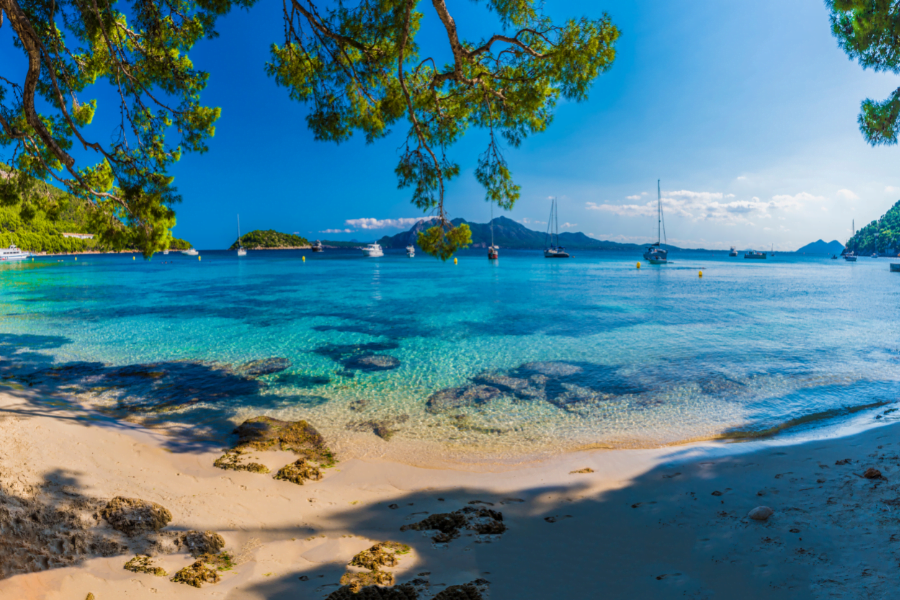 Majorca is one of the UK's favourite beach holiday destinations, but there's much more here than just its beautiful coastline. Our ultimate guide to holidays in Majorca with babies and toddlers dives into the best resorts, activities and attractions for younger children!  If you click on a link in this piece, we may earn affiliate revenue.
Best Resorts For Toddlers In Majorca
#1. Puerto Pollensa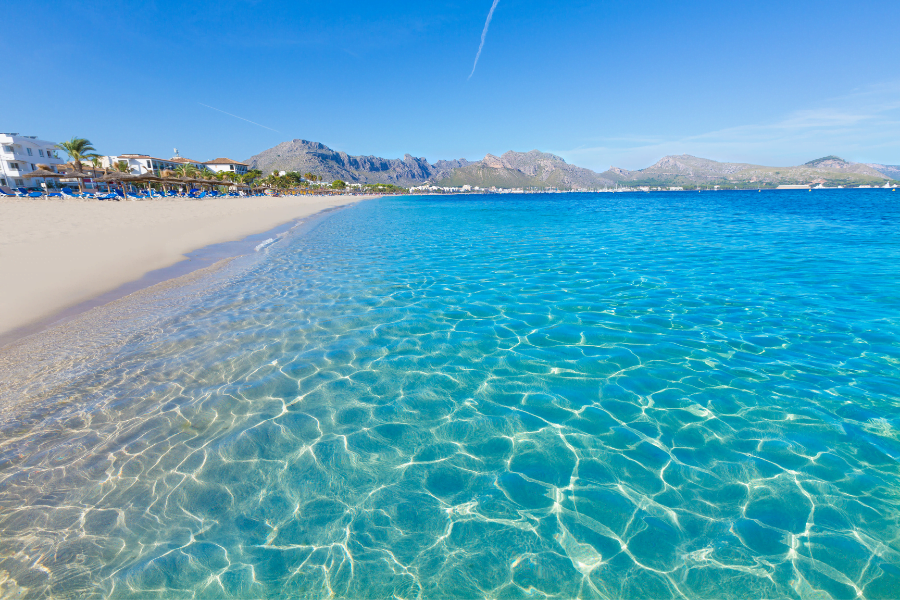 Puerto Pollensa is set on the northern coast of Majorca, where white-gold sands stretch for miles and you'll always be accompanied by the beautiful backdrop of the Tramuntana Mountains. It's one of the best resorts for toddlers in Majorca because its beaches are composed of cotton-soft sands – no need to worry about sharp stones on little feet here! Plus, Puerto Pollensa has a more relaxed pace than its more southerly neighbours. This also makes it perfect for holidays in Majorca with babies and toddlers, as it has a quieter, calmer atmosphere at its beachfront bars and cafès. Take a stroll along the pushchair-friendly promenade of Pine Walk and enjoy stunning views of the sun-sparkled Mediterranean. Stop by for lunch at Main Square or meander the medieval cobbled streets of Pollensa Old Town nearby.
Top Hotels For Toddlers In Puerto Pollensa
Hoposa Villaconcha Apartments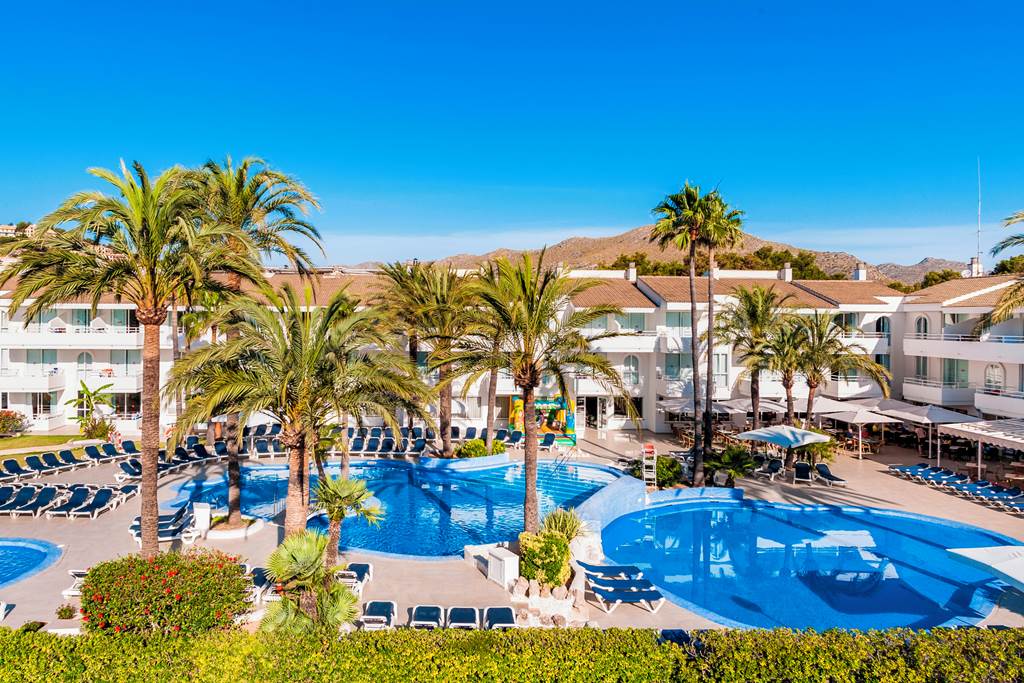 The modern Hoposa Villaconcha Apartments are modern apartments which are close to the beach and have their own splash park and playground.
Mar Hotels Playa Mar & Spa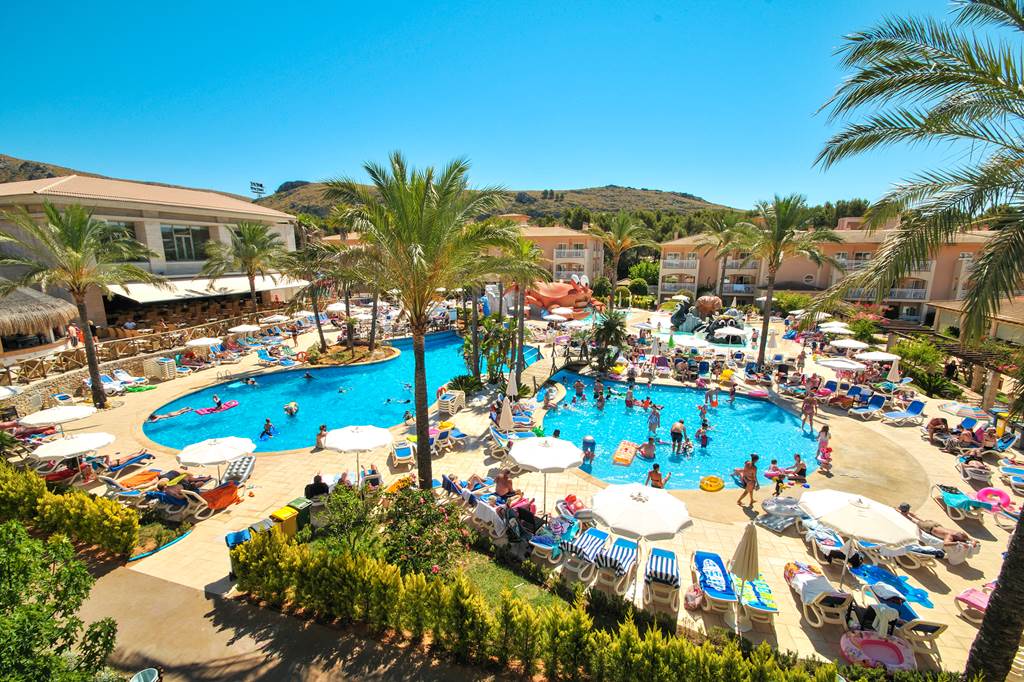 The award-winning Mar Hotels Playa Mar & Spa has a great value all inclusive option that is perfect for families. It also has an incredible splash park and a hotel-run kids' club.
Pollensa Park and Spa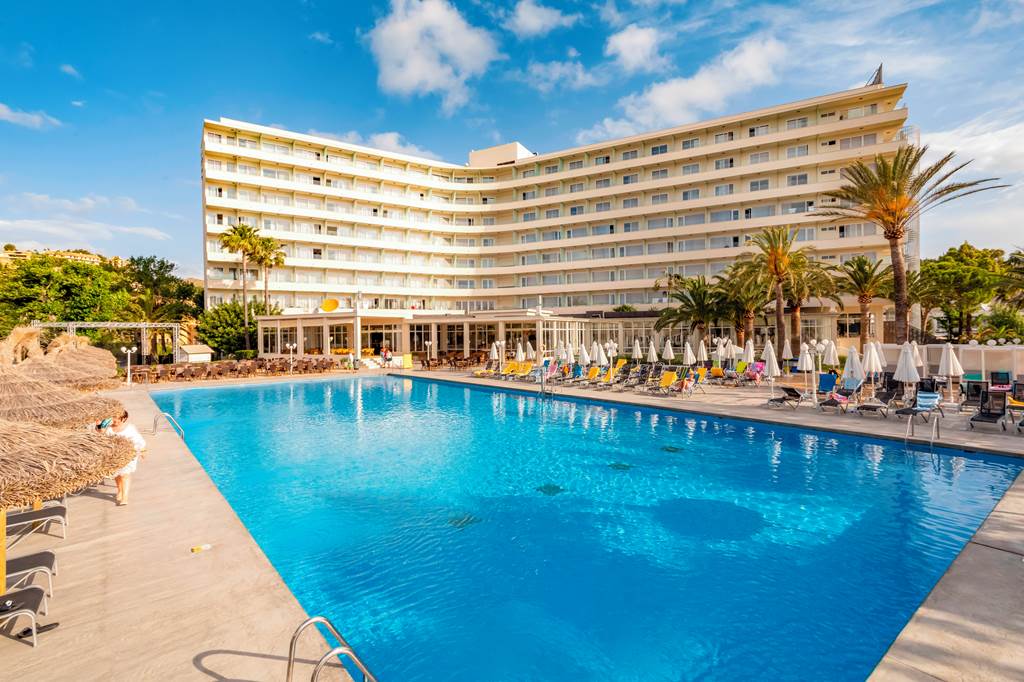 The Pollensa Park and Spa boasts bright, modern décor with stunning views of the Tramuntana Mountains. It also has a children's pool and adventure playground.
Read More-  29 BEST Baby and Toddler Friendly Places To Stay in Menorca
#2. Cala d'Or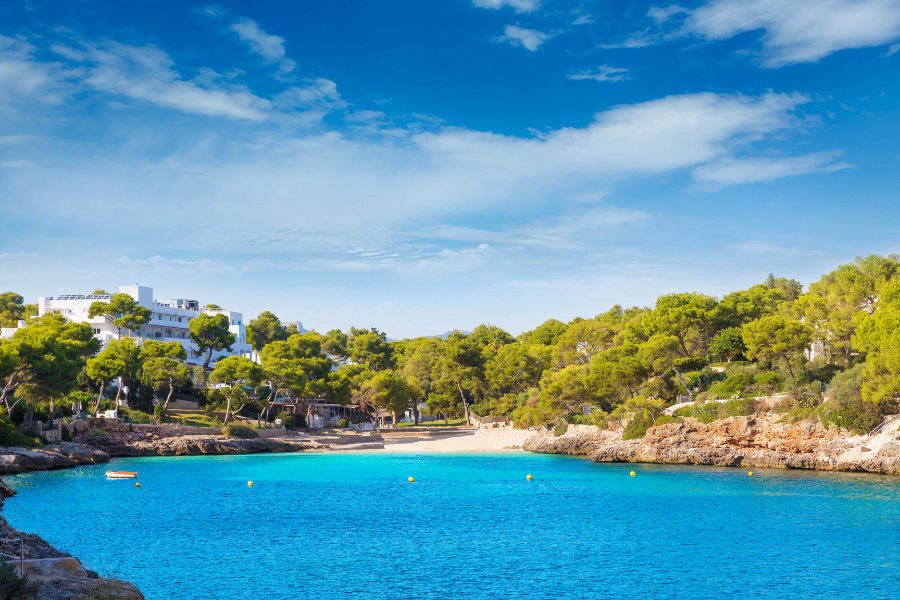 Cala d'Or is the place to be for the best set of sheltered beaches in Majorca. Located on the east coast, you can watch the sun rays rise over the string of five coves that make up the resort. It's fantastic for holidays in Majorca with babies toddlers because the pine-framed headlands of each cove keep the waters calm and shallow here. Cala Gran is the resort's biggest beach, even though it's just 40m wide, and it even has a children's play area. Fitting its laid-back pace, the Cala d'Or marina is a lovely place to stop and watch the world go by under the shade of swaying palm trees. To save the strain of wandering around on little legs, you can even hop the Cala d'Or Express! This mini-train run by Minitrenet runs the circle around the centre of the resort and out to the marina.
Top Hotels For Toddlers In Cala D'Or
MarSenses Ferrera Blanca Hotel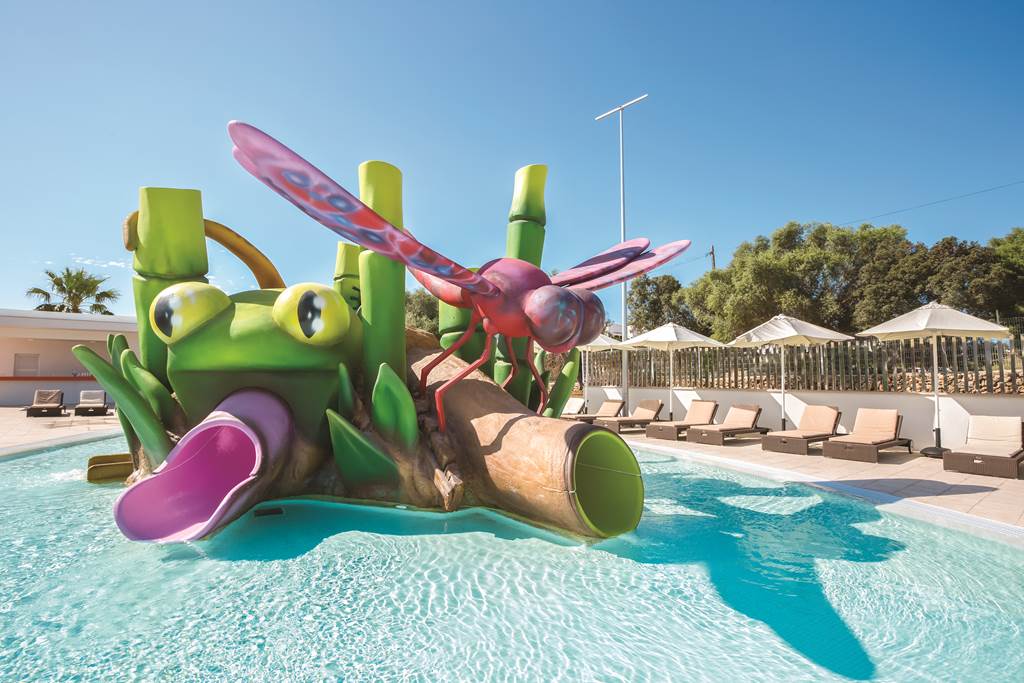 The luxurious Mar Senses Ferrera Blanca hotel has four swimming pools, a la carte dining and even an on-site splash park.
Prinsotel Alba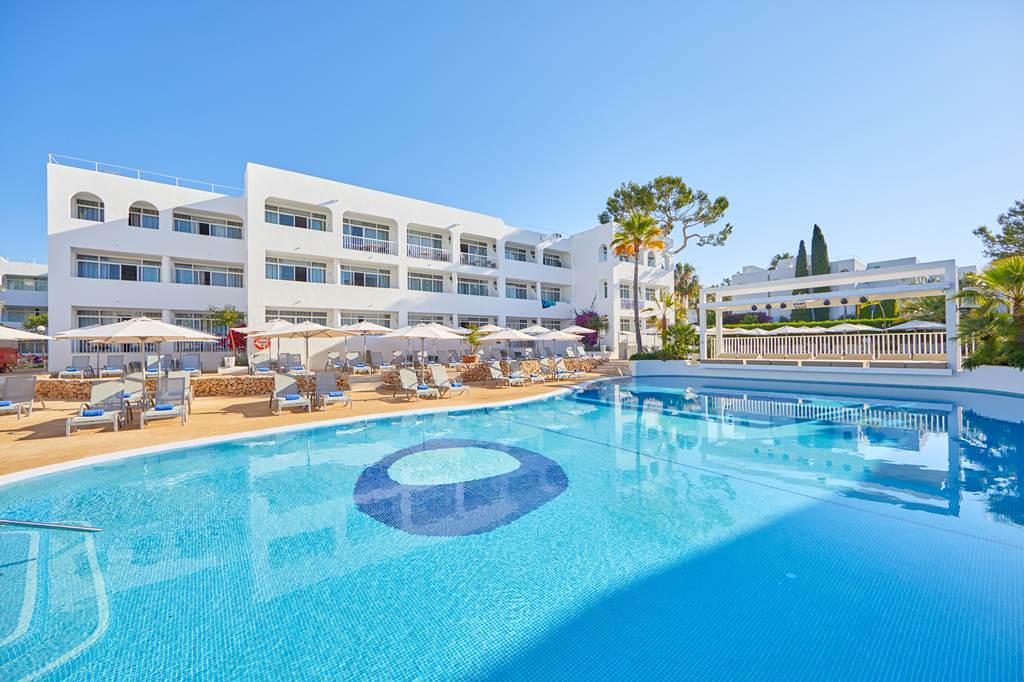 The low-rise, whitewashed buildings of the Prinsotel Alba have their own incredible splash park and indoor play area.
Inturotel Esmeralda Resort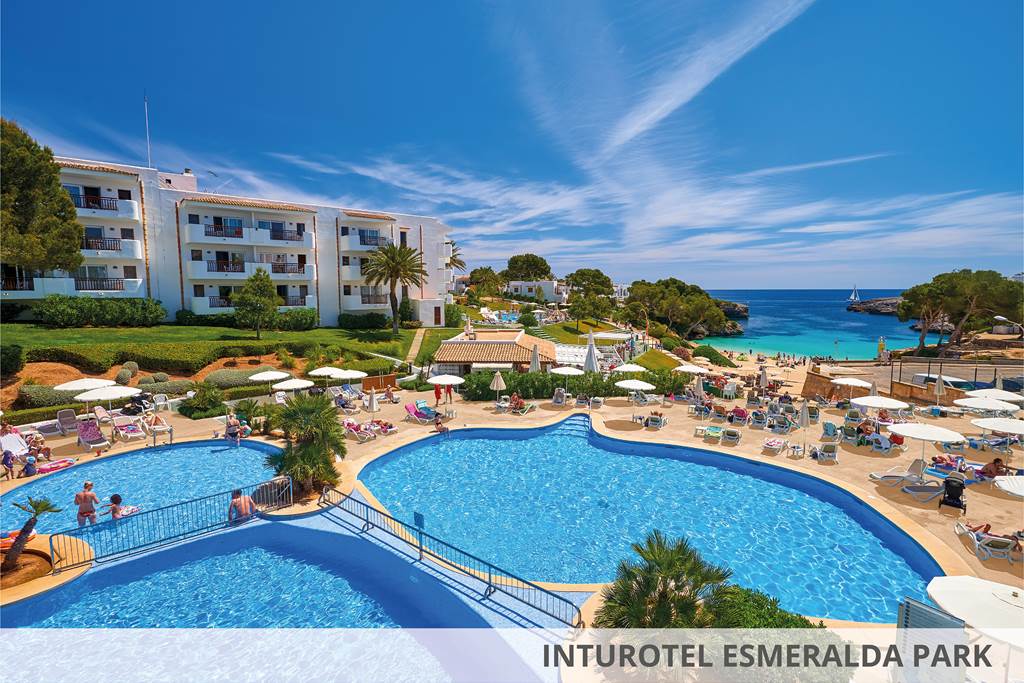 Relax at the lagoon-shaped pools at the beautiful Inturotel Esmeralda Resort which has direct access to the beach.
Read More – 10 Best All Inclusive Baby & Toddler Friendly Hotels In Menorca
#3. Santa Ponsa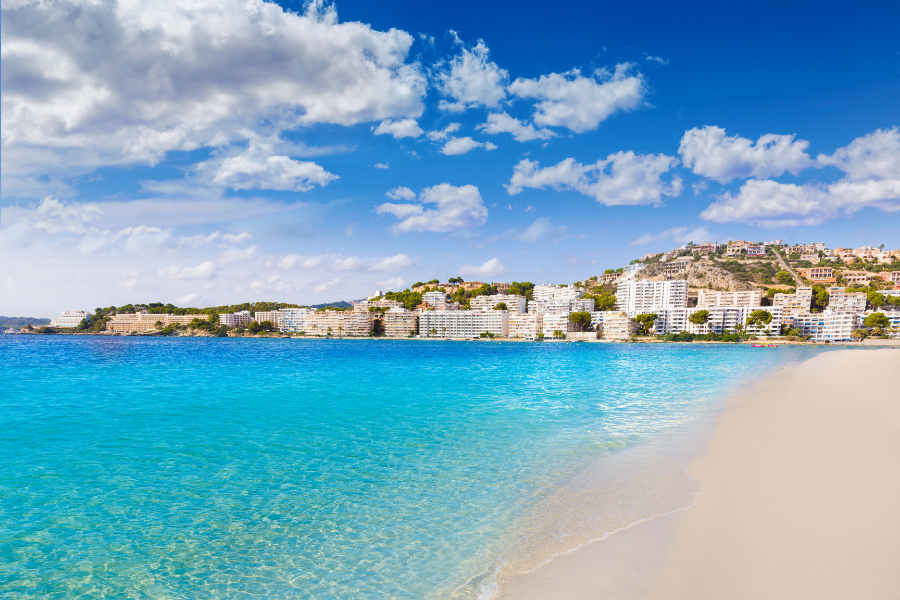 With sandy beaches, lots of activities and a family-friendly atmosphere, it's easy to see why Santa Ponsa is considered one of the best resorts for toddlers in Majorca. The resort is mainly famous for Playa Santa Ponsa, a long stretch of golden sand that is perfect for sandcastles, swimming and sunbathing. It's been awarded the coveted Blue Flag for its cleanliness and quality too. You can also stop by at the Square any time of day to relax at child-friendly open-air sports bars and restaurants. For holidays in Majorca with babies and toddlers, Little Beach is a brilliant alternative. This quieter part of Santa Ponsa's coastline is smaller and less crowded, so it's an ideal option for any midday naps!
Top Hotels For Toddlers In Santa Ponsa
Pirates Village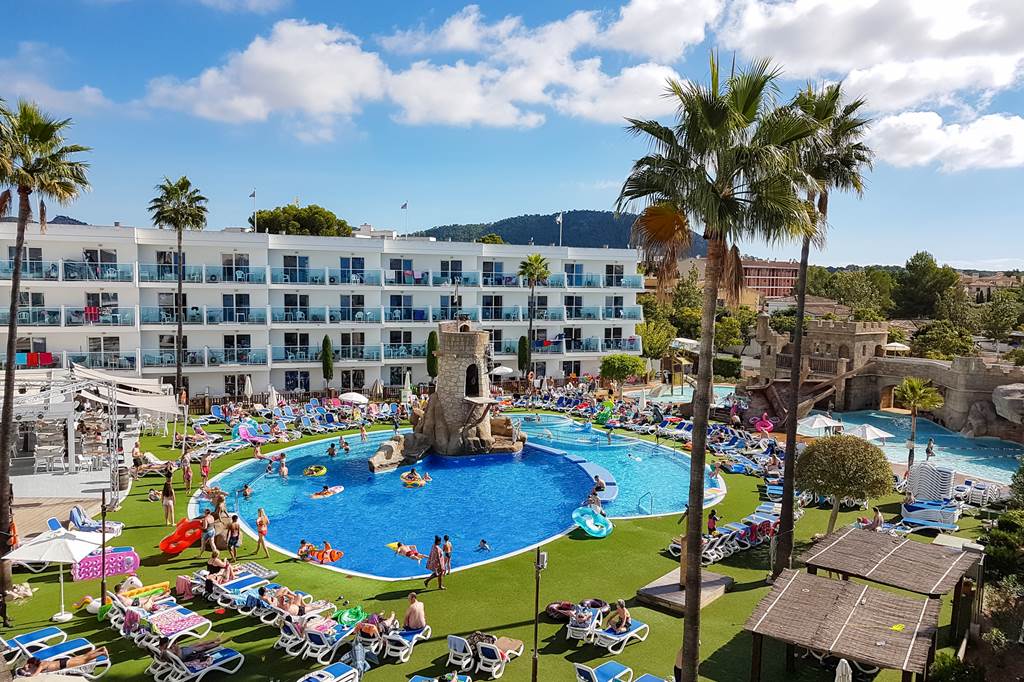 The wonderful Pirates Village has an incredible pirates theme with spectacular weekly shows and fireworks along with all kinds of fun and games and an amazing splash park.
Jutlandia Apartments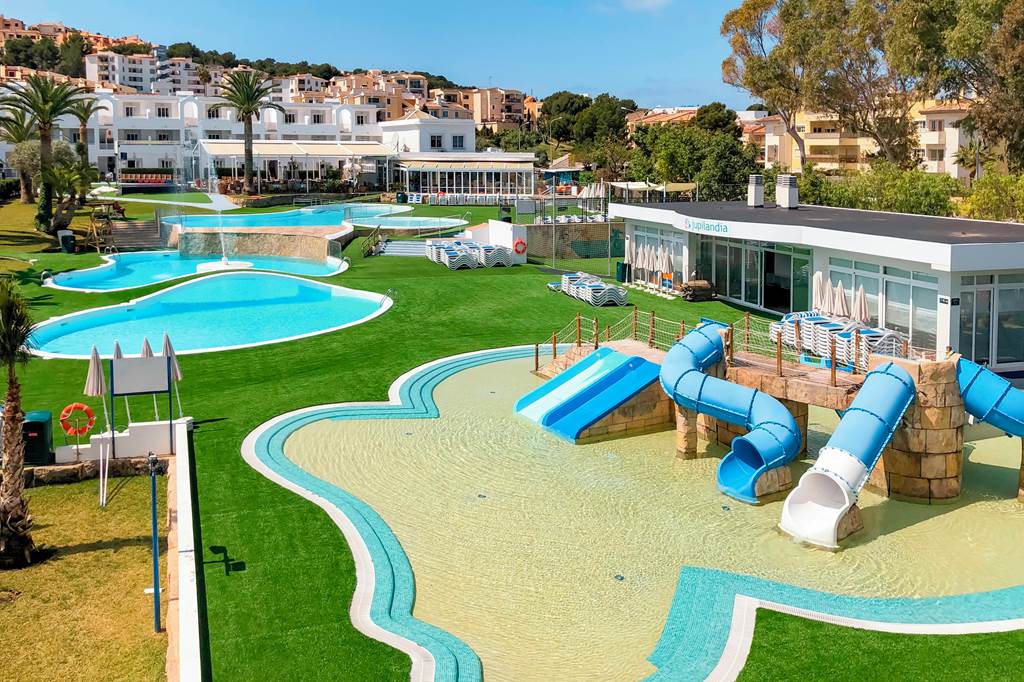 Get ready for fun in the sun at the family-friendly Jutlandia Apartments with its splash pool that's the perfect size for toddlers.
Fergus Style Cala Blanca Suites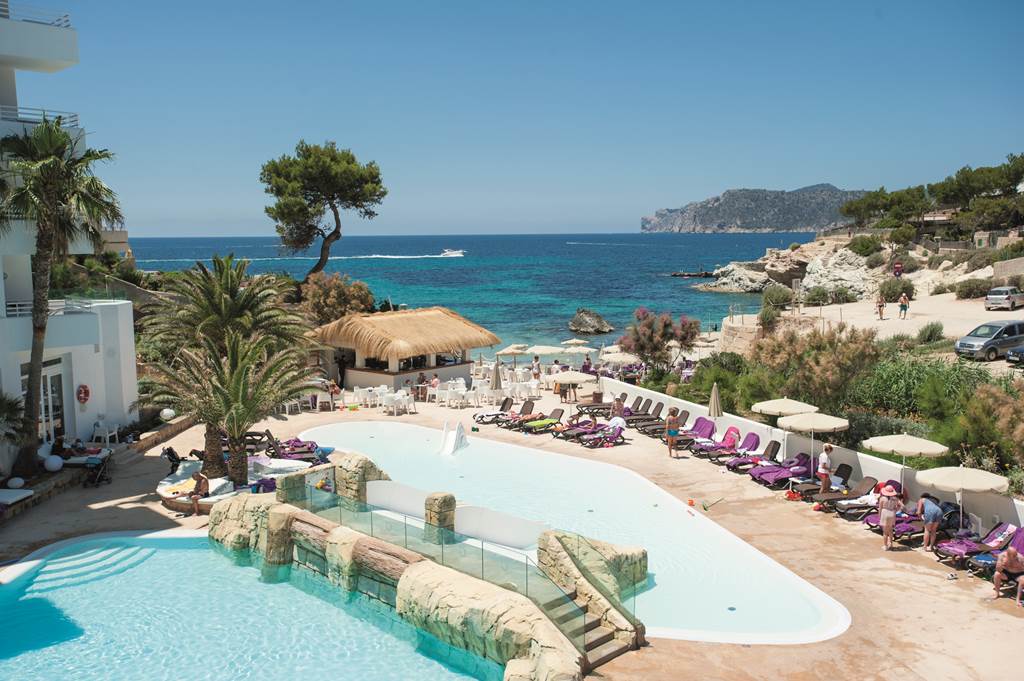 Designed in a fresh, contemporary style, the Fergus Style Cala Blanca Suites have a hotel-run kids' club, on-site playground and even Shetland ponies to meet!
Read More – 50 BEST Baby and Toddler Friendly Places To Stay In Majorca
#4. Alcudia
Alcudia is one of Majorca's most popular resorts, and for good reason. This town situated on the north-eastern edge of the island boasts a long six-mile stretch of golden coastline. If you're looking for the ideal holidays in Majorca with babies and toddlers, you'll find there will be plenty of space for them to play in the sand. Another reason Alcudia is a favourite for families is because the island's top waterpark, known as Hidropark, is located here. It has an amazing array of slides and rides, so we've even picked it out later as one of the best things to do with babies and toddlers in Majorca. Fancy a more relaxing day out? Head to Alcudia Old Town. It's a world away from the liveliness of the coast as you admire the cobbled stone streets and timeworn city walls.
Top Hotels For Toddlers In Alcudia
Zafiro Palace Alcudia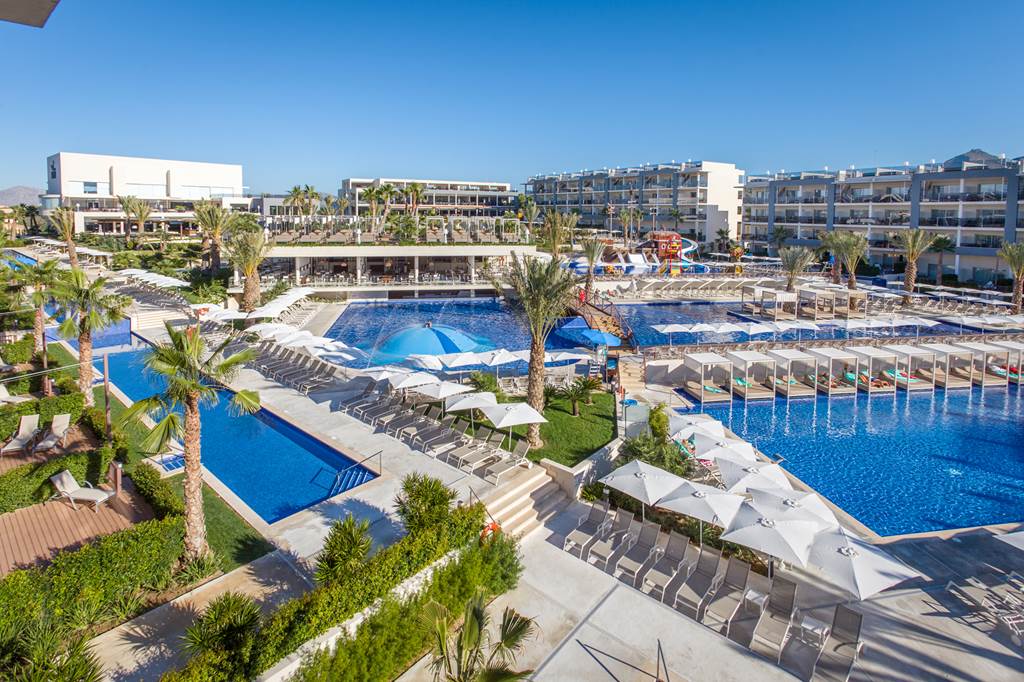 The luxurious Zafiro Palace Alcudia hotel has a stylish pool scene lined with Bali beds along with an ultra-relaxing spa. There's a children's pool and hotel-run kids' club too.
Sea Club Mediterranean Resort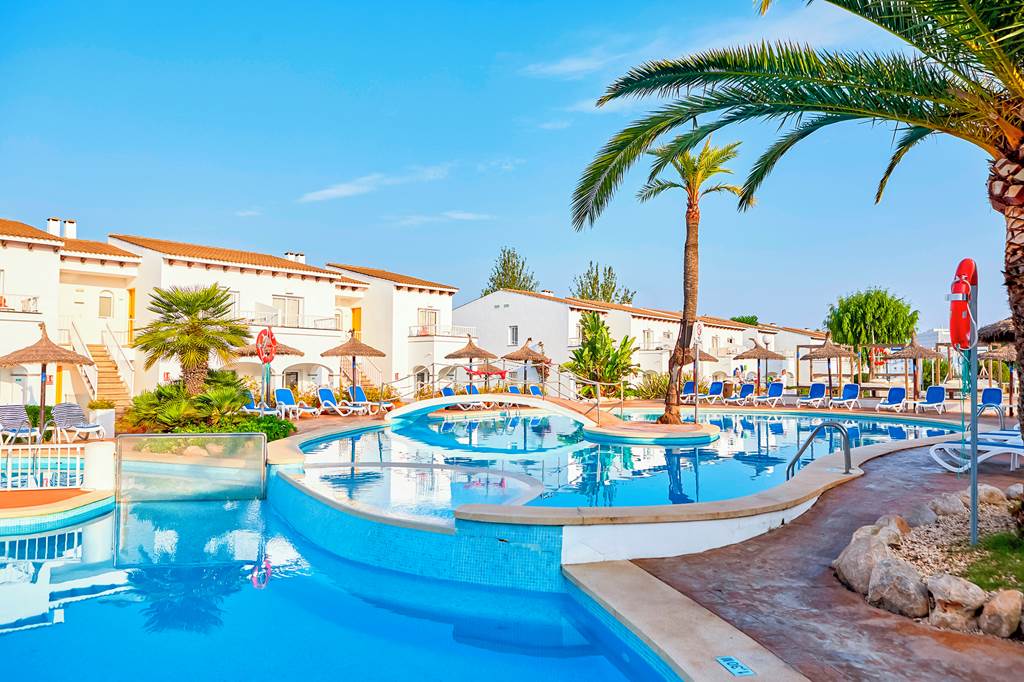 The Sea Club Mediterranean Resort has a lovely laid-back atmosphere that will instantly put you at ease. It's got loads of great facilities for families too, including no less than two children's pools and a splash park.
Iberostar Ciudad Blanca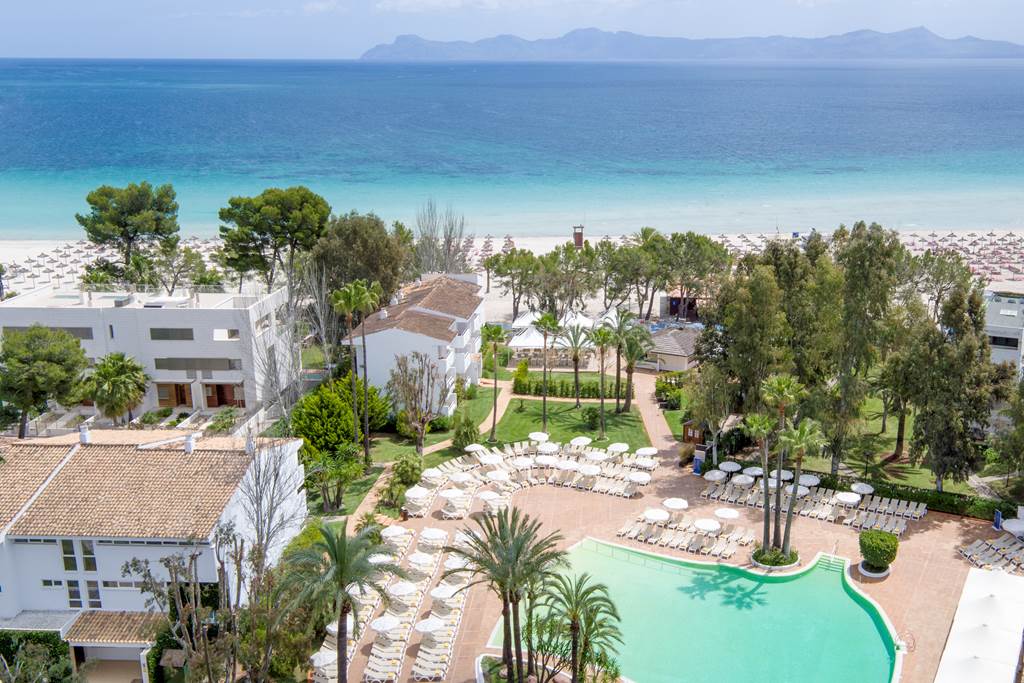 Along with its colourful splash park, the Iberostar Ciudad Blanca has a real focus on offering fantastic family holidays. It has a hotel-run Star Camp kids' club with arts and crafts, activities and more.
#5. Sa Coma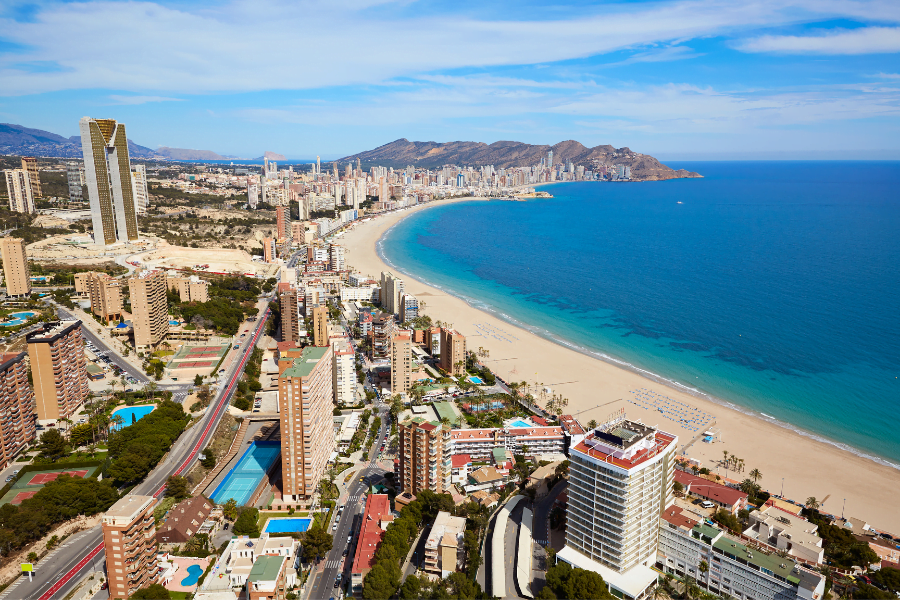 Sa Coma is set on the sun-soaked eastern coast of Majorca, a place of great sandy beaches and plenty of family-friendly activities. A highlight on holidays in Majorca with babies and toddlers here is the huge mini-golf centre, Golf Paradis. It has three different courses set amongst waterfalls and palm trees, while there's also a boat ride for children too. Plus, the resort is home to Auto Safari Zoo. You can choose to drive your hire car through or hop on the mini-train – look out for giraffes, monkeys and more! As for the beaches, well, the coastline here is just as captivating as you'd expect. The resort's main beach, Sa Coma, is an arc of shimmering white sand that's popular for water sports.
Read More – 19 BEST Baby and Toddler Friendly Places To Stay In Ibiza
Top Hotels For Toddlers In Sa Coma
Hipotel Coma Gran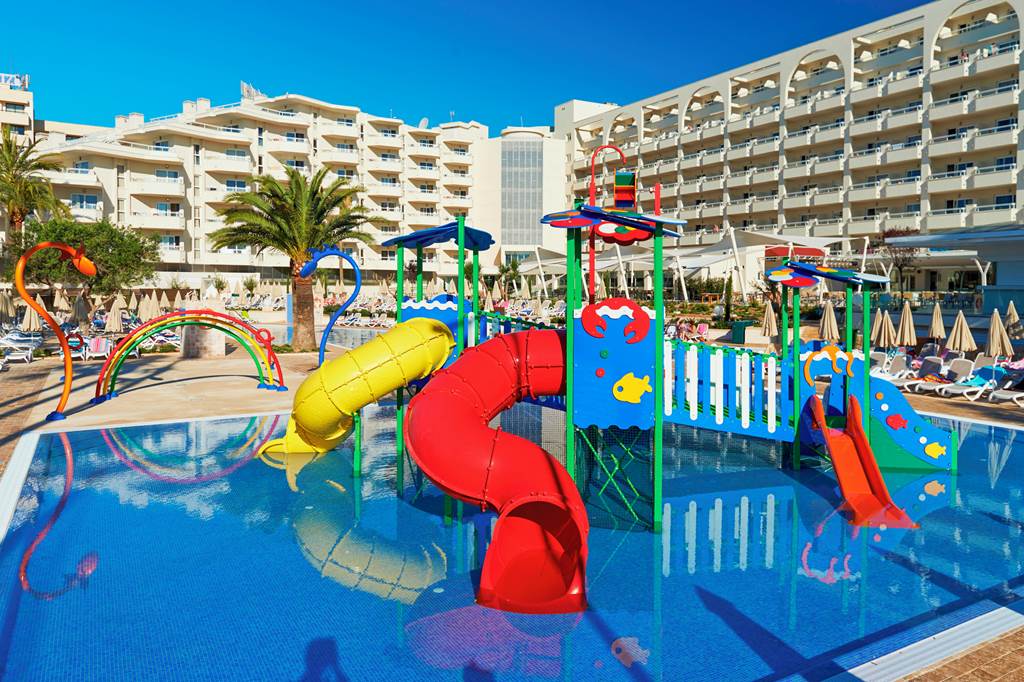 The family-friendly Hipotel Coma Gran hotel is close to the beach and has a super colourful splash park and playground.
Hipotels Club Mediterraneo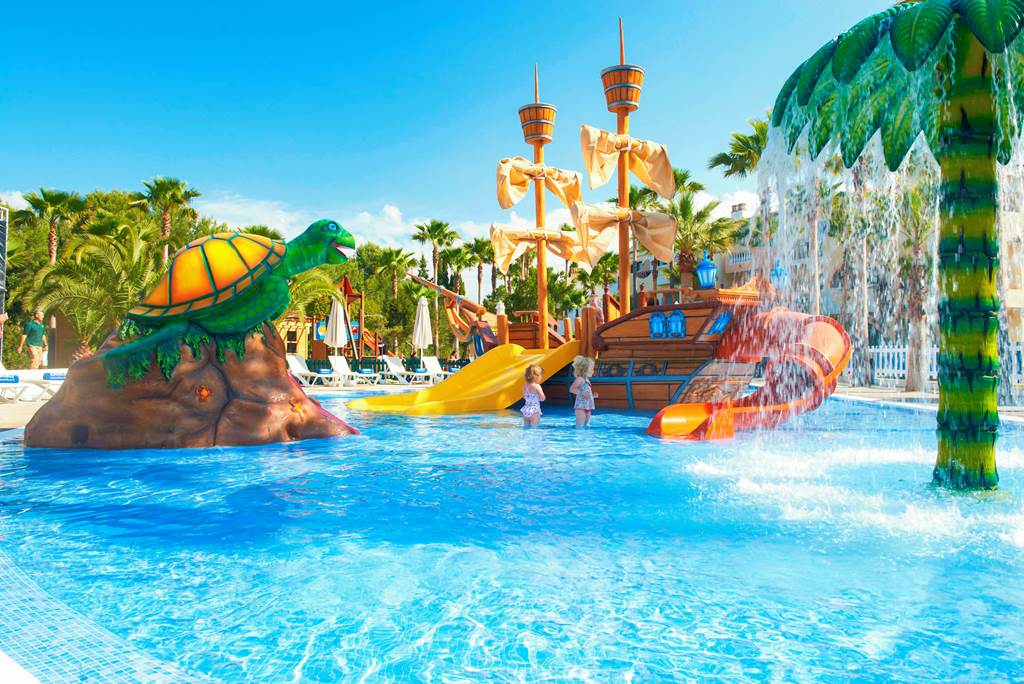 The Hipotels Club Mediterraneo is just 250m from the best beach in Sa Coma – great for beach babies!
#6. C'an Picafort
This small, peaceful resort offers the best of both worlds. For holidays in Majorca with babies and toddlers, it's perfect, as it has a sedate and friendly village atmosphere. However, you'll also be near enough to the much bigger and livelier resort of Alcudia if you want more choice for activities and beaches. Staying in C'an Picafort itself, you can head to the stunning Playa de C'an Picafort for a beach with a caramel slice of sand. It's been awarded the Blue Flag for its cleanliness too. The beauty of the surrounding serene countryside is enhanced by the backdrop of the Tramuntana Mountain range. And it's also worth exploring the centre of the resort for its modest selection of beach shops and open-air restaurants.
Top Hotels For Toddlers In C'an Picafort
Tonga Tower Design Hotel and Suites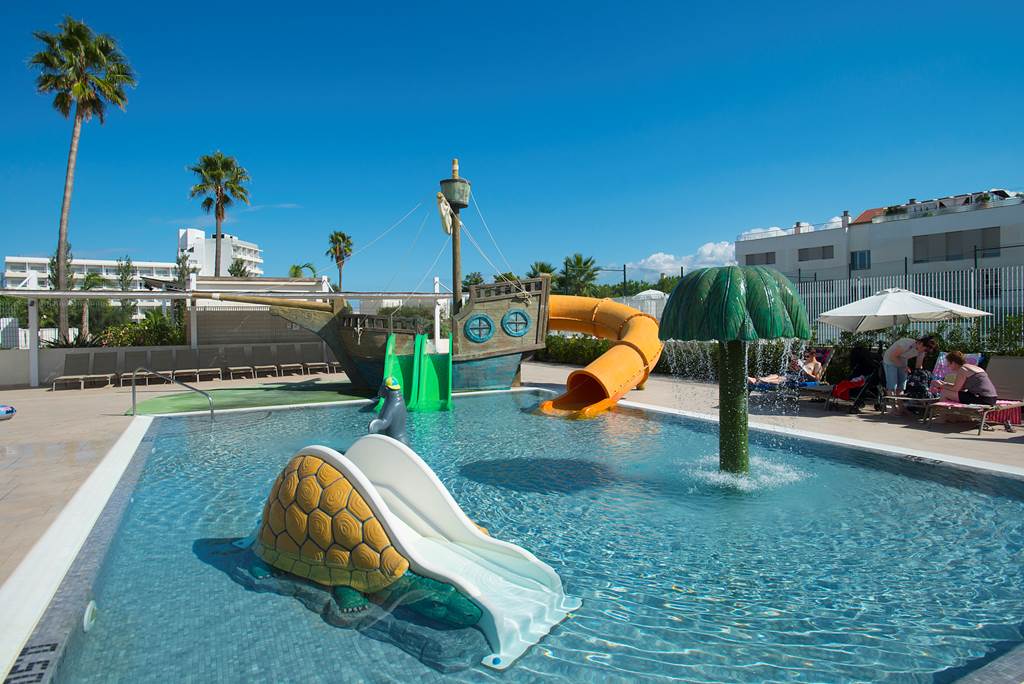 The modern Tonga Tower Design Hotel and Suites will wow you with its contemporary interior design that lets in plenty of space and light. It also has fantastic facilities for children and a hotel-run kids' club.
Zafiro C'an Picafort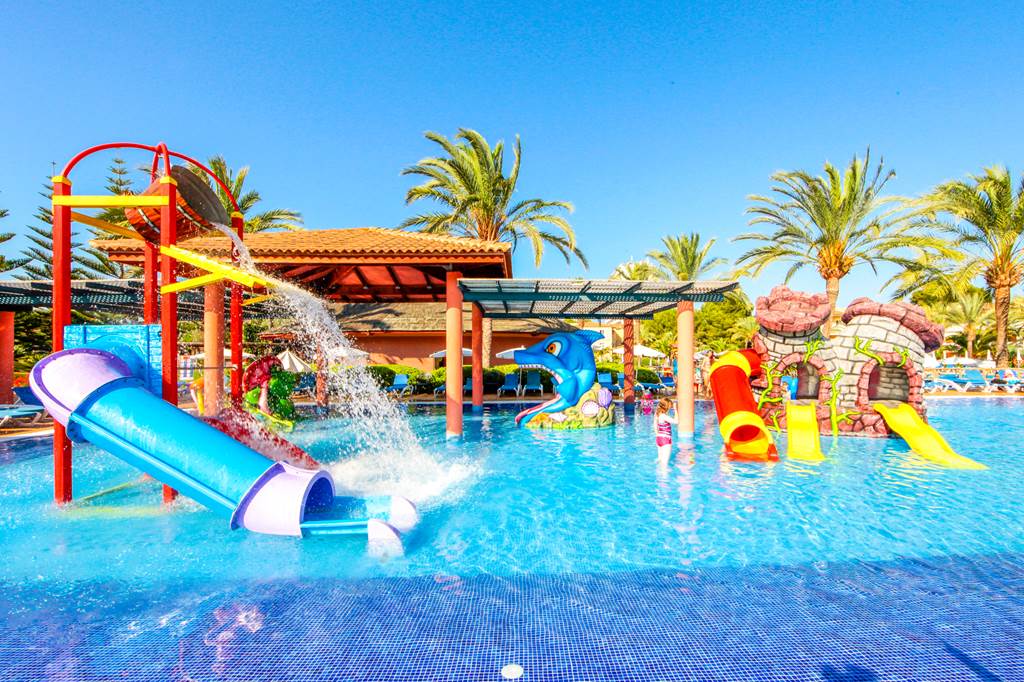 The Zafiro C'an Picafort is a spacious and luxurious hotel with a lagoon-shaped pools lined with palm trees and an amazing splash park.
Vell Mari Hotel & Resort
The Vell Mari Hotel & Resort is a family-friendly hotel with plenty of sports activities and an on-site tennis court, along with a great playground.

5 Best Things To Do With Babies And Toddlers In Majorca
#1. Pirates Adventure
Shiver me timbers! This spectacular live show will amaze little ones with a mix of acrobatics, singing and dance, all with a fun pirate theme. You'll all be served a delicious dinner while watching the show too. Pirates Adventure has been one of Majorca's most popular attractions for more than 30 years.
#2. Katmandu Park
Discover the topsy-turvy world of Katmandu Park! The island's biggest theme park is one of the best places to go with toddlers in Majorca. It has a thrilling mix of interactive games and rides, climbing, soft play and magical mini-golf. Look out for Boro the Yeti, the park's official mascot and get ready for non-stop fun in the amazing 4D cinema.
#3. Visit Palma
Palma is Majorca's capital and is a culture-packed yet compact city to explore. Be sure to admire the soaring spires of La Seu cathedral and stop by for ice-cream at the scenic harbour or explore Palma Aquarium.  Transport links to Palma are excellent across the island, so it's easy to visit from wherever you're staying.
#4. Hidropark
Based right in the centre of Alcudia, Hidropark is one of Majorca's most popular water parks. There are super-fast slides and rides like the kamikaze but for holidays in Majorca with toddlers, there's also the children's world area and minipark with calmer slides. There's even a friendly giant octopus!
#5. Boat trips
As an island destination, there's no shortage of boat trips and excursions at almost every coastal resort in Majorca. Book a glass-bottom boat and the little ones will love the sense of adventure out on the open sea as they spot schools of colourful fish that follow the boat as you sail past.
Best Beaches For Babies And Toddlers In Majorca
 #1. Alcudia Bay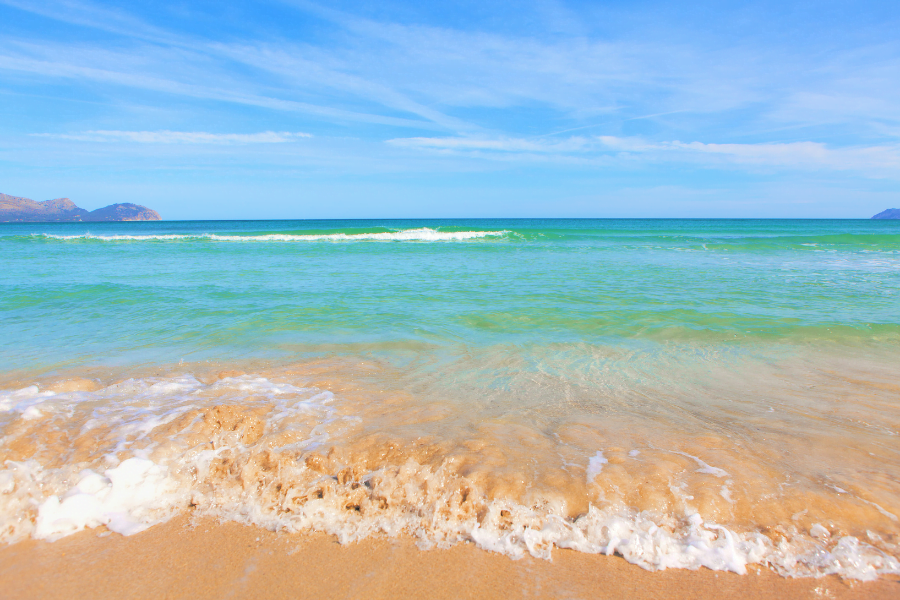 This six-mile stretch of white-gold sand is one of the longest beaches in Majorca. As such, you'll find there's plenty of space for you to pick a sunbathing spot and get ready for sandcastle building. Due to it being so popular, it has plenty of on-site facilities and nearby restaurants too.  The Club Mac Resort in Alcudia is an amazing hotel with unlimited use of the waterpark opposite the hotel!

#2. Cala Ferrera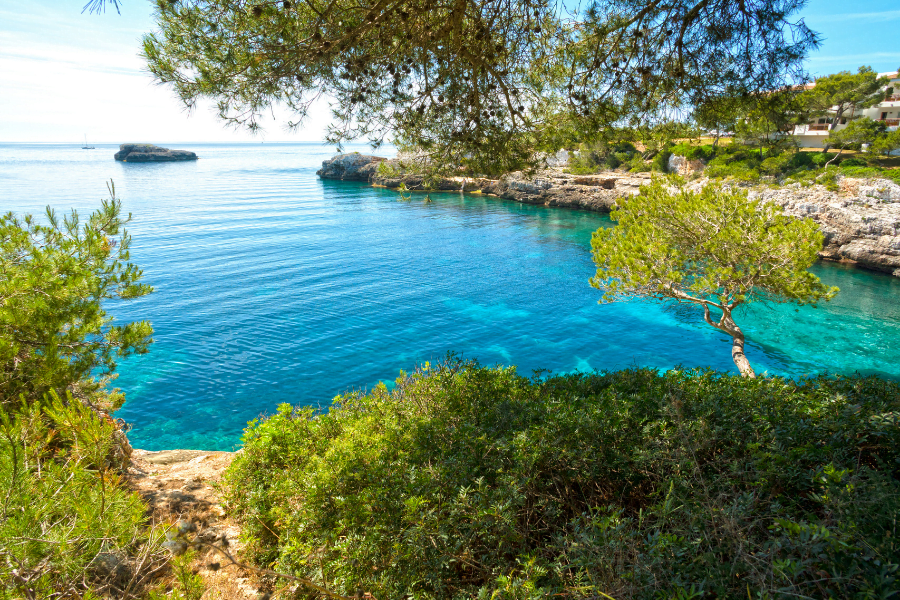 Cala Ferrera is a favourite of the five coves located in Cala d'Or. It's a picturesque spot bordered by fragrant pine trees and chalky white headlands. Sink your toes into the smooth golden sands or take a dip in the gorgeous, turquoise-toned waters.  The newly refurbished Barcelo Aguamarina hotel is a 4* hotel with direct beach access

#3. Es Traves
Es Traves is one of Puerto Pollensa's prettiest beaches. Here, your days spent sunbathing are accompanied by stunning views of the Tramuntana Mountains. Their craggy peaks cast an undulating silhouette across the skyline, but the huge palm trees that follow the promenade here are every bit as idyllic. The stunning PortBlue Club Pollentia Resort is located opposite Can Cap De Bou Beach and has a splash pool, playground and soft play for little ones.

#4. Es Trenc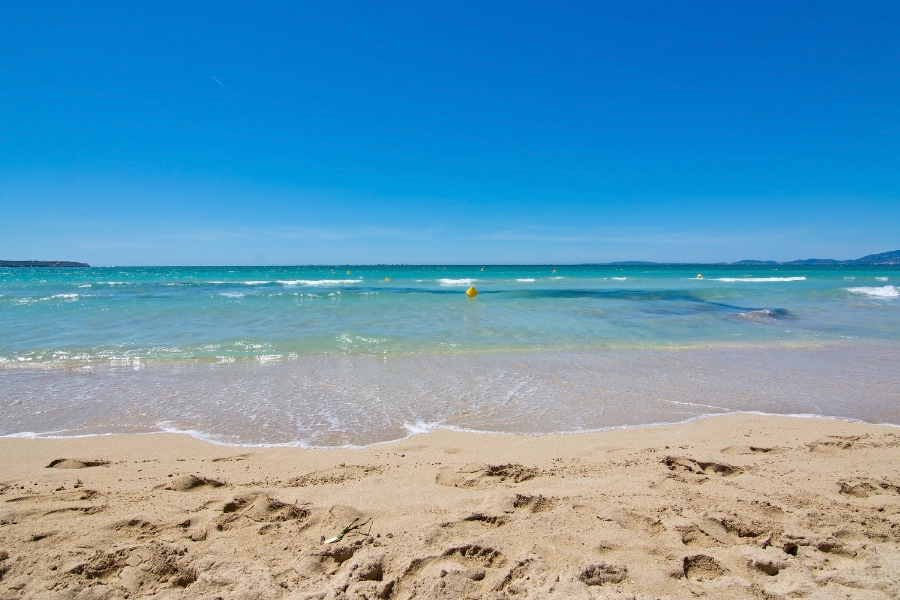 Es Trenc is an open, expansive beach where shimming white sand and azure waters make a picture-perfect scene. As it's so open, be sure to set yourself under a parasol if you're on holidays in Majorca with babies. The beach backs onto a nature reserve, adding to the appeal of the setting.
#5. C'an Picafort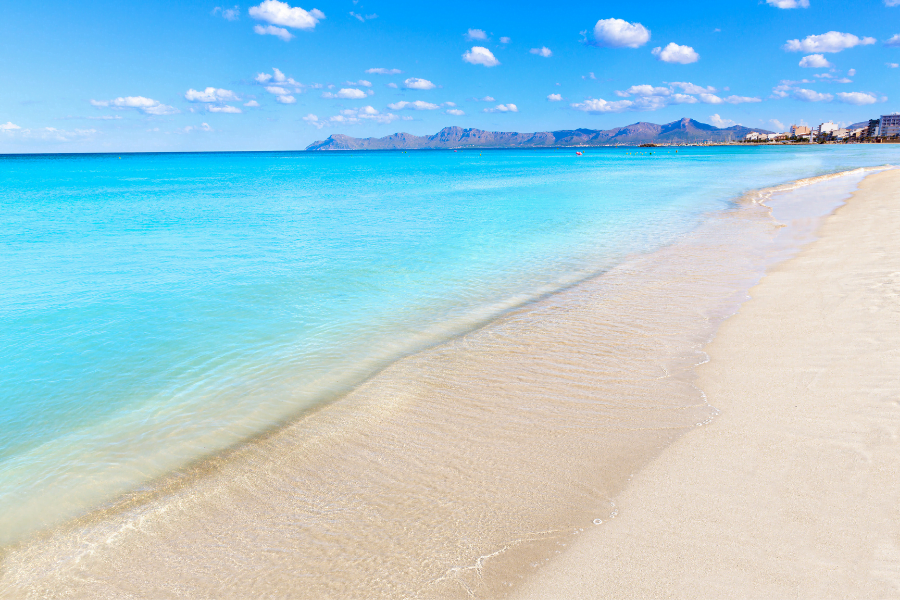 C'an Picafort is still one of the quieter resorts in Majorca, yet what has really put it on the map is its beautiful beach. Its dusky golden sands are dotted with thatched roof parasols, while its also the proud owner of a coveted Blue Flag award for outstanding cleanliness and excellent facilities.  The Zafiro Hotel at C'an Picafort has a massive swimming pool, paddling pool and a splash park packed with fountains, jets and little slides.

5 Things Not To Miss In Majorca!
#1. Try sweet treats in Pollensa!
Most of your holidays in Majorca with toddlers will be based around the beach, but it's worth heading inland to Pollensa for the sweet treats on offer here. Specifically, we're talking about the Barbara Backenköhler Bakery. Try the delicious selection of homemade cakes that are certain to put a smile on your little one's face.
#2. Hop on the train to Soller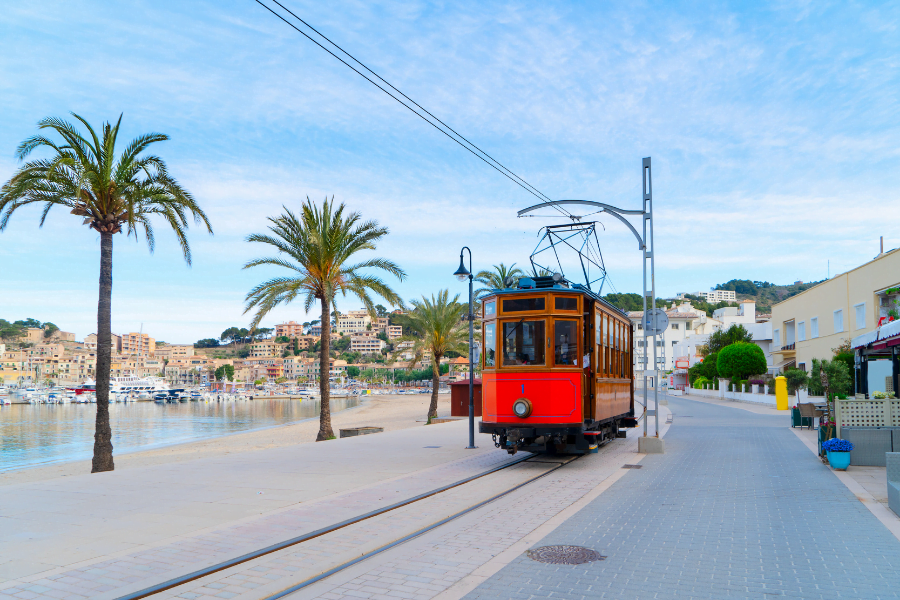 This scenic train ride has long been a favourite with all types of tourists in Majorca. It's a much-loved link between the island's cultural capital, Palma, and the historic village of Soller. Little ones will love the adventure of hopping on the vintage wooden train and watch the wonderful sights as it delves into verdant valleys and mountain tops.
#3. A day out at the beach at Cala Formentor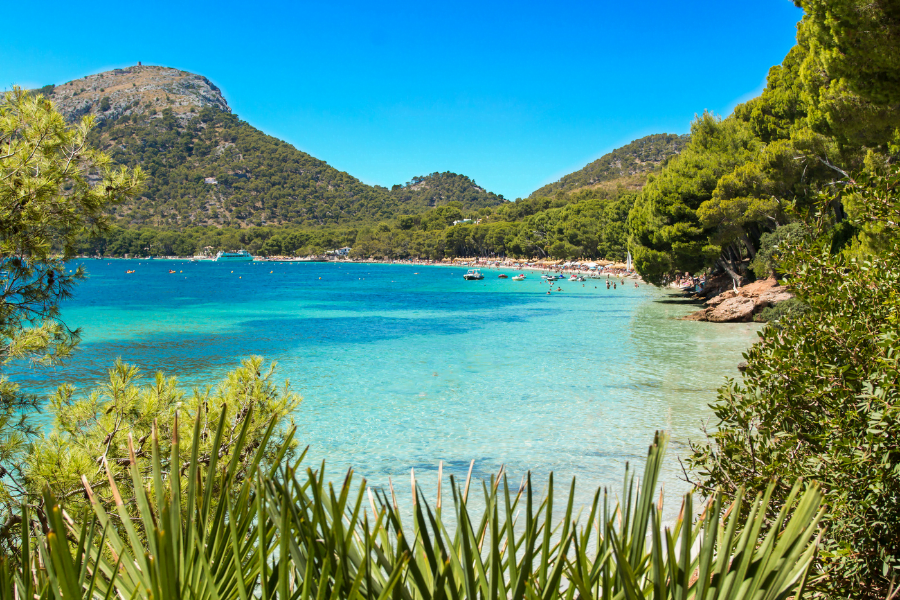 Even if you're not staying on the northern coast of the island, it's well worth packing a bucket and spade and setting off on a journey to Cala Formentor. It's as picture-perfect a vision of the Med as you can get in Majorca, where white sands lead to glistening crystalline waters.
#4. Explore Cala Bona Harbour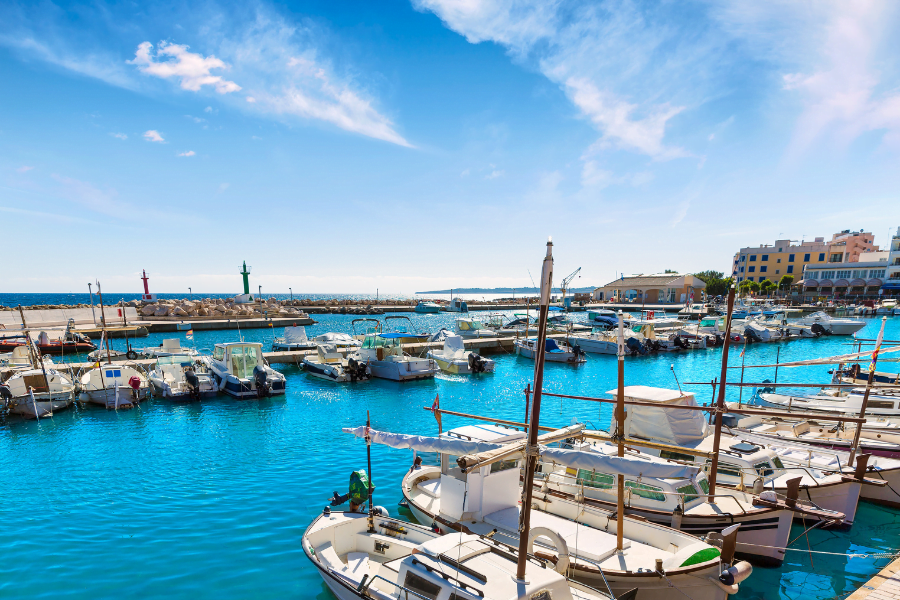 Set on the eastern edge of Majorca, Cala Bona is a picturesque resort with a gorgeous sandy coastline. And even if you're only stopping by, be sure to explore the nearby harbour. The kids will love spotting the traditional Majorcan fishing boats, while you could also relax with an ice-cream (or two) at a local waterfront café and take in the scenic sea views.
#5. Discover the Caves of Drach
Get ready to be spellbound by the enchanting underground caverns at the Caves of Drach, also known as the Dragon Caves. Its stalagmites and stalactites are spectacularly illuminated, while the real highlight of your tour will be the classical musical concert on the huge underground lake.
Now you know all about the best holidays for babies and toddlers in Majorca thanks to our ultimate guide, all that's left to do is choose your ideal holiday!