10 Best UK City Breaks for Babies and Toddlers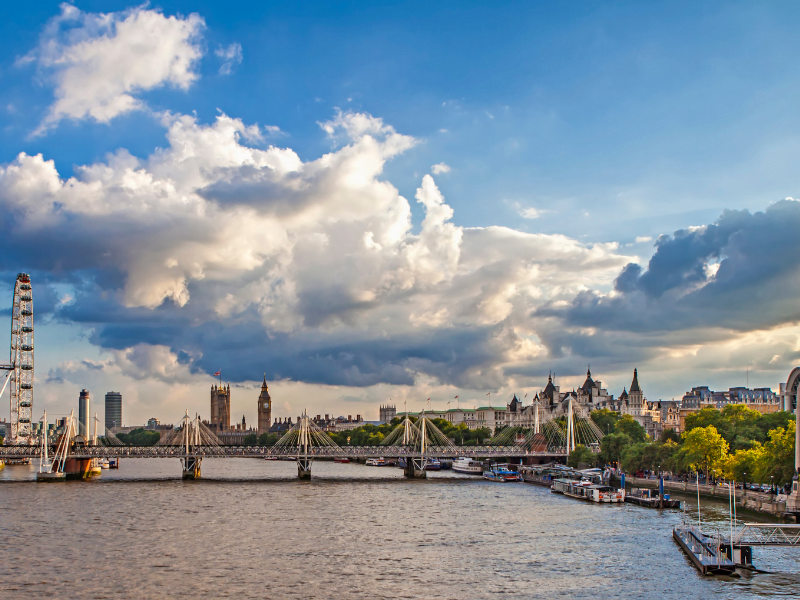 Looking for a toddler friendly city break in the UK? We're here to help! We've checked out the best city breaks with toddlers in UK locations stretching from Scotland to southern England. If you click on a link in this piece, we may earn affiliate revenue.
#1. Edinburgh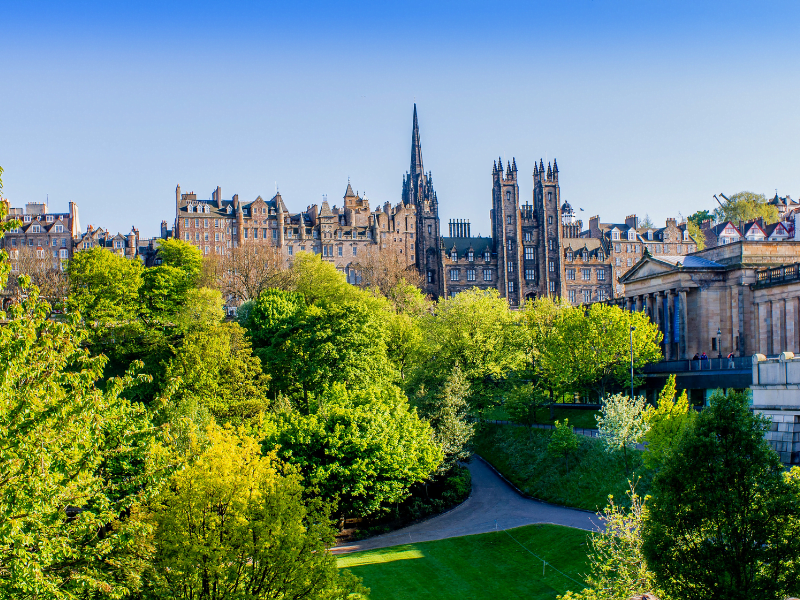 When you arrive in Edinburgh, you'll instantly notice the imposing sight of Edinburgh Castle, clinging dramatically to the volcanic cliff. It's just as incredible exploring the castle up close, and toddlers will love  completing the activity sheets and attraction-spotting tasks. As a complete contrast to the historical wonder of the castle, you could also visit Camera Obscura and the World of Illusions and its awesome optical illusions and perspective tricks. If your toddler still has more energy to burn, how about a trip to the National Museum of Scotland? They can see huge dinosaur fossils up close, along with amazing Scottish inventions and technology. You can even join the Family Puzzle Trail. Wow-worthy activities and a friendly atmosphere make Edinburgh a winner for toddler friendly city breaks in the UK.
Top hotels for a toddler friendly city break in Edinburgh:
Radisson Blu
The Radisson Blu has a stunning contemporary style and is located right on the Royal Mile so will save the strain of walking too far for little legs!
Apex Grassmarket Hotel
The Apex Grassmarket hotel has an on-site restaurant with plenty of choice for children's meals. It's also very close to the Camera Obscura and the World of Illusions.
Read More – 41 Fantastic Places To Stay In Scotland With Babies And Toddlers
#2. York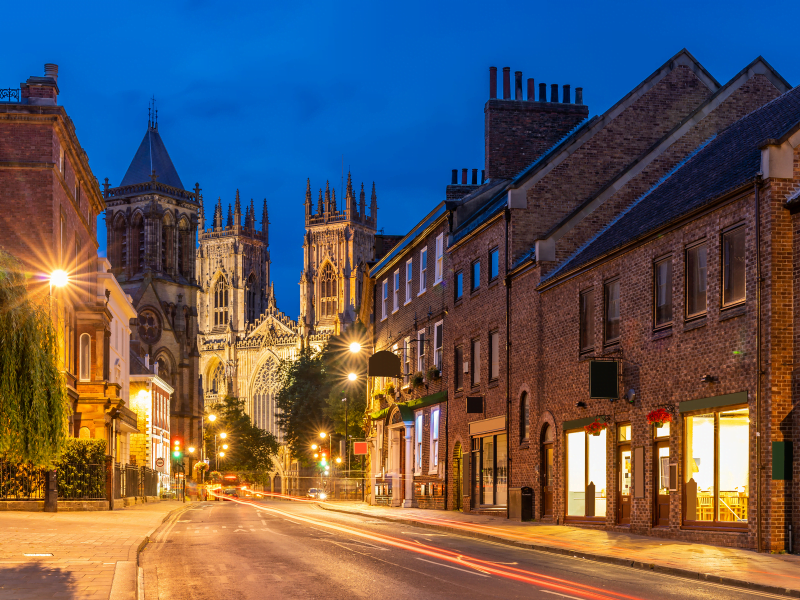 As one of the most historical cities of Yorkshire and northern England, York has a long and illustrious history stretching all the way back to Roman times.   Along with its impressive history, York still has a range of activities to delight little ones. That includes Dig, an interactive exhibit at the Jorvik Viking Centre that encourages children to engage with archaeological discoveries. There are even Tiny Diggers sessions specially set up for babies and toddlers and a play area for under 5s. Continuing the interactive theme, the York Chocolate Story reveals the leading role of the city in bringing this sweet treat to the UK. Children can get involved with learning how chocolate is made, and even try out making their own chocolate! As an activity with a twist, how about joining a boat cruise on the River Ouse? It's a wonderful way to see more of the city centre, and the perfect way to complete your toddler friendly city break in York.
Top hotels for a toddler friendly city break in York:
Novotel York Centre
The Novotel York hotel is located right by the riverfront and boasts spacious family rooms along with an on-site restaurant.
Hilton York
The Hilton York is located close to top family-friendly activities including the Jorvik Viking Centre.
Read More – 10 BEST Places To Stay With Babies & Toddlers In York
#3. Liverpool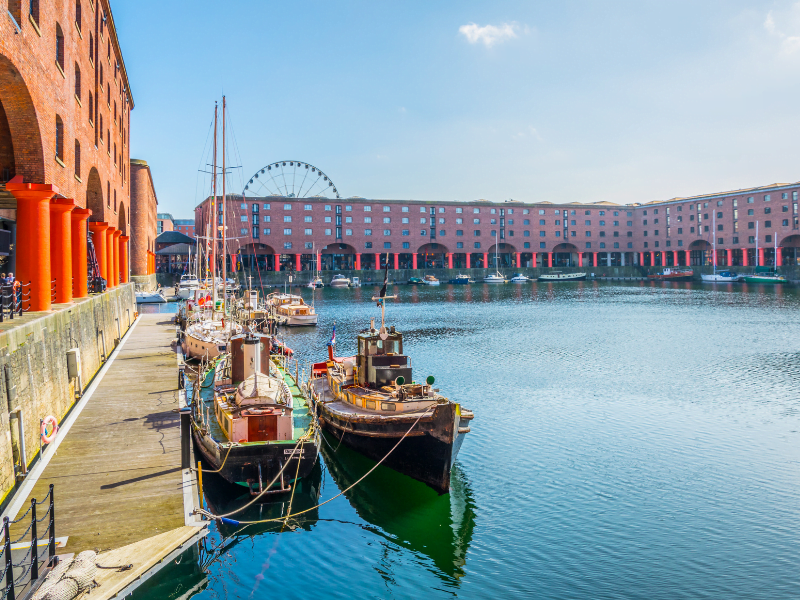 The iconic port city of Liverpool has enjoyed an incredible revitalisation in recent years with grand dockside buildings and angular modern towers standing high over the Mersey. It's a wonderful place to explore for a toddler friendly UK city break too, thanks to its rich range of attractions. Find out more about the seafaring legacy of the city at the Maritime Museum. Toddlers will love spotting the scaled-down models of illustrious ships and boats from back in the day. The sense of inspiration continues at the Imagine That Science and Discover Centre. Here, you and your little ones will be guided through the interactive exhibits based on the scientific and creative arts. You can even check out the Slime Factory and create your very own fridge magnet!  Knowsley Safari is just half an hour's drive from the city centre and you can join the drive-through or foot safari to see lions, rhinos, giraffes and more up close.
Top hotels for a toddler friendly city break in Liverpool:
The Liverpool Boat
The Liverpool Boat  is a hotel with a difference! You can stay in a real boat docked in the water but kitted out like a full hotel. The interiors are contemporary while the boat also includes children's books, games and puzzles.
Crowne Plaza Liverpool City Centre
The spacious, modern and grand Crowne Plaza hotel has incredible views of the famous Royal Liver Building and the River Mersey.
Read More – 50 Stunning Baby And Toddler Friendly Hotels In The UK
#4. Cardiff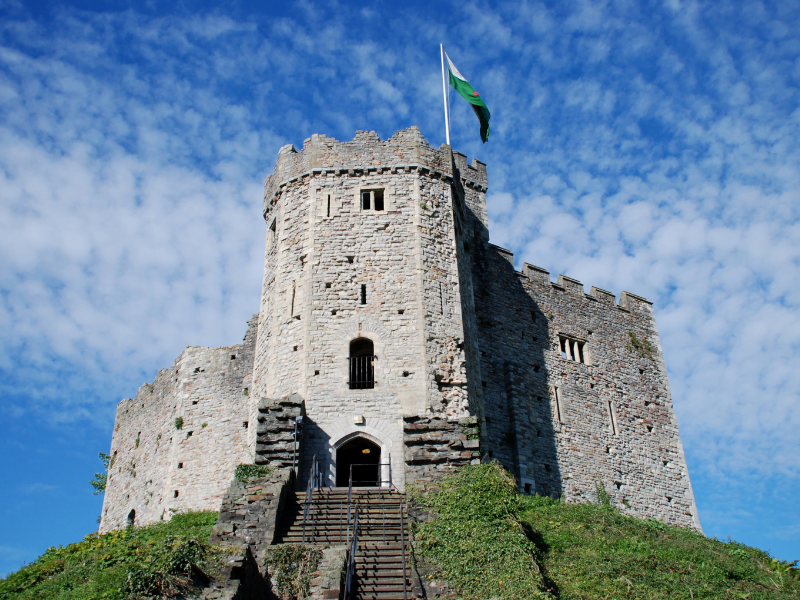 Historic buildings peer over Cardiff Bay, while the centre of the city is a thrilling fusion of modern shops and timeworn castles. It also offers some of the best city breaks with toddlers in the UK. That's because you'll find all manner of imaginative attractions here, including the National Museum Cardiff. The free museum features an amazing collection of artworks and exhibits – you can even see dinosaur fossils up close in the Evolution of Wales trail! The Wales Millennium Centre has also become an iconic focal point for the arts in the city. It's well worth checking out to see what toddler-friendly shows they have on when you plan your visit. At the St Fagans National History Museum, you can find out more about the culture of Welsh village life with recreated houses, a farm, a school and more.
Top hotels for a toddler friendly city break in Cardiff:
Hilton Cardiff
The modern and luxurious Hilton is based right in the city centre, with splendid views of Cardiff Castle and the City Hall.
Park Plaza Cardiff
The Park Plaza has a contemporary approach to interior design, along with a stunning on-site spa.
Park Inn by Radisson Cardiff City Centre
The excellent Park Inn is based opposite the Motorpoint Arena, close to the Millenium Stadium and Cardiff Castle.
Read More – 35 Best Places To Stay With Babies & Toddlers In Wales
#5. Belfast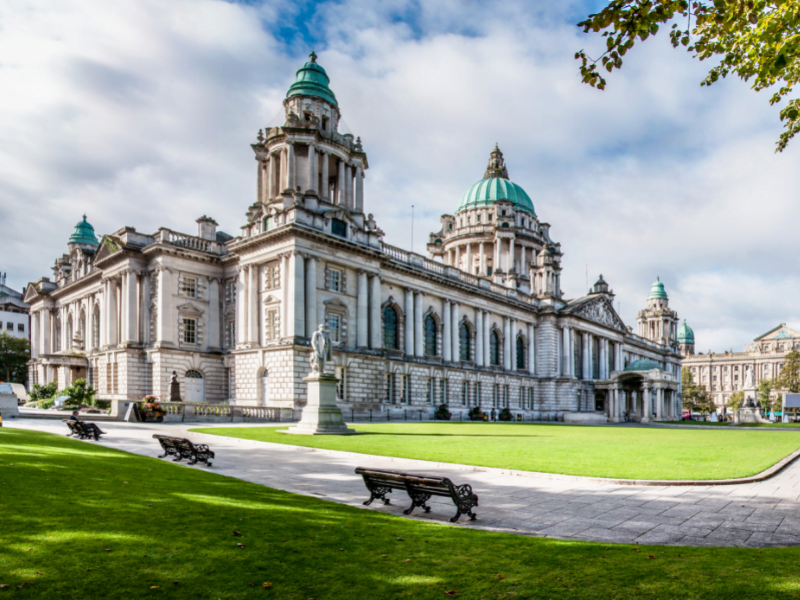 As the capital of Northern Ireland, Belfast is a city that's filled to the brim with culture. It's at the docks of Belfast that the city makes the most striking first impression though. Here you'll find the magnificent Titanic Belfast, with its glistening, angular exterior emulating the shape of the ill-fated ship. Toddlers can get involved in interactive exhibits that tell of the story of the Titanic. The ship has a longstanding connection to the city as it was constructed in the Harland and Wolff shipyard, with its colossal cranes that still stand today. After all that exploring, who's hungry? Well, a trip to Aunt Sandra's Candy Factory is in order! Little ones will be wowed by the candies, chocolate and fudge on offer in this huge homemade sweet shop. All in all, Belfast offers some of the best city breaks for toddlers in the UK.
Top hotels for a toddler friendly city break in Belfast:
The Culloden Estate and Spa
The grand Culloden Estate & Spa is surrounded by acres of open green space, just a 10-minute drive from the centre of Belfast.
Crowne Plaza – Belfast
The contemporary Crowne Plaza has fantastic interior design and an on-site gym – a winning choice for city breaks in Belfast.
Titanic Hotel Belfast
Good news – you can actually stay opposite of one of Belfast's best attractions!  The Titanic hotel has a grand design that perfectly fits the theme too.
Read More – 12 Best Places To Stay With Babies & Toddlers In Ireland
#6. London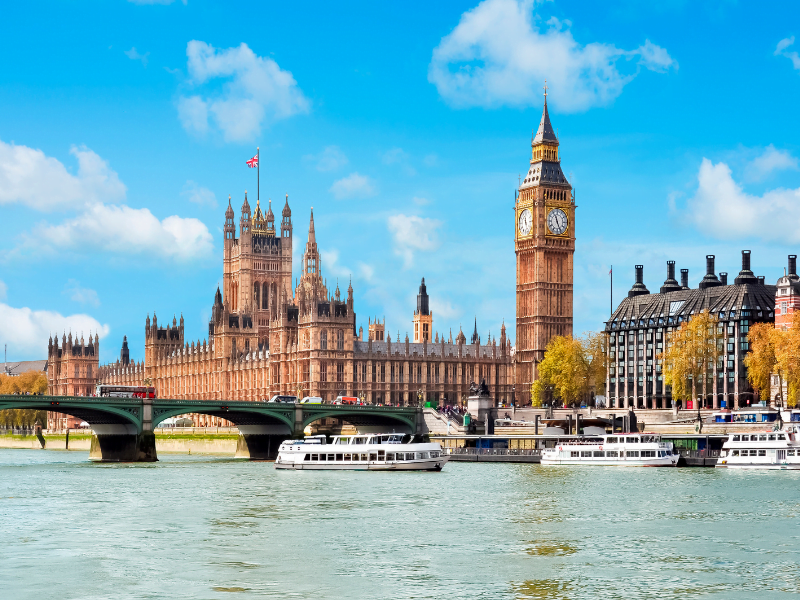 A trip to the world-famous capital of England is always captivating, but you might not expect that it's perfect for a toddler friendly UK city break too. There are often pushchair-friendly lifts and spaces onboard trams in the London Underground, while many of the top activities in the capital have family focused facilities. That includes the Science Museum, which is known for its amazingly immersive interactive exhibits, such as the Wonderlab and the IMAX theatre. On the subject of iconic museums in London, it's also home to the Natural History Museum. Here, you can see the huge Diplodocus skeleton along with huge galleries devoted to dinosaurs, mammals and amazing marine reptile fossils. After all that learning, how about taking a break? The Diana Memorial Playground in Kensington Gardens is the perfect place to relax, while the little ones enjoy the huge wooden pirate ship, sensory trail and specially-designed teepees.
Top hotels for a toddler friendly city break in London:
The Landmark London
The luxury Landmark hotel in Marylebone has all kinds of amazing features, including a palm-tree atrium, an on-site spa and an award-winning restaurant.
London Marriott Hotel Regent's Park
The beautifully designed Marriot hotel is located in an exclusive, central location close to Primrose Hill. You'll also be five minutes from Regent's Park and London Zoo.
Park Plaza London Waterloo
Park Plaza London Waterloo is a contemporary hotel that is excellent value for money, with a rich range of features and facilities and not far from London Aquarium.
Read More – 25 Best Baby And Toddler Friendly Places To Stay In London
#7. Oxford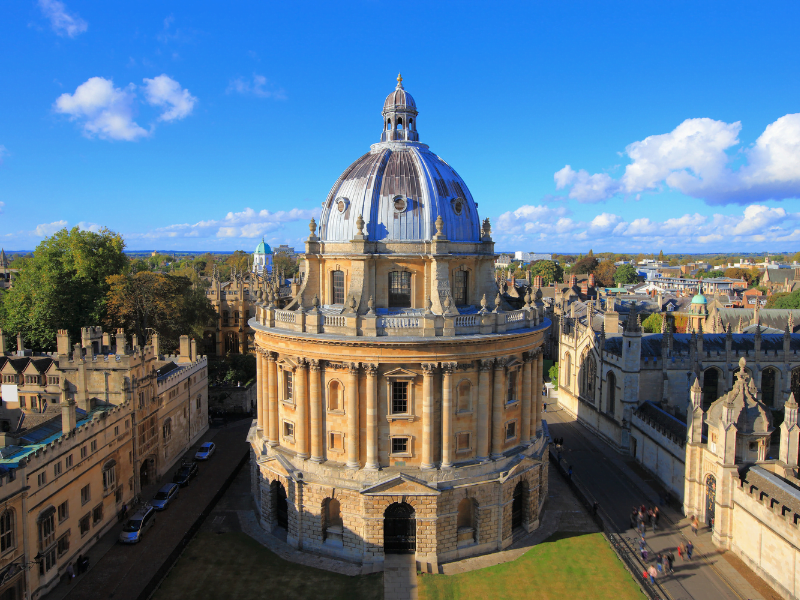 Long-known for its pioneering approach to education, with the world's oldest English-speaking university at its heart, Oxford is also a place that's perfect for toddler friendly UK city breaks. Along with the university, life here is focused around the river. So join in on the fun and hire a punting chauffeur to guide you long the waterway that goes through the heart of the city. At just half an hour's drive away, it's also easy to visit Blenheim Palace during your city break. This 17th century residence is surrounded by open green space and they even set up seasonal events for little ones. Cotswold Wildlife Park is also within the Oxfordshire county, just 20 miles from the city centre. Here, toddlers will love seeing giraffes, rhinos and lemurs up close, plus there is a huge adventure playground ideal for children of all ages.
Top hotels for a toddler friendly city break in Oxford:
Holiday Inn Oxford
The pleasantly designed and great value Holiday Inn is right next to a Park and Ride service to reach Oxford's city centre. It's also just 10 minutes' drive away from Blenheim Palace.
Courtyard by Mariott
The Courtyard hotel is based close to the historic heart of Oxford, near the illustrious university and the fascinating Ashmolean Museum.
Read More – 50 Baby & Toddler Friendly Holiday Parks In The UK
#8. Chester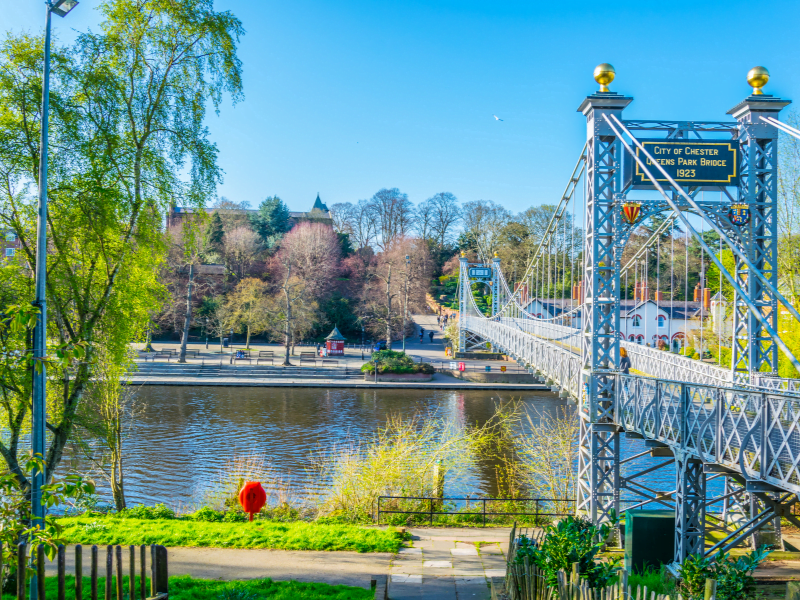 With a heritage that dates right back to Roman times, Chester has a very long legacy that is revealed in the rich mix of its attractions and buildings. Incredibly, its medieval city walls still stand and are some of the best preserved in the UK, making them a great landmark to visit in their own right. But as another plus point for considering Chester for city breaks with toddlers in the UK, it's also the perfect base for visiting the famous Chester Zoo. This huge zoo is home to an awesome array of animals, including elephants, cheetahs and jaguars. There's also a fantastic adventure playground to explore. Who wants ice cream? Well, you can enjoy exactly that and more at the Ice Cream Farm. Along with the world's largest ice cream parlour that offers up 50 different flavours, the farm also has an array of incredible rides and play areas for little ones.
Top hotels for a toddler friendly city break in Chester:
Lions Den
How about staying right by Chester Zoo? The Lions Den is perfectly placed for making the most of this fantastic family attraction.
Mercure Chester Abbots Well Hotel
With the modern design and great value Mercure is known for, this hotel places you close to Chester Castle and Chester Cathedral.
Village Hotel Chester St. David's
Complete with an on-site spa, pool and gym, the Village hotel is just 15 minutes' drive from the centre of Chester and Chester Zoo.
Read More – 50 BEST Baby And Toddler Friendly Places To Stay In The UK
#9. Manchester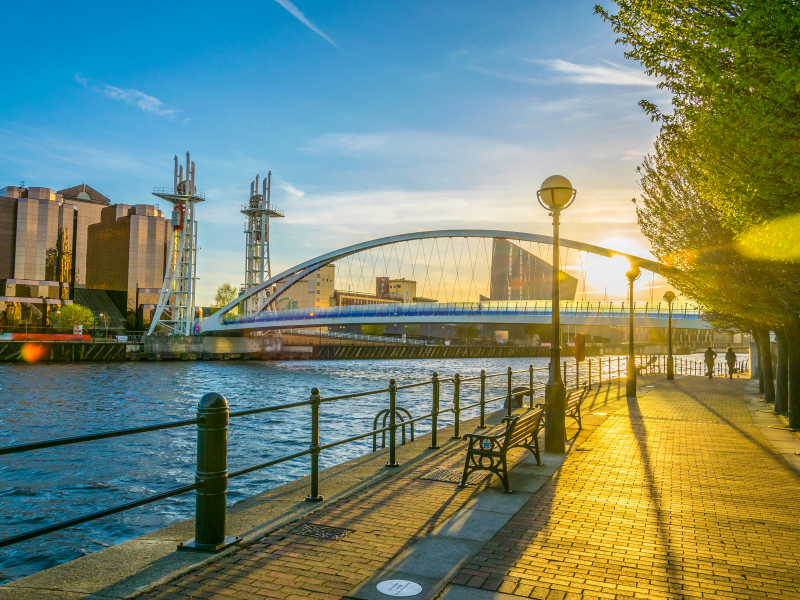 Manchester's musical history is the stuff of legend.  But along with its captivating cultural legacy, Manchester is also considered a top choice for UK city breaks with toddlers. That's because this city houses a staggering number of attractions and activities, including the Science and Industry Museum (also known as MOSI). This free museum tells the story of Manchester's leading role in the industrial revolution. Toddlers can get involved at colourful interactive exhibits that show the technological and scientific advances that made Manchester's huge factories possible. Alternatively, fancy combining shopping with sightseeing and activities? Head to the Trafford Centre. This massive shopping mall also boasts the Legoland Discovery Centre and the Sealife Centre. Legoland includes expertly made towns and models crafted from Lego, along with an interactive play area and exciting rides designed for younger children. Meanwhile, in the Sealife Centre, you can see all manner of aquatic animals up close, ranging from graceful rays to spiky lobsters!
Top hotels for a toddler friendly city break in Manchester:
Park Inn by Radisson Manchester City Centre
The Park Inn has an funky design which creates a contemporary hotel in the heart of Manchester.
Hotel Football
Calling all football fans – the Hotel Football is is the place to stay in Manchester! It's located directly opposite the legendary Old Trafford Stadium, home of Manchester United.
Hilton Manchester Deansgate
The luxury Hilton Deansgate  is set within Beetham Tower so you can expect magnificent views of the city's skyline.
Read More – 21 Best Baby Friendly Holidays You Need To Go On!
#10. Bristol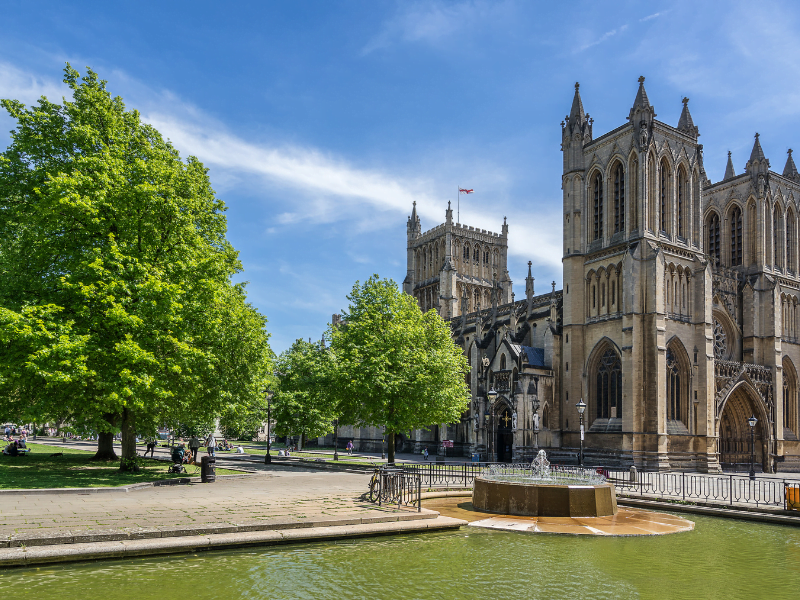 Bristol is an atmospheric and exciting city, known for its dynamic culture and seafaring legacy located right by the waterway of the River Avon. If you're considering a toddler friendly city break in the UK, Bristol is an excellent choice. For starters, it's home to the Bristol Aquarium, one of the UK's largest aquariums and the only one to also feature a huge indoor botanical garden. At the carefully curated displays, you'll have the chance to see seahorses, puffer fish and fearsome piranhas. Plus, as a modern twist, you can now try the Virtual Reality Experience to see even more amazing marine creatures. You can also visit We The Curious, an innovative science centre based on Bristol Harbourside. The centre features a variety of interactive exhibits that encourage creativity and delve into scientific discoveries, along with a wow-worthy 3D planetarium.
Top hotels for a toddler friendly city break in Bristol:
Mercure Bristol Grand Hotel
The modern Mercure Bristol Grand hotel is set in a Grade II listed building right in the centre of Bristol, not far from Bristol Zoo Gardens.
Doubletree by Hilton Bristol City Centre
The Doubletree hotel has the gorgeous interior design and high-quality features you expect of Doubletree by Hilton.
Radisson Blue Hotel, Bristol
The Radisson Blue Hotel overlooks the waterfront for amazing views in the centre of the city, only five minutes away from Bristol Aquarium.
Ready to book a toddler friendly city break in the UK? All that's left to do is choose your ideal city from our top ten!