16 BEST Winter Sun Holidays For Babies & Toddlers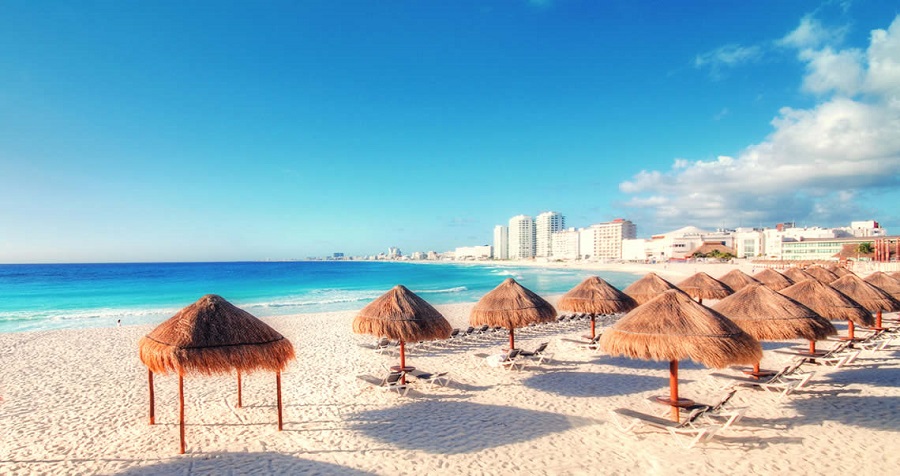 Want to escape the cold and rain and get some winter sun? Read on to discover the best winter sun holidays for babies and toddlers. Can you recommend any winter holidays for babies and toddlers?
Read More – 10 Best Toddler Friendly Hotels In The Caribbean
#1. Tenerife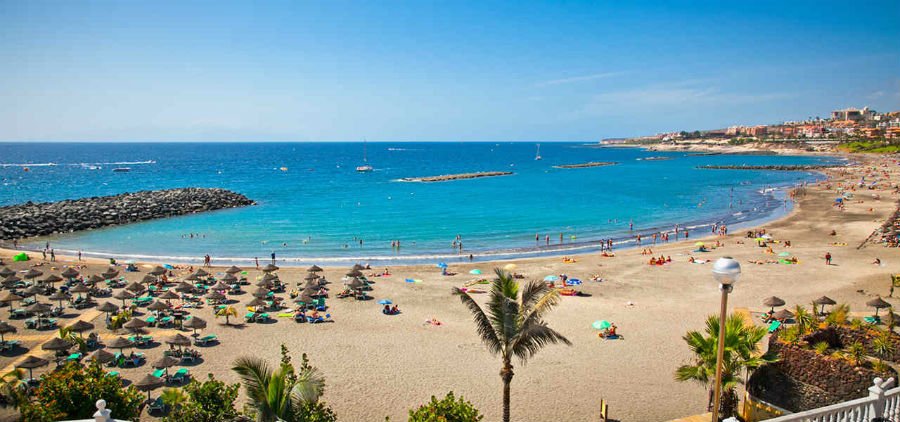 Just a 4 hour flight from the UK is the island of Tenerife, which is the largest of the Canary Islands. With temperatures in the early twenties, even in January, Tenerife is a great choice for families looking for a winter holiday with their baby or toddler. Days can be spent building sandcastles on the beach, chilling round the pool or visiting Loro Parque which is one of Europe's largest wildlife parks. The world famous Siam Park is worth a visit too – there are loads of big rides for dare devils, but little water babies will love the Lost City which is a water fortress of teeny slides, sprinklers and climbing frames.
Where To Stay – The Hard Rock Hotel is a unique hotel which is perfect for families looking for a stylish baby and toddler friendly hotel in Tenerife. There are incredible swimming pools, loads of sunbathing spots, a kids splash park and even a playground with a sandpit.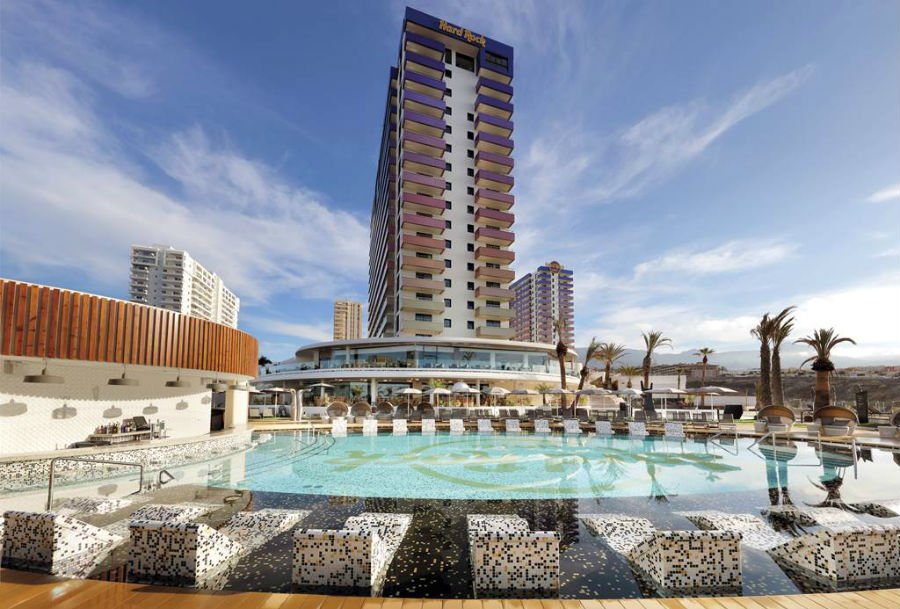 The Fantastia Bahia Principe is a brand new 5* hotel which is amazing for babies and toddlers. There is a fairytale Cinderella style castle, 2 splash parks, 5 outdoor swimming pools and a playground.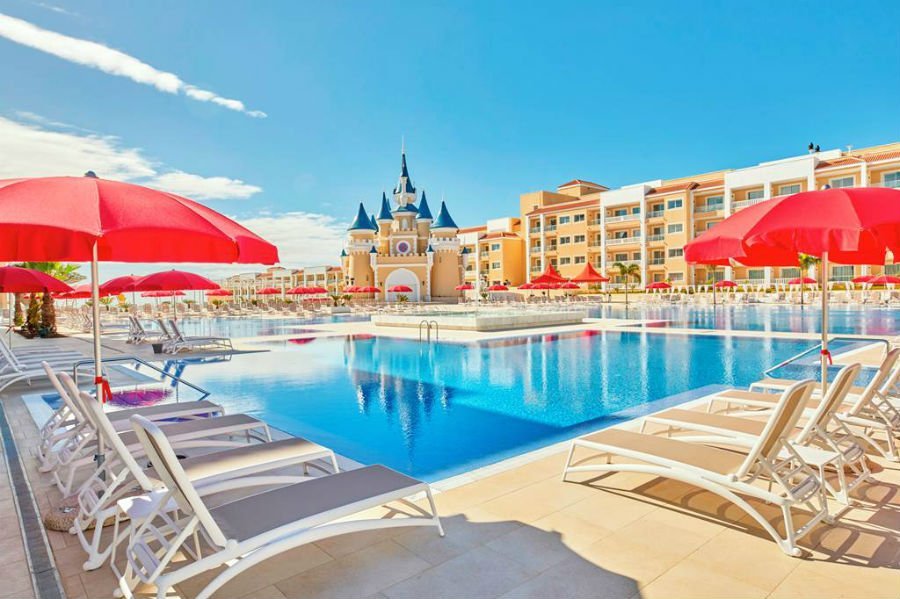 Learn More – 17 Stunning Baby And Toddler Friendly Hotels In Tenerife
#2. Dubai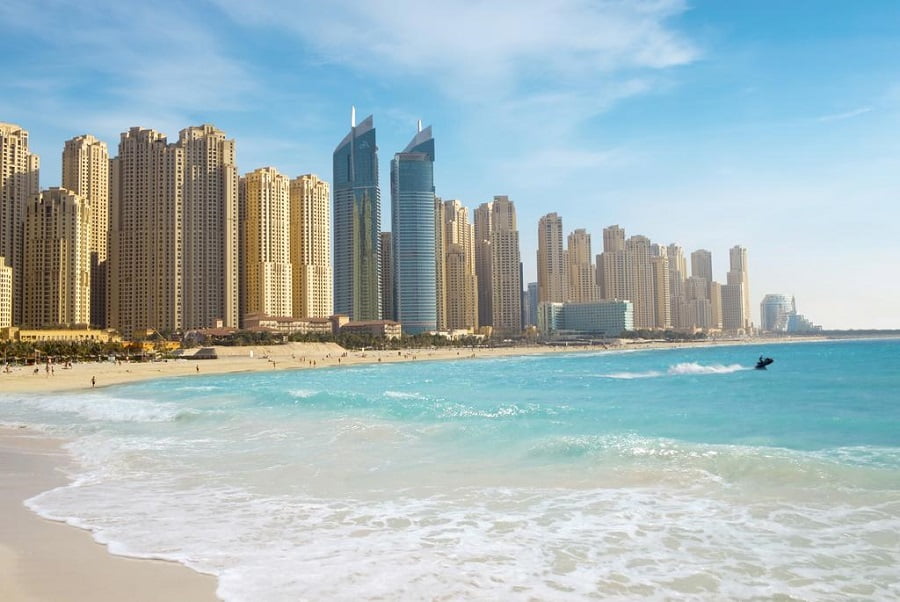 If you're looking for somewhere with guaranteed gorgeous weather in the winter which isn't too far to travel, then you must check out Dubai. This is family friendly heaven (the airport even offers complimentary pushchairs) with amazing hotels for babies and toddlers. Little ones will love LEGOLAND Dubai, LEGOLAND Dubai Waterpark, Motiongate Dubai and Riverland Dubai. Plus, there are sandy beaches to play on and amazing swimming pools and splash parks to cool down in.
Where To Stay – The Polynesian themed Lapita resort is in a great location next door to Legoland, Motiongate and Bollywood Parks meaning you can pop back to the hotel for an afternoon nap or dip in the pool whenever you want. Lapita guests also get complimentary theme park access. The hotel is set around lagoon style swimming pools and a lazy river – interconnecting rooms and cots and provided. This resort is also smoke free.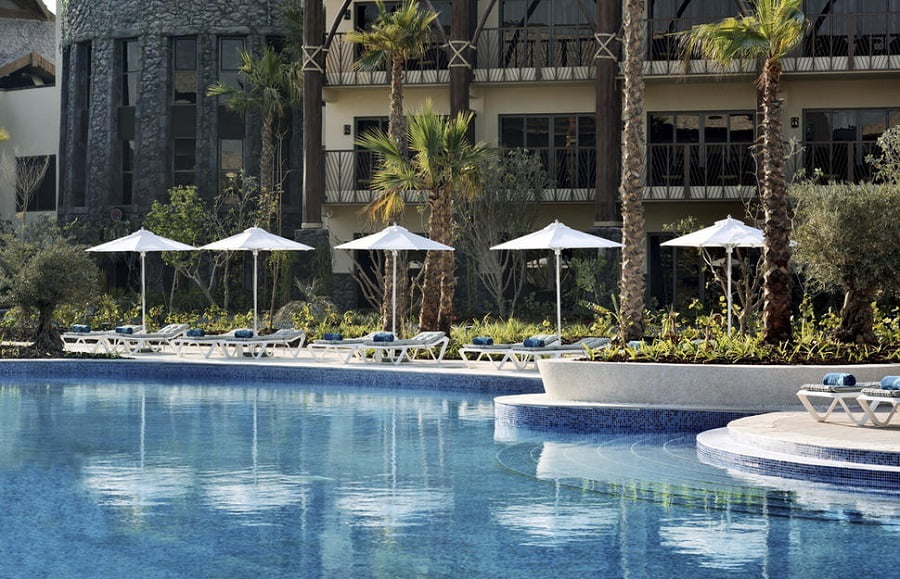 The awe-inspiring Atlantis hotel includes the Aquaventure water park, which is the Middle East and Europe's number 1 waterpark. There are loads of rides for larger kids but a new area for babies and toddlers too. The hotel is also the home of the Lost City of Atlantis Aquarium with over 65 000 marine animals and a stunning white sandy beach and pirate ship play area.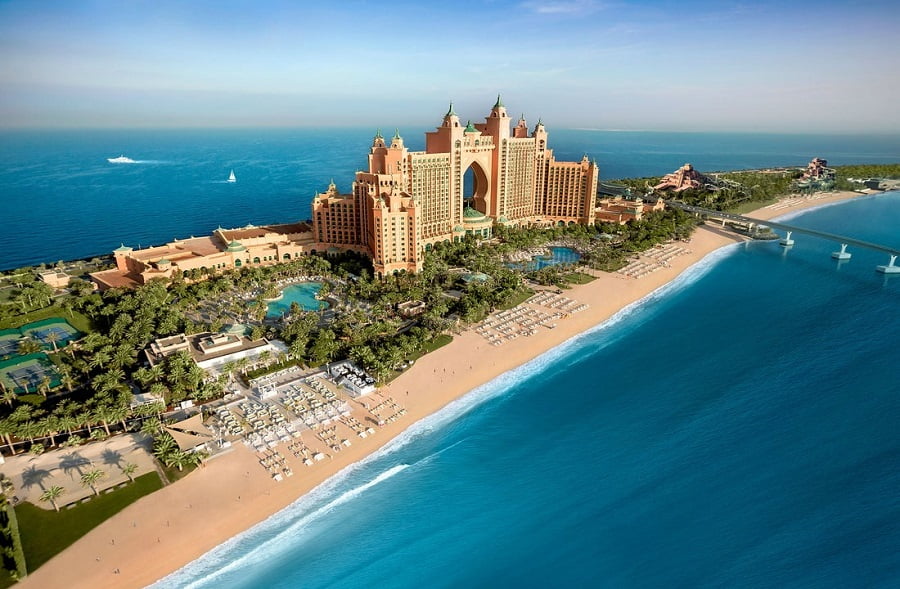 Read More – 19 BEST Baby & Toddler Friendly Hotels In Dubai
#3. Portugal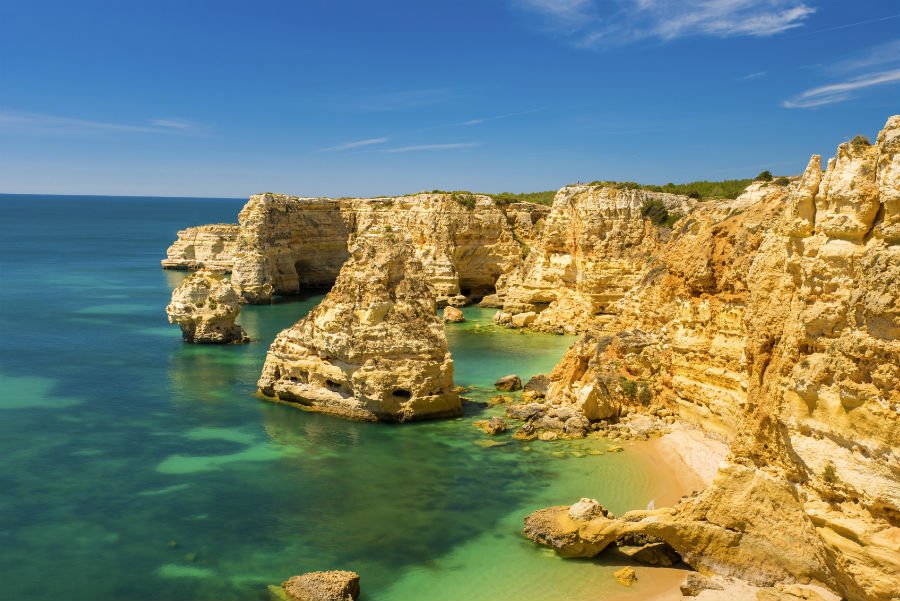 Portugal has some of Europe's best beaches and year-round sunshine. Temperatures in January are around the late teens / early twenties, but Portugal boasts more than 300 days of sunshine a year. Albufeira Marina is a lovely place for a wander in the sun, and for more active days don't miss the Zoomarine theme park. This marine life inspired theme park is just outside Albufeira and has animal shows, including dolphins and birds of prey, a 4D cinema, aquarium and rides.
Where To Stay – The Brisa Sol Aparthotel is in a great location within walking distance of the Old Town at Albufeira and the sandy beach. A real favourite with families, the Brisa Sol has a large outdoor swimming pool, a separate kids pool and an indoor pool. There is also an indoor play area for children aged 2- 10.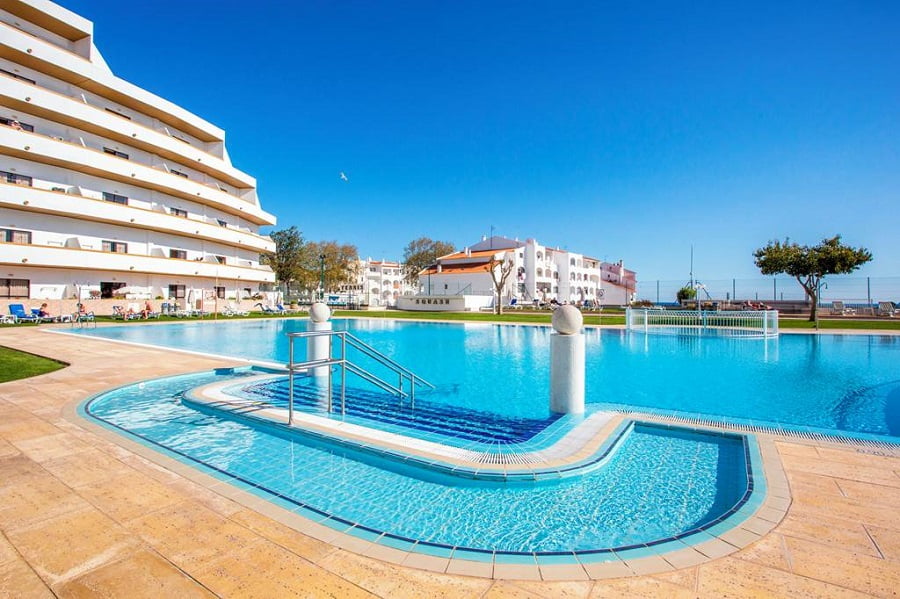 The Anantara Vilamoura Resort has an impressive outdoor swimming pool, an indoor swimming pool and a children's playground with swings and slides. There is a dedicated creche for children aged 4 months to 3 years old and includes a soft play area, ball bit, toys and a sleeping area. Parents will be able to relax in the Anantara Spa.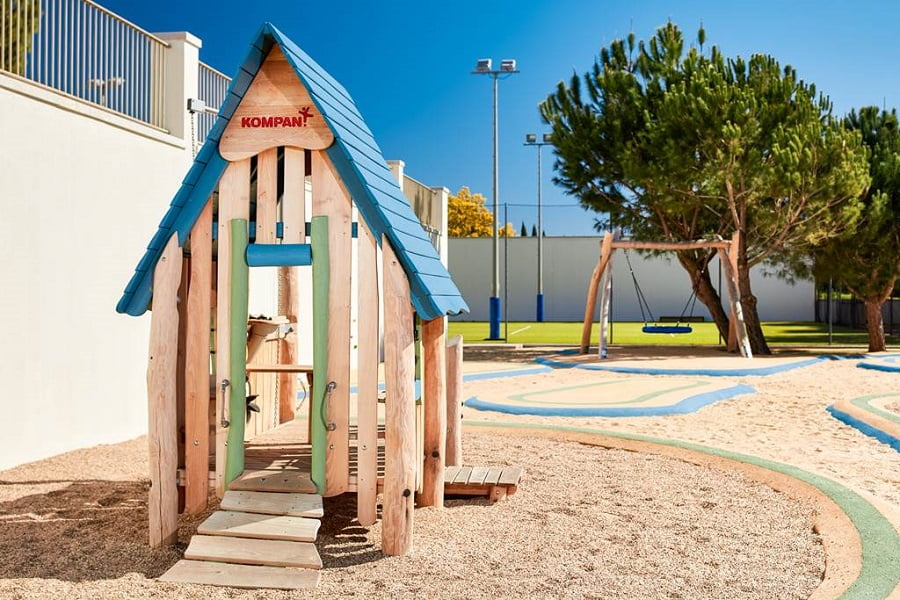 Awarded Portugal's Leading Family Resort for 2019, the Martinhal Quinta Family Resort is a collection of townhouses and villas with private swimming pools. There are 2 swimming pools, including a kids pool, and an indoor swimming pool for cooler days. There is a creche for children aged 6 months – 23 months with a soft play area, books and loads of toys. The beach is 4km away and there is a shuttle bus there twice a day.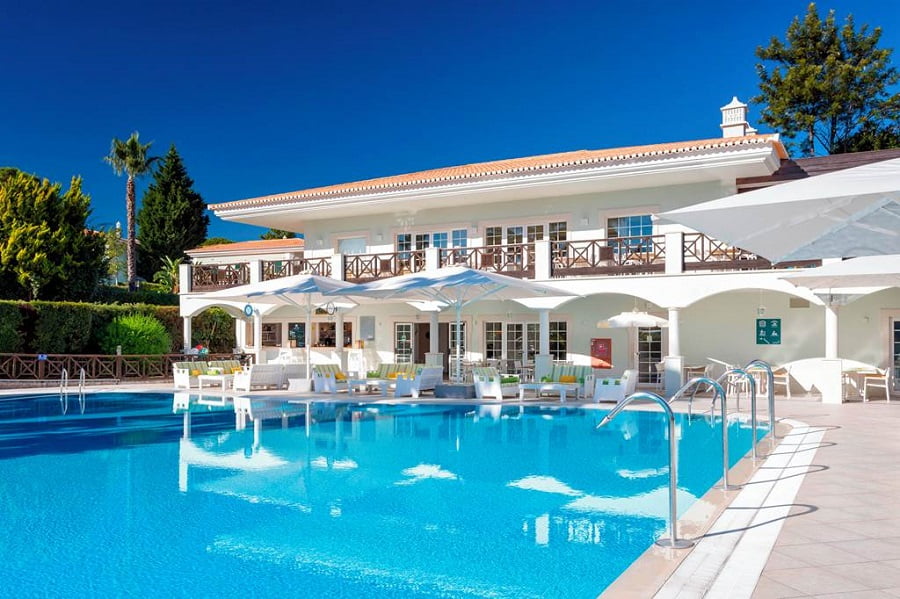 Read More – 20 Perfect Baby & Toddler Friendly Hotels In Portugal
#4. Florida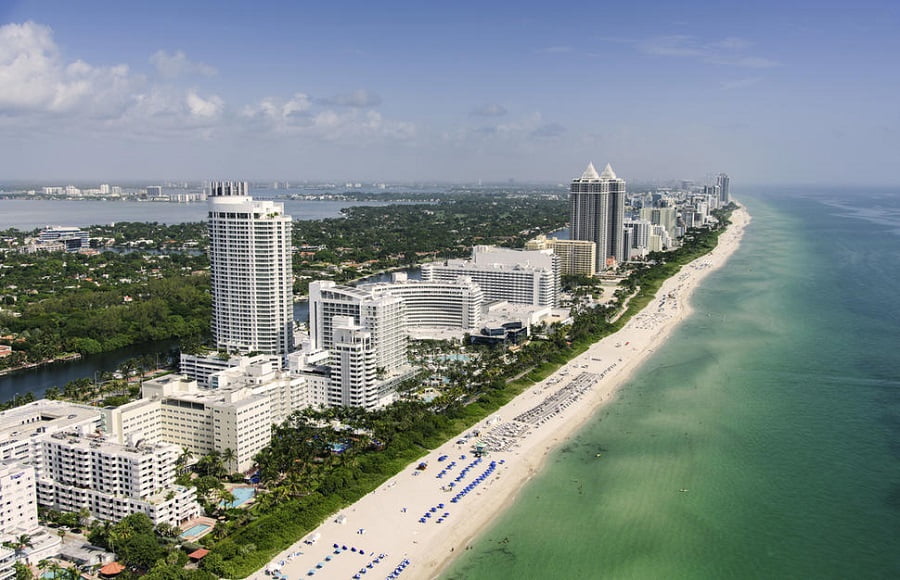 With January temperatures in the mid-twenties, fab theme parks in Orlando and the white sandy beaches of the Gulf Coast, Florida is guaranteed to make memories. Combine a trip to the theme parks at Orlando with a few days relaxing on the gorgeous white sandy beaches at Clearwater (voted one of America's Best Beaches in 2019!)
Where To Stay – The CoCo Key Hotel & Waterpark is a great choice for families looking for somewhere to stay with toddlers in Orlando.  It also boasts Orlando's biggest canopy covered waterpark with 14 waterslides and 3 heated swimming pools.  Plus, there is a playground, family rooms and a daily entertainment programme!
Disney's Contemporary Resort is just a 10 minute walk (or 1 monorail stop) from the Magic Kingdom (you may even be able to see the fireworks from your room!). The resort has a massive swimming pool, splash park and a play area for little ones.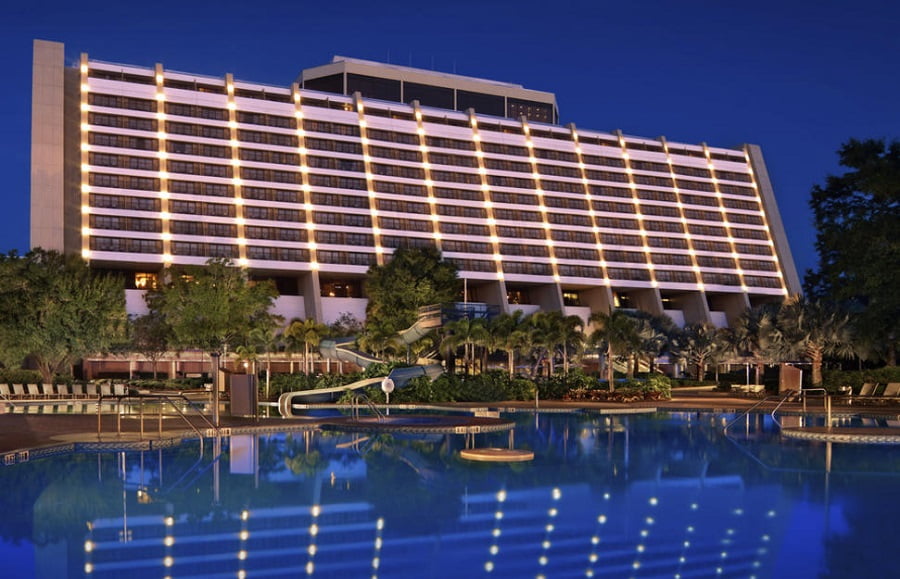 The Sunset Vistas is a beachfront resort at Clearwater with spectacular 2-bedroom suites. There is a fabulous swimming pool to relax by, with separate children's section and of course the beach is steps away.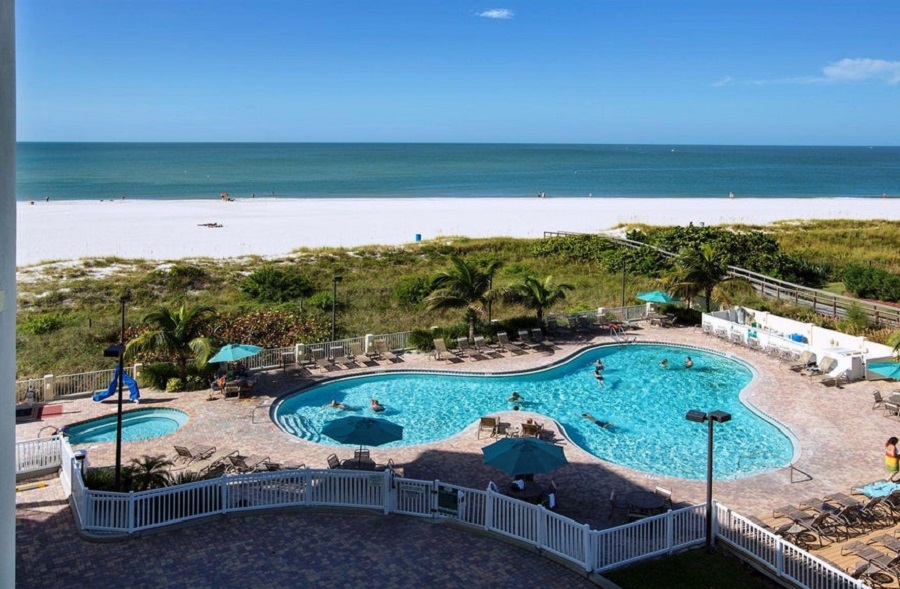 Read More – 11 Best Places To Stay With Babies & Toddlers In Orlando
#5. Lanzarote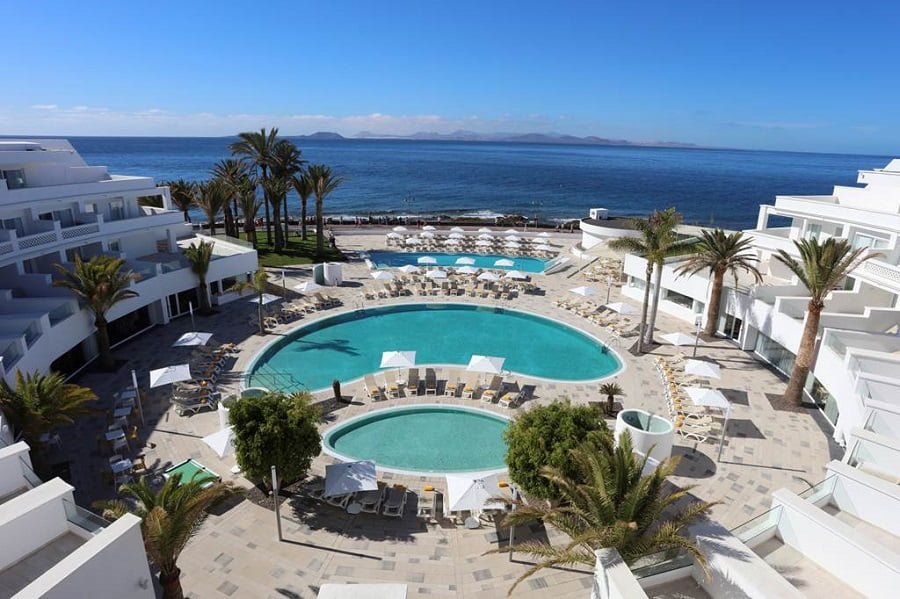 Lanzarote is a popular destination for families looking for a winter sun holiday with babies and toddlers. Peaceful Playa Blanca is well known for its white sandy beaches and promenade. Costa Teguise is another family friendly resort with a lovely town square and stunning beaches.
Where To Stay – The Elba Lanzarote Royal Village Resort is a 4* resort with cobbled streets and traditional Canarian low rise whitewashed suites situated in lush tropical gardens. There are 5 outdoor swimming pools, including a children's pool with slides and fountains and an indoor heated pool.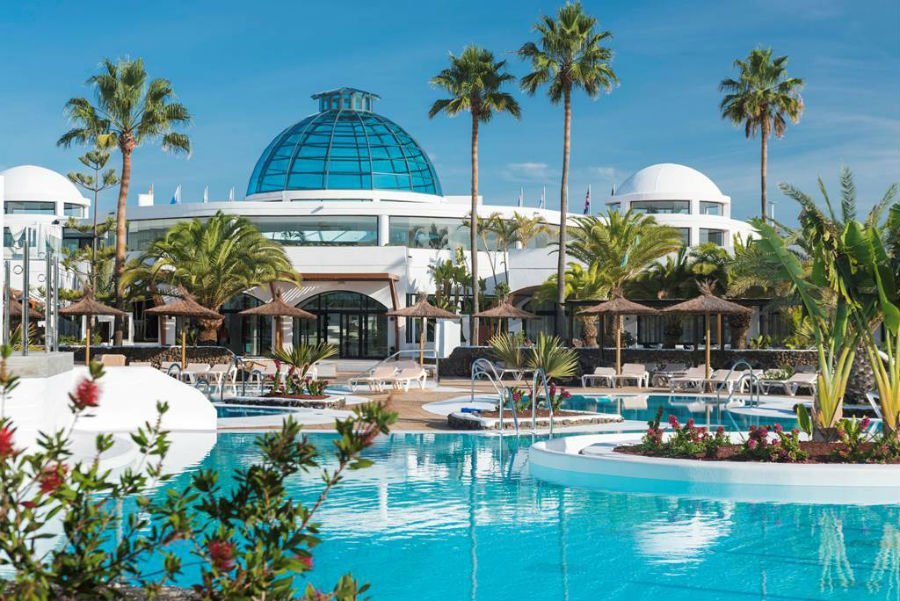 The beachfront hotel, Princess Yaiza is great for families with babies and toddlers who are also looking for a bit of luxury. There are 3 children's swimming pools, an indoor soft play specifically for children under the age of 8 – and of course the beach which is on the hotel's doorstep.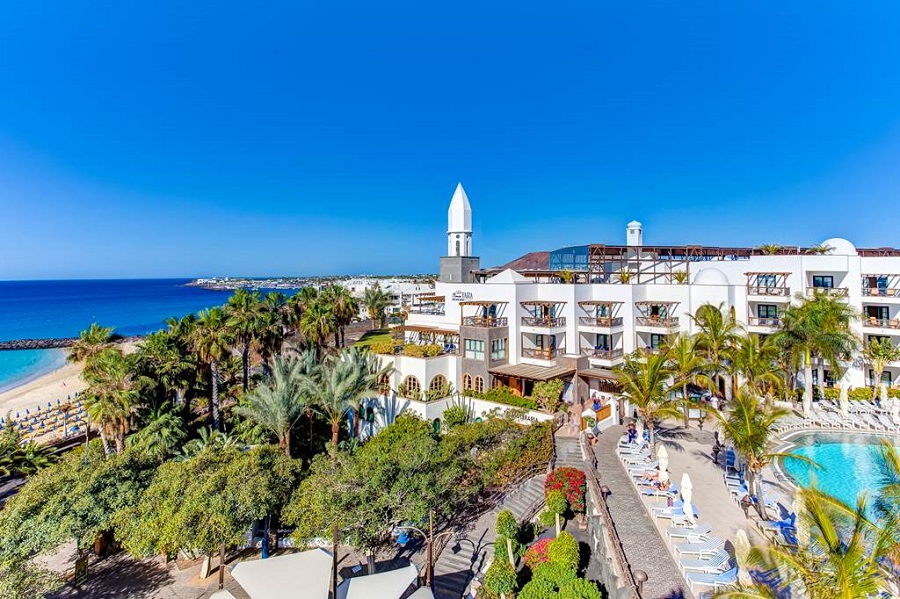 Read More – 18 Incredible Baby & Toddler Friendly Hotels In Lanzarote
#6. Cyprus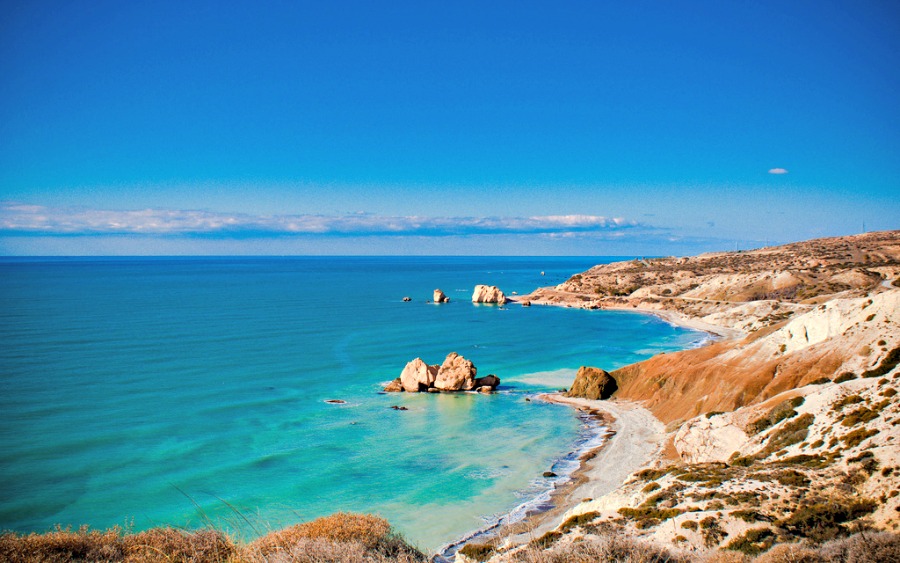 Spring can arrive in Cyprus as early as February with sunny days and an average day time temperature of 17 degrees. The wildflowers are starting to bloom, the scorching hot summer sun is more bearable, and the beaches are quieter so it is the perfect time to enjoy the island.
Where To Stay – The Aquamare is a stylish hotel with a laid back feel is a great choice for parents looking for a toddler friendly hotel with direct beach access, an excellent Spa and a lovely pool area. All stays at this hotel include free unlimited entry to the Paphos Aphrodite Waterpark which is just 1km away.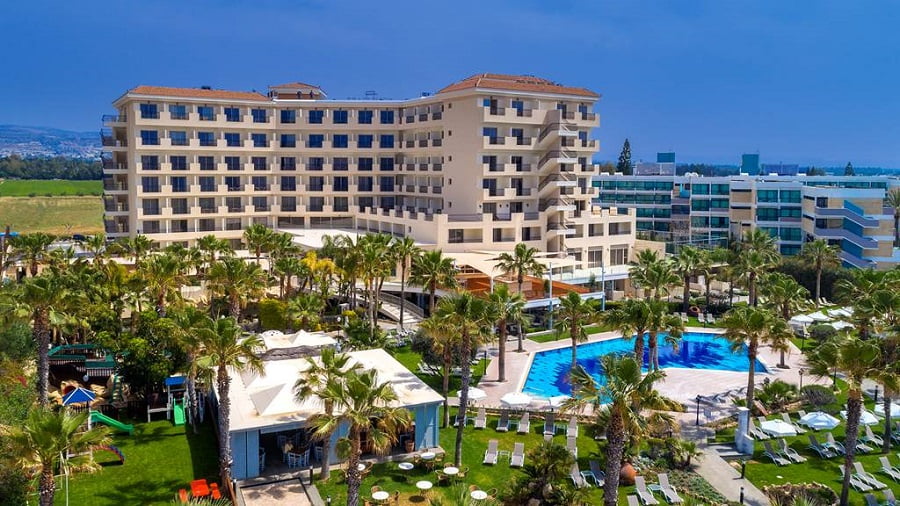 The King Evelthon is a luxury resort located in a peaceful setting in Paphos with stunning sea views. There are 2 outdoor swimming pools including a kids pool, an indoor pool and also a fab waterpark. Toddlers will love playing in the playground and the indoor play area.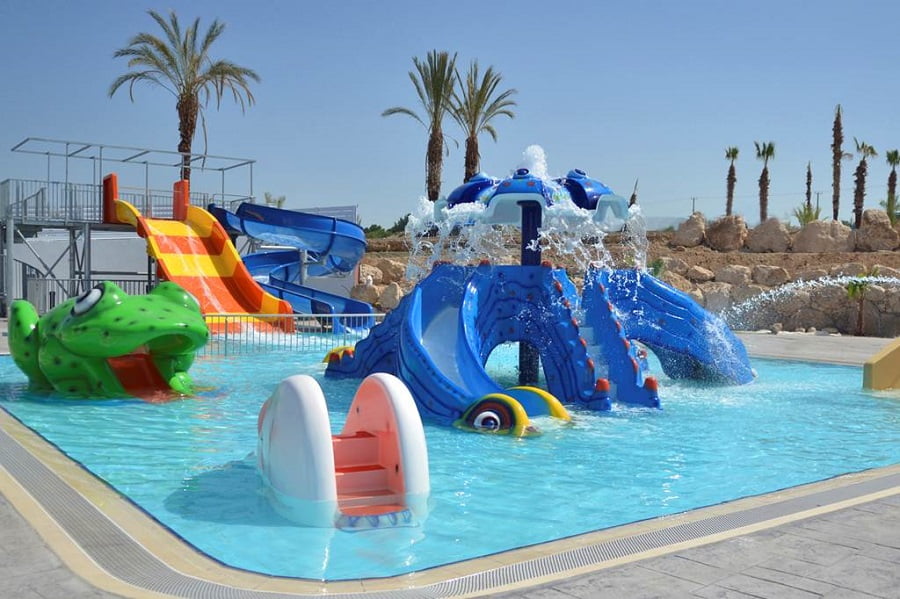 Read More – 19 Incredible Baby and Toddler Friendly Hotels In Cyprus
#7. Barbados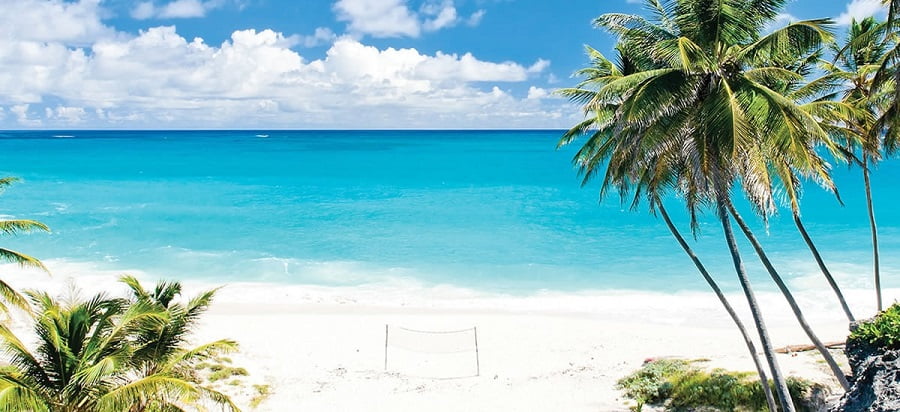 With average temperatures of 29 degrees in January, Barbados is a great place to look at if you want guaranteed sun. The beaches go on for miles, the islanders have a reputation for being friendly and of course, there is the rum and fish!
Where to stay – The Hilton Barbados is perched on Needham's Point peninsula and overlooks Carlise Bay and the Caribbean Sea. Toddlers will love the amazing tropical lagoon style swimming pool and splash zone. Bridgetown is just a 5 minute drive away.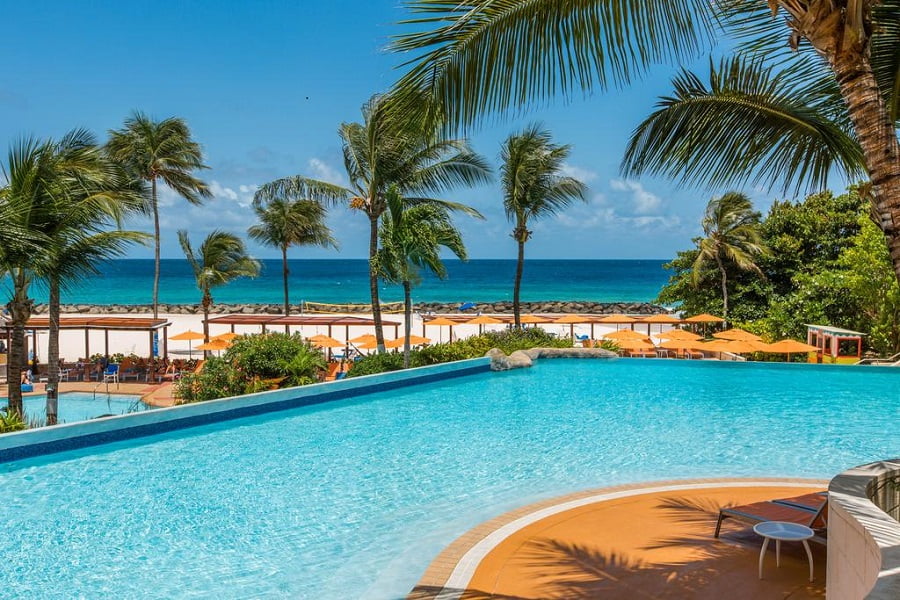 The all-inclusive Sea Breeze Beach House is set on Maxwell Coast Beach overlooking Oistins Bay. Toddlers will love feeding the wild sea turtles from the pier! There are 2-bedroom suites with 2 bedrooms, 1 or 2 bathrooms and a living area.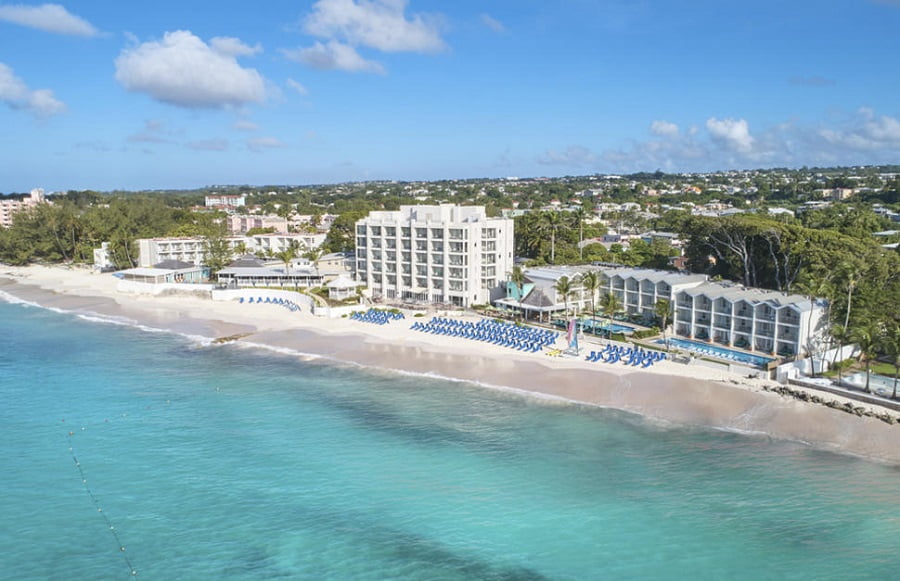 #8. Gran Canaria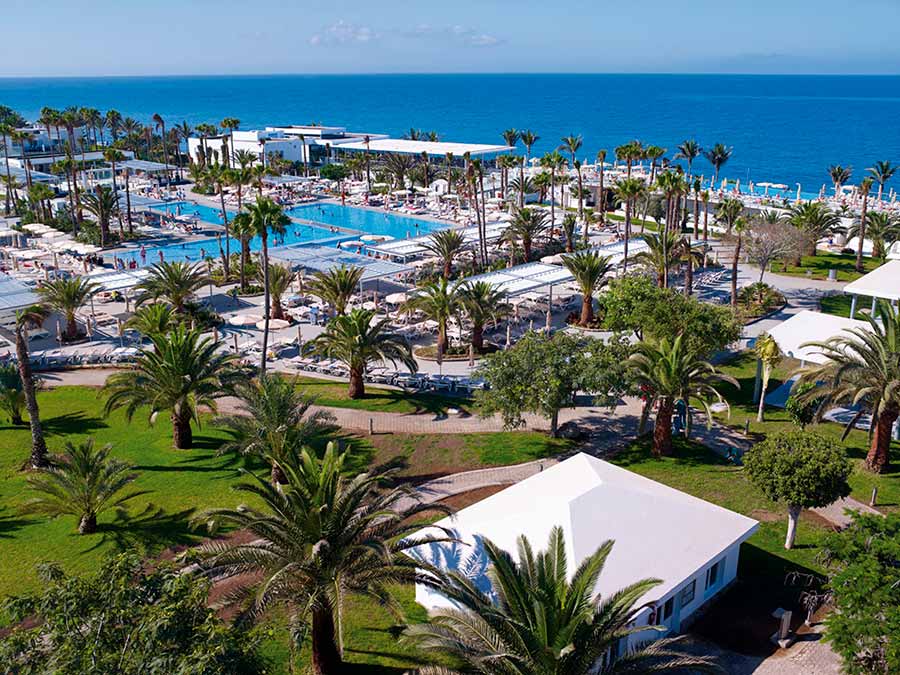 Gran Canaria is the 3rd largest of the Canary Islands and is a winner for families looking for a winter holiday with a baby or toddler. With an all year-round mild climate, stunning black sand beaches and the famous sand dunes at Masapolmas, you definitely won't be short of things to do.
Where To Stay – The modern and sophisticated Koala Garden is in the heart of Maspalomas. There's a fab splash park right outside the children's club and 7 swimming pools to play in. The beach is a short bus ride away via the complimentary bus service. All stays include up to 9 days entrance to the famous Aqualand Masapalomas waterpark.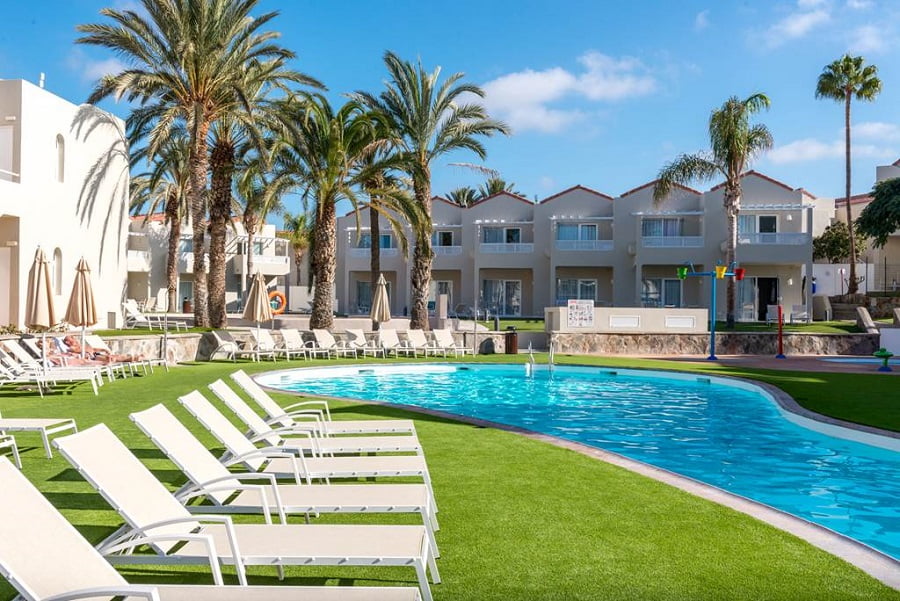 The Dunas Suites and Villas Resort is a pretty Canarian style resort set in tropical gardens. There are 4 swimming pools (3 for children!), a playground, and the beach is just a 15 minute walk away.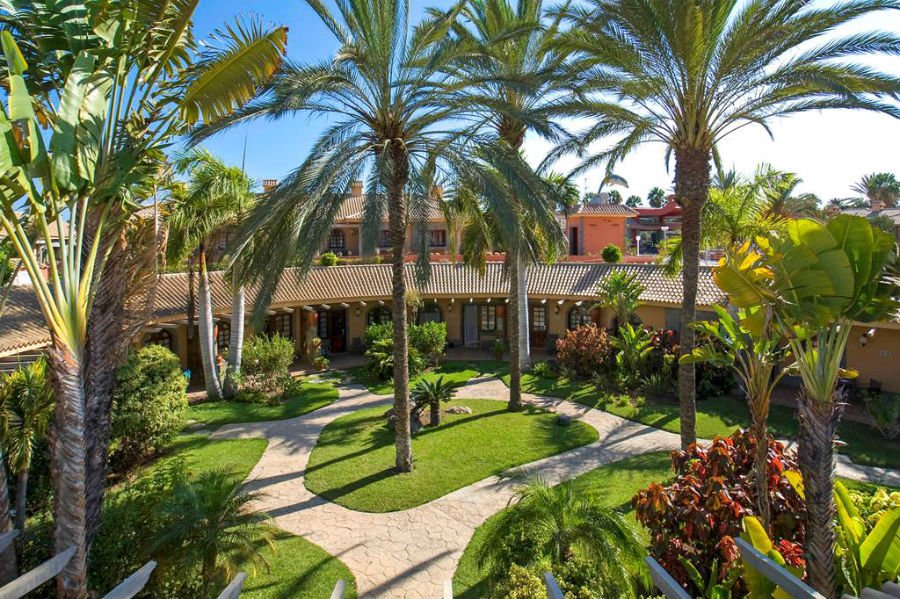 Read More – 17 Gorgeous Baby & Toddler Friendly Hotels In Gran Canaria
#9. Mexico


Mexico has a tropical climate with warm weather all year round. February is a hot, sunny and relatively dry month, making it an ideal escape from the cold temperatures in the UK. Days are usually hot with balmy evenings, so pack light and cool clothing! Add in white Caribbean-like sandy beaches, and some fab baby and toddler friendly hotels and you have all the ingredients for a fantastic holiday.
Where to Stay – the TUI Sensatori Riviera Cancun is in a great location on the exclusive Riviera Maya just metres from the beach. There are 4 lagoon type swimming pools and a little splash park for little ones including nets, tipping buckets and a waterslide. Toddlers will love the playhouse with a crazy kitchen, silly science lab and arts and crafts zone. Parents can prebook a Baby Kit too so they don't have to bring all their own baby and toddler equipment.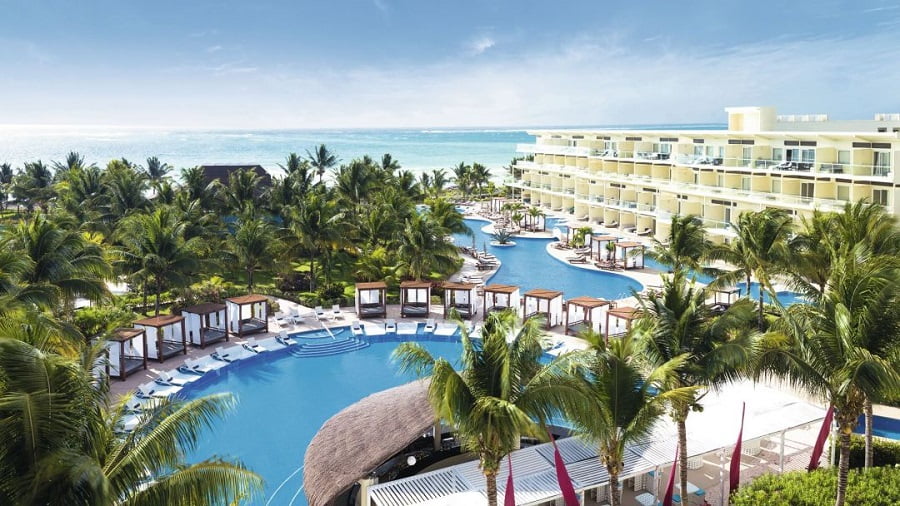 Get treat like a rock star at the Hard Rock Riviera Maya Heaven which is also baby and toddler friendly too. There are 2 massive pools, a waterpark and a private beach.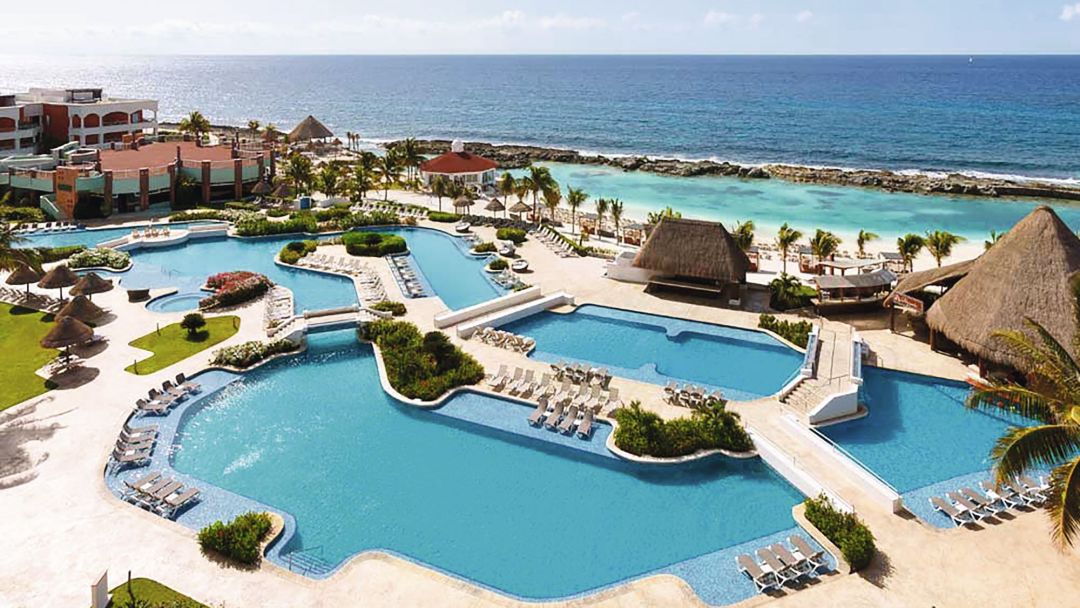 Learn More – Tui Sensatori Riviera Cancun
#10. Fuerteventura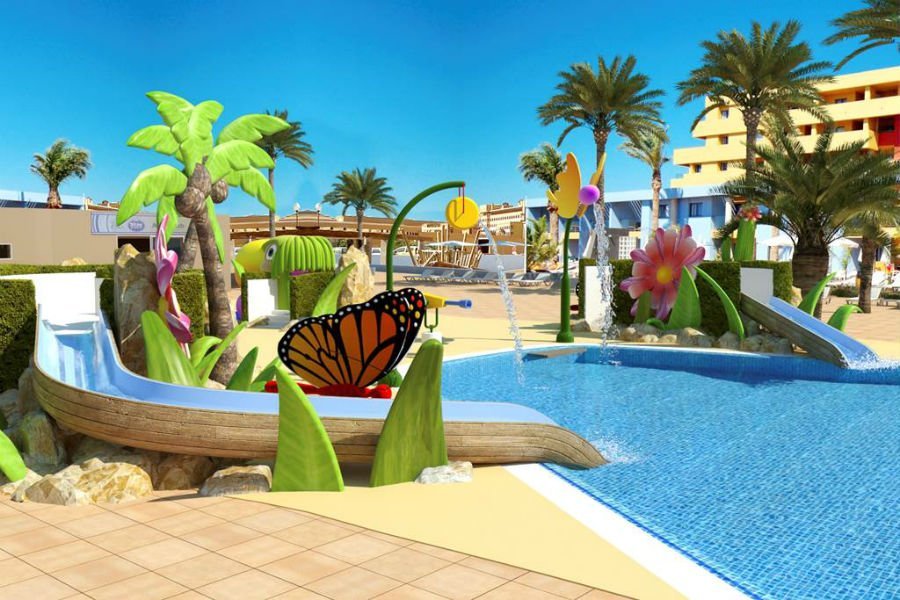 Fuerteventura is known as the beach capital of the Canary Islands due to its long sandy beaches – add in its famous sand dunes and this island is a beach lovers paradise. Away from the beach, Acua Waterpark is one of the most popular theme parks in Fuerteventura, and Oasis Park will give animal lovers their fix. There are sea lions, lemurs, camels and even a wooden train which you can jump on for a tour of the gorgeous botanical garden.
Where To Stay – The Barcelo Castillo Beach Resort is a beachfront Canarian village style resort next to the marina, and only 10 minutes from the airport. There is a brand new Pirate and Princess complex with a fantastic little splash pool as well as a Kids Pool and a little playground.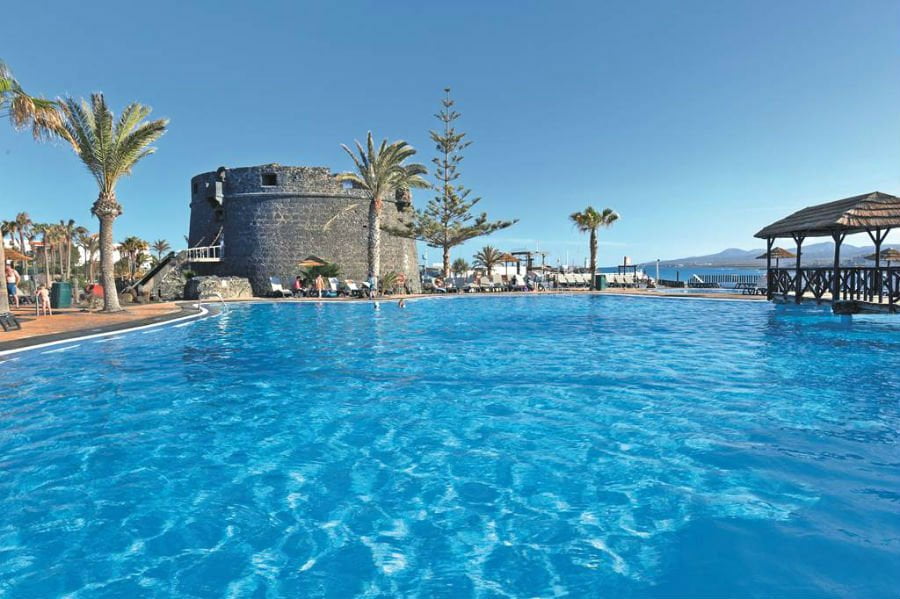 The 5* Sheraton Fuerteventura Beach is in a beachfront and has an outdoor heated children's swimming pool with sprinklers and fountains, an indoor swimming pool and playground.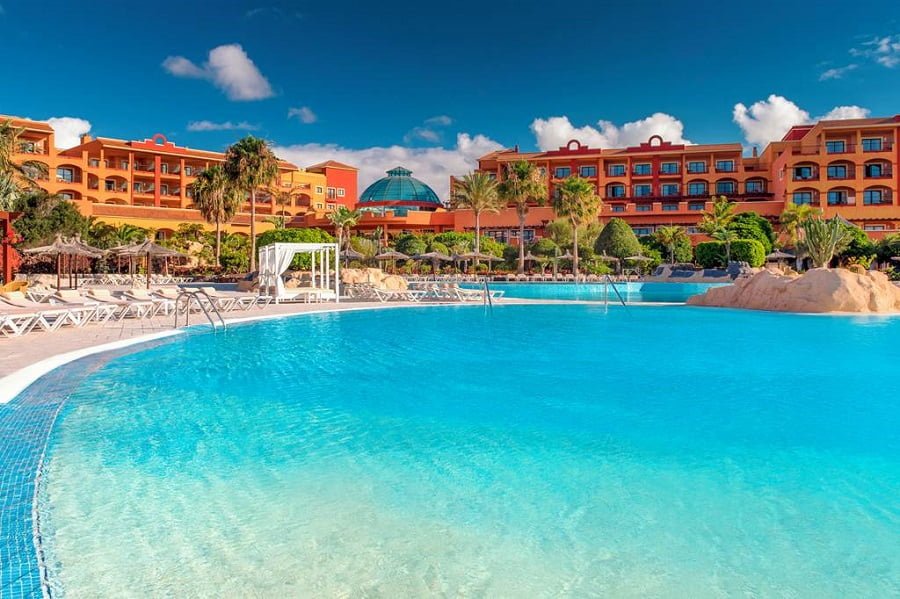 Read More – 15 Fantastic Baby & Toddler Friendly Hotels In Fuerteventura
#11. The Maldives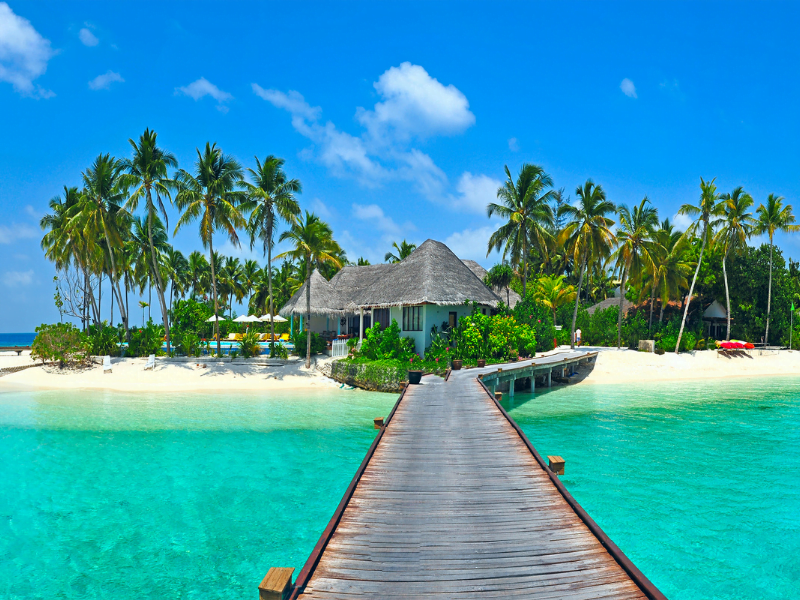 The stunning Maldives float around in the Indian Ocean offering a fantastic combination of sandy soft beaches and all year round sunshine.   As well as days at the beach, toddlers can also go dolphin spotting or have a go at snorkeling.  The best time to visit the Maldives is between December to March where you can expect low rainfall and loads of sunshine.
Where To Stay – The Hard Rock Hotel Maldives is located on a private island with a bridge leading over to another island which you can also explore.  It's reached by a thrilling 15-minute speed boat ride and once you get there you will find a super cool hotel which is great for parents and little ones.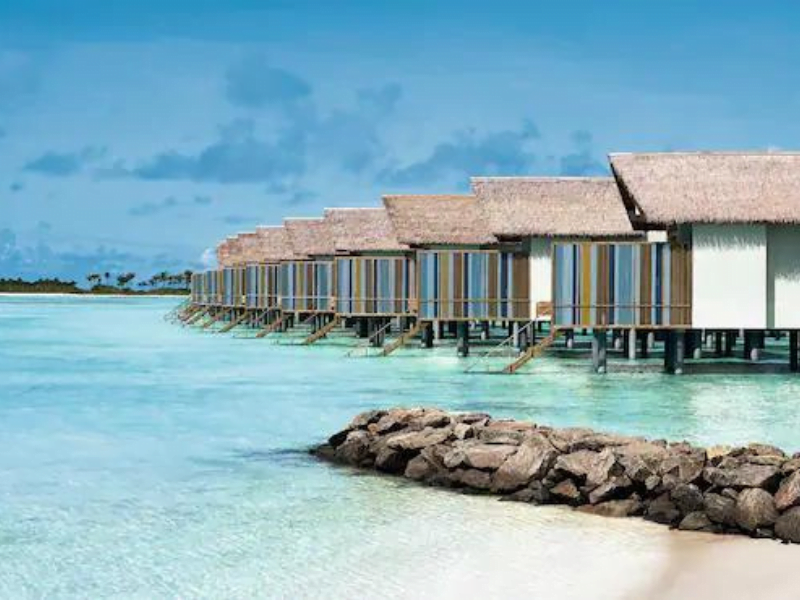 Learn More – Hard Rock Hotel Mexico
#12. Jamaica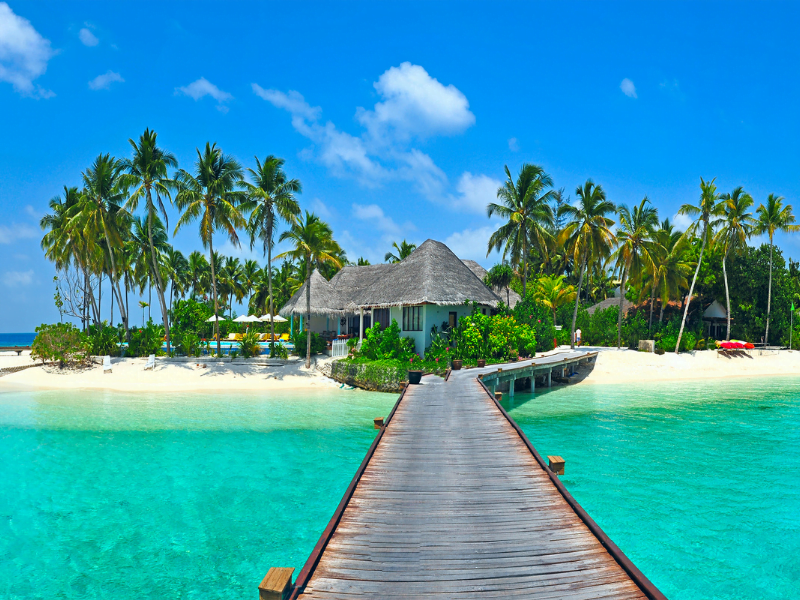 Jamaica is known for its cool vibe and incredible beaches which is ideal for a winter sun holiday.  Toddlers will love the white sandy beaches and visiting awesome attractions like the Pirates Island Waterpark!
Where To Stay – The beachfront  Riu Ocho Rios hotel has 5 swimming pools, a kids pool and a splash park.  The hotel is also less than 10 mins drive from the country's most famous waterfall – the Dunn's River Falls.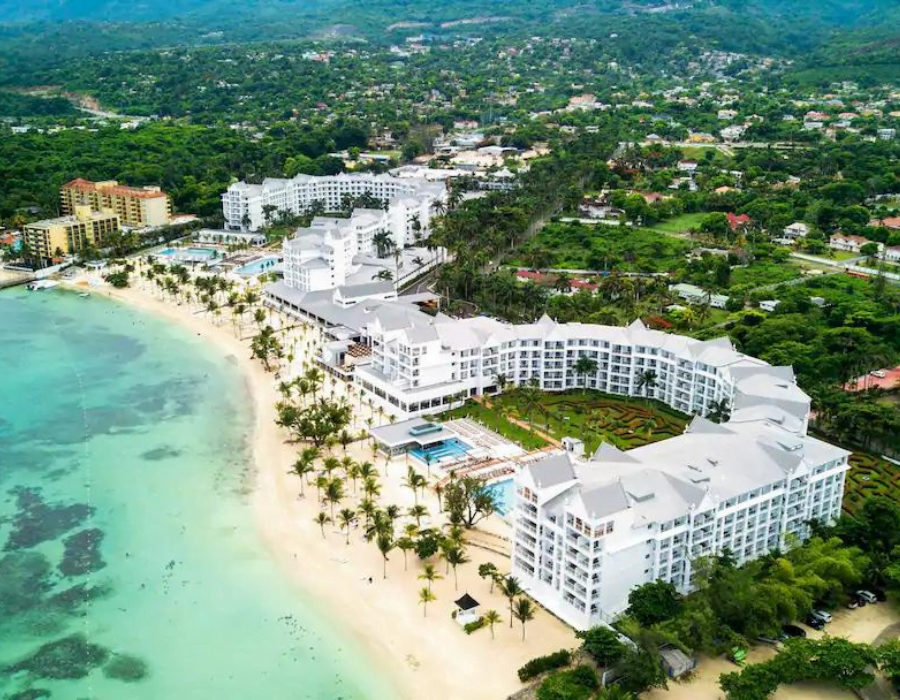 #13. Dominican Republic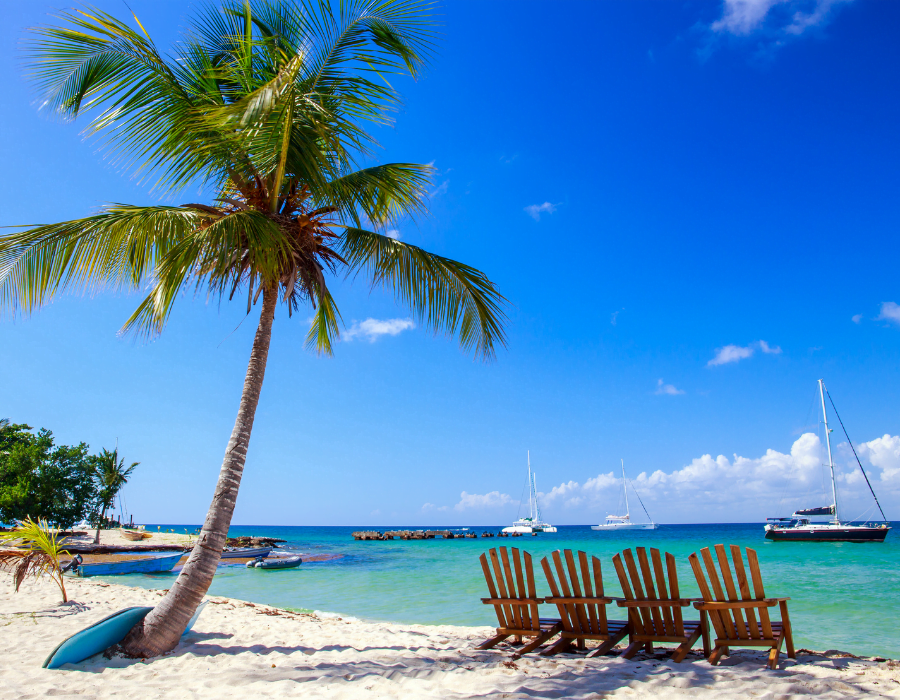 The gorgeous Dominican Republic is a 9-hour flight away from the UK and has amazing beaches and endless sunshine – temperatures don't dip below 30 degrees so it's a great place for a winter sun holiday with a toddler!
Where To Stay – The Tui Sensatori Cap Cana is a luxury toddler friendly hotel with a massive lagoon style swimming pool and even a Nickelodeon Hotel Play House. Toddlers will also love the splash pool with fountains and mini waterslide and Aqua Nick playground at the Nickelodeon Hotel which is full of waterslides, splash pads and sprays! For the ultimate treat, book a Swim Up room.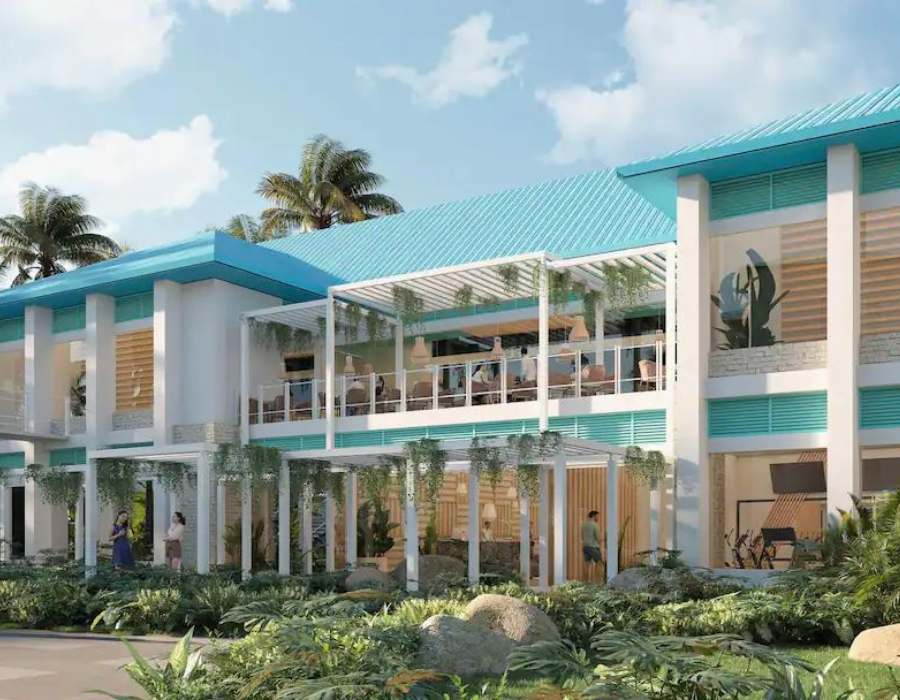 Learn More – TUI SENSATORI Cap Cana
#14. St Lucia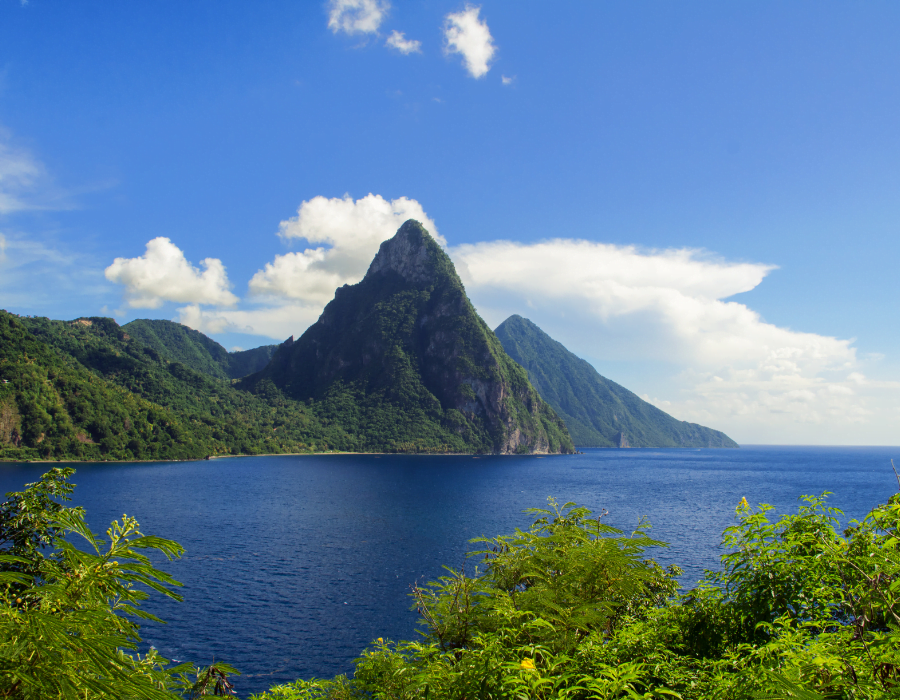 St Lucia is a fantastic choice for a winter sun holiday with a toddler! Less than a 9 hour flight from the UK, the island has gorgeous beaches, bags of sunshine, jungles and volcanoes.
Where To Stay – The Royalton St Lucia All Inclusive Resort is a luxury resort with a private beach, 7 restaurants and a Spa! Toddlers will love the massive swimming pool, splash pool and family friendly entertainment!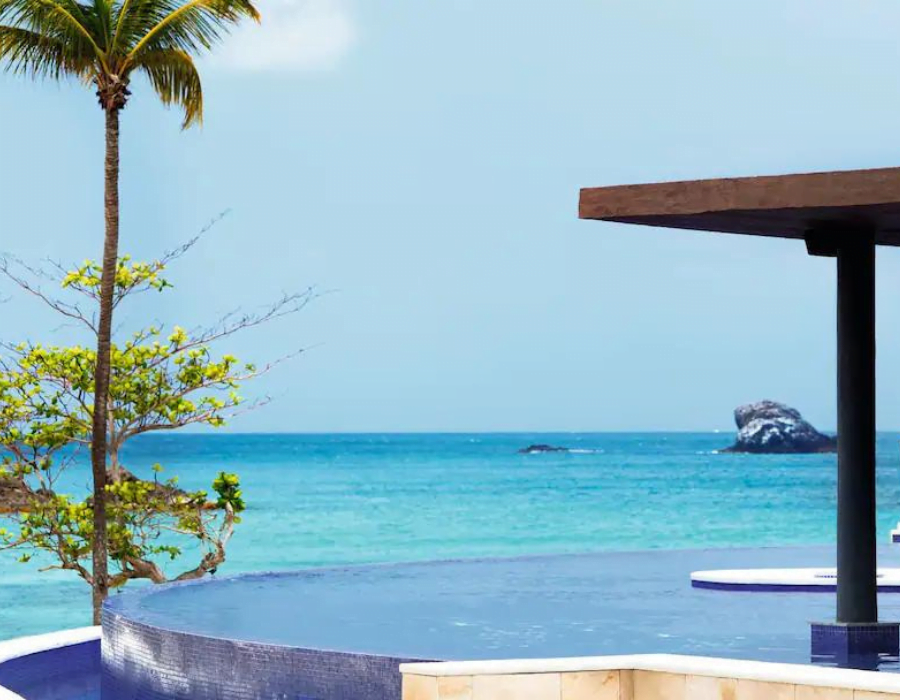 Learn More – The Royalton St Lucia All Inclusive Resort
#15. Cuba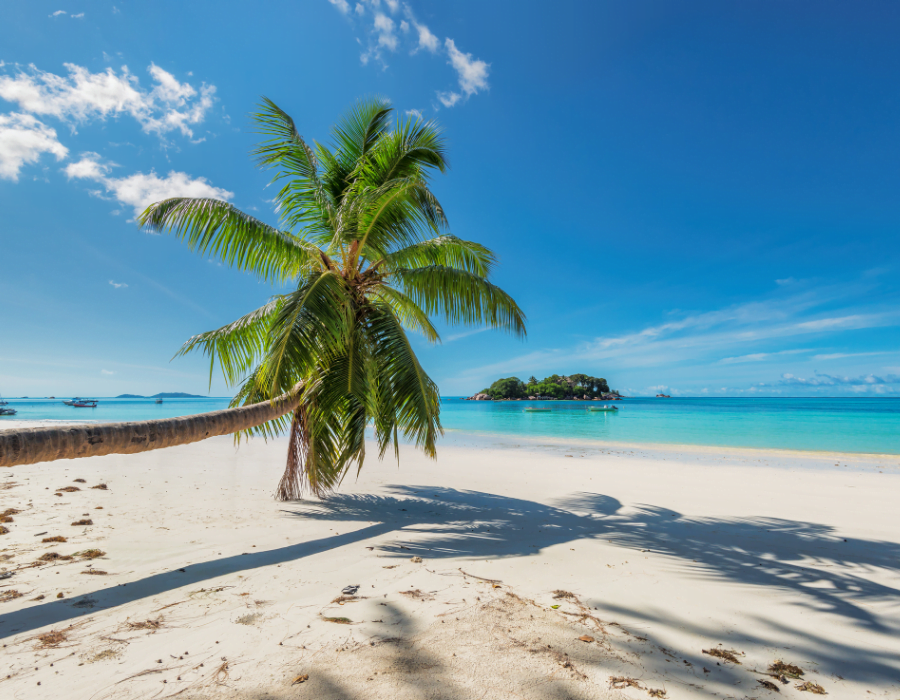 Cuba is the largest island in the Caribbean located just south of Miami.  Families will love exploring Havana, relaxing on the tropical beaches and enjoying the food!  The beach resort of Varadero has loads of amazing 4* and 5* hotels which are great for families.
Where To Stay – The 5* Iberostar Varadero hotel is a beachfront hotel with 3 pools, a kids pool and 5 restaurants.  There's also a mini disco and magic shows and dance acts.  All Inclusive is available!

Learn More – Iberostar Varadero
#16. Mauritius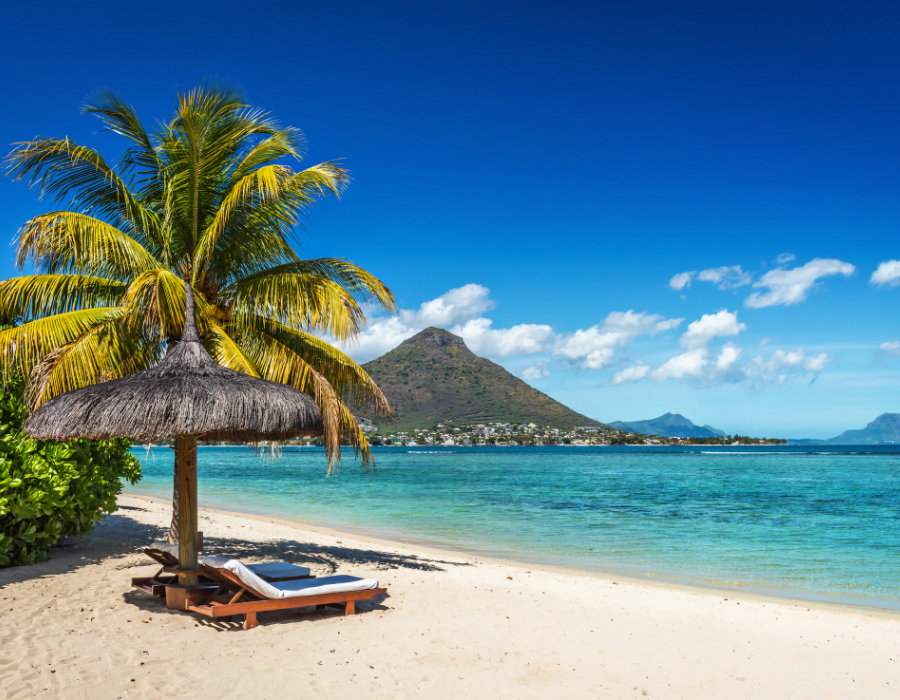 The island of Mauritius is located 1200 miles off the east coast of Africa.  There's only a 3 hour time difference compared to the UK so it's ideal for winter holidays with toddlers.  The village of Calodyne is located on the northern tip of Mauritius and has gorgeous beaches, bays and secluded coves – perfect for little ones!
Where To Stay –  The Zilwa Attitude hotel is a luxury beachfront hotel surrounded by 4 sandy beaches and 3 swimming pools including a kids pool. There's loads to do in the local area including glass bottom boat trips, bike hire and hiring a pedalo.  The hotel also has 2 private islands!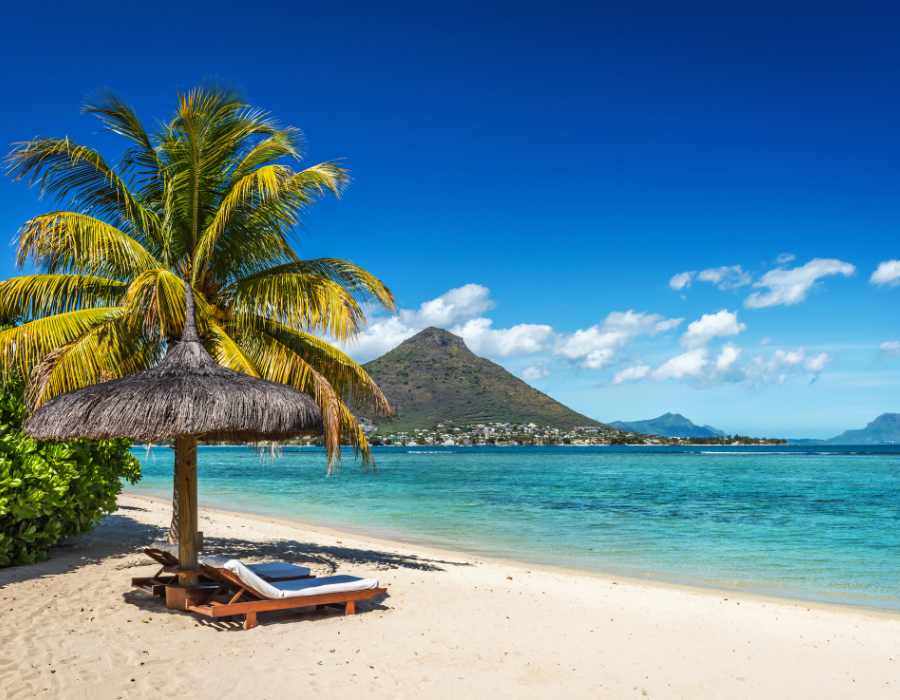 Learn More – Zilwa Attitude Hotel
Can you recommend any winter sun holidays for toddlers?