7 Quirky And Unusual Places To Stay With Babies And Toddlers In The UK
Fancy staying somewhere a little 'different' with your baby or toddler? Something different to a soulless hotel room? Check out this guide to the most unusual places to stay with babies and toddlers in the UK including a treehouse with a slide, lighthouse keepers lodge or even a converted train carriage for train loving toddlers!
#1 A Treehouse With A Slide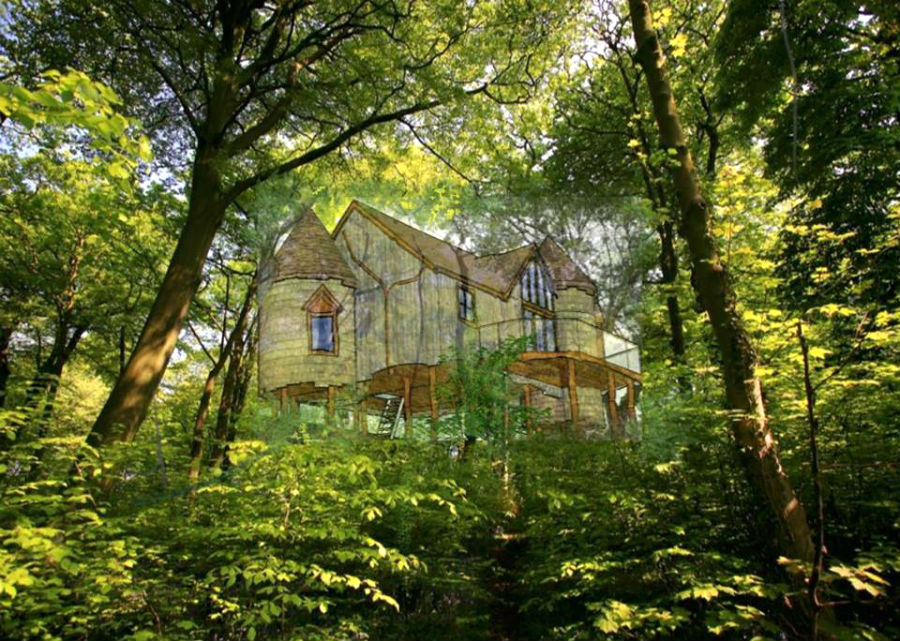 Rufus's Roost is a brand new Treehouse (opening in May 2018) in a superb location in between the Yorkshire Dales and North York Moors. Access to the treehouse is via a suspension bridge walkway, and treehouse itself has 3 bedrooms, a swish bathroom, modern kitchen dining area and a log burner to cosy up to in the colder months. There is also a Den (accessed via a slide!!!!) with bean bags, comfy cushions, TV, games console, movies and a popcorn machine.
Outside there is a large veranda with a log fired hot tub. Embracing the Great Outdoors is very much encouraged at Rufus's Retreat, so binoculars and a bat monitoring station are also provided as well as a 'Beasts, Birds and Bugs' log for guests to add what they see.
https://www.rufussroost.co.uk/
Read More – 59 Things To Do In Yorkshire With Toddlers
#2. A Lighthouse Keepers Lodge
Lighthouse Keeper's Cottage is a cosy seafront house at the end of Souter Lighthouse overlooking the sea in Tyne and Wear. The Lighthouse was built in 1871 to warn ships of the dangerous rocks at Whitburn Steel, and this cottage was the home of the lighthouse keeper and his family. There are stunning sea views from the cottage and an enclosed garden for little ones to play in.
The cottage sleeps 4 people and a cot and highchair can be borrowed. Up to 2 dogs are welcome too.
Souter Lighthouse itself is great for babies and toddlers. As well as climbing the 76 steps to the top of the lighthouse, there is also a pirate playground and wildlife garden. The café serves awesome cakes too!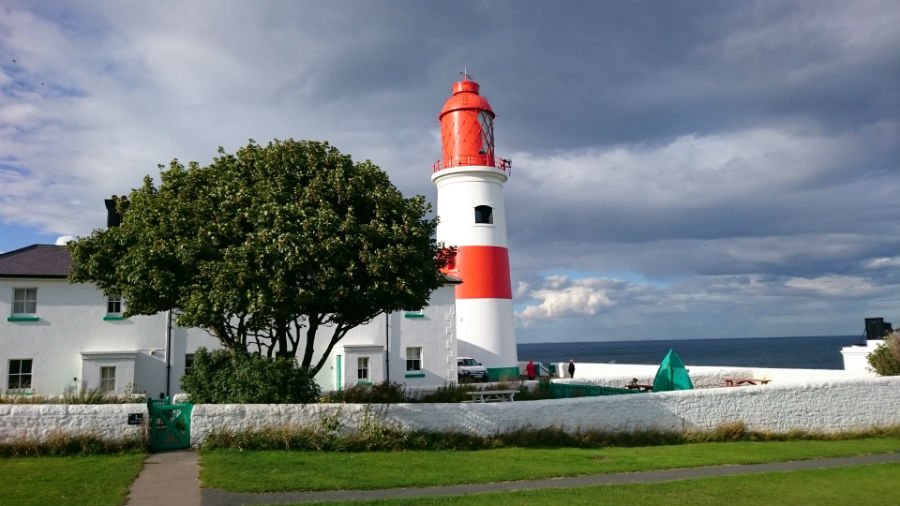 Further afield is Beamish, Durham and Diggerland at Durham. And of course, you will have the beach the play on!
Find Out More – Lighthouse Keeper's Cottage in Sunderland
Read More – Everything You Need To Know About Beamish With Toddlers
#3. Converted Train Carriages
What could be more exciting for a train mad toddler, than spending a few nights sleeping in a train carriage? Not the kind that still moves, but a train carriage which is stationary, and has been renovated for use by holiday guests.
Located just east of Pickering, The Old Station at Allerston offers three self-catering railway carriages which are perfect to stay in with a toddler. They have been fully restored, and each carriage is equipped with central heating, oven, hob, microwave, fridge, TV, DVD, radio and a bath with shower attachment. There are 2 and 3 bedroom carriages available.
Outside, there are 2 acres of grounds for toddlers to play in with views of the open countryside. Each carriage has its own picnic table and BBQs are available. The platform is great for riding bikes and scooters up and down, and there is a selection of toys and games to borrow during your stay. The Yorkshire coast is just 25 minutes away.
Read More – 5 Train Carriages To Stay In With Toddlers
#4. A Hobbit Hole
Ideally located in Ullswater, the Quiet Site is a family friendly campsite with a range of accommodation including hobbit holes, camping pods, bell tents, static caravans and holiday cottages.
Don't know what a Hobbit Hole is? Well, a Hobbit Hole is a large underground living space perfect for larger families as they are 4 times larger than a camping pod. There is also a toilet and wash basis in each Hobbit Hole.
The campsite has loads of facilities for families including a bar, shop, adventure playground, soft play, bike store and library.
Read More – The Best Places To Stay With Babies And Toddlers In The Lake District
#5. A Dinosaur Themed Yurt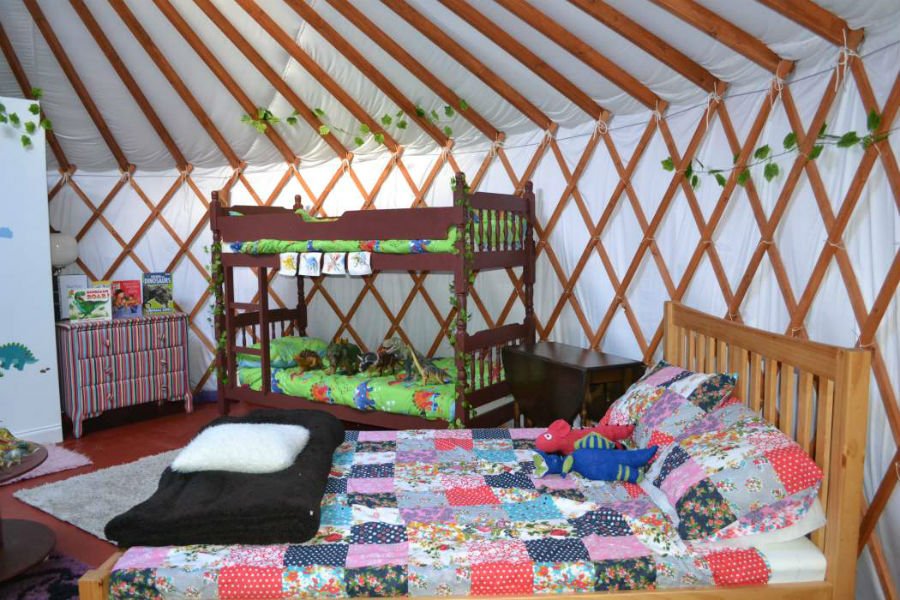 Kids Love Yurts in the Isle of Wight have themed yurts, which are designed for families with toddlers and young children. Choose from a dinosaur, enchanted woodland or under the sea themed yurt, which also have hot water, electricity, a kitchen and an ensuite shower room with a flushing toilet. There are wood burners inside the yurts for cosy nights, handmade draft excluders and comfy beds with memory foam mattresses. All bedding and kitchen equipment is free of charge including bed guards, and cots.
Each yurt has toys and books based on the theme. Toddlers will love the dinosaur table, mini dinosaurs, teddies, toys and books in the dinosaur themed yurt. Outside there is a nature based outdoor play area with a mud kitchen, bug hotel and jumping beams.
http://www.kidsloveyurts.co.uk/
Read More – 13 Places To Stay In The Isle Of Wight With Babies And Toddlers
#6. In The Grounds Of A Cornish Castle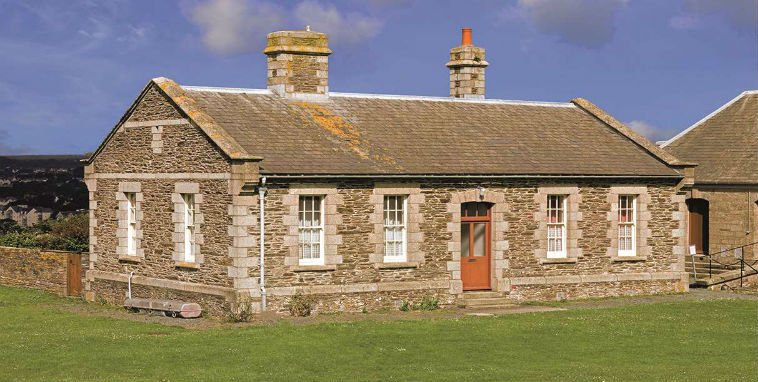 Callie's Cottage was built 100 years ago as a Sergeant's Mess, but takes its name from Callie Saxty MBE, who was the castle's retired Operations Manager. She lived here for 24 years, and loved spending time in the castle after the day trippers had left.
The cottage is superbly equipped with a sleek and contemporary feel inside. There a 2 bedrooms, and a cot and a highchair are available to borrow. Dogs are welcome at £30 per dog.
Find Out More – Callie's Cottage
Read More – 25 Things To Do In Cornwall With Babies And Toddlers
#7. A Modulog In The Isle Of Wight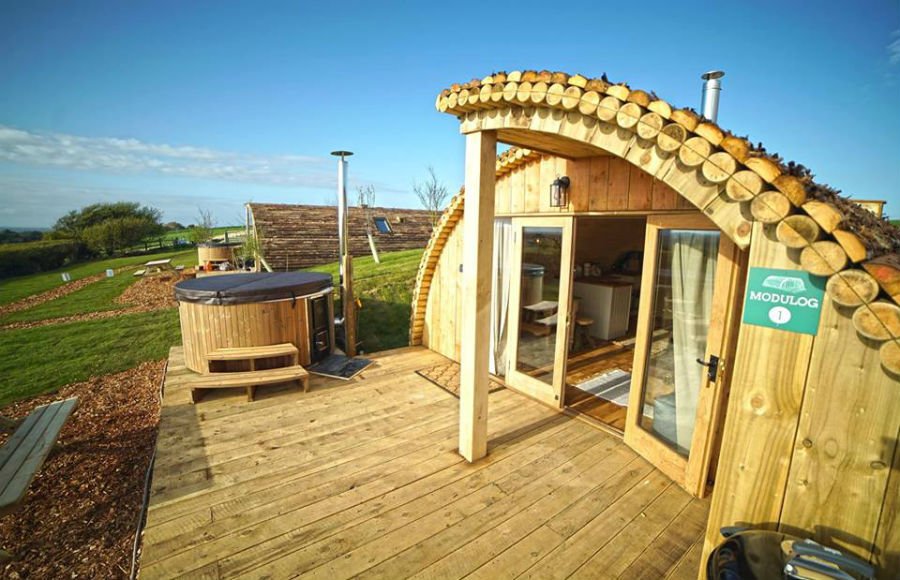 Hidden away on Tapnell Farm Park in the Isle of Wight, are Tom's Eco Lodges, with luxurious safari style tents, wooden cabins, eco-pods and new for 2018 – Modulogs! Modulogs are cosy pods which are fully insulated and kitted out with heaters, comfy sofas, log burners, dining tables, kitchens, two bedrooms, and a separate shower room and toilet. WIFI, and electricity for lighting and plug sockets is included. Outside, each modulog has its own decking area, BBQ area and log burning hot tub designed for 2 people.
The modulogs at Tom's Eco Lodges are also close to Compton Bay, which is one of the island's best stretches of coast with plenty of places to go paddling and sandcastle building.
Read More – 13 Things To Do In The Isle Of Wight With Toddlers