Alnwick Castle is a great day out for a toddler. We had been staying in the historic market town of Alnwick for a few days before visiting Alnwick Castle. We were waiting for a day when the sun would be shining and we would be able to see the beautiful castle in all its glory. That day came when we pulled back the curtains and there wasn't a cloud in the sky.
I have got 2 boys aged 4 and 2 – both have seen Mike the Knight on CBeebies but neither of them had been to a 'real' castle before. Alnwick Castle is the home of the Duke and Duchess of Northumberland, and is also famous for appearing as Hogwarts in 2 of the Harry Potter films and in the Downton Abbey Christmas special in 2014. The castle sits in a majestic position overlooking rolling Northumbrian countryside with views of the River Aln along the bottom of the valley. We visited in April when the daffodils were in full bloom and there was a sea of bluebells stretching across the vast castle grounds.
Knights Quest
We arrived just after 10am when the castle opened, and upon advice from the lady who checked our tickets, headed straight for the Knights Quest area. We walked through the large interior of the castle past the entrance to the State Rooms, Dungeons, through a large grassed area called the Outer Bailey through to the Knights Quest. This circular area aims to transport children back to 1339 and provide them of a taste of life in medieval times. First up was getting dressed up in our medieval finery! In our case, 4 year old Matthew got dressed up as a knight! There was loads of outfits for the children (and adults!) to get dressed up and they were in all sizes too – 2 year old Daniel could have got dressed up as well – but he wasn't keen!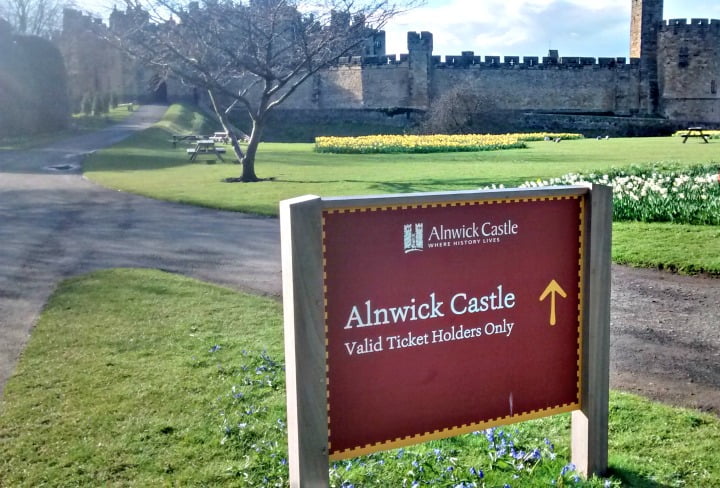 The Knights Quest is where we also signed up for our Broomstick training. On the day we visited there were 4 sessions running so we got our tickets for the next available session. Children can also have a go at medieval crafts under the close supervision of trained artisans. The craft on the day we visited was Tiling, and Matthew made his own tile by rolling out the plaster, choosing the shape of the tile he wanted to make (he chose a castle of course!) and then decorating it with stamps. We took this home with us, and were able to paint it once it had dried out.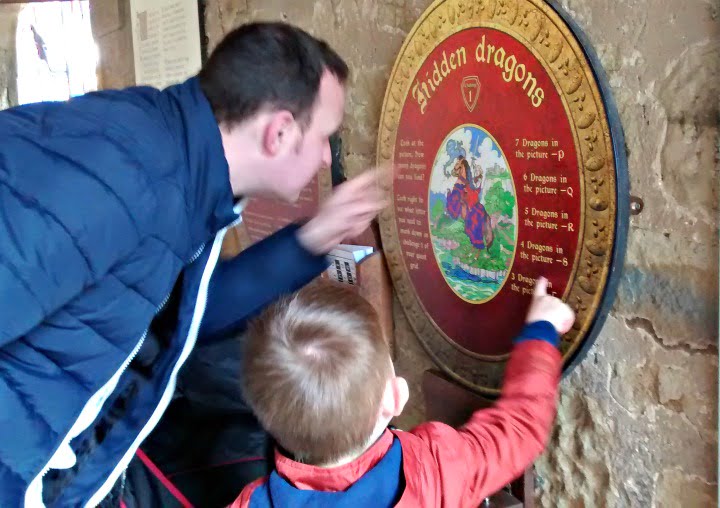 Entering the Dragon's Lair!
In the centre of the Knights Quest area were medieval games and also some stocks – 2 year old Daniel really enjoyed throwing 'rats' at his brother in the stocks! Brave knights are invited to enter the Dragon's Quest. We were advised beforehand that Daniel might be frightened in this, so Matthew and my husband did it on their own. They entered the dragon's lair and solved puzzles and faced challenges to make it through the Caverns of Hulme, Enchanted Forest through to the Dragon's Lair. At the end of their quest, they came face to face with Northumberland's scariest dragon!
Learning how to fly a broomstick!
Next up was Broomstick Training. I has seen photos on the Internet of children 'flying' their broomstick and was very intrigued to see how it was done. The Broomstick Training is included in the ticket price and is available for people of all ages to participate in. We were taught by 2 very funny 'professors' who taught us how to mount a broomstick, go forwards, backwards and stop. It was lots of fun, and at only 20 minutes long was just the right amount of time for even the shortest of attention spans!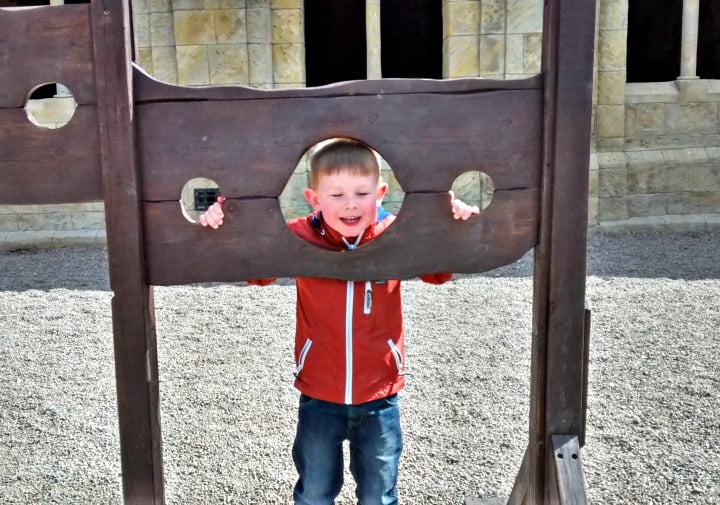 Lunch at the Courtyard Cafe
We spent most of the rest of our day at Alnwick Castle exploring. The boys LOVED playing on the canons overlooking some stunning scenery. I was quite happy sitting there watching them whilst they clambered over them and imagined firing them. They also loved climbing the castle walls and waving at me from the top.
We ate our lunch in the Courtyard café. There were plenty of food options including fish and chips, sandwiches, pizza and salads. All the food was good quality, but I couldn't see a specific children's lunch option in the café. Instead, we bought them an egg mayo baguette for them to share which cost £4.50. There are plenty of places within the grounds to have a picnic.
8 reasons why toddlers will love a day out at Alnwick Castle
1. They can dress up as a knight!
2. They can learn how to 'fly' a broomstick
3. Being able to play on the canons
4. Rolling down the slopes inside the castle (there were lots of children doing this on our visit)
5. Throwing 'rats' at people in the stocks!
6. Learning how to do some medieval crafts such as tiling.
7. Running round!
8. Clambering up the castle walls and waving to the people at the bottom.
7 Top Tips for Visiting Alnwick Castle With A Toddler
1. Buy your tickets online 24 hours in advance online and save 5%. If you are planning to visit Alnwick Gardens too you can buy a combined ticket which will save you more money. Under 4s are free.
2. There is plenty of parking available at the dedicated Alnwick Castle car park for £3 a day.
3. Get there at opening time and make the most of the quiet time before the school trips arrive.
4. After arriving, go straight to the Knights Quest area and sign up for broomstick training before it gets booked up.
5. There is no buggypark but you can take your buggy most places quite easily. The only bit which is a bit tricky is the State Rooms where you have to lift your buggy up about 15 steps but then it is all on one level. One thing to note is that you can't touch anything – luckily my 2 year old was having a nap when we went in the State Rooms but it could have been a problem if he'd been awake!!
6. There are plenty of baby change facilities.
7. If it is a sunny day, visit Alnwick Gardens afterwards. Also, make time to visit the Potting Shed which is the 'café' next to the more formal Treehouse Restaurant. Grab a coffee and cake and play on the rope bridges and wooden walkways.
Video of our favourite things at Alnwick Castle
More Information
For more information visit the Alnwick Castle website
Sincere thanks to Alnwick Castle for our day