Lalandia – The BEST Place To Stay Near To Legoland Billund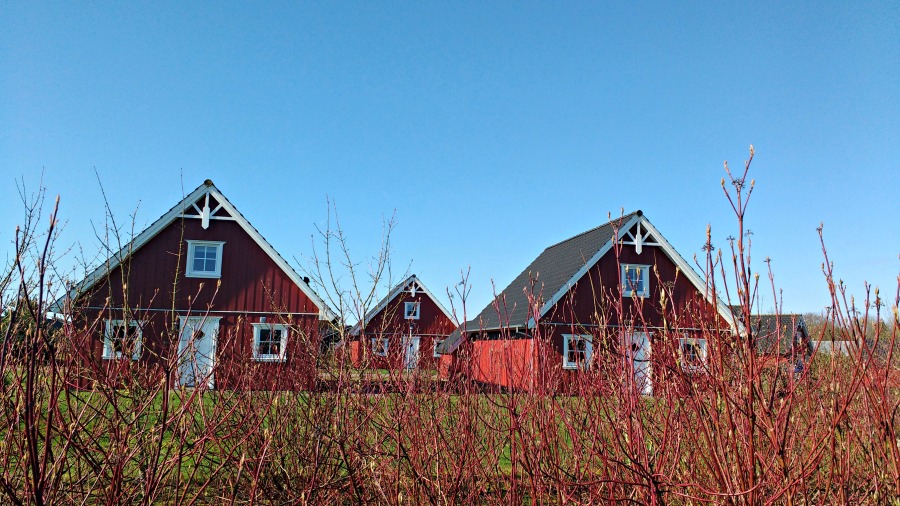 Lalandia is a holiday resort next to Legoland Billund in Denmark which is similar to Center Parcs in the UK. There are top quality holiday cottages, an Aquadome with Scandanavia's largest water park, a soft play, and even a Winter World with skiing, ice skating and tobogganing.
We stayed for 3 nights at Lalandia during our recent Denmark trip, and I'm going to tell you why I think it is the best place to stay near to Legoland Billund.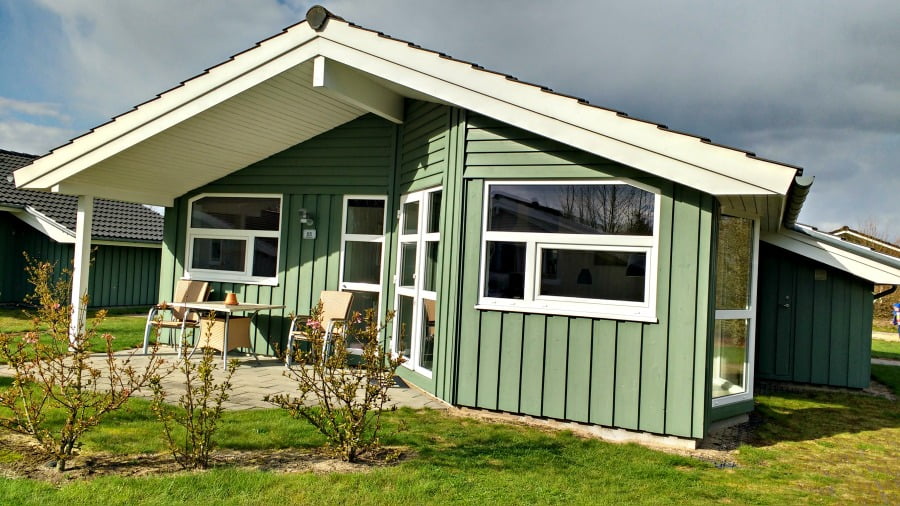 Where Is Lalandia?
Lalandia is just a short walk from Legoland Billund. Depending on where your holiday cottage is located on the resort, your walk to Legoland entrance could be between 10 mins and 20 minutes. If you aim to leave your cottage about 30 minutes before the park opens, you will get there in plenty of time to get ahead of the queues and make the most of your day.
Lalandia is also just a 20 minute drive from the popular Givskud Zoo where you can go on safari and see up to 900 animals.
The resort is just 3km from Billund Airport, where you can get a taxi for aprox 100DKK (£9) each way. If you are planning to just visit Legoland and stay around the resort, then you can get away without hiring a car.
If you are planning to stay longer, then a car would be good to explore the area so you can visit some of the nearby sandy beaches, and also Denmark's 2nd biggest city of Aarhus.
Holiday Homes at Lalandia
Lalandia is a bit like Center Parcs in the UK. There are over 700 holiday homes situated around the main Lalandia holiday resort.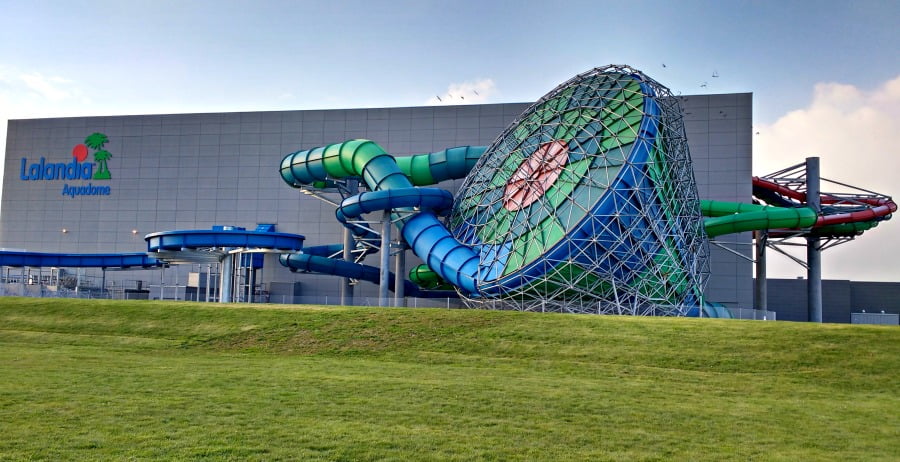 We stayed in a Classic 4 holiday home, which had 2 bedrooms (1 double and 1 twin), a bathroom with shower, and a really spacious living / dining area with an open plan kitchen. Kitchen utensils were provided.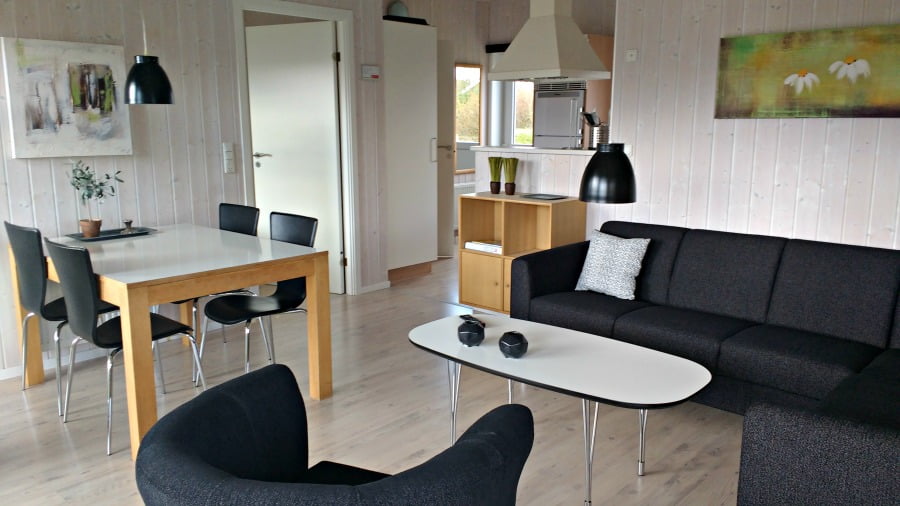 The home was ultra-modern, very large and had its own private parking space, outdoor terrace with furniture and outdoor storage area.
A washing machine, dishwasher (and tablets), fridge, freezer and coffee maker was included.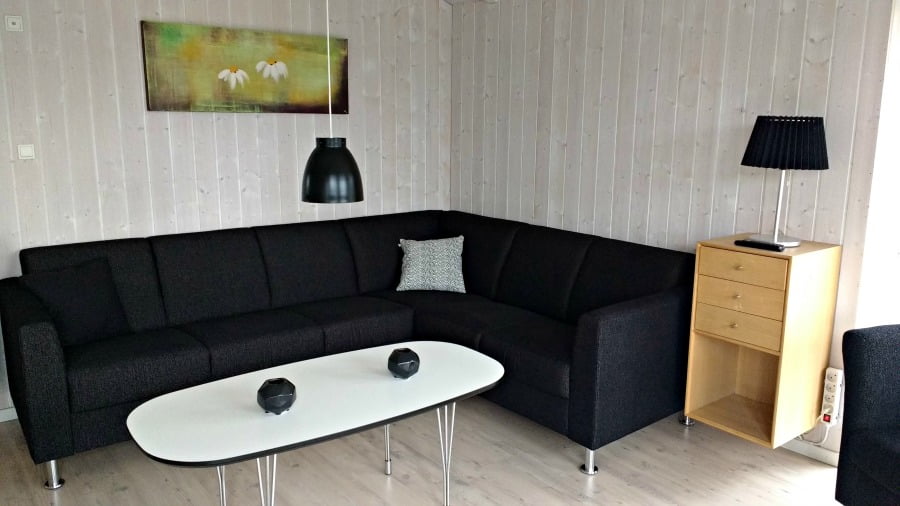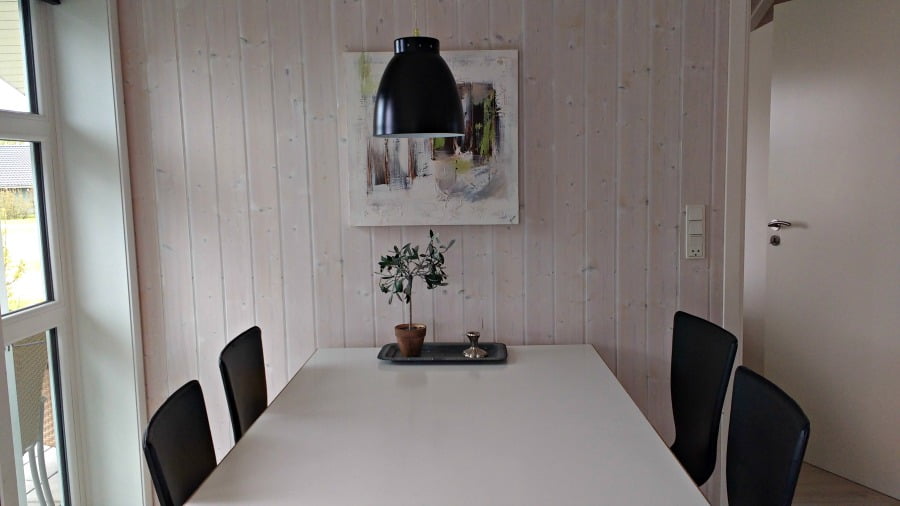 A proper wooden cot and highchair was provided in the cottage for babies and toddlers.
Outside the cottage was a little sand based play area with swings, which was shared between a few cottages. There are loads of these play areas dotted around the resort, and they were a great way of letting the children have a play.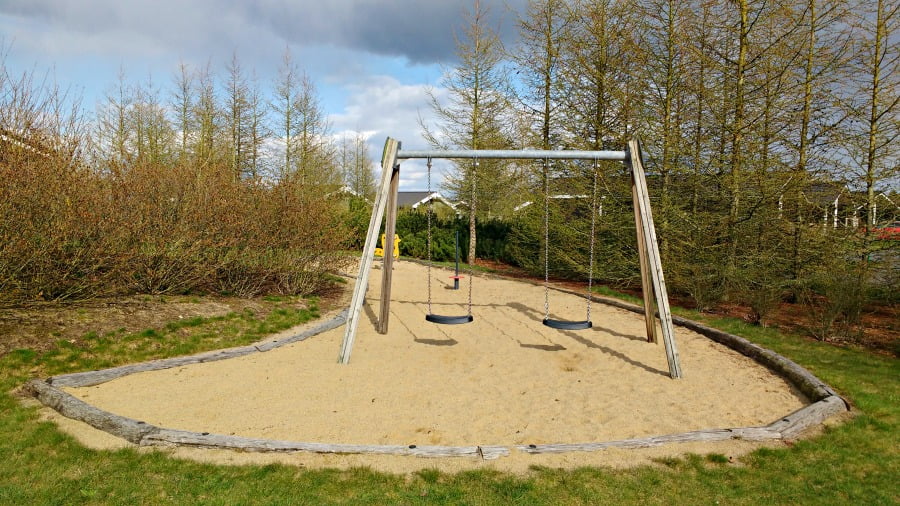 The cottage was a really decent size, which I think is important with a family with young children. All the fixtures and fittings were high quality, and it was a cozy place to come back to on a night after a tiring day out and about.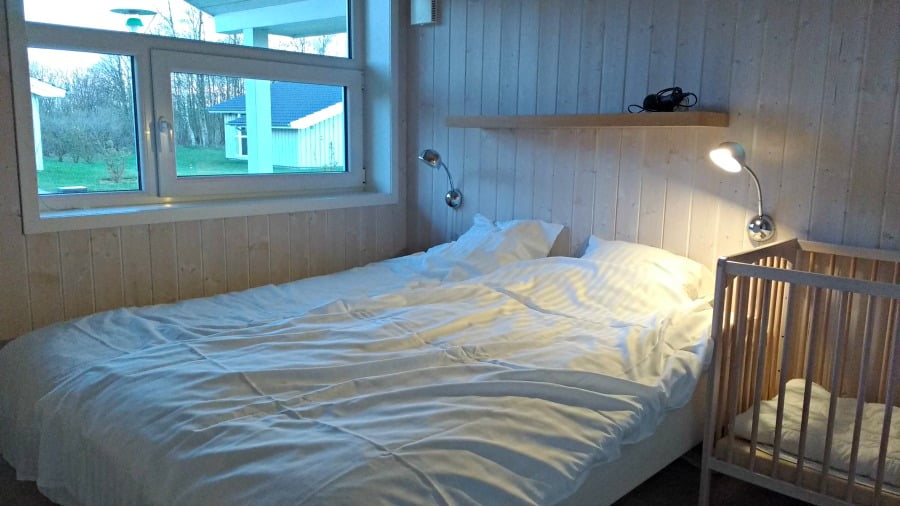 The Aquadome Water Park At Lalandia
All the holiday homes at Lalandia are set around the main resort centre. The main part of the resort centre is the Aquadome, which is Scandanavia's largest water park packed full of swimming pools, water slides, saunas and a spa.
Entry to the Aquadome is FREE if you are staying at Lalandia. We visited the Aquadome loads during our visit, and spent up to 3 hours in there in each visit (luckily, there are food and drink facilities inside!)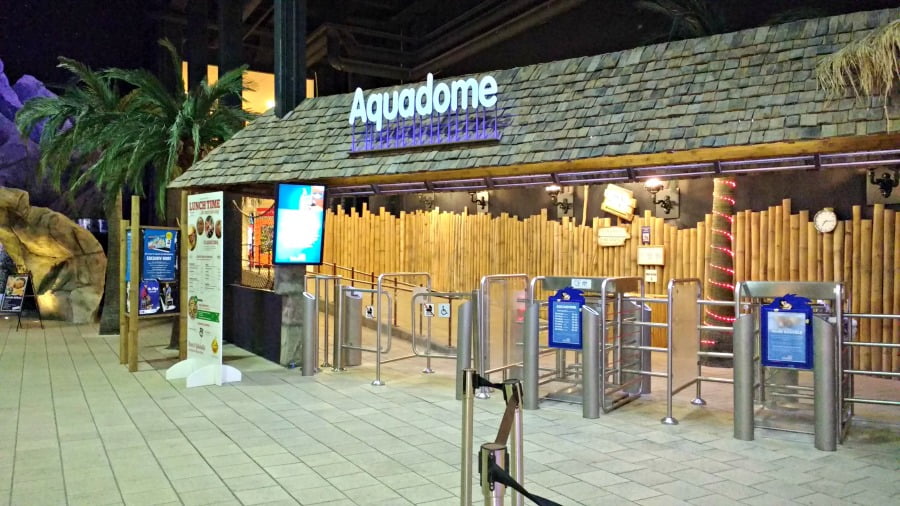 These were some of my favourite parts of the Aquadome:
The Wave Pool (with a gentle sloping 'beach' for little ones).
A Lazy River (This was a particular favourite of my eldest son, so I lost count of the number of times I went round this)
An Activity pool with basketball hoops, turtles to climb on and water lilies to try and run over.
A Toddler Pool with little water slides, 30cm in depth and heated to 32 degrees
5 waterslides between 5m and 10m – perfect for little ones.
The Bio Sauna –heated to 60 degrees – sheer bliss!
An outdoor swimming pool and Jacuzzi – there is nothing better than being toasty warm in a swimming pool when it is cold outside.
A secret cave pool with an aquarium beneath it – my boys loved sticking their heads underwater and seeing the fish swimming below.
And best of all…. A SPLASH PLAYGROUND! The best one I have ever seen with buckets, water cannons, fountains, guns all spraying water out. There was also a couple more waterslides at the top of the splash factory to get to the bottom.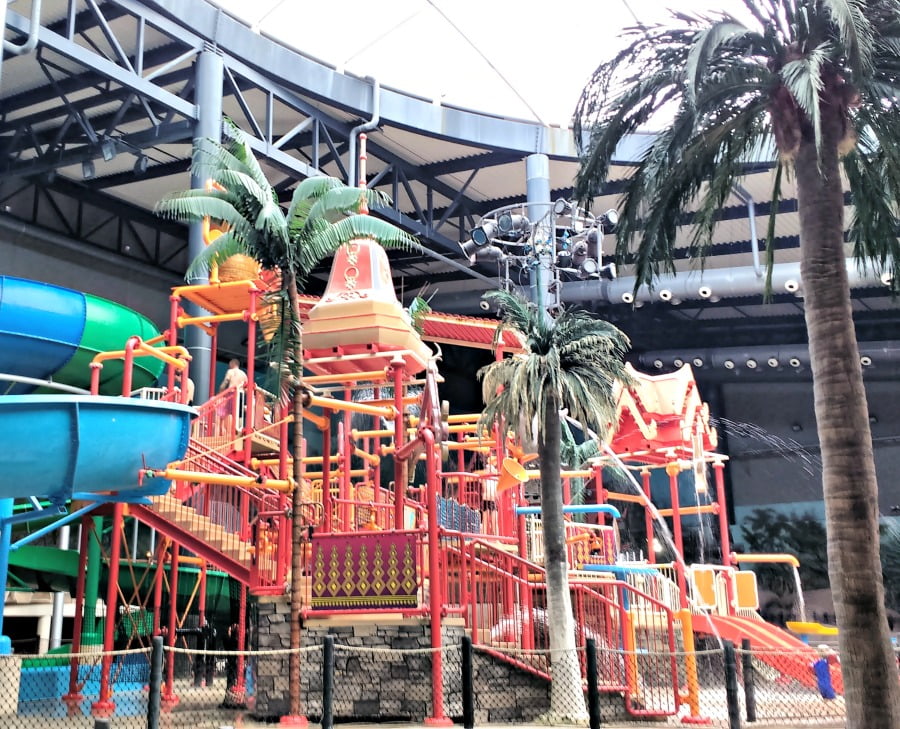 Just to reiterate – entrance to the Aquadome is FREE if you stay at Lalandia. Non residents have to pay 260 DKK each for an adult (£25) and 210 DKK (£20) for children over the age of 3.
Monky Tonky Land Soft Play
The other thing that is free at Lalandia for residents is entrance to Monky Tonky land which is the onsite soft play area.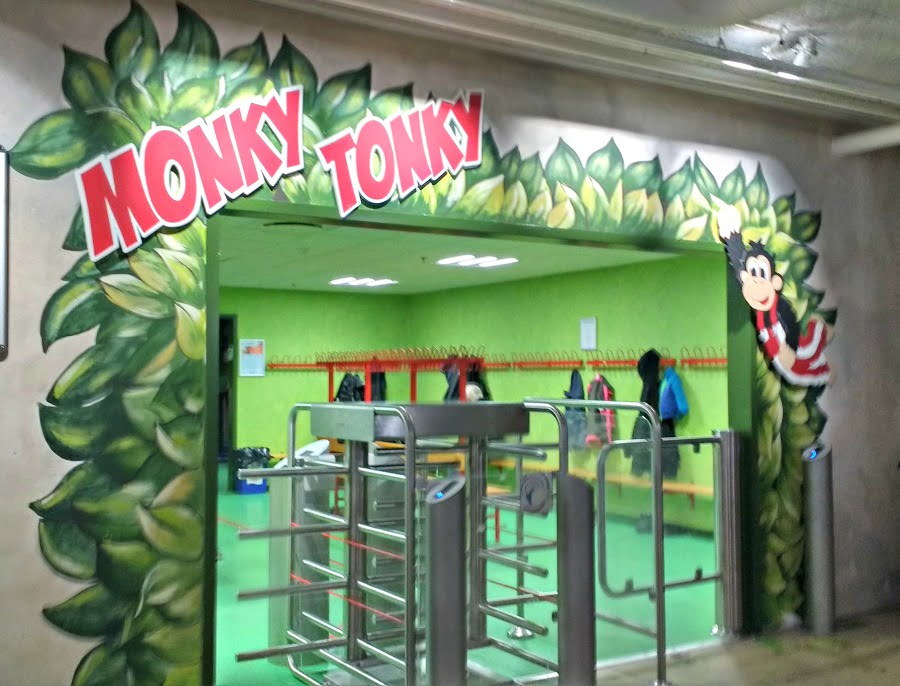 My children loved Monky Tonky land, and we were able to sit and relax with a cup of coffee and a book / free WIFI while they played.
There are climbing frames, slides, trampolines, indoor football pitches and a lego area at Monky Tonky Land, and it is all spotlessly clean and very well maintained.
There is a separate play area away from the main area for babies and toddlers with smaller play equipment and a ball pool.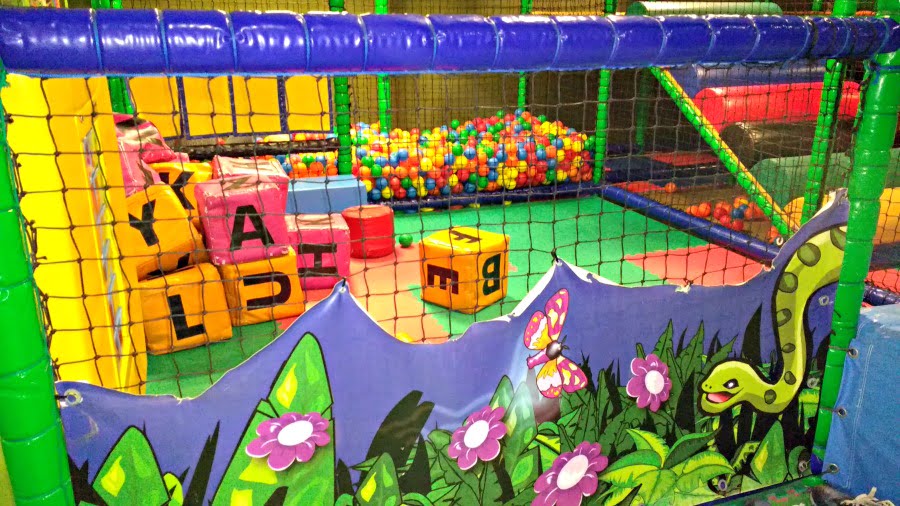 There are also various craft and activity workshops which take place during the day at the Monky Tonky (payable extra).
Entrance to the Monky Tonky costs 60DKK (£5) per child for non residents.
Other Activities For Families At Lalandia
Winter World
The Aquadome and Monky Tonky Land aren't the only fantastic things for children at Lalandia. There is also a Winter World with a small indoo ski slope, ice rink, tobogganing and 9m climbing wall. These aren't included in the price of your holiday, but prices were quite reasonable and you can choose which activity, if any, you wanted to do.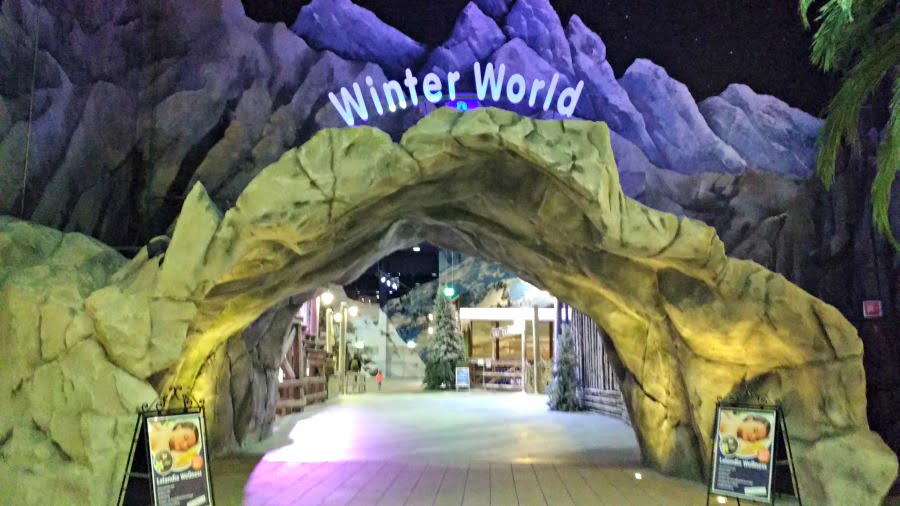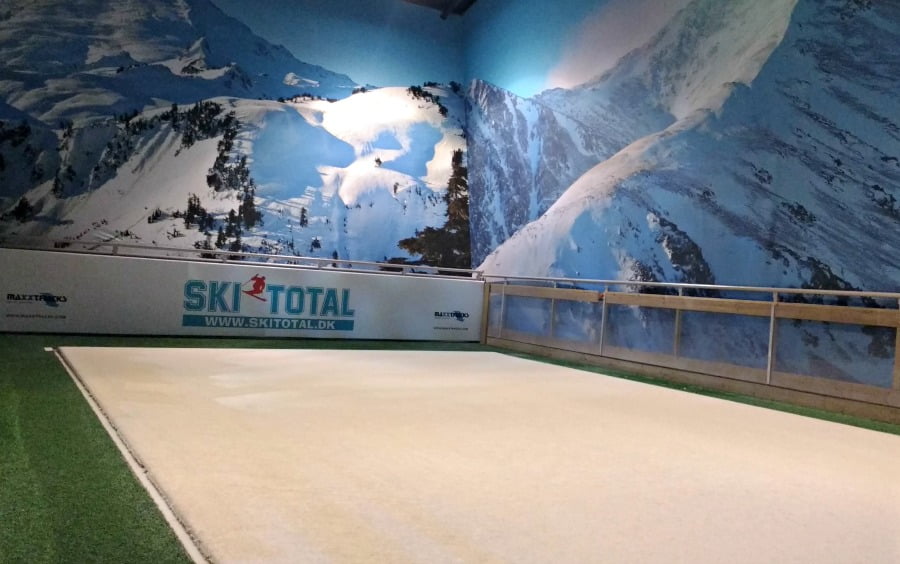 We had a go at Crystal Mining, which is really good for little ones. For just 45 DKK (£4) you get a bucket full of sand which you can take to the crystal mining area and empty into the mining tray in flowing water and see what crystals you can find. My boys got a real haul and each came about with a bag of gems.
They also loved playing in the water with their buckets afterwards.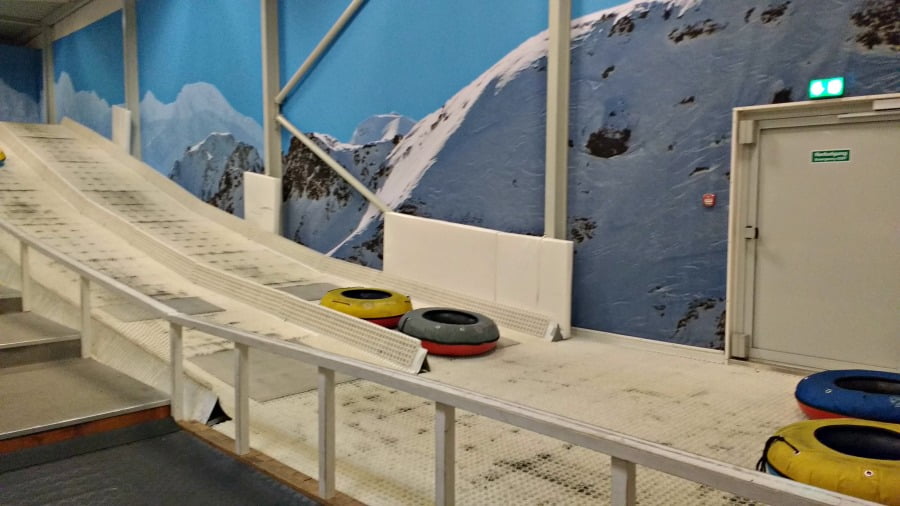 Games and Sports
There is also a bowling alley and mini golf area inside the Lalandia holiday resort.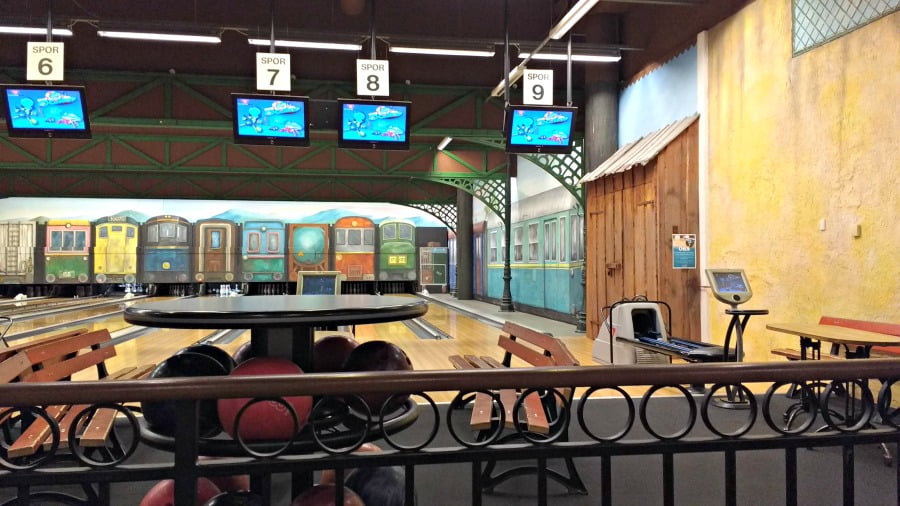 Little Vegas is the name of the amusement arcade area with games, table football, air hockey and pinball machines.
Outdoor Play Areas
As mentioned previously, there are sand based play areas dotted around the holiday homes for children to play on. There are also bouncing pillows dotted around, and multi purpose pitches where you can play football, basketball, and other ball games.
There is also a large outdoor climbing frame outside the main resort.
Finally, just when you think there can't be anything else at Lalandia to entertain the children, we spotted a field full of friendly goats. These gentle goats are completely tame and are used to curious children coming to say hello – perfect for little ones.
Eating and Drinking At Lalandia
There are loads of restaurants, delis, takeaways and cafes inside the Lalandia resort. There is also a little supermarket so you can buy thing and cook back in your holiday home.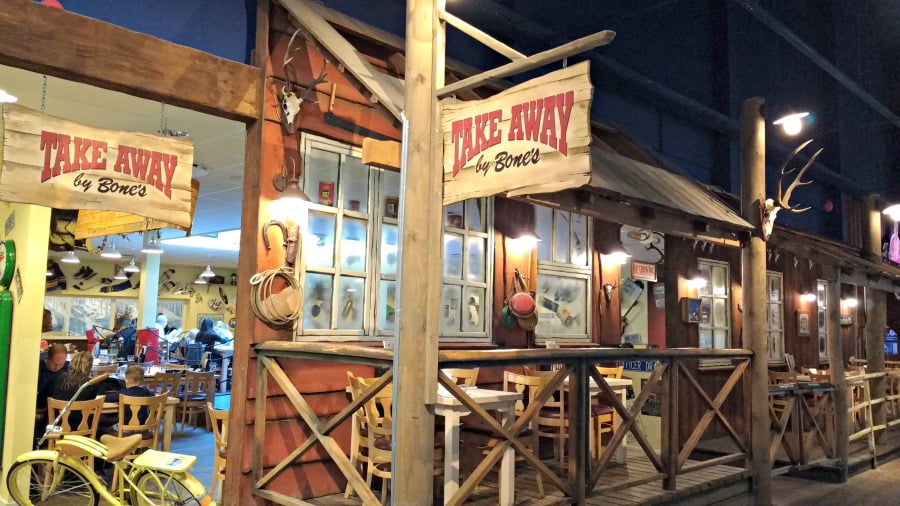 In the main town of Billund, there are supermarkets too like Netto.
Things To Know About Lalandia
The price of your holiday home does not include gas, electricity or water. This is calculated during your stay and billed after you leave. We stayed for 3 days and spent aprox £11 on heating, electricity and water (including using the washing machine).
Bedding and towels also isn't included in the cost of your stay. Duvets and pillows are included, but you will need to bring your own bedding and towels or hire it. This cost aprox £9 per set for the stay.
Cot bedding can be hired too.
Check in is 3pm but you can use the facilities at the Aquadome and Monky Tonky land from 10am on the day you arrive and for the whole day on the day you leave. This was a real benefit to us.
Swim nappies need to be worn by children aged 0 – 3 in the Aquadome. Family changing rooms are provided.
Free (and reliable) WIFI is provided throughout the park and in all holiday homes.
Prices And Booking Lalandia
3 night breaks for 4 people cost from 505 Euros exc gas, electricity, water and linen hire.
Learn More – Lalandia
Family Holidays In Denmark
We spent a week in Denmark starting off with 3 days in Copenhagen visiting the Tivoli Gardens and going on a hop on hop off canal boat tour, before driving over to Jutland.
In Jutland we visited Legoland Billund before returning to Copenhagen to stay at the Clarion Hotel.
Denmark can be quite expensive, so this article explains how to do Denmark on a budget.