A guide to the best baby and toddler friendly places to stay in Spain. If you are looking for a hotel or campsite in Spain for babies or toddlers, check out this guide. It features hotels and campsites with waterparks, near the beach, near theme parks and also a Robin Hood themed resort!
Holiday Village – Menorca
Excellent hotel for babies and toddlers who love water! There are 4 swimming pools including a paddling pool and indoor swimming pool and there is also an ASA Swim Academy for children aged 3+ to learn how to swim. Bike hire is also available and there is a Football Academy for older children aged 4+.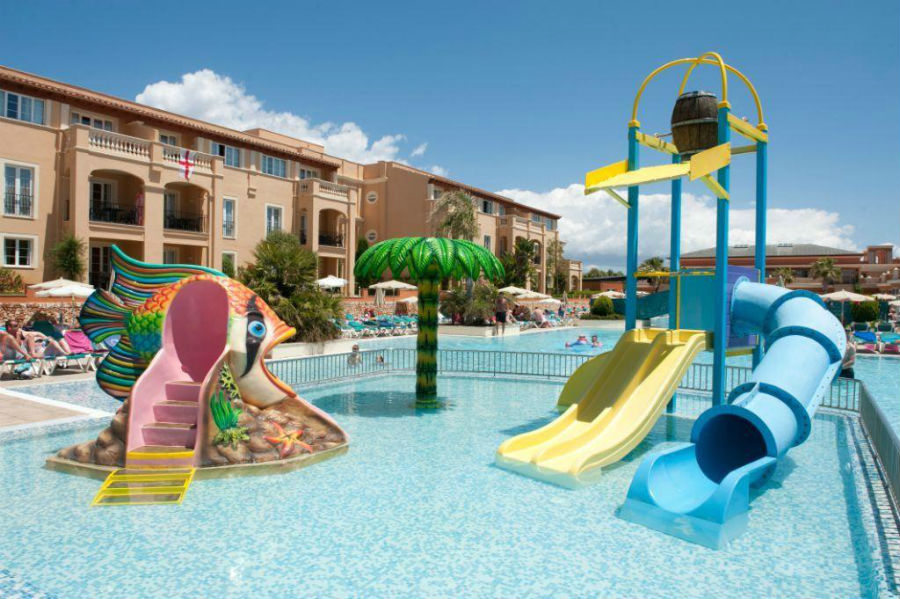 Son Xoriguer beach is just a 10 minute walk away, and the hotel is close to Cala'n Bosch with its shops, bars and restaurants. 1 bedroom apartments are available with a kitchenette, air con and private garden / terrace.

Learn More – Holiday Village Menorca
Read More – Top 10 Baby and Toddler Friendly Hotels In Menorca
TUI Family Life Coma Gran – Majorca
This awesome hotel is in a great location – just a minutes' walk from San Coma's soft, sandy beach, and also next to a great selection of shops, bars and restaurants.
There are apartments and studios with a balcony, kitchenette and air con. Larger families may prefer the 2 bedroom apartments that sleep up to 6.
Life revolves around the pool at the Family Life Coma Gran hotel. As well as a massive swimming pool, there is also a children's swimming pool and a brand new splash park. Away from the pool these is a playground and soft play area.
Learn More – Coma Gran Hotel
Read More – Top 10 Baby and Toddler Friendly Hotels In Majorca
Family Life Club Aura – Ibiza
The Family Life Club Aura is a popular choice for families looking for a baby or toddler friendly hotel in Spain. The hotel is located in a quiet resort across the road from a supermarket and gift shop, and aprox 2 minutes' walk from Port Des Torrent Beach. You can even get the water taxi from the beach to San Antonio town, where there are loads of bars and restaurants.
The hotel has a large pool, as well as free access to the waterpark next door. This includes a pirate themed children's area with jets and sprinklers. There is also a soft play area and playground.
Babies are very well catered for at the Family Life Aura hotel. There is an air conditioned Baby Lounge where you can prepare baby food and change your baby rather than going back up to your room. The hotel also has a Baby Creche for babies aged 0-3. Children aged 3+ can go to the Bamse Club for children aged 3-5.
Learn More – TUI Family Life Club Aura
Read More – The Most AMAZING Baby and Toddler Friendly Hotels in Europe
Holiday Village Seaview – Ibiza
The Holiday Village Seaview has all the fun and facilities you would expect from a Holiday Village resort. There is a huge swimming pool, separate Kids pool, waterpark, 2 playgrounds (one specifically for Under 6's), swimming lessons and loads of activities and entertainment through the day and night.

The water park has a separate splash park for little ones which includes a pirates play area, 10 mini slides and a giant tipping bucket.
The Twinklestars crèche sessions are for 0-3 year olds, and have loads of toys and a maximum of 3 children per Creche Rep.
The hotel is only 100m from Port D'es Torrent Beach and 4km from San Antonio.
Learn More – Holiday Village Seaview
Read More – 8 Baby And Toddler Friendly Hotels In Ibiza
TUI Family Life – Golden Avenida Suites, Costa Dorada
Waterbabies will love the Golden Avenida Suites hotel. There is a huge swimming pool, plus a Splash pool with a slide and climbing frame in it. Babies can splash in the dedicated Baby Pool which is shaded for protection against the sun.
The rooms at the Golden Avenida Suites have been completely revamped, and are clean and modern. Family suites including apartments with a separate living area and kitchen are available.
This hotel is in a great location, just a 10 minute drive from PortAventura theme park and 800m from the beach.
There is a playground and soft play area too for fun away from the pool.
Parents can meet other parents in the air conditioned Baby Lounge. They can also make use of the Baby Club crèche, where fully qualified staff look after children aged 0-3.
Learn More – TUI Family Life Avenida Suites
Holiday Village ( Cala Millor) – Majorca
The 5* Holiday Village in Majorca has loads of fantastic facilities for babies and toddlers. There are 6 pools in total, including 2 toddler splash pools with fountains, an indoor swimming pool, a playground and even a Balanceability bike course which teaches toddlers to cycle.
Ice cream fans will love the self-service Mr Whippy machines and fridges packed with Cornettos and Mini Milks around the pool area!
There are larger Family Apartments which have space for a cot, and duplex rooms and swim up rooms with direct access to a shared pool. If your baby is small and has an early bedtime, it might be worth asking for a room in a quieter part of the hotel so you don't get disturbed by the evening entertainment.
The beach at Cala Millor is made for sandcastle building and playing in the sea. It extends more than 2km and has a promenade ideal for walks with the buggy. The beach is a short (free) shuttle bus ride away from the hotel so you can spend lots of time there too.
Learn More – Holiday Village Majorca
Estival Park – Costa Dorada
This lively hotel for babies and toddlers has 7 swimming pools (including 3 for children), and is a 2 minute walk from La Pineda beach. It is also really near to Port Aventura which is one of Europe's most popular theme parks.
3 of the pools are for kids including a toddler one. There is also a Kids Club, mini disco and playground.
1 and 2 bedroom family apartments with a kitchen and lounge are available, as well as family rooms with a Kids Den.

Learn More – Estival Park Hotel
Sanguli Campsite, Costa Dorada
This 5* holiday resort on the Costa Dorada has amazing swimming pools for families with babies and toddlers. There is an African pool and spray park, a Relax pool with a waterfall and massage bubbles and a shallow pool with crocodiles, hippos and elephants which is perfect for toddlers. There are watersports in the sport area and a Fiesta Pool Complex which has 3 waterslides and a bar.
There's a range of food and drink options too, including a restaurant overlooking the pool and the Tarraco lounge serving holiday cocktails.
Guests can choose to stay in luxury mobile homes or lodges.

Learn More – – Sanguli Campsite
Cambrills Park, Salou
Cambrills Park is a 5* Eurocamp parc with 5 pools including an indoor pool, one which is animal themed, a Mediterranean beach and a Caribbean port. There is a packed entertainment schedule at the Cambrills Park Salou, and watersports available at the beach nearby.
There is so much to do onsite for children of all ages including trampolining, cycling, crazy golf, tennis, football and 2 playgrounds. There are also bars, restaurants and a bakery onsite.
Accommodation is in a 2 bedroom Alhoa bungalow.
Learn More – Cambrills Park
TUI Family Life Islantilla – Costa De La Luz
If you are looking for a baby and toddler friendly hotel in Spain, which is right on the beach check out the TUI Family Life Islantilla resort. All that separates the hotel from a 20 mile stretch of sandy beach is a promenade which is perfect for pushing a buggy along.
The hotel was refurbished in May 2017 and has 4 restaurants and a lagoon style swimming pool in tropical gardens.
There is also a smaller swimming pool, and a separate kids pool.
There is a range of exercise classes available such as Les Mills, pilates and yoga for parents. The Baby Lounge is open all day and is an air conditioned area where parents can feed and change their baby whilst meeting other parents.
Parent and toddler sessions are available with singing and storytelling, and there is a Baby Creche for babies from 0-3. Baby and toddler equipment can be borrowed at this hotel.
Learn More – TUI Family Life Islantilla
Insotel Cala Mandia, Majorca
The Insotel Cala Mandia Resort is a 4* baby and toddler friendly hotel 4km from Porto Cristo. There are great swimming facilities for little ones including a Splash Park with a pirate ship and castle, beach entry shallow pool with a max depth of 30cm, mini water slides and a large shaded play area specifically for under 4s.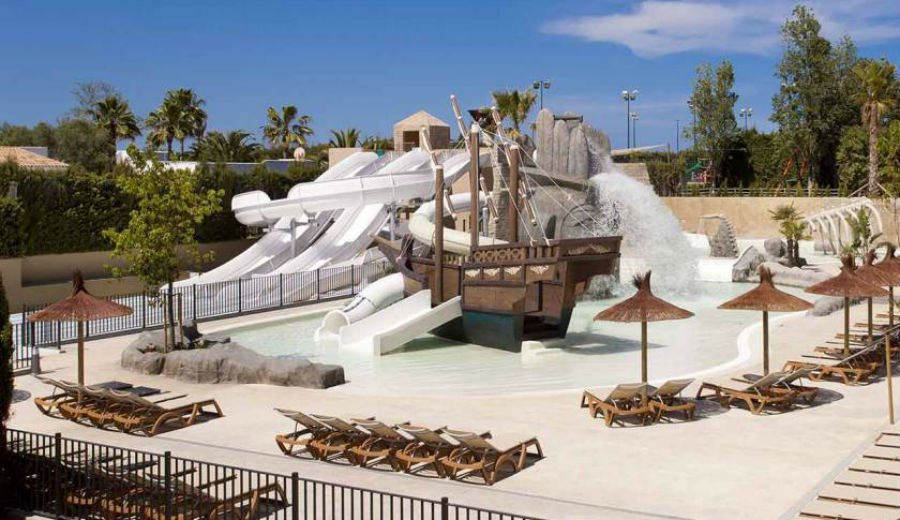 There are Family Suites with a separate adult's bedroom with sliding doors and a 'Kids Den' with 2 single beds. Note that not all rooms have baths, so make sure you book a room with a bath specifically if your baby or toddler isn't a fan of showers. There is a special children's mini buffet in the main buffet restaurant, and microwaves available to heat up baby food.
The hotel is located next to the stunning bay of Cala Mandia so you can grab your buckets and spades and head down there whenever you feel like it.
Learn More – Cala Mandia Resort
TUI Sensatori Resort, Ibiza
The luxury Sensatori Resort is set on a hillside overlooking sleepy Cala Tarida Bay. Toddlers will love the Splash pool with slides, fountains and buckets and the Baby and Toddler Sensory Nursery which has flashing lights, things to touch and feel and a Little Land of Nod sleeping room. It is designed for children up to 4 years old, and is available 7 days a week.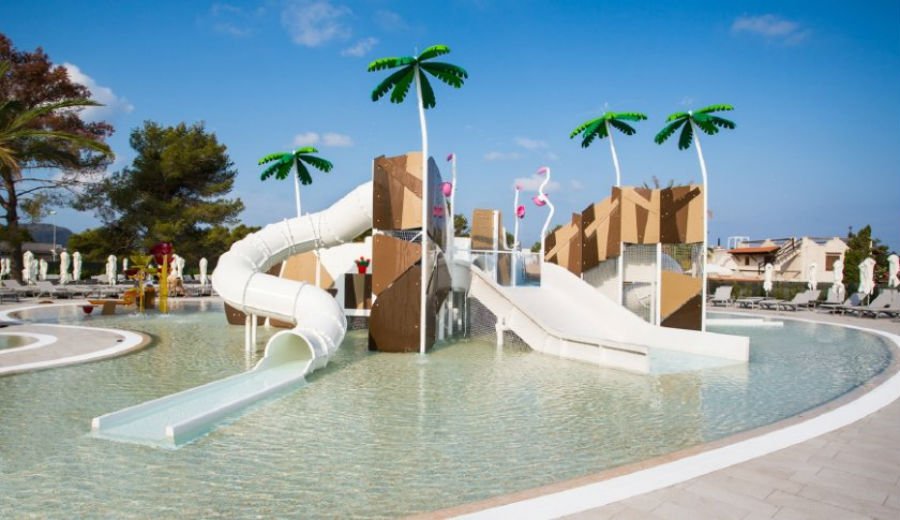 For children aged 3+ there is a Play House with a Crazy kitchen, Silly Science Lan and Arts and Crafts Zone.
Tired parents can chill out in the Adults only swimming pool, the Spa or take part in a Fitness Class.
Family Rooms and Family Suites are available at the Sensatori Resort.
Learn More – – Sensatori Resort
Magic Natura – Benidorm, Costa Brava
Magic Natura is Europe's first animal and water theme park located just outside Benidorm. All guests get free entry to the Terra Natura Animal Park and the Aqua Natura Waterpark so it is great choice for animal lovers and water babies!!
The animal park has over 1500 animals including tigers, rhinos and elephants and there aren't any bars or barriers to stop toddlers being able to see everything.
Accommodation is in 1 bedroom / 2 bedroom Polynesian lodges and some of them have a Jacuzzi!
Learn More – Magic Natura Benidorm
Pirates Village – Majorca
This pirate themed hotel is the perfect choice for swashbucklers looking for a fun filled holiday! Life is centered around the Pirates Tower Pool, which is a large lagoon shaped swimming pool with a separate area for babies.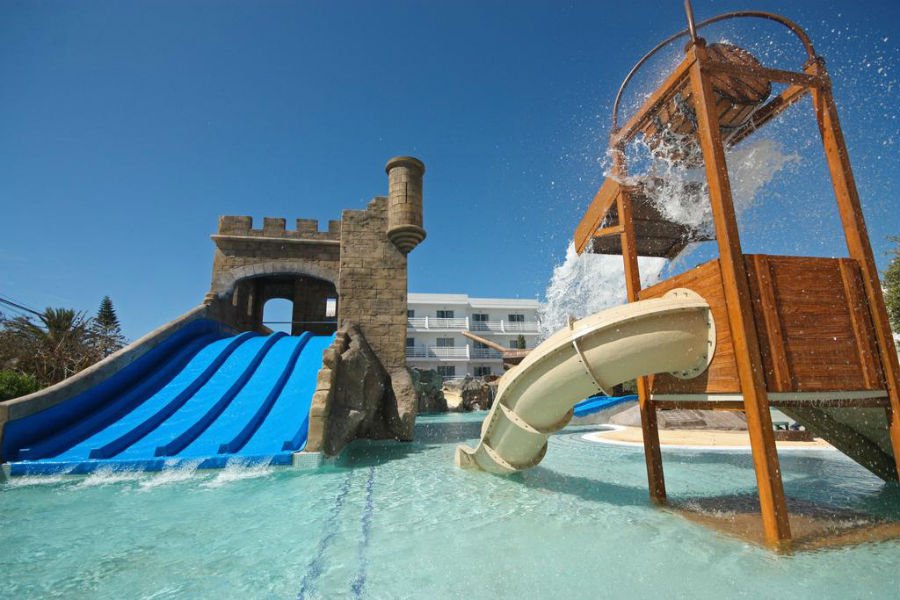 Toddlers will love the Pirates Bay Splash Park with water slides, waterfalls and caves, and the Pirates Mini Cave Club is a kids club with a difference – there is a bouncy castle, games and a little stage. The hotel is a 15 minute walk from the beach at Santa Ponsa and close to the bars and restaurants.
Learn More – Pirates Village Majorca
Magic Robin Hood – Benidorm, Costa Brava
Toddlers will love this Robin Hood themed resort just outside Benidorm with its enchanted lands, splash park and even a Richard the Lionheart castle! The wooden lodges where guests stay are designed to transport you straight back to the Robin Hood story.
There is a massive outside pool area with a slides and children's section as well as a water park and a Splash park with fountains, sprays and tipping buckets.
Away from the pool is an adventure playground and an indoor soft play area.
Learn More – Magic Robin Hood
H10 Mediterranean Village, Costa Dorada
This super modern hotel has a splash park with a pirate ship, loads of entertainment (including a mini disco!), and an indoor soft play area!
Located just 3km from PortAdventura World means it is a great position for days out at the theme park too.
The pool area is great at the H10 – there is an outdoor pool with slides, water guns and sprinklers which toddlers will love!
Learn More – H10 Mediterranean Vilage
Globales Playa Estepona – Costa Del Sol
The Globales Playa Estepona hotel is in the middle of Estepona and Marbella in the Costa Del Sol.
The hotel has recently been refurbished and a large water park has been added. Although the rides are only available for children over 120cm tall, there is a Spray Park with a pirate themed area of slides and sprays for smaller children.
The beach is about a 15 minute drive away from the hotel. There is a shuttle bus operating 3 times a day to Puerto Banus.
2 bedroom Family Rooms are available.
Learn More – Globales Playa Estepona
Grand Palladium Ibiza
Stunning 5* hotel with 4 pools and a sandy beach on the doorstep. There are 2 large outdoor swimming pools, and one has a splash park for children attached. There is also a relaxing outdoor swimming pool with jet streams, water umbrellas, bubble areas and sensation showers (not for children but very nice for tired parents!).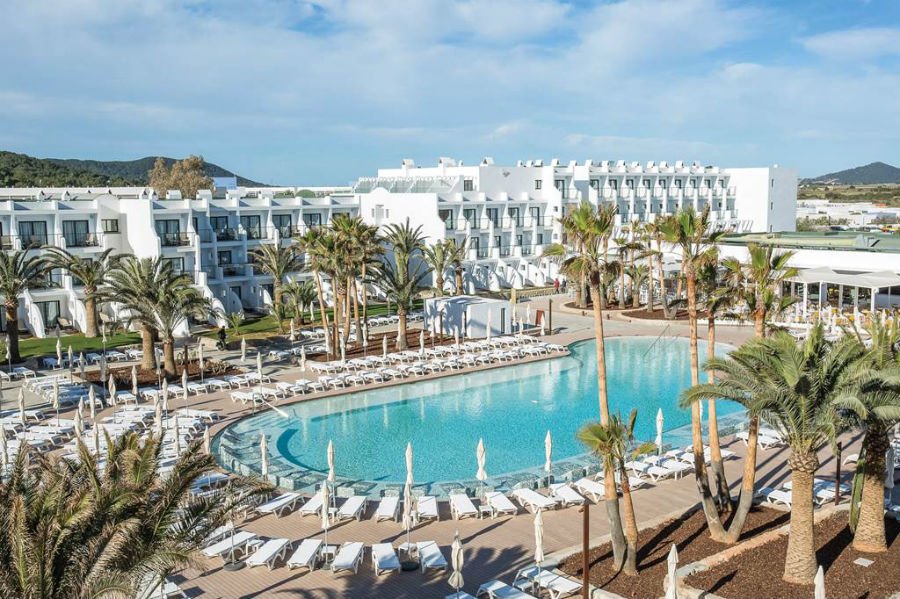 One thing to note is that the The Kids Club is only for children aged 4+
Learn More – Grand Palladium Ibiza
Can you recommend any places to stay with babies and toddlers in Spain?