The Ultimate Guide to Holidays In Menorca with Toddlers!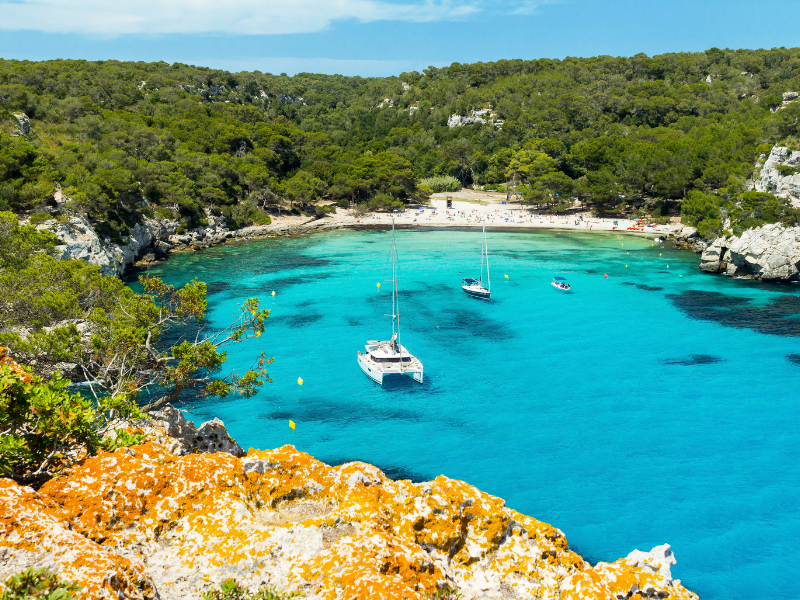 Read our ultimate guide to holidays in Menorca with toddlers. Discover the best hotels, things to do and resorts for toddlers in Menorca.  With bright white sands, turquoise waters and peaceful coves, Menorca feels as if it was made for beach holidays. And that's a big part of its appeal. But you may also be wondering, is Menorca good for toddlers? Well, we're here to tell you that it is! With zoos, playgrounds and waterparks galore, it's so much more than just a beach-focused island.  If you click on a link in this piece, we may earn affiliate revenue.
Best Resorts For Toddlers In Menorca
#1. Son Bou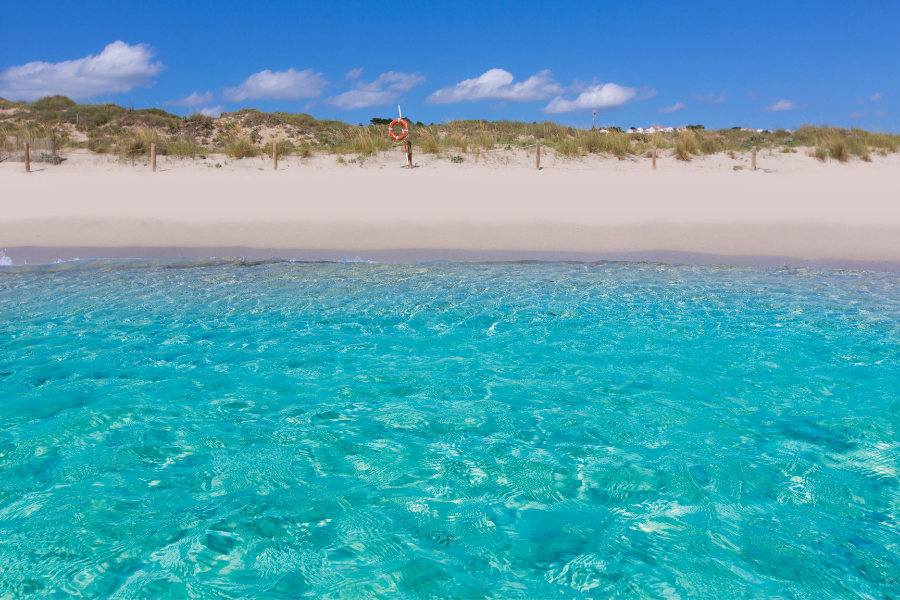 Wondering what part of Menorca is good for toddlers? Wonder no more! Set in the centre of Menorca's southern coast, Son Bou is one of the island's most popular family-friendly resorts. Holidays in Menorca with toddlers here are all about the beach. Playa de Son Bou is the longest stretch of coastline on the island, with silky white-gold sand that spans for 3km. Its gently shelving beachfront and calm sheltered waters are perfect for paddling too. Away from the beach, there's a cute mini-train that circles around the town in summer. It's fun for toddlers to hop on and off, and it'll save the strain on walking for little legs! Club San Jaime is also here to banish boredom during the day – it has a range of spiralling slides, along with a lagoon-like pool and a wooden maze.
Best Hotels For Toddlers In Son Bou, Menorca
Hotel Sol Milanos Pinguinos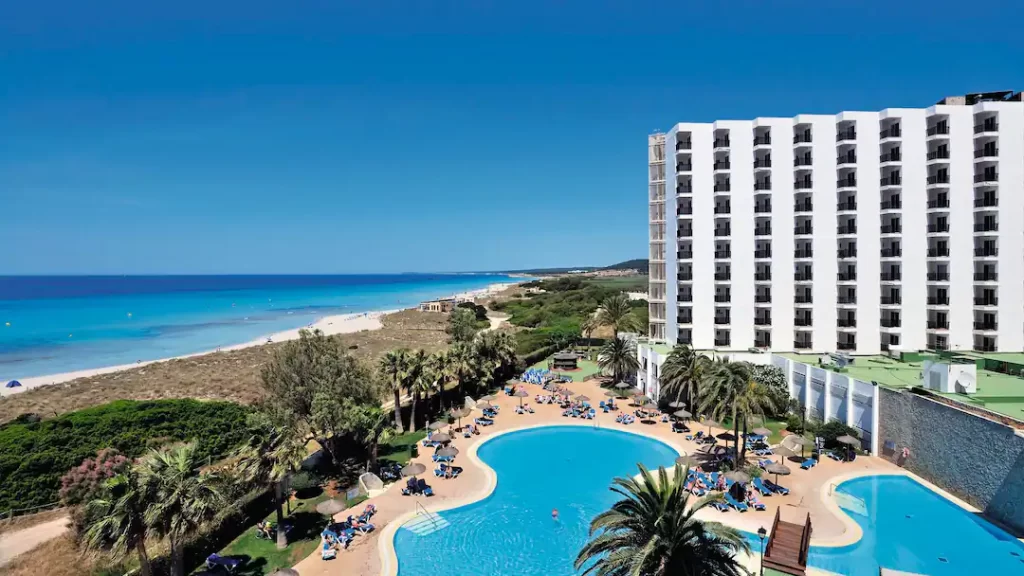 The Hotel Sol Pinguinos is the only beachfront hotel in Son Bou.  It has a Dreamers Baby Club for babies and toddlers aged eight months to four years old plus a colourful adventure playground, and it's also close to plenty of bars and shops.
Aparthotel HG Jardin de Menorca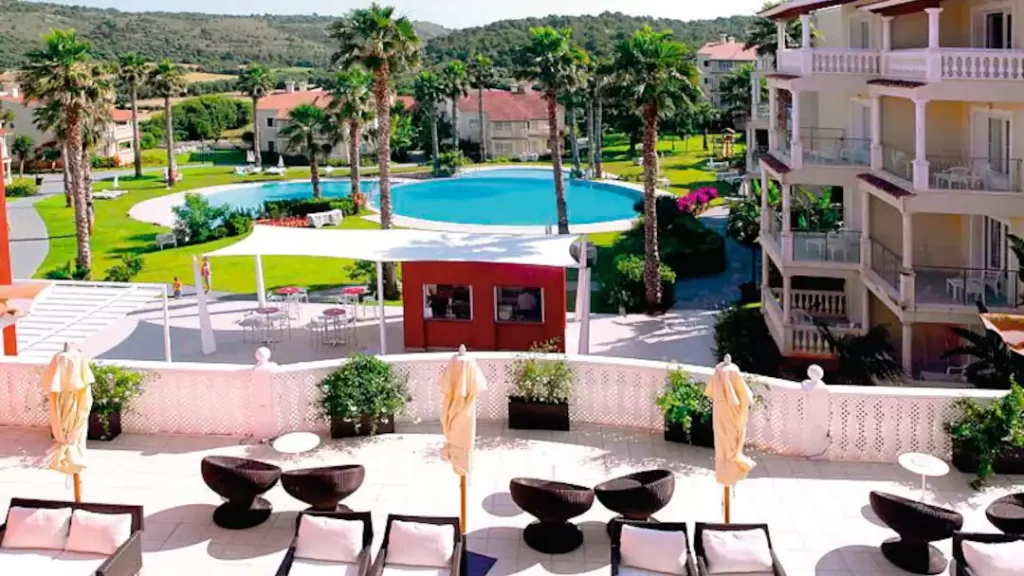 The Aparthotel HG Jardin De Menorca is a stylish hotel with sleek, contemporary interiors and landscaped gardens.  There's a children's pool and indoor play area for kids too.
#2. Cala Galdana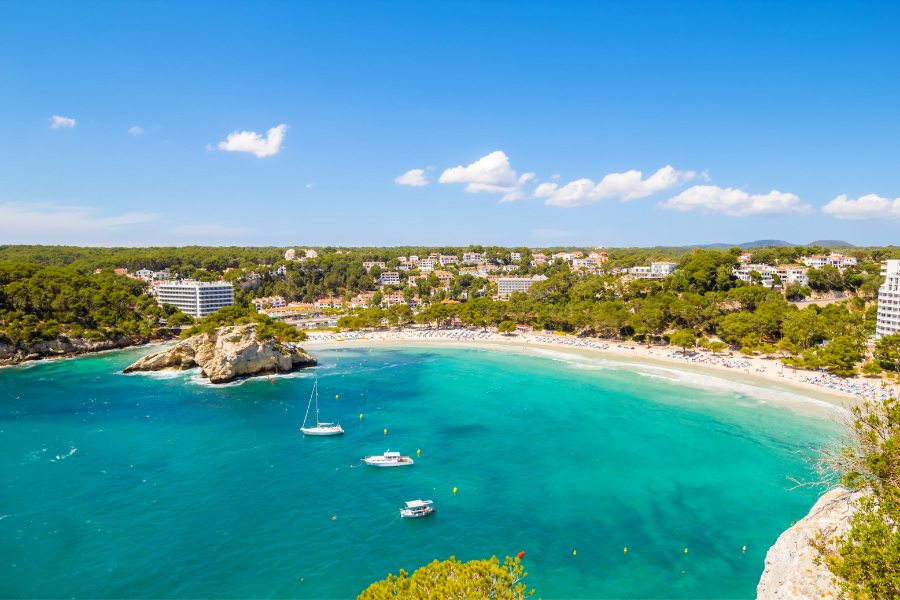 Cala Galdana is another Menorcan resort where holidays are centred around the beach. It's an arc of stunning white sand where you'll catch the fresh scent of pine trees as you look out upon the shimmering turquoise waves. For holidays in Menorca with toddlers, don't forget your bucket and spade as the cotton-soft sands here are ideal for building a fortress! You won't have to wander far from the coastline to find a whole host of family-friendly beachfront restaurants serving up burgers, chips and Menorcan classics like lobster stew.
Best Hotels For Toddlers In Cala Galdana
Melia Cala Galdana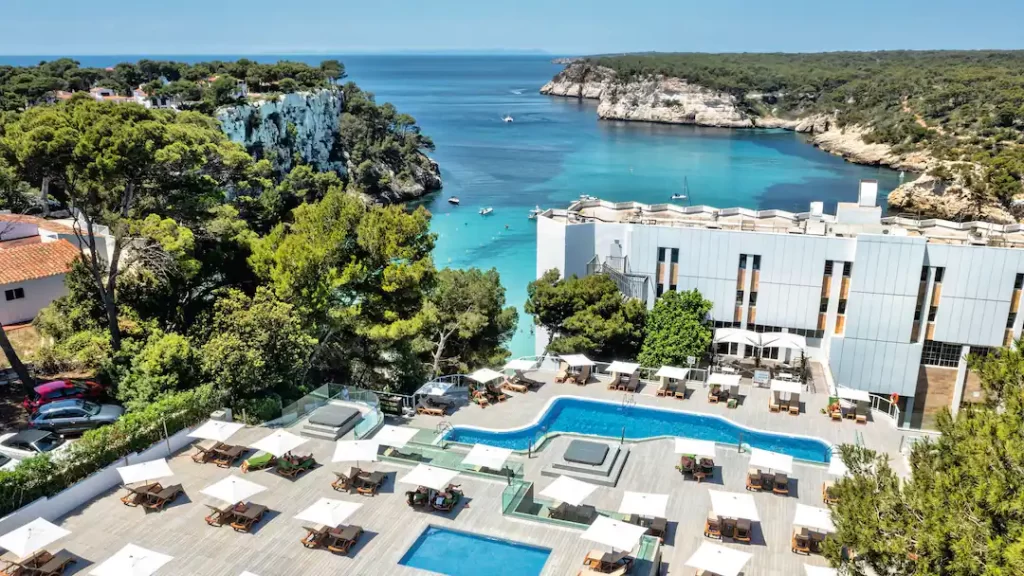 The Melia Cala Galdana is a modern and luxurious hotel which boasts gorgeous views of the surrounding cliffsides and shimmering waters. It also has a Kids and creche for babies and toddlers from eight months to four years old.
Hotel Cala Galdana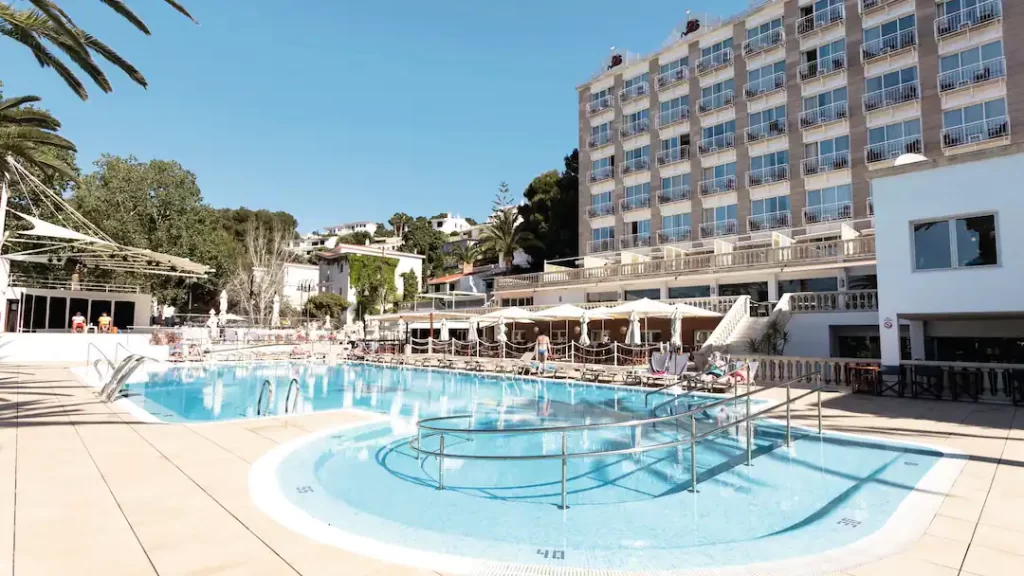 The Hotel Cala Galdana is a super stylish hotel with an elegant dining courtyard and a palm-lined pool. Its relaxed atmosphere makes it perfect for a peaceful family-friendly holiday.
#3. Cala'n Bosch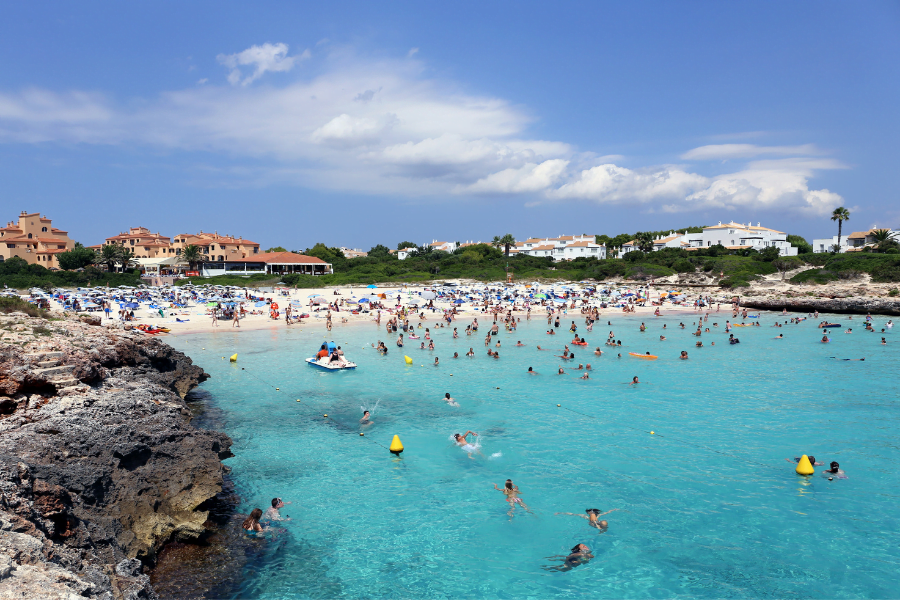 Cala'n Bosch is close to Menorca's old capital, Ciutadella. For holidays in Menorca with toddlers you have the best of both worlds – the calm, relaxed pace of Cala'n Bosch and the bustling city sights nearby. The beach in the resort is beautiful too, with rocky, shrub-covered headlands creating a sheltered cove with shallow waters that are great for paddling. Stroll along the seafront marina to see fishing boats bobbing in the midday tide and stop at a sunlit open-air restaurant. Plus, there's also the Aquarock Waterpark to keep boredom at bay. It has fun fountains, small slides and even a model dragon to entertain little ones.
Best Hotels For Toddlers In Cala'n Bosch
TUI Blue Grupotel Turquesa Mar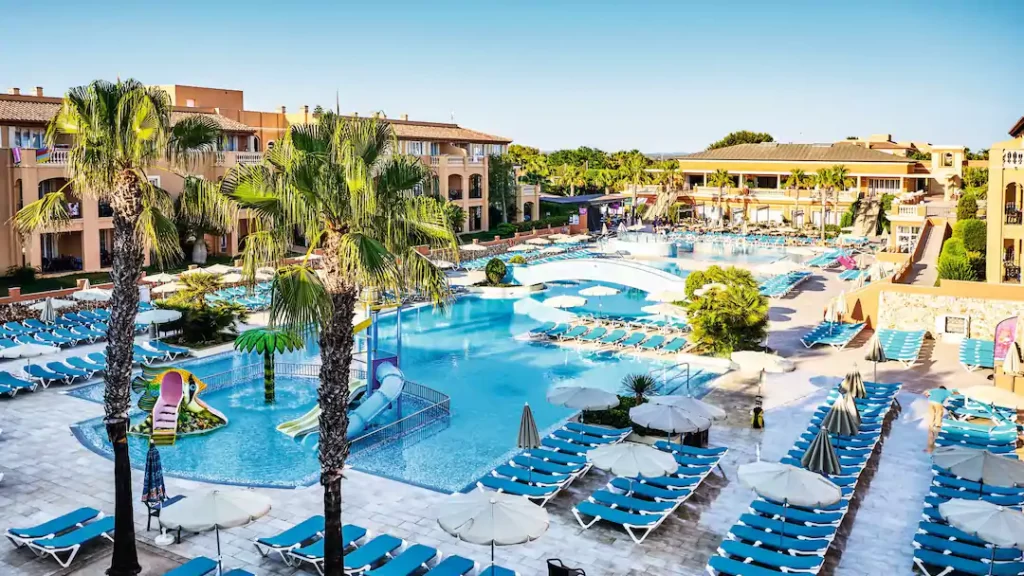 The TUI Blue Grupotel Turquesa Mar is an elegant hotel designed like a traditional Menorcan village, this hotel has a lovely courtyard pool with palm trees, a bridge and even a fun splash park for younger children. There's also a kids' club and even a children's buffet menu.
Zafiro Menorca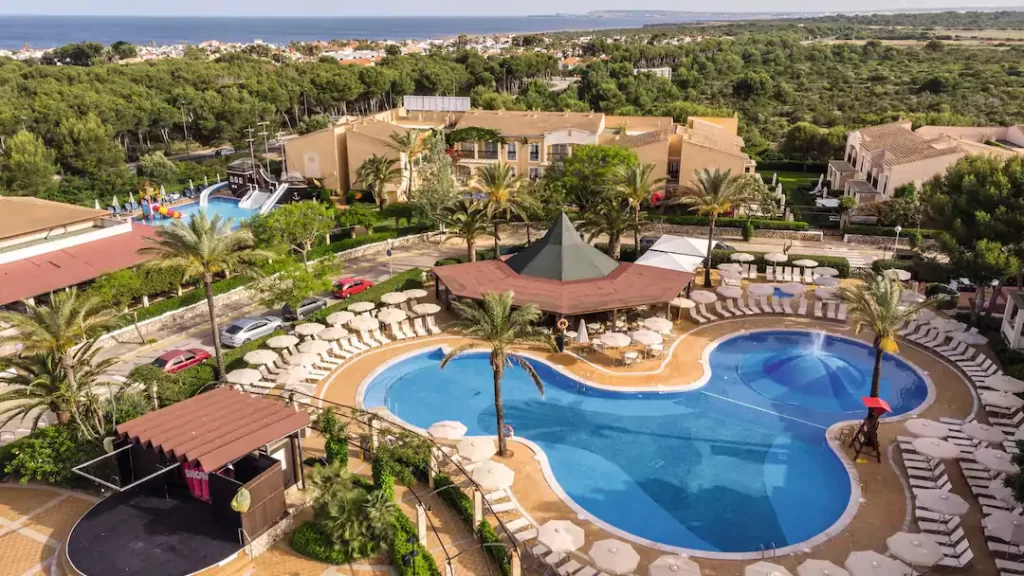 The Zafiro Menorca has an amazing splash park with a pirate boat with slides and fountains. The hotel even has an on-site bouncy castle!
Globales Cala'n Bosch
The Globales Cala'n Bosch is a sleek and stylish hotel with a small splash park and children's pool, along with a kids' club and colourful playground.
#4. Cala'n Forcat
The dreamy cove at Cala'n Forcat is a total vision of paradise. Its high, craggy cliffsides create calm, turquoise toned waters that stretch out surprisingly far. It's ideal for paddling, while the smooth golden sands are silky on your feet so don't worry if you forget your flip-flops! Cala'n Forcat has a bigger selection of bars than most other resorts on the island, but things never get too lively so it's still an idea choice for holidays in Menorca with toddlers. There's also a more extensive range of restaurants here, so even fussy eaters are sure to find something to their tastes at the main street of Avinguda los Delfines. The shopping centre is pretty big here too, so you can check out the toyshops, boutiques, beachwear and more.
Best Hotels For Toddlers In Cala'n Forcat
Globales Apartmentos Binimar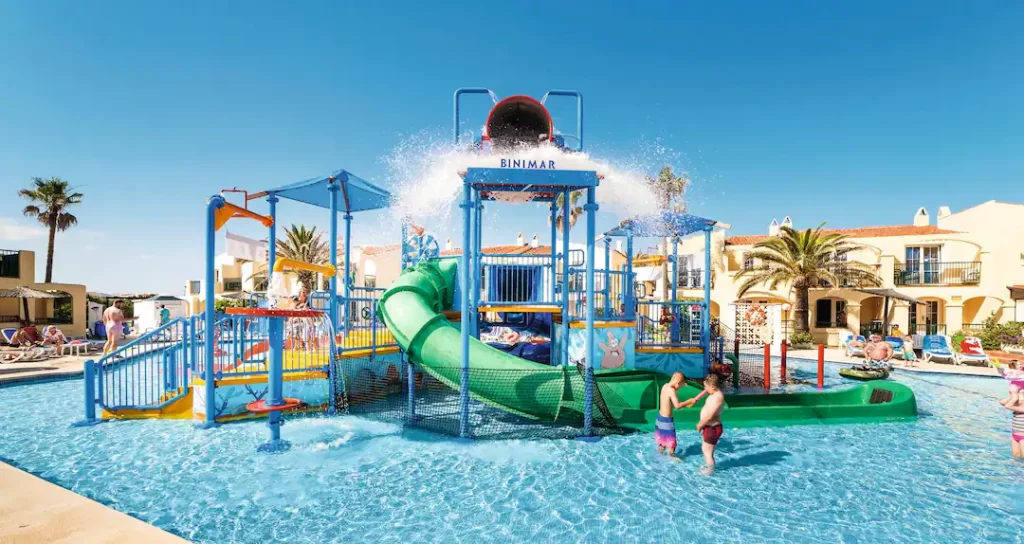 The great value Globales Apartmentos Binimar are laid out like a low-rise Menorcan village which fits in beautifully with the scenic surroundings. The apartments also have a splash park and two children's pools.
Talayot Apartments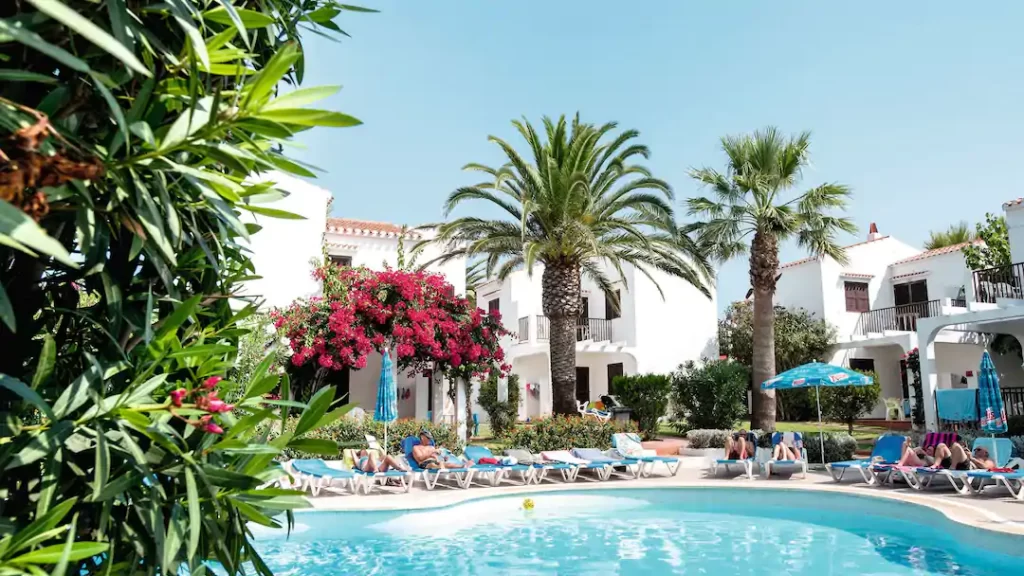 The spacious Talayot Apartments are a spacious apartment complex with six swimming pools including a splash park and a river-style pool. There's also huge range of activities including mini-golf and mini go-karts.
#5. Punta Prima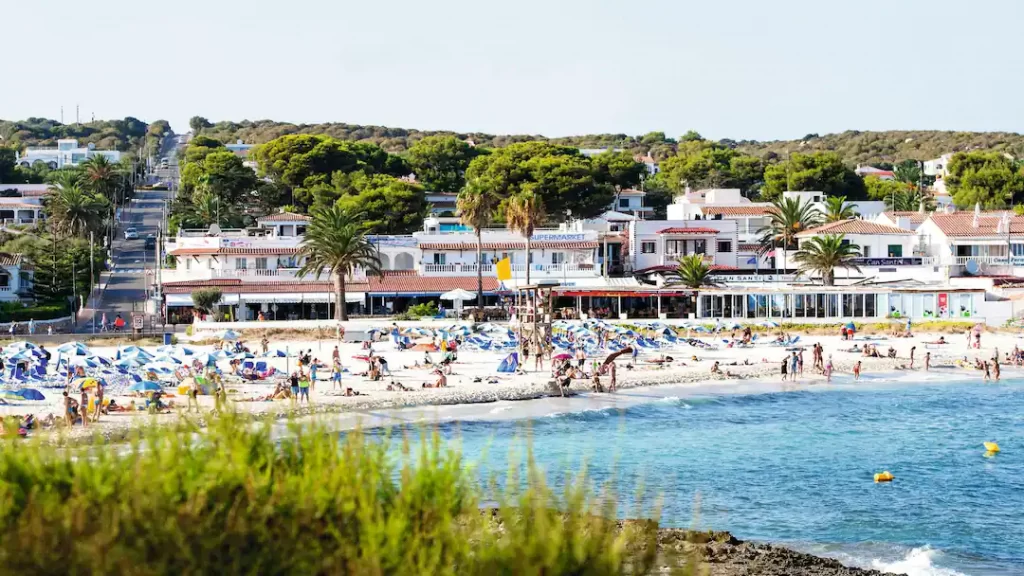 Punta Prima is located on the south-eastern edge of Menorca, so you won't be far from the capital Mahon and its famous natural harbour. The resort also answers the question 'is Menorca good for toddlers?' with aplomb. As is typical of the island, the beach here is especially stunning – it's an arc of honey-hued sand that captures plenty of golden rays from sunrise to sunset. It has even been awarded the coveted Blue Flag for the cleanliness and quality of its coastline. Along with the beach, you can also head for the Splash Sur Menorca Waterpark. Younger children will love the small splash park that has a pirate ship with small chutes and fountains. And here's another plus point, there's a twice-weekly market that offers up crafts, handmade items and touristy bargains – brilliant!
Best Hotels For Toddlers In Punta Prima
Hotel Sur Menorca Suites & Waterpark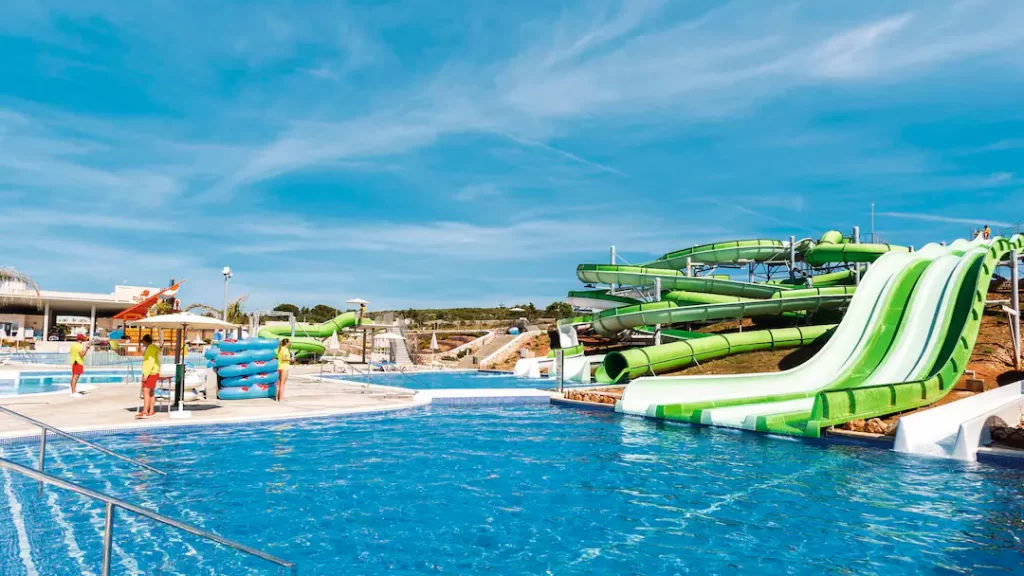 The Hotel Sur Menorca Suites is located right next to the Splash Sur Menorca Waterpark! Holidays here boast unlimited access to the waterpark, while the hotel itself also has a playground and hotel-run kids' club.
Insotel Punta Prima Prestige Suites & Spa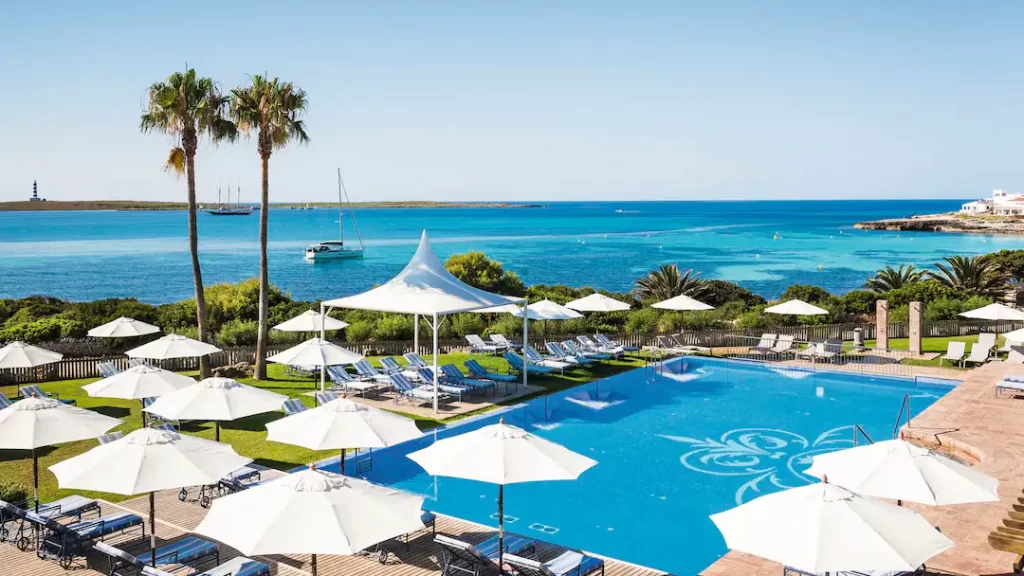 The Insotel Punta Prima Prestige Suites & Spa is a luxuriously designed hotel with an amazing on-site splash park along with a playground and indoor play area. The hotel-run kids' club is for children aged 2-12 years old too.
Occidental Menorca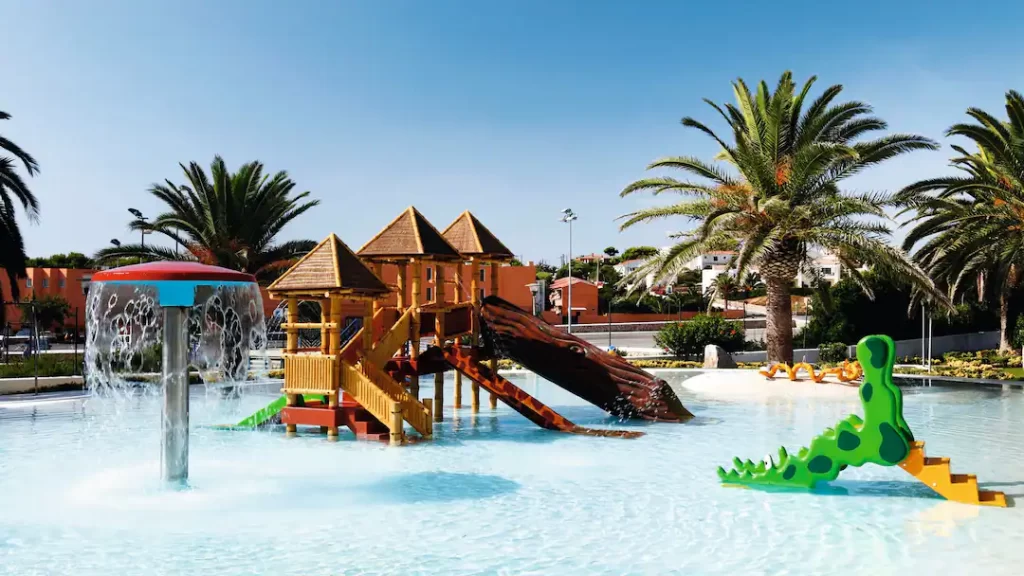 The Occidental Menorca is a spacious hotel complex with an amazing splash park and playground. Plus, it's just 300m away from the beachfront.
5 Best Things To Do With Toddlers In Menorca 

#1. Aquarock Waterpark
One of Menorca's most popular waterparks, the Aquarock has several small slides ideal for younger children. Look out for the dragon and friendly frog slide! For adults and older kids, there's also the faster Kamikaze slide, along with a wave pool and whirlpool. Sun loungers and open-air restaurants ensure there's plenty of opportunity to soak up the sun too. Plus, stay at TUI SUNEO Marinda Garden Club Hotel for unlimited access to this waterpark next door!
#2.  Pick Your Perfect Beach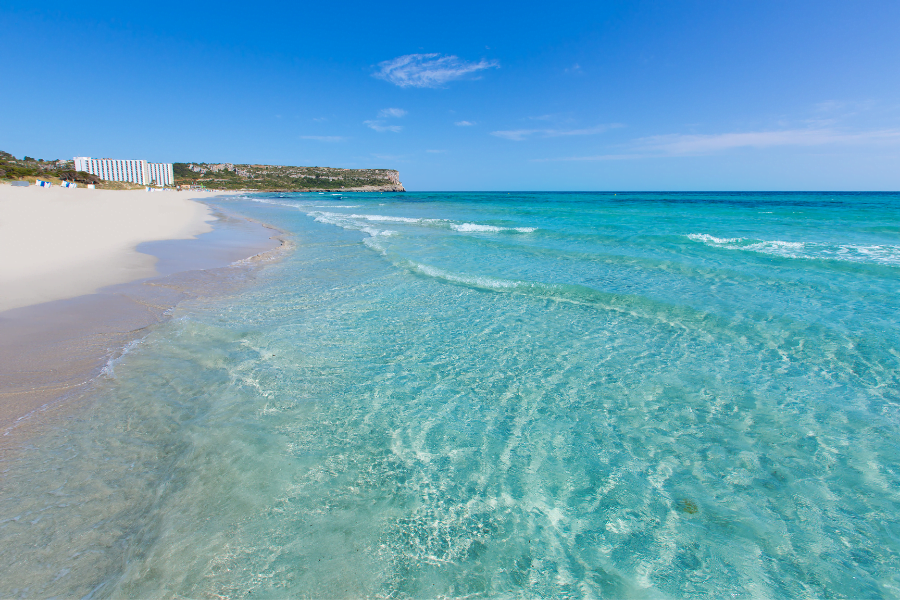 Menorca is famed for the quality of its beaches, so be sure to make the most of it! For holidays in Menorca with toddlers, the smooth sands of Son Bou are ideal, while Cala'n Forcat is a favourite for its sheltered, calm waters. You'll also find that many stretches of coastline offer pedalo hire and boat trips so you can see the crystalline waters up close.
#3. Lloc de Menorca Zoo
Menorca's only zoo is well worth a visit. You can see all kinds of different animals, including reptiles, birds of prey and more. There's even an aquarium and a tropical garden to explore. Best of all, you can interact with and feed animals in the Australia section, including goats and wallabies.
#4. Discover Mahon Harbour
Menorca's capital, Mahon, is famous for its atmospheric old town lined with grand townhouses. Be sure to sample the delights of the shops and restaurants here, then head towards the harbour. It is one of the world's longest natural harbours, stretching for 5km and lined with yachts and fishing boats. Mahon is said to be the place where Mayonnaise was invented and Mahon cheese is incredibly popular here too.
#5. Explore the Old Town of Ciutadella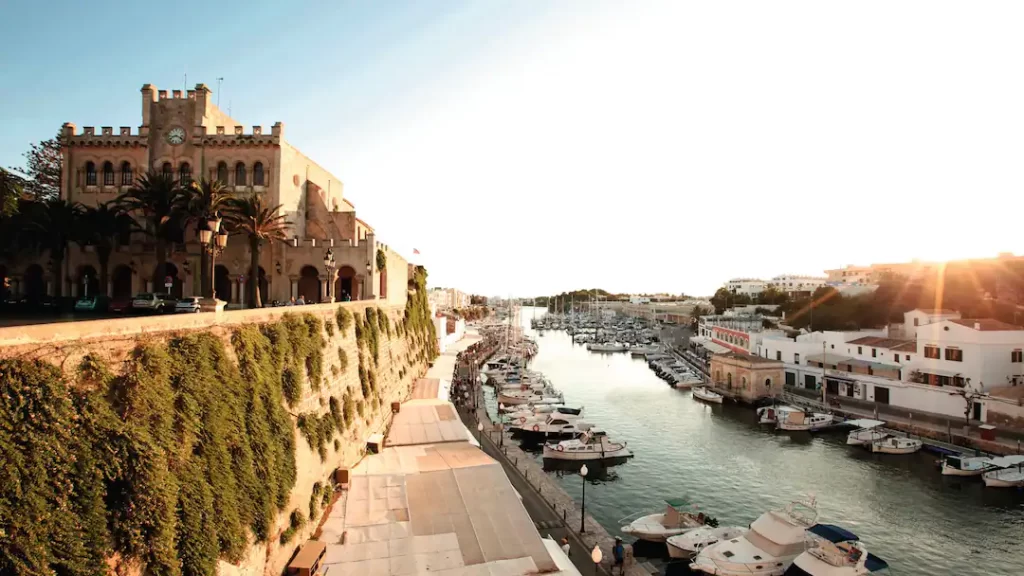 Ciutadella was Menorca's original capital and its prestigious legacy lives on today. You can see it in the bright pastel coloured houses that make up its narrow streets, and of course the grand Ciutadella Cathedral. After you've spent some time exploring, stop by to enjoy homemade ice-cream at the many cafés that line its streets and squares.
5 Best Beaches For Toddlers In Menorca
#1. Cala Galdana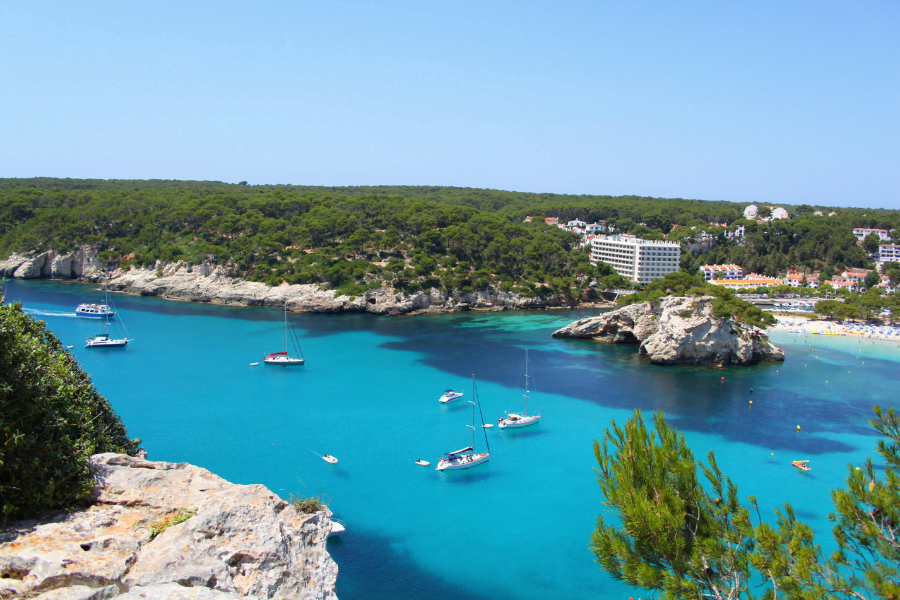 Cala Galdana is known for its picture-perfect beauty. It's an arc of bright white sands backed by evergreen pine forests. The sands gently shelf out towards twinkling turquoise waters – it's little wonder Cala Galdana is a worthy winner of a Blue Flag award.
Stay at D'Aljandar Apartments – This apartment complex is just 150m away from Cala Galdana Beach. It also has a children's pool and daily activity and entertainment programmes.

#2. Son Bou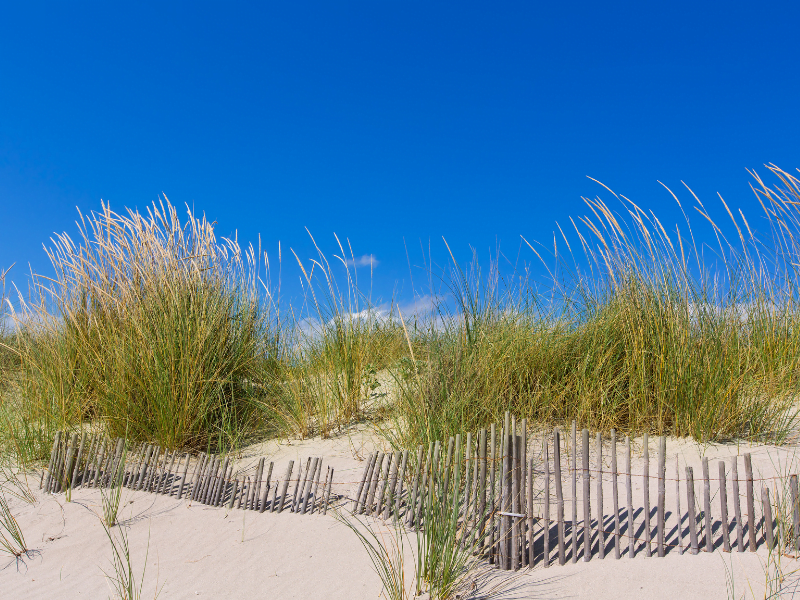 The resort of Son Bou is home to Menorca's longest and most popular beach. It stretches for 3km and proves popular for water sports due to the wavy waters out to sea. It's close to lots of beachfront bars and restaurants so be sure to get an ice-cream while you're here.
Stay at Valentin Son Bou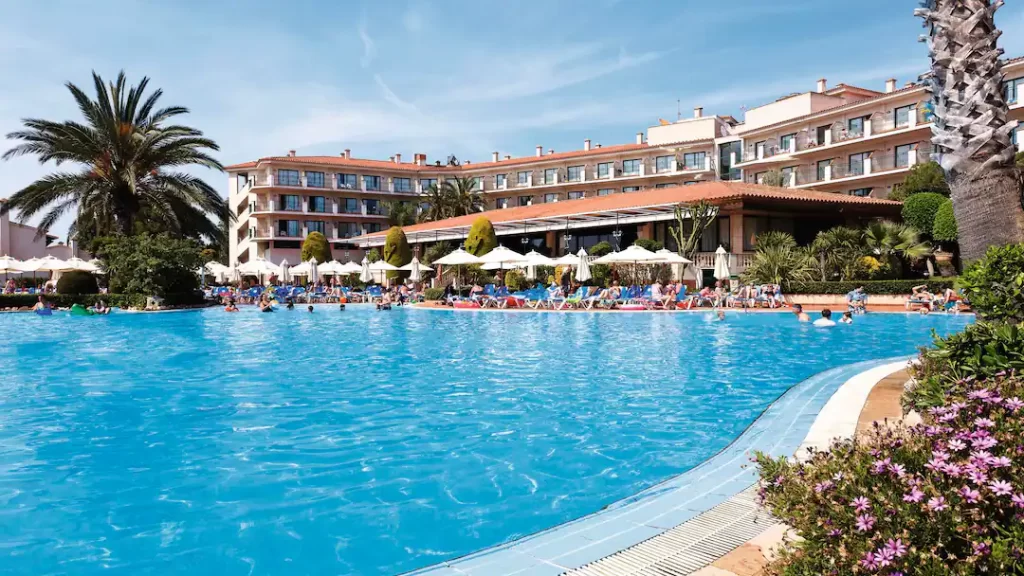 This spacious hotel is only 1km from Playa de Son Bou. The hotel even runs a daily shuttle bus to and from the beach for added convenience.
#3. Son Xoriguer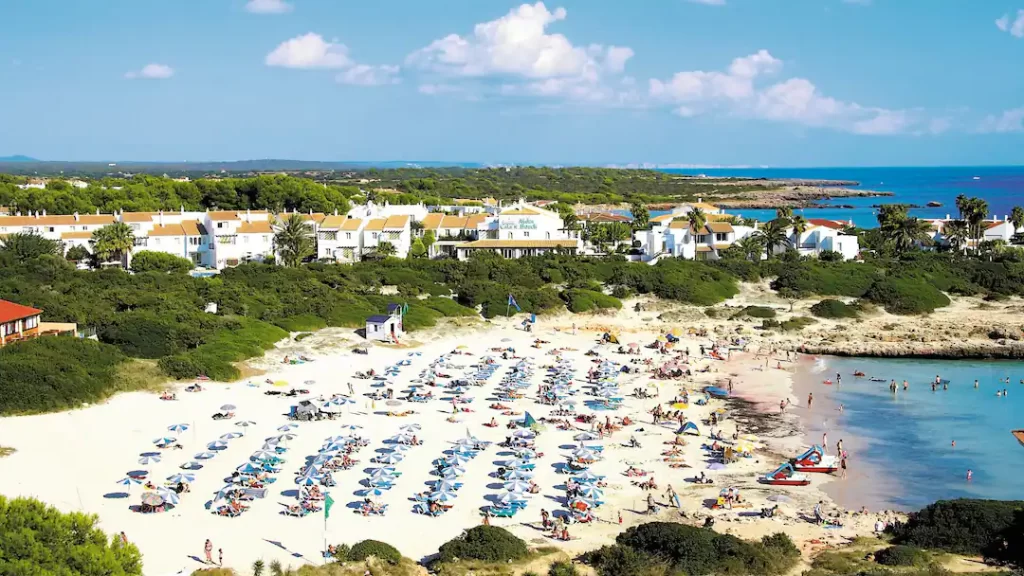 Son Xoriguer is an open expanse of white sand, where the dazzling azure of the sea sparkles in the midday sunshine. As it's a spacious beach, there's a large water sports centre set up here for windsurfing and water skiing. You could even head out on a boat trip direct from the stunning seafront here.
#4. Santo Tomas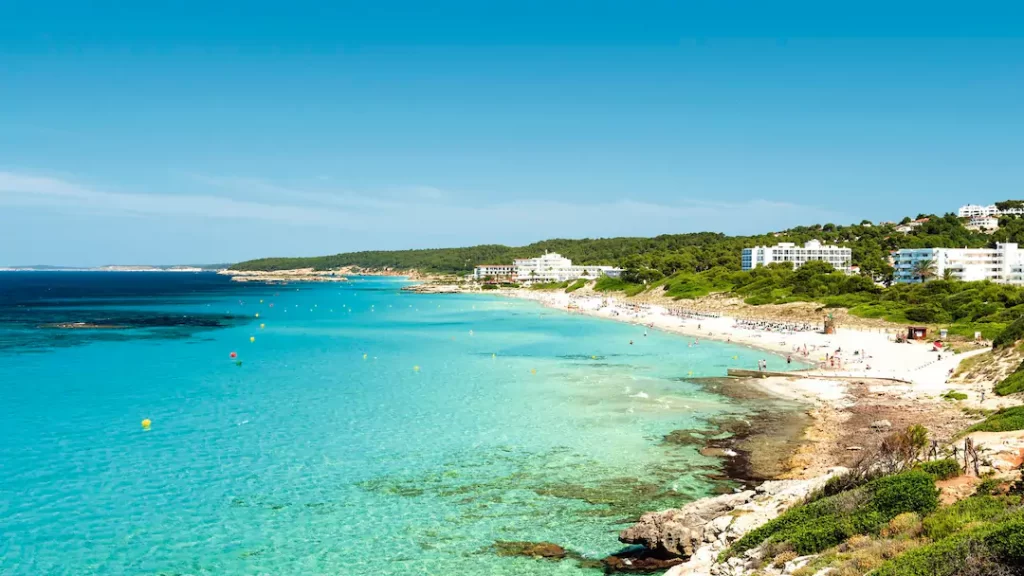 If you're looking for holidays in Menorca with toddlers, you're in luck –Santo Tomas is another resort that's home to one of the longest beaches on the island. The 3km of white sands at the beach here are perfect for days spent building sandcastles! As this stretch of coastline captures plenty of sunshine, its waters are whirlpool-warm in the summer too.
Stay at TUI SUNEO Victoria Playa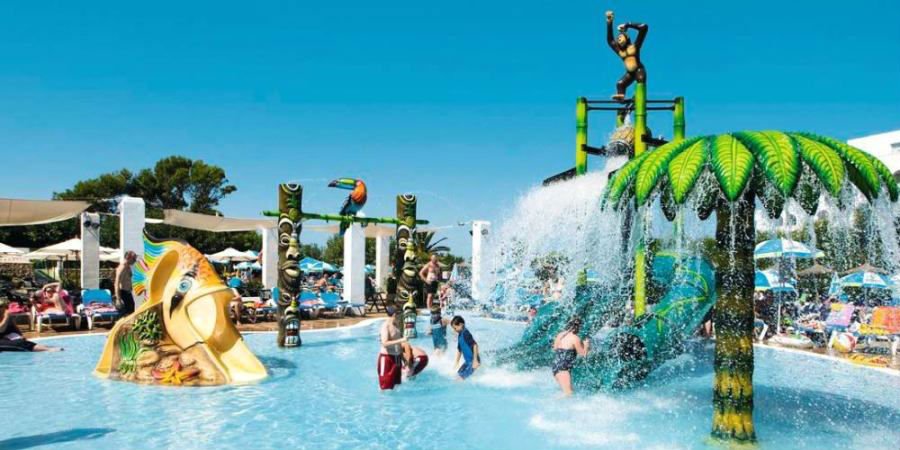 Playa de Santo Tomas will be right on your doorstep when you stay here – it's just 25m away! This hotel is also set up to welcome families as it has a splash park, playground and children's buffet.
Don't Miss!
#1. Shopping in Ciutadella
Thanks to its historic streets and classic architecture, shopping in Ciutadella is an atmospheric experience. Be sure to check out the craft markets that offer up handicrafts and island-made products. Menorca is famous for the quality of its leatherwork, while adults can also try the local Pomada drink made of Xoriguer gin and fresh lemonade.
#2. Snorkelling at Cala'n Porter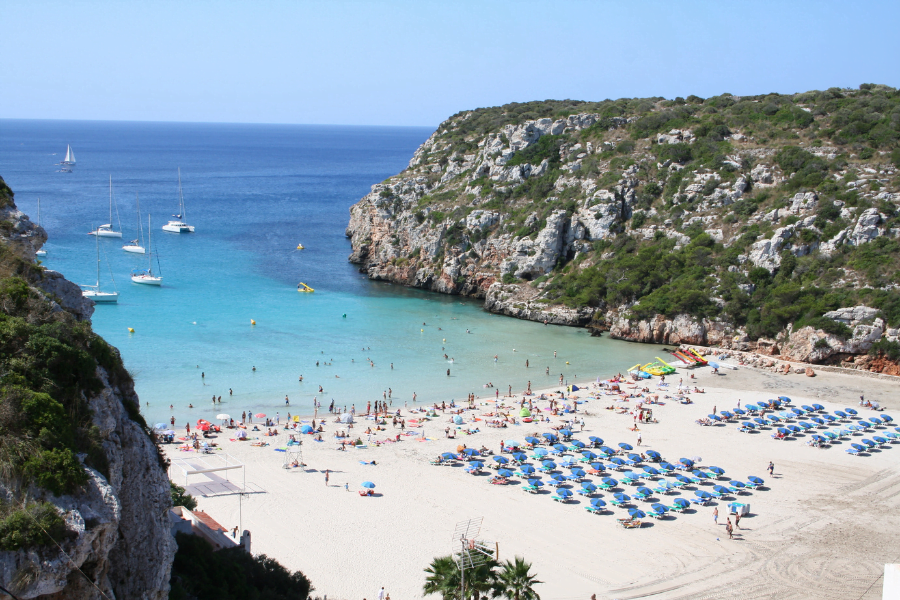 The crystalline waters at Cala'n Porter are super calm and clear – perfect for snorkelling even in the shallows! Look out for the vibrant array of sea life you might find here, including starfish, shellfish and vibrant schools of colourful fish!
#3. Visit Castillo Menorca
Castillo Menorca is a complex that combines shopping and fun! Better than being just a shopping centre home to a range of boutiques, it also has a colourful water fountain playground, splash park and sandpit. Plus, for adults and older children, there's the largest go-kart track on the island.
#4. Drive To The Top Of Monte Toro
Monte Toro is Menorca's highest point. At the summit you'll enjoy stunning panoramic views of the island, where emerald countryside and tiny whitewashed villages reach into the distance. You can also explore the beautiful chapel and a much smaller recreation of Brazil's Christ the Redeemer statue. It's quite a walk to reach the top on foot, so you can always hire a car for the day and follow the road to the summit!
#5. Get Handmade Souvenirs In Sant Climent
Just outside the small resort of Cala Canutells, you'll find the town of Sant Climent. It's famed for the quality of its local shops, offering up fresh bread and microbreweries. Along with the delicious food, you can pick up some incredible souvenirs and gifts here too. Look out for handmade jewellery, leather and pottery shops.
Now you've discovered the best holidays in Menorca with toddlers thanks to our ultimate guide, all that's left to do is choose your ideal holiday here!
See more holidays in Menorca with toddlers