5 Best Toddler Friendly Resorts In Menorca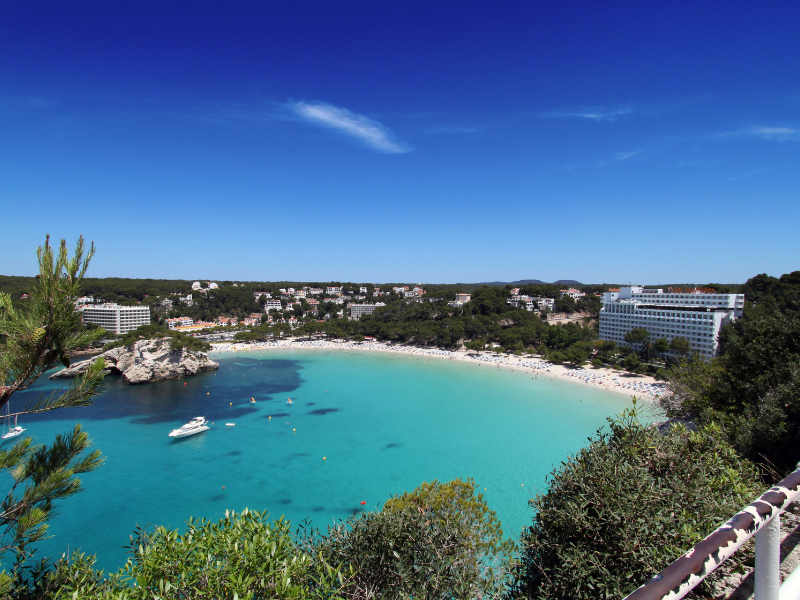 Discover the best toddler friendly resorts in Menorca including resorts with amazing beaches, the best hotels for toddlers and loads of things to do nearby! If you click on a link in this piece, we may earn affiliate revenue.
#1. Cala Galdana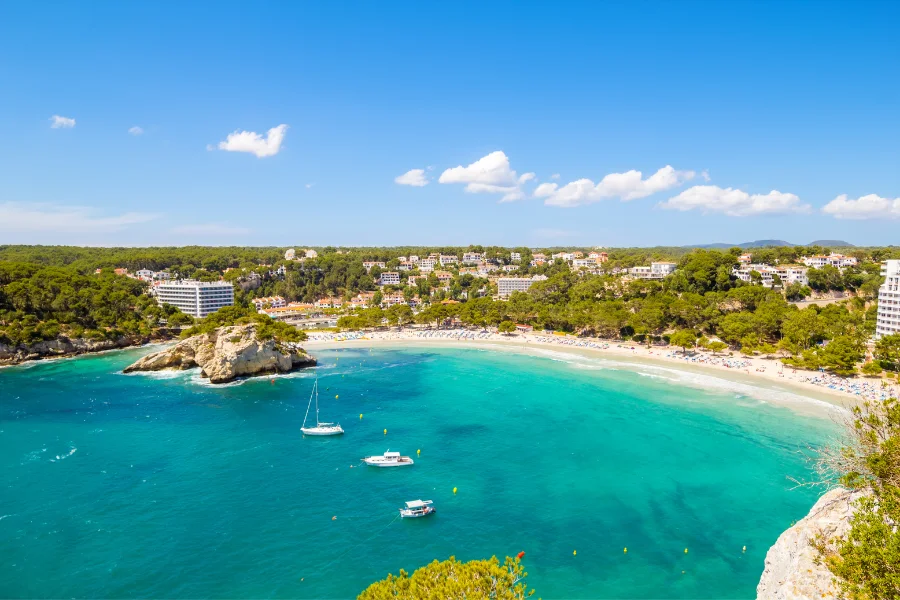 Super popular Cala Galdana is another Menorcan resort which is fantastic for toddlers!  This picture perfect resort is famous for its stunning beach and warm waters – don't forget your bucket and spade as the white sand is ideal for sandcastle building!  There's also loads of family-friendly beachfront restaurants serving up burgers, chips and Menorcan classics like lobster stew.
Amazing Hotels For Toddlers In Cala Galdana
Melia Cala Galdana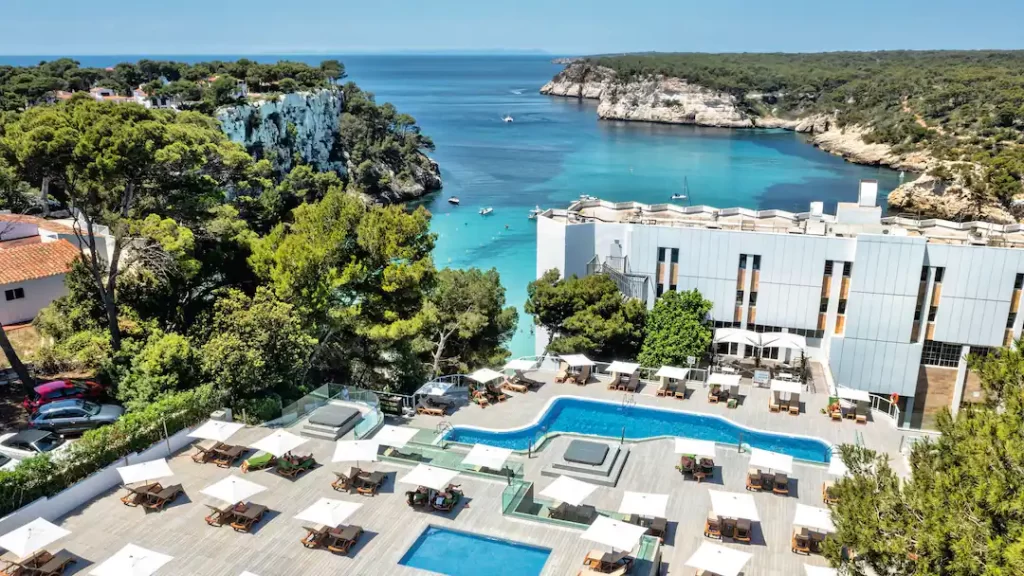 The Melia Cala Galdana is a 5* beachfront hotel in Cala Galdana with gorgeous views of the surrounding cliffsides and sea. It also has a KidsClub and a creche for babies and toddlers from 8 months+ to 4  years old. This is perfect choice for families wanting a beachfront hotel with excellent facilities for toddlers.
Hotel Cala Galdana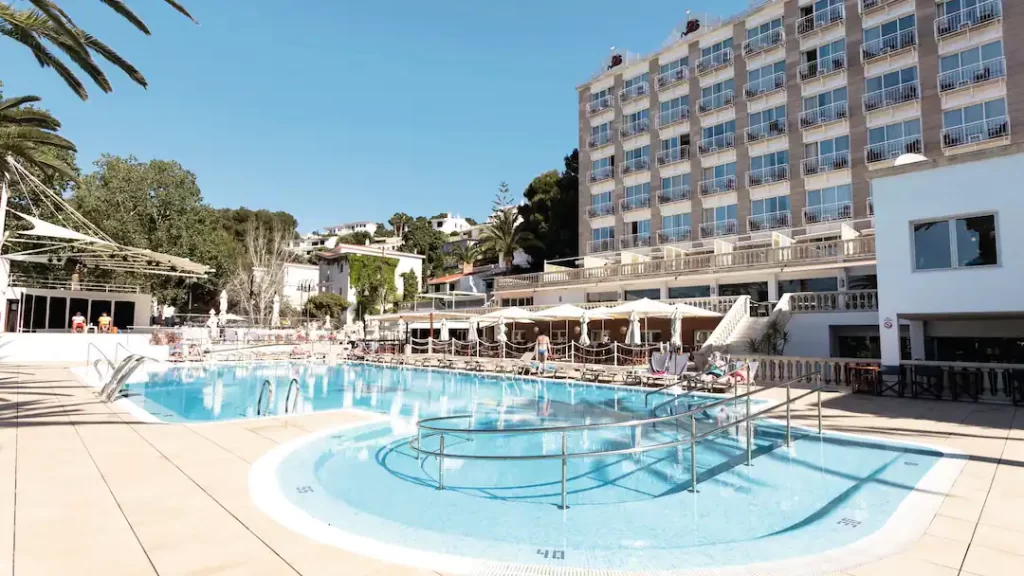 The Hotel Cala Galdana is a popular hotel for toddlers in Cala Galdana.  It's only 150m from the beach and has a relaxed atmosphere makes it perfect for a peaceful toddler friendly holiday.
Read More – The Ultimate Guide to Holidays In Menorca with Toddlers!
#2. Cala'n Bosch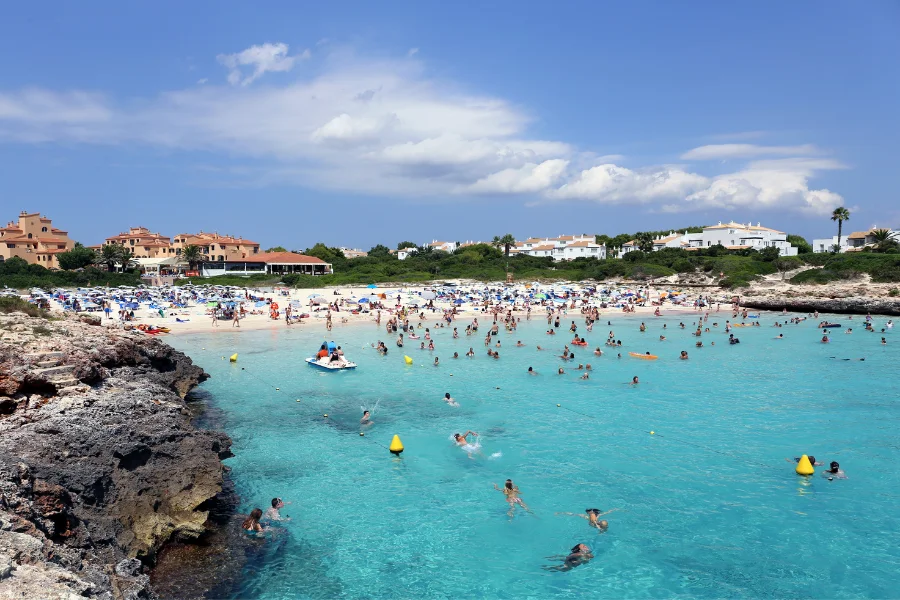 Cala'n Bosch is a great toddler friendly resort in Menorca. It's close to Menorca's old capital, Ciutadella and had a relaxed feel with sheltered coves that are great for paddling and swimming. Toddlers will also love seeing the fishing boats bobbing in the tide and calling at the cafes for a well deserved ice cream! Plus, there's also the Aquarock Waterpark if they need to cool off!
Amazing Hotels For Toddlers In Cala'n Bosch
TUI Blue Grupotel Turquesa Mar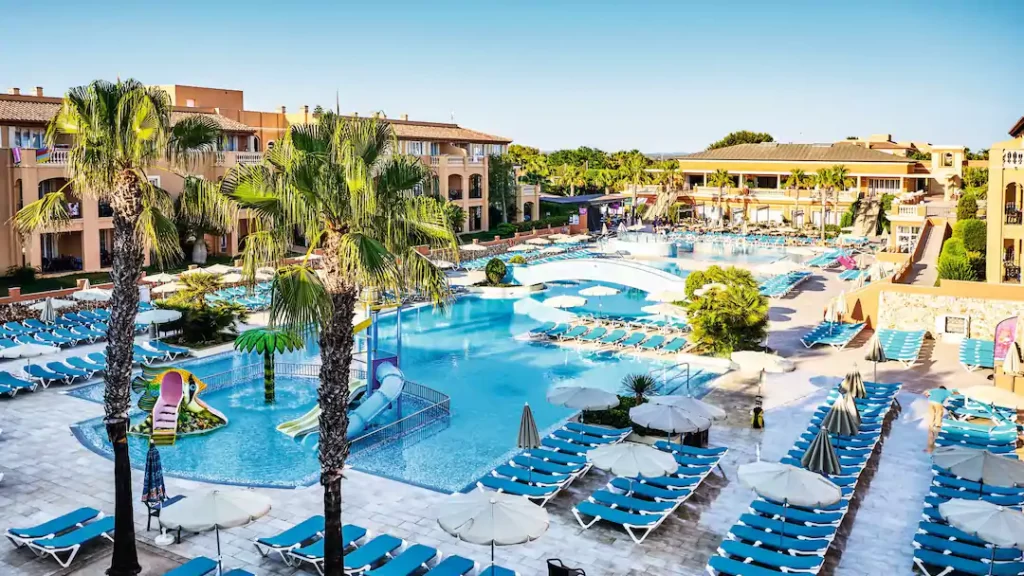 The TUI Blue Grupotel Turquesa Mar is an excellent hotel for babies and toddlers who love water! There are 4 swimming pools including a paddling pool and indoor swimming pool and a splash park.  The beach is a short walk away.
Zafiro Menorca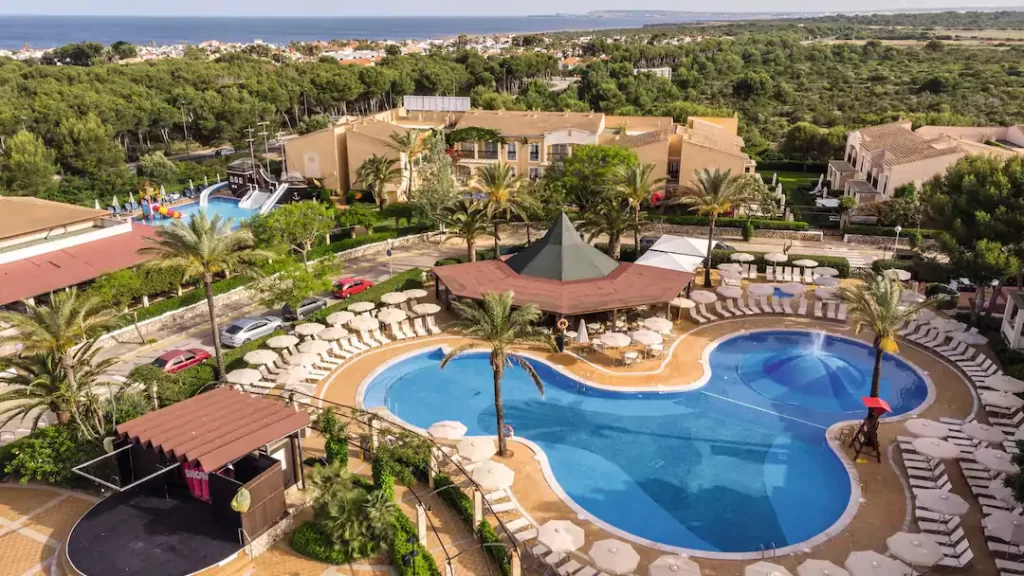 The Zafiro Menorca has a fantastic splash park with a pirate boat with slides and fountains. There is also a bouncy castle, 3 swimming pools, a playground and a mini disco!
Globales Cala'n Bosch
The Globales Cala'n Bosch is a sleek and stylish hotel with a small splash park and children's pool, along with a kids' club and colourful playground.  There is direct access to Cala'n Bosch beach via some steps and the marina is just a few mins walk away. Plus you can catch the bus to Ciutadella from outside the hotel. 1,2 and 3 bedroom apartments are available.
Read More – 29 BEST Baby and Toddler Friendly Places To Stay in Menorca
#3. Cala'n Forcat
The dreamy cove at Cala'n Forcat is ideal for families looking for a resort for toddlers in Menorca.  The gorgeous golden sands are silky on your feet so don't worry if you forget your flip-flops! Cala'n Forcat has a bigger selection of bars than most other resorts on the island, but things never get too lively so it's still an idea resort in Menorca for toddlers.  The shopping centre is pretty big here too, so you can check out the toyshops, boutiques, beachwear and more.
Amazing Hotels For Toddlers In Cala'n Forcat
Globales Apartmentos Binimar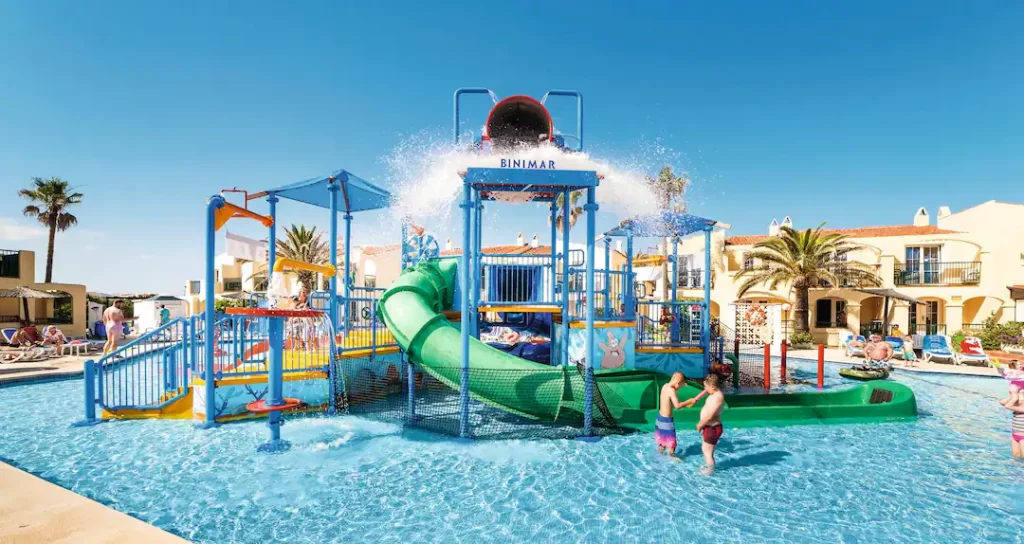 The great value Globales Apartmentos Binimar are laid out like a low-rise Menorcan village which fits in beautifully with the scenic surroundings. The apartments also have a splash park and two children's pools.
Talayot Apartments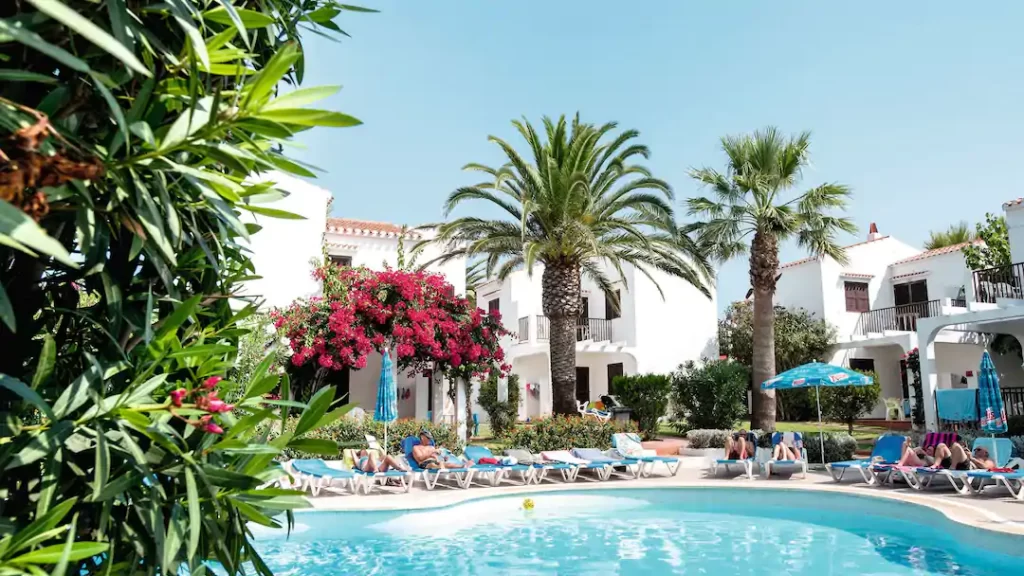 The spacious Talayot Apartments are a spacious apartment complex with six swimming pools including a splash park and a river-style pool. There's also huge range of activities including mini-golf and mini go-karts.
Read More – 10 Best All Inclusive Baby & Toddler Friendly Hotels In Menorca
#4. Punta Prima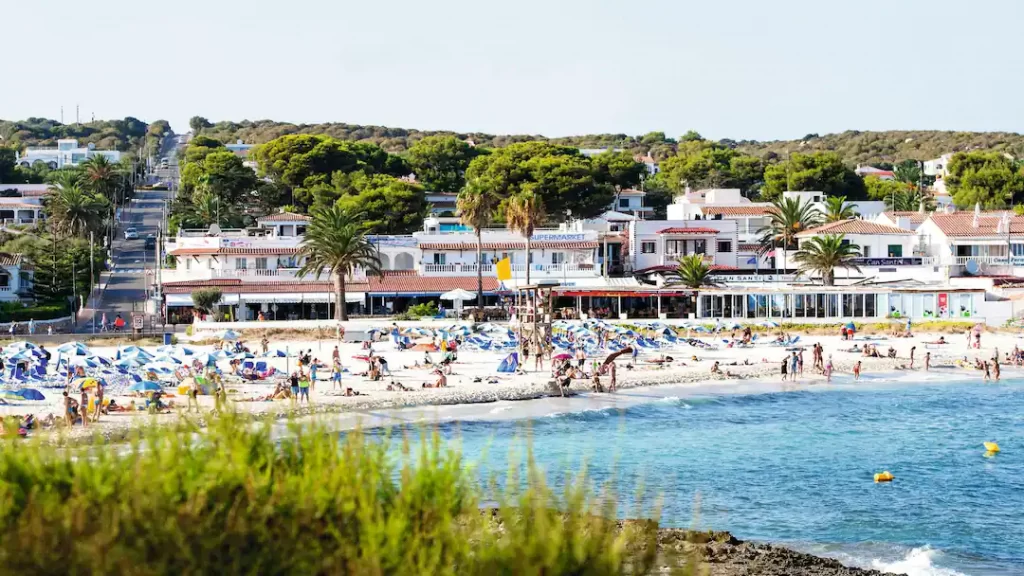 Punta Prima is located on the south-eastern edge of Menorca within easy reach of the capital Mahon and its famous natural harbour. This toddler friendly resort also has a stunning Blue Flag beach and the Splash Sur Menorca Waterpark which has a small splash park with a pirate ship – perfect for toddlers!  The resort also has a twice-weekly market that offers up crafts, handmade items and touristy bargains – brilliant!
Amazing Hotels For Toddlers In Punta Prima
Hotel Sur Menorca Suites & Waterpark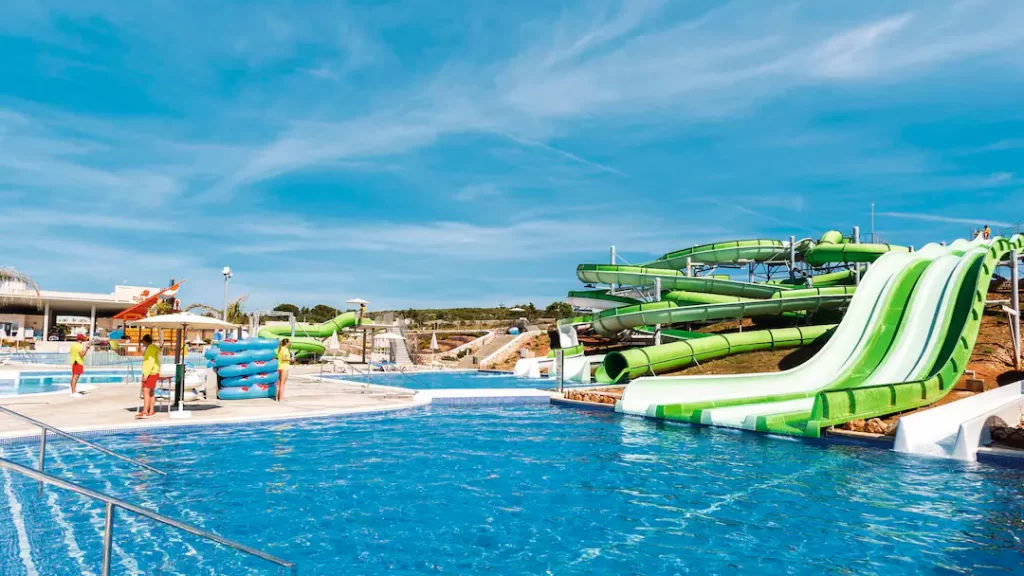 The Hotel Sur Menorca Suites is located right next to the Splash Sur Menorca Waterpark! Families benefit from unlimited access to the waterpark, while the hotel itself also has a playground and hotel-run kids' club.
Insotel Punta Prima Prestige Suites & Spa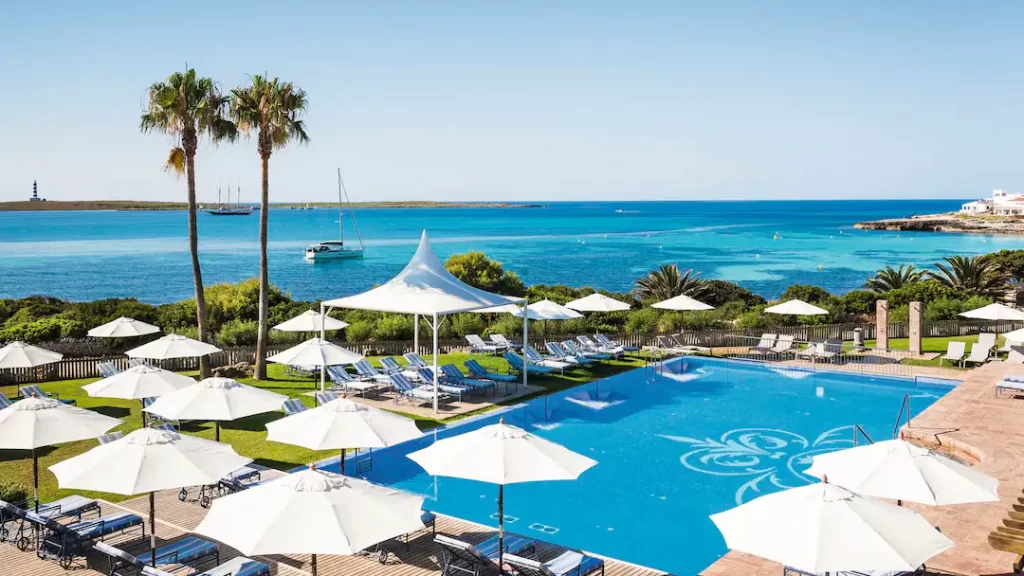 The Insotel Punta Prima Prestige Suites & Spa is a superb hotel with an amazing on-site splash park along with a playground and indoor play area. The hotel-run kids' club is for children aged 2-12 years old too.
Occidental Menorca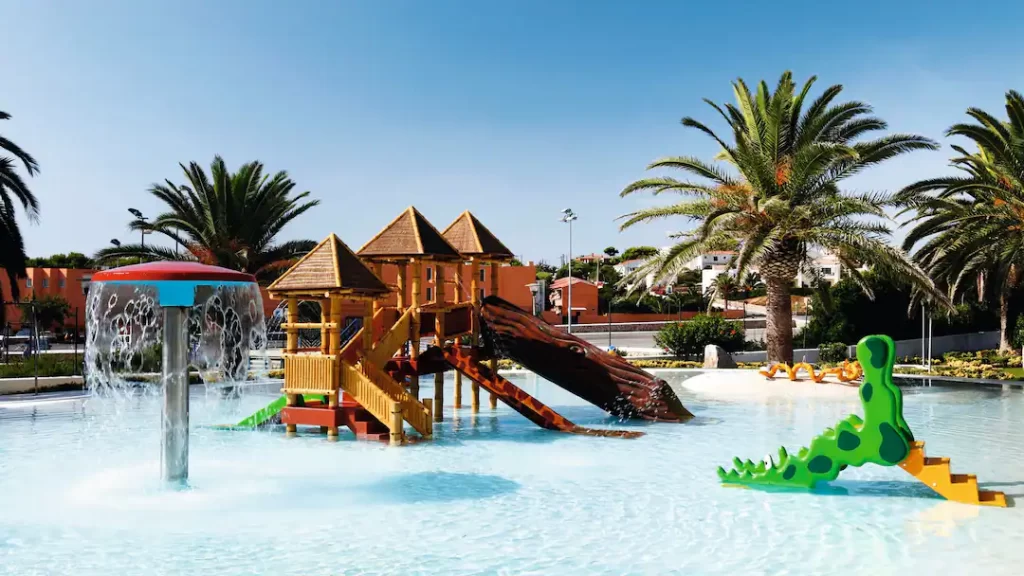 The Occidental Menorca is a spacious hotel complex with an amazing splash park and playground. Plus, it's just 300m away from the beachfront.
#5. Son Bou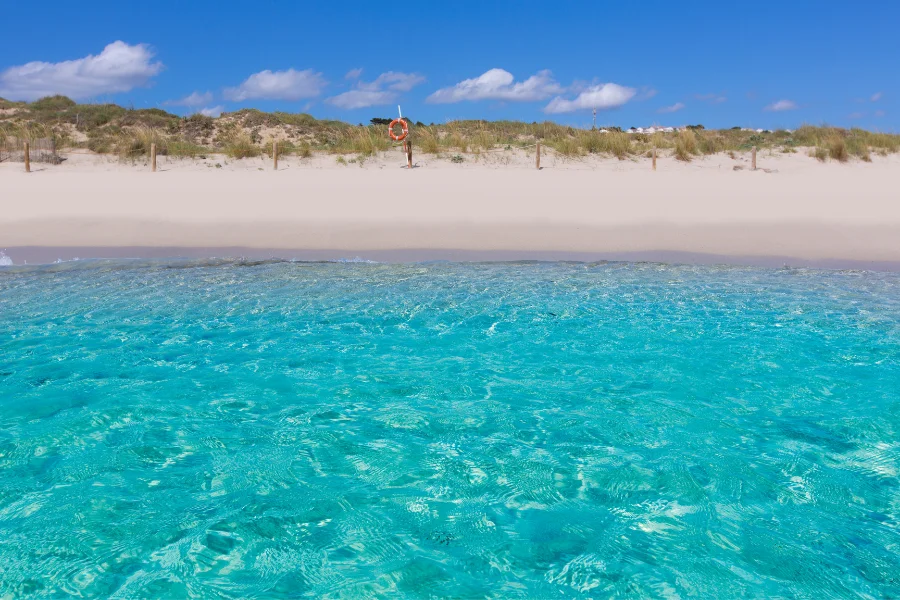 Wondering which are the best toddler friendly resorts in Menorca?  Wonder no more!  Set in the centre of Menorca's southern coast, Son Bou is one of the island's most popular toddler friendly resorts – mainly because of it's gorgeous beach! Playa de Son Bou is the longest stretch of coastline on the island with white sand that stretches for 3km. Its gentle shelving beach and calm sheltered waters are perfect for little ones who want to paddle too.  Away from the beach, there's a cute mini-train that circles around the town in summer!
Amazing Hotels For Toddlers In Son Bou
Royal Son Bou Family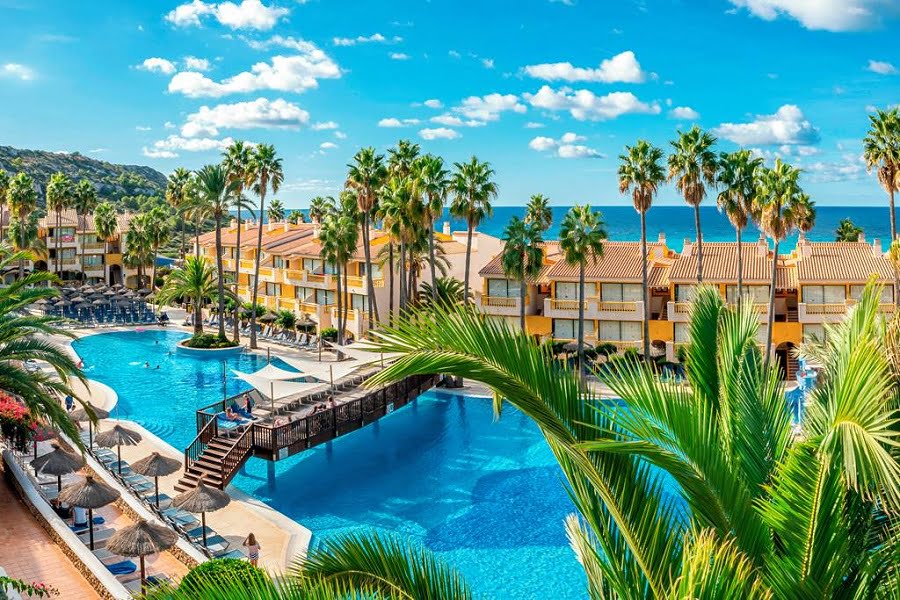 Regularly voted Trip Adviser's best family friendly hotel in Spain, the Royal Son Bou Family Club is a great choice if you are looking for a toddler friendly hotel in Son Bou, Menorca. There is a huge children's swimming pool with a pirate ship and waterslides and the hotel has direct access to Son Bou Beach.
Hotel Sol Milanos Pinguinos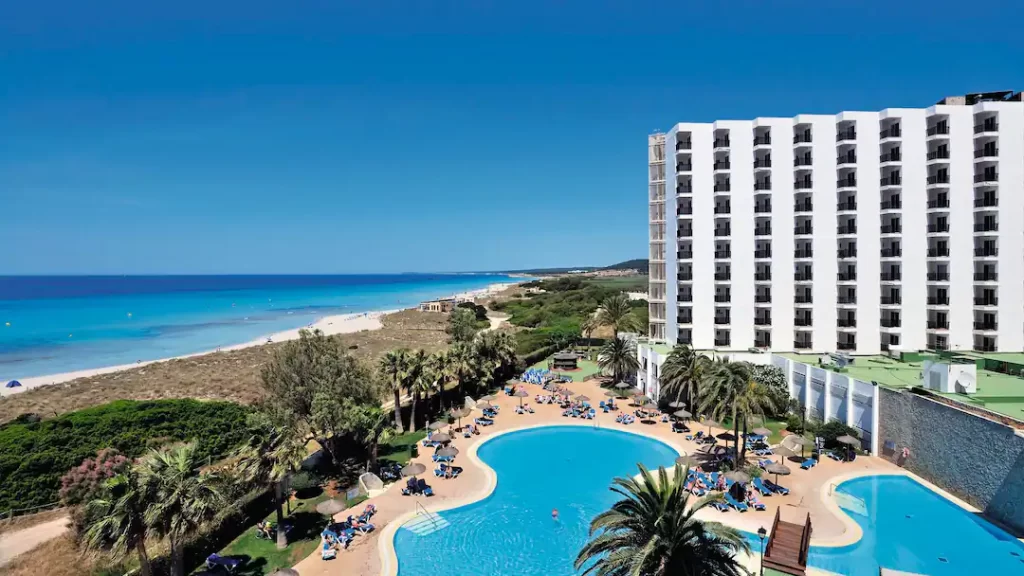 The Hotel Sol Pinguinos is a beachfront hotel in Son Bou.  It has a Dreamers Baby Club for babies and toddlers aged eight months to four years old plus an adventure playground and it's also close to plenty of bars and shops.
Aparthotel HG Jardin de Menorca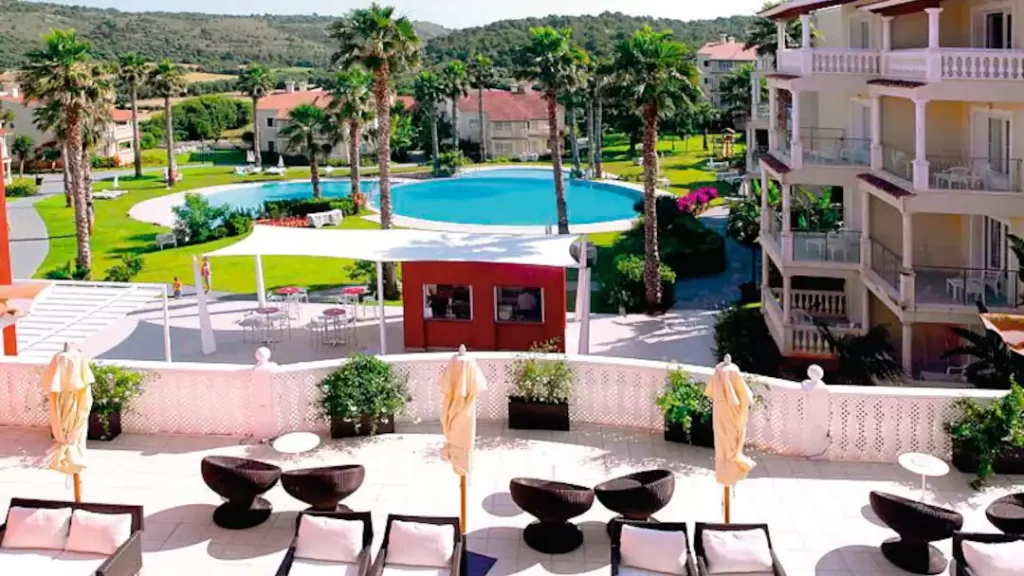 The Aparthotel HG Jardin De Menorca is a stylish hotel located just outside Son Bou overlooking a nature reserve.  There's a children's pool and indoor play area for kids too.
Can you recommend any toddler friendly resorts in Menorca?