A guide to the best baby and toddler friendly hotels in Menorca, including hotels near toddler friendly beaches, with pirate themed swimming pools and family sized apartments. Discover the best hotels for babies and toddlers in Son Bou, Punta Prima, Cala'n Bosch and Santo Tomas in Menorca.
#1. TUI Family Life Mar De Menorca – 3*, Free WIFI
Good 3* toddler friendly hotel located in a quiet area 10 minutes by bus to Menorca's capital city, Mahon. The 1 and 2 bedroom apartments have been recently refurbished and have air con and a small kitchenette with microwave.
There is a large swimming pool including a baby pool, and a small beach is just 10 minute walk away. Kids Club available for children aged 3+ and a Baby Club for 0 – 3 year olds. There are also parent and toddlers storytelling and singing sessions, and a Baby Lounge with baby change facilities.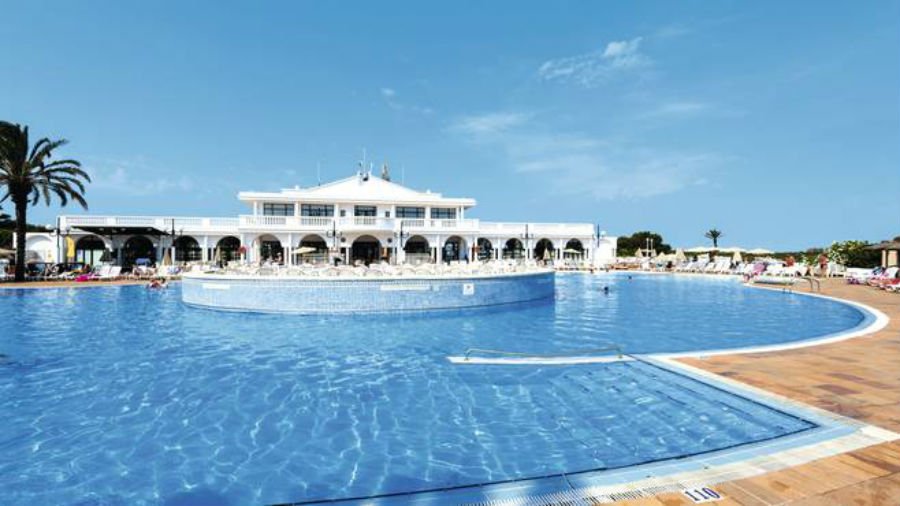 Baby equipment such as cots, pushchairs, bottle warmers and sterilisers can be hired from the hotel.
Top Tip – There aren't any lifts so ask for a Ground Floor room if you have a buggy.
TUI Family Life Mar De Menorca
#2. Holiday Village Menorca- 4*, Free WIFI
Excellent hotel for babies and toddlers who love water! There are 4 swimming pools including a paddling pool and indoor swimming pool and there is also an ASA Swim Academy for children aged 3+ to learn how to swim. Bike hire is also available and there is a Football Academy for older children aged 4+.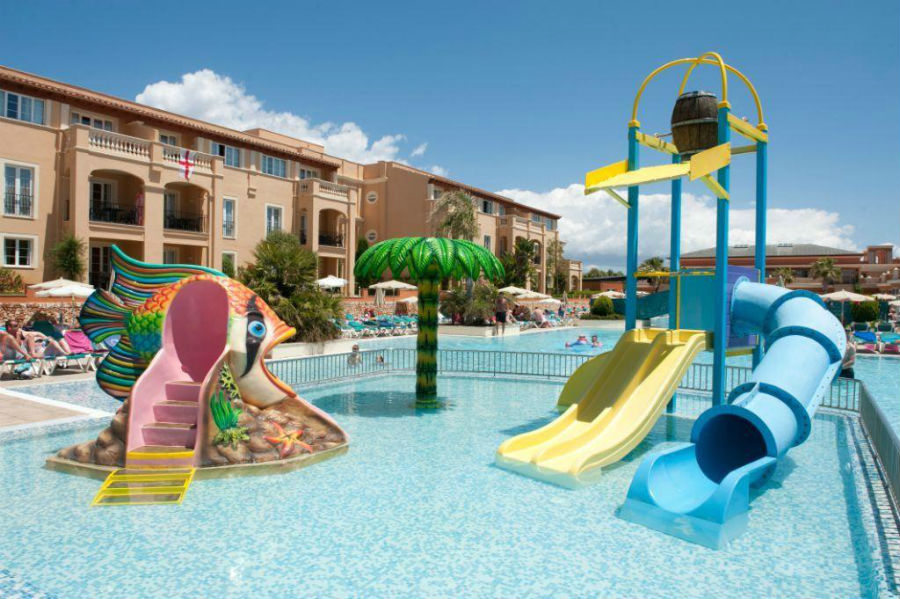 Son Xoriguer beach is just a 10 minute walk away, and the hotel is close to Cala'n Bosch with its shops, bars and restaurants. 1 bedroom apartments are available with a kitchenette, air con and private garden / terrace.
Top Tip – The outdoor swimming pool can be quite cold so bring a wetsuit type swimming costume for younger children!
#3. Insotel Punta Prima Resort – Luxury 4*+ Hotel
This luxury hotel is perfect for babies and toddlers due to its location just 300m from a sandy beach where they can paddle in the sea to their heart's content. It is also just 200m to the resort centre with its bars and restaurants. There are 2 outdoor swimming pools and a toddler paddling pool, and a poolside bar.
There is also a Kids Club for children aged 3+. Adults can pop to the hotel Spa while the children are having fun at the Kids Club.
1 bedroom apartments are also available, and all rooms have a small kitchenette so you can store and prepare small snacks for your little one.
#4. Zafiro Menorca – 4*, Free WIFI
Amazing hotel with toddlers with a pirate themed kids pool with a splash park and mini water slides. Sandy beach and pretty marina are both a short walk from the Zafiro Menorca hotel. There are 3 swimming pools at this hotel, a playground with climbing frame and swings, a mini disco, Kids Club, daytime activity programme and bike hire. There is a gym for adults.
Families can stay in 1 bedroom apartments with a kitchenette, CD / DVD player, balcony / terrace and maid service 5 times a week.
#5. Club Hotel Sur Menorca – 4* With Waterpark
The best thing about the Club Hotel Sur is the onsite waterpark which has a pirate themed ship with small slides and water features!
All guests have unlimited access to the waterpark during their holiday. There is also a large swimming pool with a separate shallow area for little ones. The hotel is just 5 minutes away from Punta Prima resort centre and the beach on the free shuttle bus, or you can walk in 15 minutes. There is also a Mini Disco, playground and Kids Club at the hotel.
2 bedroom family rooms are available with a balcony and interconnecting room.
#6. Hotel Victoria Playa – 3*, Free WIFI
The Hotel Victoria Playa is geared up for babies and toddlers. There is a toddler splash pool with slides, fountains and tilting buckets, and the hotel is a couple of metres from a sandy beach with a shallow drop to it. From the beach you can also follow the coastal footpath over the cliffs to the next resort of Son Bou.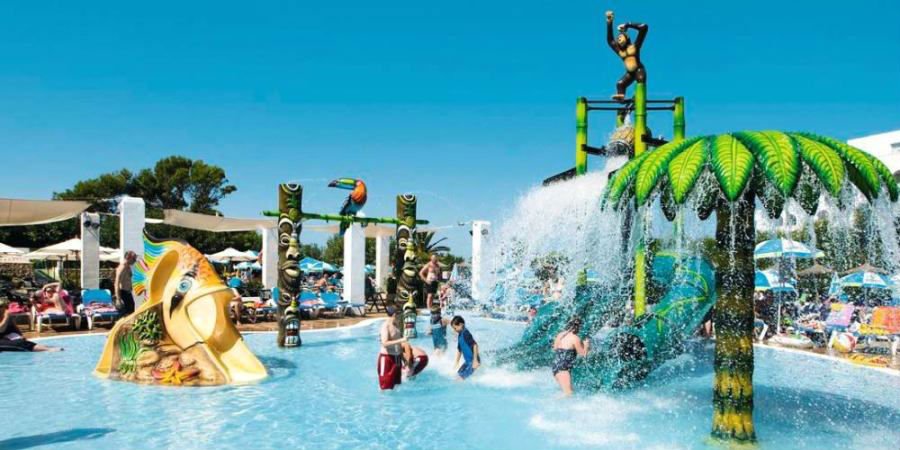 There is also a playground, and a Kids Club for children aged 3+. There are twin rooms with interconnecting rooms, so families with babies and toddlers can have a bit of extra space. The rooms have air con, TV and a balcony and some have sea views.
Top Tip – Interconnecting rooms need to be booked in pairs. There isn't any hotel entertainment so this hotel is perfect is you are looking for a quiet holiday.
#7. Mestral and Llebeig Apartments – 3*+
The Mestral and Llebeig Apartments are a toddlers paradise! There is a playground, soft play, kids splash park, mini disco and even pony rides (payable extra). The soft play has inflatables and trampolines and the playground has swings and slides.
Accommodation is in low rise whitewashed apartments split into 2 halves divided by a small, quiet road. The main pool is on one side and there is the toddler splash park with fountains and water slides on the other. Kids Club available for children aged 3+.
One of the best things about the Mestral and Llebeig Apartments are the Kids Dens in the apartments with a TV and playstation in them.
Mestral and Llebeig Apartments
Talayot Apartments are in a great location in between the lively resort of Cala'n Forcat and the sandy cove of Cala'n Blanes. The main highlight of these apartments are the 6 swimming pools, including a lazy river, a children's paddling pool and one with a slide (more suited to older children). There are plenty of sunbeds around the pool areas, as well as activities such as volleyball and tennis. Children aged 3+ will love the mini go karts.
There are 2 bedroom apartments sleeping up to 6 with a kitchenette and balcony. The rooms on the ground floor have a larger terrace so make sure request one of these if you have a buggy to store.
Kids Club available for children aged 3+ and parent and toddler storytelling and singing sessions in the shoulder seasons (not July and Aug). There is a restaurant onsite as well as a large supermarket.
Great for families looking for a great value hotel with plenty of facilities.
#9. Roc Lago Park Apartments – 3* in Cala'n Bosch
These baby and toddler friendly apartments in Cala'n Bosch are great value, and in a fantastic location just 5 mins walk to the beach in one direction and 5 minutes in the other direction to the Aqua Rock Water Park. Cala'n Bosch beach is great for toddlers with shallow waters and gentle waves. There is a massive swimming pool with views over the marina and a separate kids area. There is also a Kids Playground and a mini disco on a night.
There are spacious 1 and 2 bedroom apartments available with a well-equipped kitchenette and a balcony and terrace.
#10. Royal Son Bou Family – 4*, Free WIFI
Regularly voted Trip Adviser's best family friendly hotel in Spain, the Royal Son Bou Family Club is a great choice if you are looking for a toddler friendly hotel in Menorca. There is a huge children's swimming pool with a pirate ship and waterslides, and this area is enclosed and surrounded by artificial grass. The hotel is great for beach lovers too with direct access to Son Bou Beach which is the longest on Menorca.
There is a Kid's Club for babies aged 0 -2 and a Mini Club for children aged 3-4. Typical activities at the clubs include lego, face painting, t shirt painting, finger painting and crafts. There are 2 restaurants to choose from including one with a children's buffet.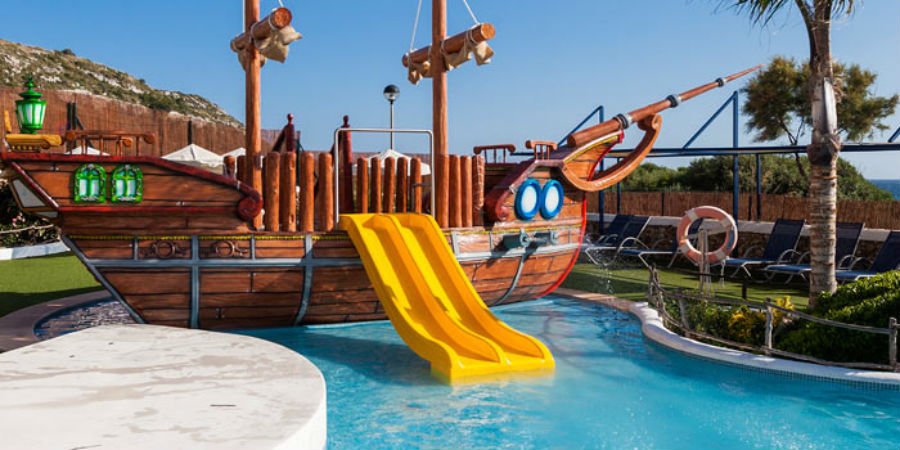 One and 2 bedroom apartments are available.