We visited Legoland Windsor with our 2 boys aged 4 and 2 in May 2015. These are our top tips about how to enjoy Legoland with a baby or toddler.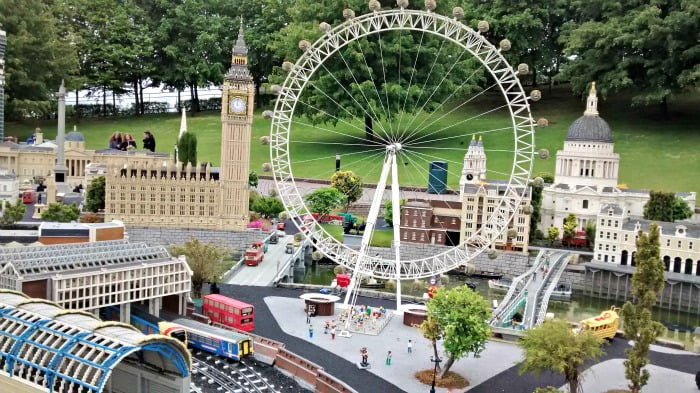 Should I take my baby or toddler to Legoland?
Yes! Children under the age of 3 are free, and there is loads for preschool children to see and do at Legoland.
Which rides are suitable for babies and toddlers at Legoland?
A lot of the rides do have height restrictions of over 90cm, but the following rides don't have any height restrictions and are suitable for babies and toddlers:
Land of the Vikings
Loki's Labyrinth
Pirate Shores
Castaway Camp
Enchanted Forest
Kingdom of the Pharaohs
Laser Raiders
Desert Chase (merry go round)
Aero Nomad (ferris wheel)
Duplo Valley
Splash Safari
Brickville (interactive play village)
Fairy Tale Book (boat trip)
Duplo Train
Heartlake City
Orient Expedition (train ride)
Pirate Show
Imagination Centre
The Imagination Theatre
Adventure Land
Atlantis Submarine Voyage
Lego City
Coastguard City (boat ride)
Balloon School (sky ride)
Miniland
How much does it cost to visit Legoland with babies and toddlers?
Children under the age of 3 are free.
Adult tickets are £48 if you buy them on the gate and children over 3 are £43.80. However, there are discounts to be had if you buy your tickets online in advance via the website. Click here to see the current prices and discounts
Keep your eye out for ticket offers on cereal packets and other similar items too – we got a Buy One Get One Free ticket off the side of a Kelloggs packet of cereal which brought the cost down. I also redeemed my Tesco Clubcard points to pay for another ticket.
How much is parking?
Parking is £5 per car and you pay at the ticket office when you are buying your tickets. Therefore, you don't need exact change.
What if my child is over 90cm tall?
There are lots more rides which children over 90cm can go on. If your child is around the 90cm / 1m mark, it might be worth getting them measured at the Heartlake City Guest Centre where they will be issued with a wrist band confirming their height. This saves you having to get them measured at every ride.
What rides can children over 90cm go on at Legoland Windsor?
Children over 90cm can go on the following rides.
The Longboat Invader
Spinning Spiders
Dragons Apprentice
Knights Quest
Scarab-Bouncers
Thunder Blazer
Duplo Valley Airport
Raft Racers
Drench Towers
Sky Rider
Space Tower
Squid Surfer
Dino Safari
Do I need to take my pram or pushchair?
Yes – the park is really big and even confident walkers will probably get tired being on their feet all day. There are buggy parks near the rides, but in the interests of safety I wouldn't leave anything valuable on your pram whilst you are on the rides. Take a small rucksack to keep your valuables in and take it on the ride with you.
You can hire double and single pushchairs at the BIG Shop at the Beginning – single pushchairs are £9 for a day and double ones are £14. They cannot be prebooked and are available on a first come first served basis.
Scooters aren't allowed, but I saw some people pushing their little ones in a trike / ride on.
There is a Hill Train which takes you from 'The Beginning' to the centre of the park, but it might be quicker to walk if there are queues.
Food – what are the options and how much is it?
There are loads of food outlets scattered throughout the park – you can read all about them here
They serve a range of food ranging from burgers to sandwiches to a rotisserie, but (as expected) it is more expensive than similar outlets outside the park. For example an ice cream cone with 1 scoop of ice cream was £3.25 and an extra 50p for a flake. A Capri Sun drink was £1.25 and a Hot Dog was £3.95.
We took our own sandwiches and ate them outside and I saw a lot of families doing the same. There is a picnic area in Miniland.
What do we do if it rains?
We went to Legoland when it was raining quite heavily, and were quite surprised about little there was to do inside. There is the Imagination theatre, Laser Raiders and the Discovery Centre workshops, but everything else was outside. We were lucky that it stopped raining in the afternoon, so we managed to go on lots of rides, but if we were going again I would check the weather forecast beforehand and consider rearranging if heavy rain was forecast.
It is an expensive day out, and whilst a bit of rain isn't a problem, you don't want to spend a lot of money then get cold and wet.
What if my toddler gets lost?
When you arrive at Legoland, go to Guest Services and get an emergency contact wristband which you can write your phone number on. If your child gets lost, someone will be able to contact you on your mobile.
Dress your child in bright clothes and / or hats to make them stand out!
What about the baby change facilities?
There are baby changing facilities in all the toilets, and there are plenty of toilets around the park. The toilets inside the entrance just after the ticket offices were really busy so avoid these if possible and go to the ones further inside the park.
Where can I breastfeed?
There is a dedicated Baby Care Centre in Heartlake City. This area offers a private place for breast or bottle feeding.
Can I reheat baby food?
Staff in the restaurants will provide you with a jug of hot water to reheat food or milk. Due to Health and Safety rules, staff are not allowed to reheat baby food for you in the kitchen.
Can we go swimming at Legoland Windsor?
Yes! The Splash Safari and Drench Towers in Duplo Valley are great fun so make sure you take your swimming stuff!
Drench Towers is an outdoor splash park which is suitable for children 90cm high and upwards.
Splash Safari is perfect for toddlers. They can safely splash amongst Duplo animals and play in the interactive water features – they will get wet so bring lots of towels to get dried with afterwards.
Don't forget your swim nappies too!
What is a Q-Bot and do I need one?
A Q-Bot is a device which you hire for the day which allows you to reserve your place in a ride queue without having to stand in the line. In a nutshell, it means you can book a time to go on a ride and then go straight to the front of the queue.
There are various service levels for Q-Bot, but the cheapest one is called Q-Bot Regular and is £15 per person (you don't need to pay for under 3's).
I spent a lot of time thinking about whether we needed to buy a Q-Bot, because for our family it would have added another £45 to the cost of the day. In the end, we decided to buy 3 Q-Bot tickets, and I have to say that I was glad we did it.
These are the reasons why:
• Toddlers don't like to wait – fact! Some of the queues were 30 mins plus and trying to entertain bored toddlers for this amount of time would have been a nightmare.
• A lot of the rides we went on were really short, and by that I mean a couple of minutes. I wouldn't have wanted to wait a long time to go on a really short ride.
• It meant we could pack lots into our day. Legoland Windsor is huge and I know a few people who spend 2 days there. Using a Q-Bot meant that we could buy a 1 day ticket and make the most of our day.
• I'd got a BOGOF on our entry ticket using the voucher from the Kelloggs packets and used our Tesco Clubcard points to buy the other ticket so it (only) cost us £47 for 1 ticket on the gate. We took our own sandwiches so I reasoned that we could spend the additional money on the Q-Bots.
• It was May Half Term when we went, so I expected it to be busy. If it had been outside of school holidays, I would probably have chanced it.
Please note, there is a limited number of Q-Bot tickets issued each day and you can't pre book them
What can we do / see without having to queue?
You can go on the Splash Safari, Imagination Cinema, the Pirates Show or Brickville (the interactive play village) without queuing. Our children absolutely loved Miniland which is an amazing array of scenes from around the world made entirely of Lego! There is even a mini version of the royal family at Buckingham Palace complete with Princess Charlotte!
What shows are there?
We loved the Pirate of Skeleton Bay show which is a pirate themed action show! The shows are on 2 / 3 times a day but make sure you get there plenty of time in advance to get good seats. We saw lots of families eating their picnics before the show.
The Duplo Theatre also has showings of Little Red Riding Hood and the 3 Little Pigs.
Do I need to download the Legoland App?
The Legoland App is quite useful because it has an interactive map on it, suggested itineraries and also a list of rides with short queues – useful for making the most of your day.
Where Shall We Stay At Legoland Windsor?
Legoland Holidays arrange stays at the Legoland Resort Hotel and nearby family hotels. All their stays include overnight accommodation, breakfast and 2nd day entry into the Legoland Resort. Santa Sleepovers and School Holiday specials are available.
Prices from £150 for a family of 4.
https://www.legolandholidays.co.uk/
There are a number of Premier Inns nearby to Legoland – prices start from £49 per room.
Premier Inns' Near Legoland Windsor
Useful Info
I went to Legoland Windsor with my husband, 4 year old and 2 year old in May 2015 (in half term). We paid for the whole day ourselves. All information is correct of June 2015.